Highlights from a Year of Travel
2018 absolutely flew by, bringing more travel than we've ever experienced in a single year, some of it rather unexpected. It was a  year of recovery at the resort and a year of us navigating new waters as a couple, but overall it was another great season of making memories around the globe. I visited my 50th country this year – Belgium! – while celebrating my 32nd birthday, added a new world wonder to the list, and watched my younger sister get engaged in Greece. All around, I'd say 2018 was a success.
2018 By the Numbers
Hotel Nights: 92
Countries Visited: 13
Miles Flown: 82,692
Cars Rented: 2
Flight Legs: 52
Transportation Used: Ferries, Planes, Trains, Buses, Rental Cars
Latvia
10When we were making our second rather long visit to Estonia, we opted to include a four-day interlude in Latvia where we focused our time on the Latvian capital of Riga. While we enjoyed Riga's Old Town, we didn't find it to be the friendliest country on the whole. Despite that, our day of scoping out Latvian castles exposed us to a cool side of Latvian history. Read more about our visits to castles in Latvia, plus my perfect day in Old Town Riga.
Antigua
9When TransAnguilla launched their new Anguilla-Antigua route in January I jumped on the opportunity and boarded one of their very first flights (it ended up being a private charter unexpectedly). The result was a fun-filled girls weekend of sun, sand, and sea complete with the requisite beach time, a few frozen cocktails, some glam evenings, and a bit of island exploration. Our trip to Antigua inspired me to write a post on all-inclusive resorts (the island is home to many), and how not all-inclusives are created equal.
Mexico
8I have fond memories of our trip to Cabo in 2013 where Scott and I jetted for four quick days before our wedding. When his cousin announced that he was going to tie the knot in Zihuatanejo, I was thrilled to make the journey for the affair and for the destination! We had three brief days there (plus a day in Puerto Rico on the way!) but had a few wonderful escape at a perfect boutique hotel in Zihuatanejo while toasting to the happy couple.
Stockholm
7I hate to rag on any travel experience but one destination that's missing from this round-up is our visit to Helsinki in March. Don't get me wrong, it was fine, but Helsinki on the whole didn't really dazzle. When I left I didn't feel like I was in a rush to return (though I would like to visit Lapland). I say all that to mention that I tempered my expectations for Stockholm when we had the opportunity to head to Sweden. Stockholm exceeded expectations in every. single. way. I would easily return for a longer stay during the summer months when the waterways are alive with activity. Read my take on how to spend one day in Stockholm.
California
6I'M TERRIBLE ABOUT RECAPPING OUR TRIPS TO CALIFORNIA. California is home for us and I often forget that our travels there and some of the memories we get to make in our favorite hometown cities are tantamount to the ones we make internationally. This year we visited California twice: once for a wedding, and once for a memorial for a total of about two weeks in Northern California (split between the Bay Area, Carmel, and Wine Country). We had time with family and friends and time revisiting our favorite cities with fresh eyes. I'll be recapping two days in Carmel in early 2019!
Budapest
5When it comes to European cities that left me wanting more, Budapest was this year's winner. I liked Vienna during our visit last year, but I loved Budapest. Budapest is Vienna's much cooler, hipper sister with enough grit to give it character. We spent three full days exploring the Hungarian capital and I would go back in a flash.
St. Barths
4We have visited St. Barths one to two times per year for the last six years. This year we visited for our milestone 5th wedding anniversary, which snuck up on us rather quickly. We had three days on the tiny French island, the perfect amount of time to visit our favorite restaurants and beaches, plus time to sneak in a bit of requisite shopping in the Caribbean's capital of luxury. Read my take on Anguilla vs. St. Barths, plus how to spend a day in St. Barths.
Estonia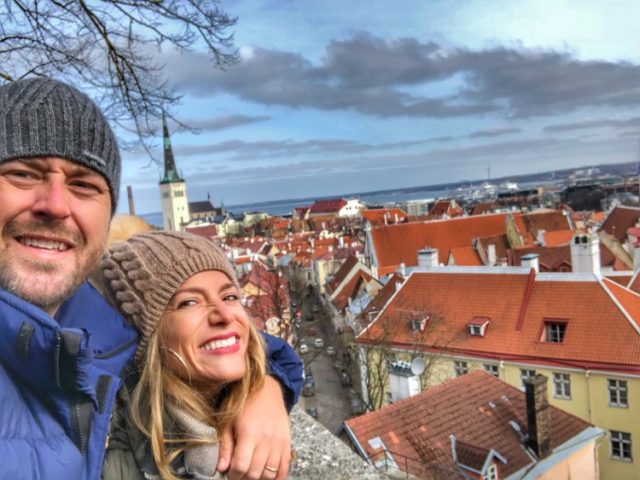 3Estonia had to be a top three purely because it was a veritable second home for us in 2018. We spent about a month of this year in tiny Tallinn, a city we've come to know and love, plus ventured out to explore the countryside estate of Kau Manor. Our affair with the city started with Christmas in Tallinn in 2017 before it became our home base as we started our international IVF journey in Europe. I rang in my 32nd birthday at Vegan Restoran V (one of Tallinn's many dining options), met with the e-Residency team to learn more about their innovative residency program, and  have explored nearly every major site in the city. While our journey is taking us a different direction in the coming year, Tallinn will always hold a special place in our hearts.
Greece
2My memories from my first trip to Greece in 2010 were a bit lackluster. I wasn't overly enchanted with Athens but did remember finding the islands pretty spectacular, if a bit overcrowded during July. When we began brainstorming our 2018 family trip it was Scott's suggestion to visit Rhodes, a place he'd remembered fondly from a childhood trip. The result was one of our most memorable family trips ever (second only to Ireland in 2015). We spent 10 days in Greece from Rhodes and Symi to Athens and it was a trip jammed with super special memories, including my sister's engagement!
Egypt
1I've been dreaming about Egypt for pretty much as long as I've existed. It was my ultimate dream trip and we finally decided to make it a reality this September after years of deliberation. We spent two weeks in Egypt split between Cairo, Luxor, Aswan and a Nile River Cruise and it was a trip for the books. Is there anything more incredible than making childhood dreams a reality? ✨
---
I'll be kicking off 2019 by sharing some of our upcoming trips and a few that we're still brainstorming for our grand adventure in the fall. Stay tuned or pop over to follow our adventures on Instagram!
---
What trips topped your list for 2018? What dream trips are on your list for 2019?