An itinerary for a getaway to the Dodecanese
Greece is such a fascinating country. It seems like it's a bucket list destination for everyone, but we all tend to lump it together at first, right? The country is large and, more importantly, many of the islands we daydream about are scattered across a vast stretch of sea, each island chain bearing its own unique history and characteristics. Even if you take away mainland Greece you still have countless options in terms of island exploration, whether you choose to dedicate a couple of weeks to delving into Crete or taking that same amount of time to do a bit of island hopping in the Ionian islands, Cyclades, Saronic islands or the Dodecanese. When we decided to spend 10 days in Greece, that was just the first step in our discussion before moving on to where in Greece. When you're narrowing it down, it helps to drill down bit by bit:
How much time do you have?
Which flight offerings exist from your home airport to your final destination?
Who's going on your trip?
What's the focus? Beaches? History? Both? Heritage trip?
What's your budget?
Taking those factors into consideration helps substantially with creating an itinerary by process of elimination. Ours was a family trip which meant super-romantic spots like Santorini were axed (wahhhh, Santorini has been on my dream destinations list for a while!). We were also dealing with a range of budgets, so we searched for islands that offered more budget-friendly experiences and dining while still being able to enjoy the luxury of long drawn-out late night dinners. Focus-wise, we wanted a mix of history plus beach scene to satisfy our range of needs. Islands that brought major beach scene but nothing much beyond that weren't a good fit. In terms of flights, we were all coming in from a variety of destinations, but it was helpful for us to start in a place with a decent airport for a more fluid in and out. Athens is a main point of entry by flight for many, but there are also airports in Crete, Corfu, Kos, Rhodes, Santorini and many more that may be options, too.
Lastly, as I mentioned, we had 10 days in Greece together (nine nights). When it comes down to it, your time frame will dictate a lot of what you can reasonably do and see during your getaway. It's tempting to spread yourself thin and see as many islands as possible but the reality is that it gets daunting dealing with transit between islands and you'll leave without having had the opportunity to get a real sense of any place in particular (I did this during my first trip to Greece and find that now it all runs together). In our case, we found it best to stick to one main island, Rhodes, with a mini island hopping expedition to the nearby island of Symi. We all were able to fly directly into Rhodes and bypass Athens which helped hugely with saving time. To get home we had to connect through Athens, so that allowed us to see the historic city for a couple of nights on the back-end without dedicating too much time. Below I'm sharing some details on our trip, and some feedback and takeaways from our experience with 10 days in Greece focused on the Dodecanese.
Greece by the Numbers
Check out our 10 days in Greece condensed into a four-minute video ✨
Nights Spent: 9
Forms of Transportation: 4 (Plane, Ferry, Taxi, Feet)
Restaurants Experienced: 20
Hotels Stayed In: 2
Villas Rented: 2
Islands Explored: 2
Total Spent Per Person: €550*
Going in to this trip I told the family to budget about €100 per day for breakfast, lunch, dinner, museums, etc. Rhodes is a budget-friendly destination so this seemed like a decent figure to work with. We were shocked to come in below budget by a fair bit. We used SplitWise to help us keep track of bill payments. Since we were traveling in a group of six, we decided to alternate paying for dinners, lunches, etc. to make it easier for the restaurants. We kept everything in our SplitWise account on mobile, which helped us see who was down on contributions and who was up (at the end of each meal, we'd let whoever was down the most pick up the tab). By the end, we were almost exactly even, with just a few euros owed to balance things out. The €550* I mentioned above includes pretty much all breakfasts, lunches, cocktails, and dinners, along with ferries, taxis, etc… I know, it's hard to believe! It doesn't include souvenirs that we each paid for independently, and doesn't include a few museums in Athens where we could pay easily on separate credit cards. All in, I'd say we spent about $75 – $80 per day, everything included. I should also note that we didn't skimp! We went to the top restaurants in Rhodes Old Town, Symi and in Lindos, had carafes of wine, pre-dinner drinks, etc. and still managed to keep our costs down.
DAY 1 – 3 // Rhodes Old Town 〰 Historic Immersion
We started our adventure in Rhodes Old Town, where we dedicated three nights to exploring and historic immersion. The airport in Rhodes is about a half hour from the Old Town so it's an easy trip in and a great place to start. Scott and I flew in from Paris directly to Rhodes and my parents flew in via Helsinki directly to Rhodes, which made transit pretty straightforward.
If it's your first time in Rhodes, spending time in the Old Town is a must since it's so rich with history not just specific to the island, but to the region as a whole. Rhodes was a powerhouse in its heyday and you'll get a feel for that just wandering the streets. Three nights was plenty for us, though I'd say you'd want at least two nights if you're crafting an itinerary.
DAY 1: TAKE IN THE BEAUTY OF RHODES OLD TOWN // The first day was an extremely full day since my parents arrived in Rhodes by 10AM and were settled in and ready to explore by lunchtime. We opted to stay at Casa Mediovale a three-bedroom villa in the heart of the Old Town. It was the perfect configuration for us and ended up being extremely cost-effective (click here for a $25 Airbnb credit). The town is incredibly beautiful and it's worth taking the first day to just explore Rhodes Old Town at leisure. There's the harbour area, the maze of streets, the quaint shops and beautiful lunch spots in ancient courtyards.
DAY 2: TAKE IN THE HISTORY OF RHODES // Our first day was spent wandering and enjoying while our second day was spent touring Rhodes with Tourtlee, a tour company focused on small-scale tours in the area. We saved the museums for day two, where we spent some time in the Palace of the Grand Masters and the Archaeological Museum, which was once the Hospital of the Knights. Unless you have a solid grasp of the island's history, having a tour guide can be a nice way to gain a better understand of what you're seeing. In Rhodes in particular, there's a heady mix of Ottoman Empire meets Classical Greece meets ancient mythology. In terms of sightseeing in Rhodes Old Town, two days was probably sufficient, but a third day allows for a bit more leisurely exploring.
DAY 3: VACATION PHOTOGRAPHY // In true Shannon fashion I had to hire a vacation photographer to capture our family getaway to Greece! We worked with Kristo di Giorgio to capture a half day of Greek escapades. For those thinking about hiring a vacation photographer, let me assure that it's so much fun with a group, and this go around our photog managed to capture a super exciting once-in-a-lifetime family moment! If you're a beach person and have a third day to spare, you could also consider making it a beach day. Faliraki Beach and Elli Beach are in close proximity to Old Town Rhodes but if you need further Rhodes beach inspiration, check out Travel Passionate's rundown of the best beaches in Rhodes.
Day 4 – 6 // Symi 〰 The Mini Island Escape
Symi is a picture-perfect gem. The Dodecanese island chain is named as such because it's composed of twelve islands. Rhodes and Kos are the most famous, but the tiny island of Symi struck us as being the secret gem. Many people we met on the island had been many times before, some coming over a period of 20+ years. I likened it to Anguilla fairly quickly, set away from the larger and more touristed neighboring island with an upmarket feel and familiarity that keeps drawing people back year after year. It's friendly, the dining is lovely, and it's gorgeous. Some refer to the harbour as being the prettiest in all of Greece, and when you see it in person you'll understand why. It's not what you expect of a typical Greek scene. Instead, it's a cascade of bright neoclassical architecture that's absolutely jaw-dropping. With just two days in Symi we were focused on Yialos, the main harbour area, but you could easily spend many more days delving into this lovely island.
DAY 4: TRANSIT TO SYMI // Coming from Rhodes we hopped aboard Dodekanisos Seaways for their morning departure (you can easily book on the Direct Ferries website). I would advise getting your tickets in advance since there many people that make the trip to Symi as a day trip from Rhodes. We had a fairly packed boat when we were there in May so I can only imagine how impacted it becomes as the season wears on. We left Rhodes at 9:30AM and arrived in Symi around 11AM, a quick 90 minute ferry that cost us about €15 per person each way. Arriving early left us with a full day to explore and we were fortunate enough to get an unexpected early check in at The Old Markets, a fabulous boutique hotel situated on the hilltop with vistas for days. If you're sticking to the main harbour like we were, you can get everywhere on foot. There are loads of well-curated boutiques, great restaurants, and pretty views that will capture your imagination. For a bit more inspiration on our day of exploration, check out how we spent two days in Symi.
DAY 5: EXPLORING SYMI BY BOAT // We know how much our guests in Anguilla love exploring the island by water so we thought it best to follow that cue and see Symi by boat on our second day on island. We boarded Poseidon, a boat that fits about 70, for a round-the-island-tour (we had about 40 on board during our day out). We worried about a kitschy experience but it ended up being a wonderful day, stopping at key sights to swim and explore, plus it included an awesome lunch on the tiny island of Sesklia off the coast of Symi. It's worth noting that we looked into chartering a small private boat for the day but during our trip in early May we were a bit too early in the season to have options there. As the season continues you'll likely have options for boat charters if that's something that interests you but be prepared for a charter rate that's substantially higher than the Poseidon experience.
DAY 6: SYMI EXPLORATION + TRANSIT TO LINDOS // We opted for the public ferry on our return from Symi back to Rhodes and the only offering was a boat that departed at 4:30PM for a 6PM arrival back into Rhodes. No matter though – that just meant that we had an extra day to enjoy this sweet island that we had come to love pretty quickly! Had we planned better in advance, we would have hired scooters or ATVs to explore the inner part of the island. Since we didn't have those secured in advance, availability was limited. Instead, we wandered the colorful promenade and enjoyed a long drawn-out lunch on the harborfront. I mean, there are worse things that enjoying rosé with a view!
Day 6 – 8 // Lindos, Rhodes 〰 The Rhodian Beach Scene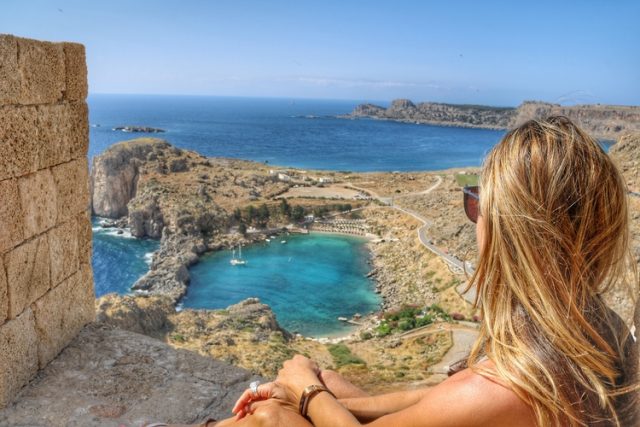 When we started researching Rhodes, Lindos kept popping up as a must-see part of the island. We didn't want to do it as a day trip (many visitors to Rhodes go this route) so decided to dedicate two nights to the seaside town. We chose to insert Symi between Rhodes Town and Lindos because we knew we'd be flying in and out of Rhodes' airport. Being on the island helped make those logistics a bit easier. In the end we were happy that we structured it the way that we did, although we would have happily added on extra days in Symi and in Lindos. I'll say this: Lindos is far more than a day trip. Yes, it's doable as a day trip from Rhodes Town, but in a perfect world I'd spend at least three days there. It's a gorgeous enclave, and if we were to return to Rhodes we'd probably base ourselves in Lindos and do day trips from there. There's the historic aspect with the Acropolis of Lindos, plus there's the beauty of St. Paul's Bay for beach lovers. My absolute favorite day of our entire trip was had in Lindos, and I'd recreate it in a heartbeat.
DAY 6: ARRIVAL IN LINDOS // After taking the ferry from Symi to Rhodes, we arrived on island around 6PM as planned and quickly hopped in pre-arranged taxis to zip down to Lindos. The drive was a breeze with no traffic, and were in Lindos by 7PM. I've said this many times but our late night dining schedule in Greece meant that we were maximizing our days hugely. Even arriving at 7PM we had time to take in the gorgeous property of Melenos Lindos before heading out for pre-dinner drinks and a rooftop dining experience. Check out my post on two days in Lindos for a bit of inspiration on how we crafted our time here.
DAY 7: THE ACROPOLIS + BEACH DAY // Our first full day in Lindos was my absolute favorite day of our time in Greece, and that's saying a lot! We started the day by visiting the Acropolis of Lindos, which is a must for a history fix (major bonus that it's super photogenic and makes for a great destination for a mini photo shoot). We followed that up with a long lazy lunch and beach day at Tambakio. There's hardly anything better in my mind than a long lunch with some rosé and a fabulous view. For me, this ticked all the boxes.
DAY 8: EXPLORE THE TOWN OF LINDOS + DEPART FOR ATHENS // We ended our time in Lindos with a full day of taking in town before departing. Our flight from Rhodes to Athens didn't depart until 6PM which gave us a fairly full day to enjoy town without being in any rush. We pre-arranged a transfer for a 3PM pickup from Lindos and were in the airport ready to go by 4PM (we could have gotten there a bit later and been fine). For those zipping around Greece by air, Olympic Air and Aegean Air are the two primary carriers, with Olympic offering some incredible fares. We paid $25 per person for our flights from Rhodes to Athens (seriously, like how is that even possible?), which took about an hour. TIP: Pay for your luggage in advance! Our roll aboard carry-ons, which work as carry-ons on major carriers like American, were strictly weighed and measured for this flight. We ended up having to check our carry-ons at a rate of €25 each. If done in advance, luggage is billed at around €12 each instead.
Day 8 – 10 // Athens 〰 The Capital
I've said this a number of times, but I'm medium on Athens. That is to say I don't particularly love it and I don't particularly hate it, but it's not a place that I'd normally ever dedicate time. For me it's more of a city that's a great transit point and a good add-on for the front or backend of a larger Greek getaway. That all being said, my parents and sister hadn't ever been to Greece before so it was practically a requirement that we spend enough time in Athens for them to see the Acropolis. Truly, no trip to Greece is complete without taking in this historic site along with the Acropolis Museum. We had two nights and one full day in Athens, which I thought was perfectly fine. If it's your first time in the city, you could allocate a couple of days if you want to take in more of the history and the neighborhoods that make up the city.
DAY 8: ARRIVE IN ATHENS // We arrived in Athens around 7PM and quickly set off for town with our pre-arranged transfer. The drive took about 45 minutes, a total breeze except for the fact that we got a bit mixed up in trying to find our accommodations. We were checked in to our place by 8PM, just in time to take in the views from our apartment while the sun was setting. In Athens, we opted for a three-bedroom apartment setup via Booking.com. There are a range of lovely hotels, but if you're looking for a budget-friendly option, look to multi-room apartments for a great value.
DAY 9: EXPLORE HISTORIC ATHENS //  For our full day in Athens, we spent the morning exploring the Acropolis with Georgia, our private guide from PK Travel. On my first visit, I explored the Acropolis independently. This go around, I can't even tell you how much more I got out of our experience with having a guide. There's an insane amount of history in the capital and a guide helps boil that down into a few hours. Following the Acropolis, we did the Acropolis Museum, where many of the original artifacts are housed. Our tour was a four-hour endeavour, from 8AM – noon or so before we parted ways, which gave us time to enjoy a lovely lunch before we headed out to explore Athens on foot. There are other sites of note to see in the city but given our focus and our time frame, we opted to focus on the Acropolis and museum alone.
DAY 10: DEPART ATHENS // Our flights departed at 11:45AM, so we had a pick up arranged at 8AM to ensure we made it to the airport on time. Sad times but as they say, you have to say goodbye to be able to come back! ??
---
As I said, this is just a quickie itinerary that hardly even qualifies as an itinerary for the Dodecanese much less an itinerary for 10 days in Greece as a whole. With so many islands to choose from, Greece is a destination where you can truly create your own adventure. With 227 inhabited islands (thousands of islands in total) plus a history-rich mainland, your choices are endless. My biggest takeaway? Know your objectives, know your companions, know your timeframe, embrace your budget (whatever it is), and most importantly: don't spread yourself too thin! So much of the beauty to be uncovered is simply enjoying the pace of Mediterranean life, and there's nothing better than delving in slowly.
What's your dream itinerary for 10 days in Greece?