Vacation Photography in Greece
You know my slight obsession with hiring a vacation photographer when we travel and I wasn't going to let our time in Rhodes pass us by without capturing our family escape through a professional lens. During the planning phase I connected with Santorini-based Kristo di Giorio in a rather serendipitous way, and we quickly made a decision to collaborate on a family photo shoot in Rhodes. We had done a family photo shoot in Ireland in 2015 and the photos prominently grace the walls of my parents' homes to this day. This year, we had a special sixth addition to the shoot: my sister's boyfriend who was joining us for our first ever family getaway with our newfound dynamic.
One of the things I've talked about with hiring a vacation photographer is that there can be a bit of an awkward period at the beginning while you're figuring it out. Kristo flew into Rhodes a day before our photo shoot and grabbed a drink with us the night before our scheduled morning together. With an hour or two together, we were able to get to know each other a bit and feel a bit more comfortable about our time together. If you're able to do this, it helps take the edge off before you start to make the entire process more authentic from the get-go.
I also think it helps a bit to know what you want out of the experience. All photographers are different in their styles and the types of images that they produce. In our case with our vacation photography in Greece for example, Kristo opted for more calculated images, where our experience in Ireland was much more candid. We have images from both shoots that we adore, but the imagery takes on a different feel for each. After having done a few of these, we had a decent idea of some of the images we were hoping to capture so Kristo was great about taking our thoughts into account when taking some of our posed photos.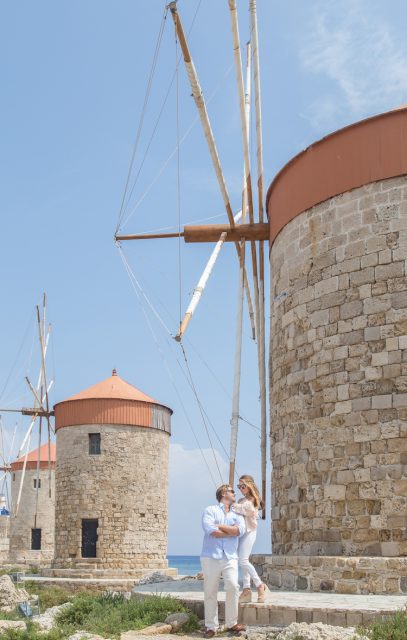 Kristo isn't based in Rhodes, but he's been to Rhodes previously. He arrived on the island more than 24 hours in advance to do a bit of a scouting mission in terms of location. One of the things that can be difficult in cities is handling photography when there are other residents and tourists roaming around. We didn't have this issue in Ireland since we captured our pictures in a quiet national park but Rhodes brought some buzziness that we had to navigate. We ended up with 4 – 5 locations during our photo shoot that helped us capture a slew of images with different feels. I adore the ones in front of the windmills, and the ones on the balcony of castle-like facade… that purple bougainvillea is too pretty!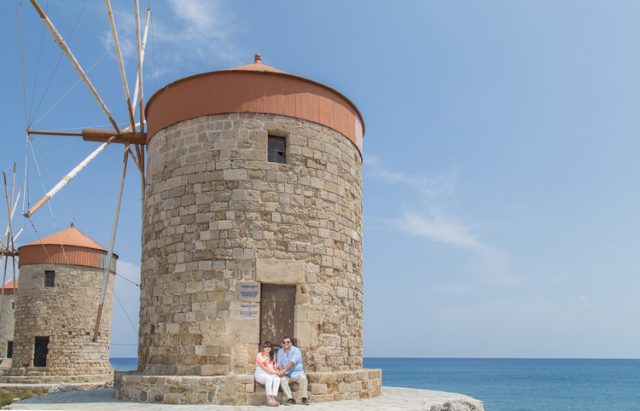 And then sometimes during a family getaway, something pretty special happens for a once-in-a-lifetime experience… moments like these you're especially grateful that you have a vacation photographer with you!
So, first off, a huge congratulations to my younger sister who got engaged on our trip to Rhodes in one of the world's most beautiful settings in front of family. Secondly, a huge thank you to Kristo who captured our family photographs in Greece. We're adding to our ever-growing collection of frameable images, and I'm not planning on stopping anytime soon! Honestly, I can't rave enough about vacation photography. Not only are the images the best souvenir imaginable, the entire experience is so much fun. With a group in particular, you move beyond the awkward phase extremely quickly and it ends up being an incredibly memorable family experience!
I ask this all the time, but I'm sure there are other vacation photography lovers out there: have any of you hired a vacation photographer before? What was your experience like? Feel free to share your recs for vacation photographers below or in my original post about hiring a vacation photographer!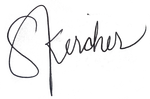 If you're heading to Greece and would like me to connect you with Kristo directly, feel free to email me for more details. Alternatively, you can find his details on his website. ??
---
Like the travel style in this post? Shop the look here: