A Mini Guide from a First-Timer on the Route des Vins
If you're planning your journey to the picturesque French region of Alsace, wine tasting is undoubtedly on your list of things to do. For many, wine tasting in Alsace is the anchor of the trip with the other pieces and activities falling into place around it. When we initially booked our getaway I was a bit mixed on what our take would be on Alsatian wines. I mentioned this in a previous post but my preferences slant towards red wine in general, and I'd had this preconceived notion that the wines we would try in the region would be predominantly sweet whites (like the muscats and rieslings we often think of in the US). As it turns out, Alsace brought tons of surprises for us and a whole heap of wine education. If you're a sweet white wine drinker, you'll undoubtedly find something you love in Alsace. If you're not a sweet white wine drinker, I think you'll be surprised by the diversity and quality of wines coming out of the region. The best advice: go in with an open mind and be prepared for some palatable surprises.
"The discovery of a wine is of greater moment than the discovery of a constellation. The universe is too full of stars." ― Benjamin Franklin
The Varietals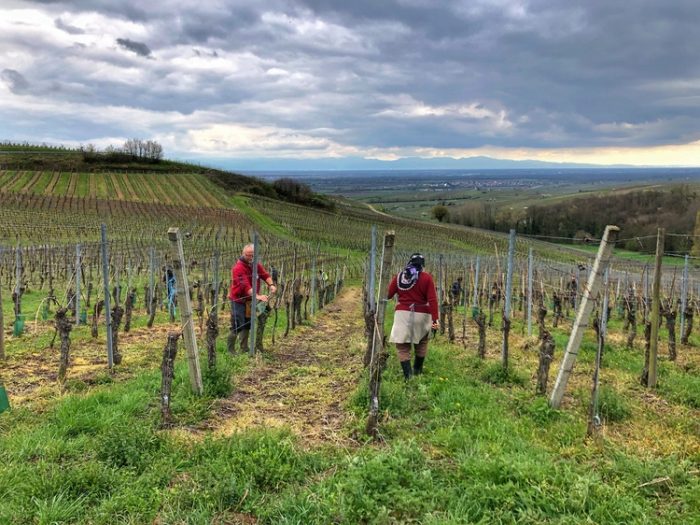 If you've dug in even briefly to learn about wine tasting in Alsace, you'll know that it's a region focused on white wines and it's rather unique in that respect. There are seven varietals produced in Alsace:
Riesling (the most noteworthy in the region)
Gewurztraminer
Muscat
Pinot Gris
Sylvaner
Pinot Blanc
Pinot Noir
Wine Enthusiast has a great rundown on the varietals and what to expect. Pinot noir is the only red wine produced in Alsace and you'll find that it's produced in much smaller quantities. From our experience, the pinot noirs left a bit to be desired (there's a reason that Alsace is known for their whites!) but the best options can be found in St. Hippolyte, a tiny town at the foot of Haut-Koenigsbourg. If you're interested in the pinot noirs, delve in a bit to find the best producers and make appointments for tastings if need be. We noticed that very few, if any, tasting rooms were open in St. Hippolyte when we passed through.
So, let's go back to the main draw: white wines. For many of us, the idea of a riesling or muscat brings to mind a saccharinely sweet wine. It's often what we're exposed to in the US with those particular varietals. Give yourself one day of wine tasting in Alsace and that notion will be challenged. Alsace is actually one of the few regions that produces dry Muscats, which is a bit of a brain game when you're tasting them. They're very floral on the nose and you'll be convinced you're about to taste a sweet wine and then bam!  it's not sweet at all. Major plot twist for the muscat. Then there are the rieslings that come in many forms. Rieslings are the most prominent varietal in the region so when you go in for a tasting you'll want to try one or multiple to compare different incarnations. Generally, dry Rieslings are the heart of Alsatian wine production but you will find some semi-sweet varieties if you're in search of that.
The gewurztraminer in the area can vary hugely, too, though most that we tasted were on the sweeter side. The late harvest gewurztraminer bear almost a sauternes-style dessert wine quality and are certain to please any lover of a sweet white wine. We tried pinot gris at most tasting rooms and my mom quickly found that it was a varietal she gravitated towards; generally on the sweeter side and easy to drink.
Our family of four really covered the gamut with wine preferences. My mom loves a sweet white wine, I like something in the middle, my dad skews towards something dryer, while my husband almost exclusively prefers dry whites. Every single one of us found multiple wines that we loved during our tasting experiences. Truth be told, I went in saying that I preferred the drier whites, but as it turns out, I found plenty semi-sweet varieties that I wanted to take home.
The other varietals – sylvaner and pinot blanc – we didn't find as widely available. If you're interested in learning more about these wines from a professional, check out Madeline Puckette's rundown and information on Wine Folly.
What are tastings like?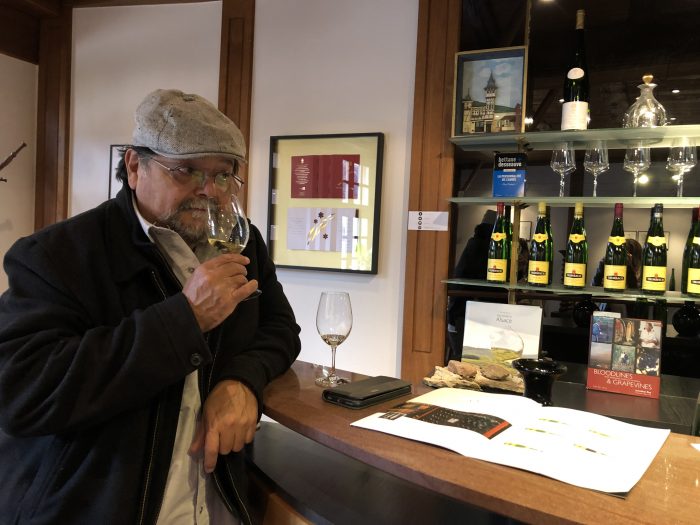 The experience of wine tasting varies from region to region. In some instances, like wine tasting in La Rioja, wine 'tasting' goes beyond a tasting room. Most tasting experiences there include vineyard tours in a multi-hour educational format. In other regions, you won't see the vineyard, but you'll see production facilities and learn about fermentation before tasting wines. Wine tasting in Alsace, in contrast, is focused almost exclusively on tasting in tasting rooms. There's some education while pouring but you don't really get the stem to glass type insight on the wines there quite as often.
In Riquewihr, for example, our gite practically abutted the vineyards draped on the slopes surrounding the town but we never actually went into the vineyards at all. All the tasting rooms are dotted along the main stretch of town, mostly small storefronts with a sign outside advising that tastings can be enjoyed inside ('degustation'). Our sole exception to this was our Segway tour in Eguisheim where we had the opportunity to ride through the vineyards, learn about production and then taste the end product.
To taste, mosey on up to the bar where the bartender will share with you a list of available wines that you can taste based on your preferences. Many of the tasting rooms are intimate settings and quite a few are family owned and operated. Generally speaking, we found English was spoken and the staff gave us some brief insight into what we were tasting as they poured. Most were great about making recommendations based on our personal tastes.
As an aside, I found Alsace to be a wonderful wine region for wine tasting newbies. Wine tasting can seem intimidating if you're not a major wine drinker or haven't been tasting before. The vibe when you're wine tasting in Alsace is anything but intimidating; it's friendly, low-key and educational, with English widely spoken so you won't feel like an outsider if your French language skills are lacking.
How much are tastings?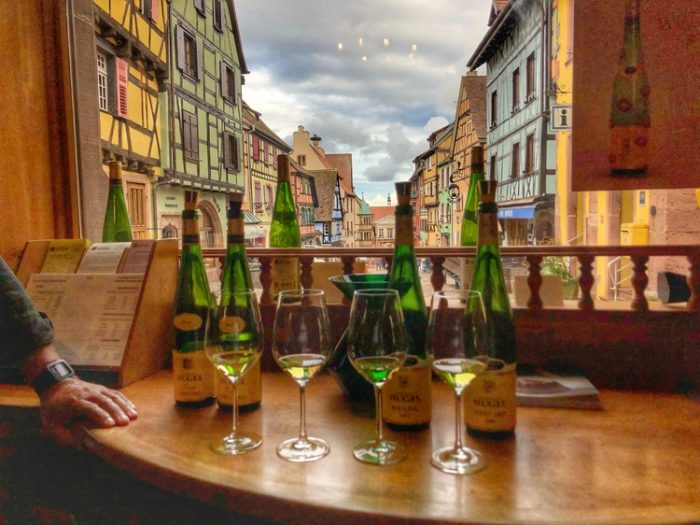 Generally speaking wine tastings are free in the majority of tasting rooms in Alsace. The concept is simple enough: enjoy an array of tastings complimentary but be prepared to purchase a bottle of wine (or more, if you're inclined!) upon departure. Now, the tasting formats can be a bit confusing because there's really no 'format' as such. In many places, you'll be slipped a list of wines with the option of trying a certain number complimentary. Often times in Alsace, we were given a list of wines and were allowed to try whichever we wanted… it's always that fine line of wanting to try a range but also not wanting to feel like you're being overzealous with the complimentary tastings. In many places we opted to try 5 or 6 wines each, and we often each chose different wines since our preferences differ.
There were a couple of tasting rooms that offered flight options (Maison Zimmer in Riquewihr comes to mind) in addition to the typical tasting options. Flights are at a cost (relatively nominal) and guests have the choice of 4 wines off of the list, which are served as a more sizable pour. In this case, there's really no pressure to buy a wine when you're done because you've paid for a flight. As we found ourselves being loaded up with bottles of wine to take home, we sometimes preferred to pay for a flight and not feel obligated to purchase.
Broadly speaking, appointments aren't necessary or taken for wine tastings in the tasting rooms in town as it's a more casual approach. If you're looking to visit a particular winery for a bigger tour, reach out directly on appointments to learn the best way to get the most out of your visit.
How do I find tasting rooms?
The beauty of wine tasting in Alsace is in discovering.
Tasting rooms are everywhere in Alsace. Big towns, small towns, on the roads between towns; you won't go thirsty when you're traveling along the Route des Vins. There are only a couple of tasting rooms that are somewhat famous (Trimbach in Ribeauvillé and Hugel et Fils in Riquewihr are amongst the most renowned) so it's not as if you'll necessarily be visiting with certain wine makers in mind. The beauty of wine tasting in Alsace is in discovering; discovering your favorite new varietal and discovering the small-scale wine maker with an unassuming store front. We didn't have a day dedicated to wine tasting. For us, every day included wine tasting in a leisurely way while we visited new towns in the region. If you toss a coin in the towns of Riquewihr, Ribeauvillé and Eguisheim, you'll hit a tasting room. One of the virtues of the region is that there's not a huge commitment in terms of time or money in risking a visit to an unknown tasting room. Pop in, taste a few wines, buy a bottle (usually $8 – $15) and then be on your merry way. Worst case: you don't love it. Best case: you've discovered a new fave and learned a bit about Alsace. Some of my favorites:
Cave de Ribeauvillé is great to try a range of wines from different producers. This is also a great way to focus on one varietal and really find your fave (e.g. a Riesling-only wine tasting with 5 different producers). In Colmar, there's Le Cercle des Aromes which offers tasting pours (at a cost), which is another great way to gain some insight/education from a professional while having the opportunity to taste from a range of growers.
Beyond the Vine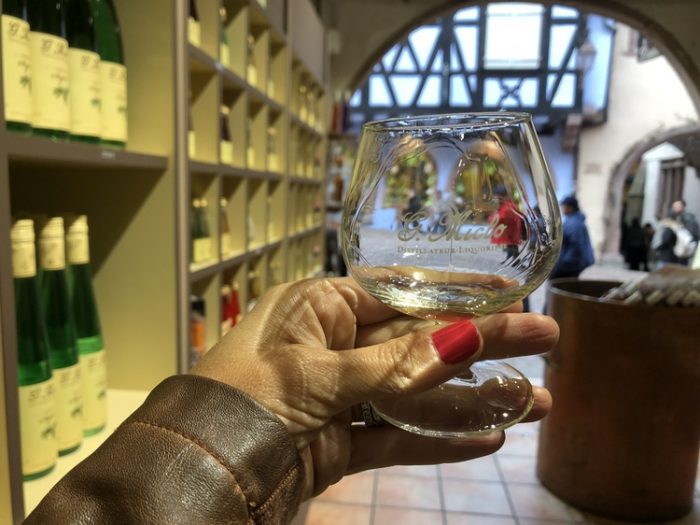 Not a huge wine drinker? You'll still have plenty of choices on the libations front. To be honest, I was pleasantly surprised at some of the options produced in the area that fly under the radar in a major way. If Alsace is associated with anything (besides gorgeous villages), it's wine, but the amount of locally produced whisky will shock you (I mean, I had no idea that was a thing). You'll also have your choice of eaux de vies from a variety of small producers. Our first tasting in Alsace in general was at G. Miclo,  a distiller with a storefront in Riquewihr. In an area where wine tastings abound, G. Miclo is serving up small batch whiskies and a range of eaux de vie and liqueurs. My dad, more of a whiskey drinker than wine drinker, loved the opportunity to delve into some small batch stuff and eagerly packed up a few smaller bottles to take home as gifts. If you pop in to G. Miclo in particular, the chestnut liqueur is hands down the best and it's sold in travel-friendly sizing to easily take home.
Alsace's German influence means that beer is a totally acceptable option throughout the region if you prefer beer to wine. In Riquewihr, head to Brasserie Vignoble (Bra'V) on the edge of town for craft brews and a bar menu with local favorites like tarte flambeé. They have a range of beers to please any palate and in the summer their outdoor space is perfect for leisurely lounging.
How do I get around?
I have an entire post forthcoming on tips for visiting Alsace, from hotels vs. rental properties, getting around, availability of Ubers, taxis, etc. but in summary, you'll need to be thoughtful about getting around when you're planning on wine tasting. The legal limit for BAC in France is low and that aside, it's never worth the risk of driving after drinking. We used a three-pronged approach in our wine tasting: first, we based ourselves in Riquewihr, which houses a number of great tasting rooms that we could reach on foot. We also walked to Ribeauvillé from Riquewihr, which allowed us to get in some exercise and some wine tastings without worry. If wine tasting is a focus, base yourself in a town that provides lots of options for tastings accessible within walking distance. Second, on our day in Eguisheim, we had a DD that drove our rental. My dad had a few small tastes while we were out but kindly took to sipping water while we did our wine tastings in town that day. This option works but does require someone to opt out of tasting, which isn't always the most likeable option. Lastly, we used taxis/Ubers where available. This works but isn't always the most reliable option as Ubers aren't always available in small towns and taxis can be hard to find as well outside of Colmar, Strasbourg and larger towns. This could work more successfully if you have a taxi name and number to have someone on call.
Other options would be booking a private driver in advance for a dedicated wine tasting day or booking a wine tasting tour if you prefer traveling with a group. Click here for some fan favorite tours via TripAdvisor – most depart from Strasbourg or Colmar.
---
Anything other questions or insight about wine tasting in Alsace? Leave your thoughts and questions below! ??