Alsace is a slice of France straight out of a storybook: the half-timbered homes, the verdant Route du Vins d'Alsace, and the rich history that involves a region ping-ponged between France and Germany for decades. Does it feel French? Does it feel German? The answer is that the region is quintessentially Alsatian, which is a veritable mix of both but with its own unique personality. We adored the region and would happily return to explore more of the picture-perfect towns. Much of the enjoyment comes from simply wandering through the picturesque villages (see point #2 below) and taking it all in, but there are some must-have experiences in Alsace for those wanting to craft a super special itinerary that brings the best of the region. Below, I'm sharing a bit of inspiration our own trip for a fun-filled escape to the region with 10 things to do in Alsace.
Take in Some Wine Tasting + Education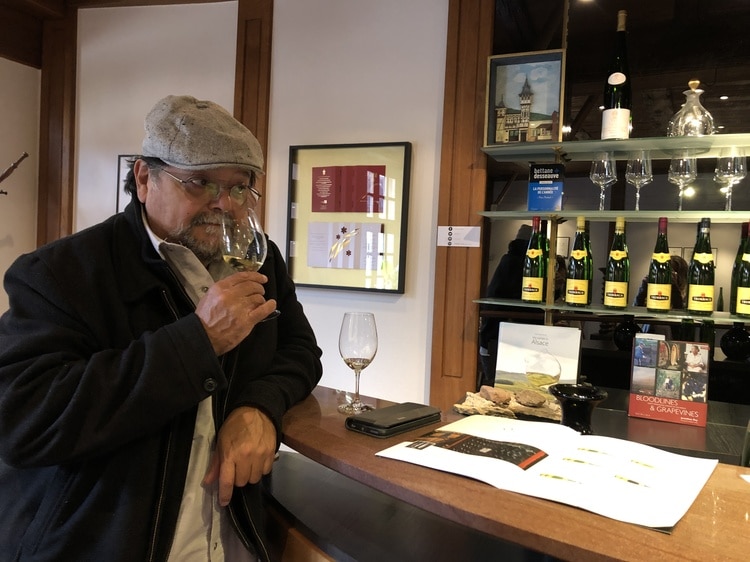 1If you're heading to Alsace, there's no doubt that vino is top of mind. While the Route des Vins in Alsace isn't quite as famed as Bordeaux, Burgundy or the Loire Valley, the white wine-centric tastings make it a fabulous destination to learn more about the famous Rieslings, Gewurtztraminers and Muscats that make the region a draw. And, if you're anti-Riesling because you think of them as being saccharinely sweet, you'll have a chance to switch your perspective. Rieslings – and Muscats for that matter! – are generally dry in Alsace, in contrast with much of the rest of the world. Head to any tasting room in any of the picturesque villages and enjoy a free tasting, a bit of insight from the wine makers, and grab an inexpensive bottle to take home with you. Riquewihr and Ribeauvillé have ample opportunity for tastings in charming tasting rooms that are dotted along the picturesque thoroughfares.
Check out my post on wine tasting in Alsace with more details on how to maximize your time.
Drive to Discover the Picturesque Towns
2Perhaps Alsace's most palpable draw is simply its picture-perfect towns, each unique but all similar with their half-timbered, colorful facades that make this fairytale region what it is. A number of Alsatian towns have been ranked amongst the prettiest in France but even the ones that don't hit the radar screen are often still dripping with charm. Riquewihr, Ribeauvillé, Eguisheim and Kayserberg offered some of the most amongst the villages in terms of shopping, wine tasting, etc. Colmar feels like a large town/small city, while Strasbourg is a step up in size and is truly more of a city. Other larger towns that we didn't have the chance to visit include Sélestat, Obernai and Mulhouse. Smaller towns we visited include Bergheim, Hunawihr, St-Hippolyte, and Zellenberg (amongst many others).
The trick is that many of these small towns aren't well-connected (or connected at all) by public transport so renting a car is a great way to truly explore the region (obviously have a designated driver). You'll drive through a handful of tiny towns in what seems like minutes, so having the option to stop in places that intrigue you is always a great way to discover your favorite little gems!
Check out a run-down of Alsatian towns on GetAlsaced.com for more inspiration.
Go on a Segway Tour through Eguisheim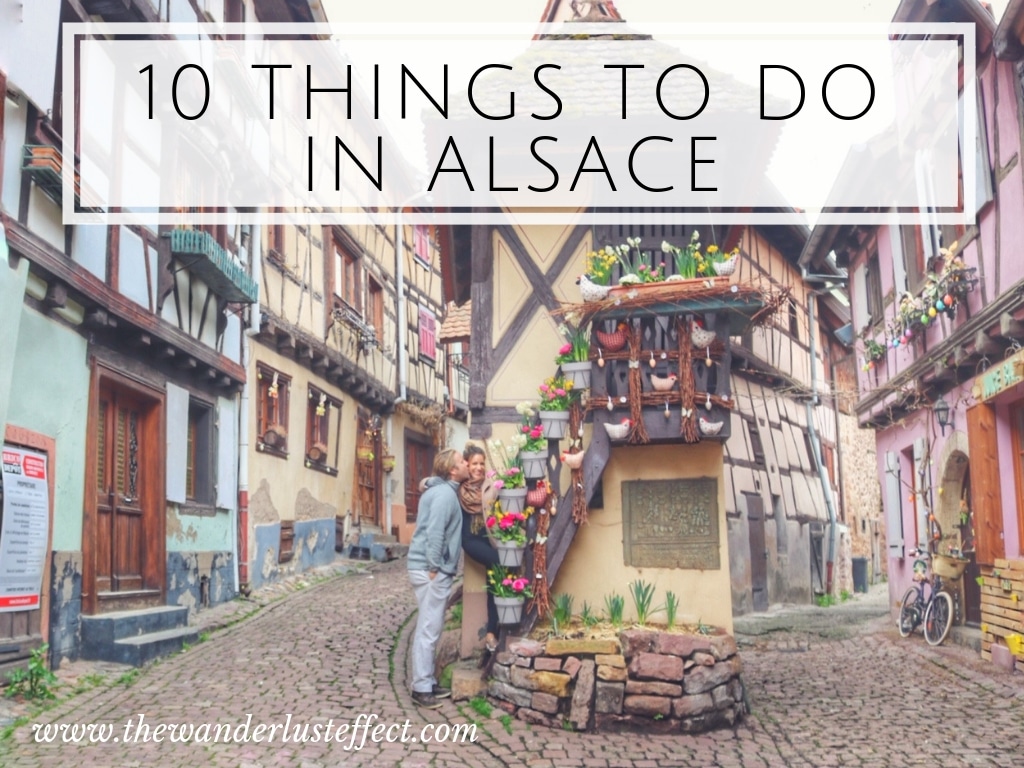 3Hands down, our Segway tour was the most memorable day of our trip and a really fun activity for those looking to add some action-oriented plans to your itinerary in Alsace. We toured the quaint Beauty and the Beast town of Eguisheim with Pierre from Segway Alsace and it was an absolute blast (there are few times I've seen my mother more aglow with happiness). The Segway tour takes you through the town itself for a bit of history and sightseeing before off-roading, heading into the vineyards where you'll be spoiled with views as you roll past the vines. Add in a glass of sparkling wine outdoors, plus a grand finale wine tasting and it's an absolute must for any trip to Alsace.
Check out my recap of our Segway tour in Alsace for inspo.
Uncover Alsace's Culinary Delights
4Alsace is home to a renowned gastronomic scene, and the wine (see #1 above) is only part of that equation. The food is an interesting mix of German meets French, with meat-heavy meals that benefit from a bit more French finesse (and those fabulous sauces the French are famous for). Vegetarians will struggle in the region and vegans will especially find dining in Alsace difficult (most vegetarian options are loaded with cheese). As a pescetarian I found a happy middle ground with pike perch and trout available on many menus, plus some vegetarian options that were wonderful. Meat eaters out there will be spoiled for choice, though. Alsace is the capital of foie gras, and most menus will offer up Alsatian classics like choucroute (sauerkraut topped with a variety of meats), tarte flambeé (a thin crust pizza traditionally topped with cheese, onions and bacon), coq au Riesling, oxtail, veal, etc. The region is also rich in mushrooms (you'll see morels on many menus), and if you're visiting during white asparagus season like we were, be sure to try the specials! If you have room for desert, try the region's famous pain d'epices, a local gingerbread, or their kougelhopf, a not-so-sweet bundt cake made with raisins and almonds.
Head to Haut-Koenigsbourg
5When you drive through Ribeauvillé you'll see three châteaux perched upon the hilltops, all part of a multi-hour hike to see the ruins of former fortifications. Beyond the three castles of Ribeauvillé (see point #9 below), there's Haut-Koenigsbourg, a castle set up the hill from the town of St. Hippolyte, which you can drive to. To be honest, my expectations for this were rather non-existent but the castle absolutely wowed all of us in a major way. About 2/3 of the castle is original while the remainder is part of a long restoration project that has brought this château back to life. It's expansive and worth at least an hour to meander and take it all in. History lovers will adore this and the views are interesting from high up as you'll have an aerial view of the hamlets down below.
Entry fees are €10 for adults.
Visit Strasbourg Cathedral
6Strasbourg Cathedral is Alsace's most photographed destination, and in many ways Strasbourg is the gateway to Alsace. It's a city, not a tiny town, and is the formal seat of the of the European Parliament, melding old and new. The majority of visitors flying into Paris to begin their trip will pass through Strasbourg. While I wouldn't choose to stay in Strasbourg (that's a personal choice), it does make a great travel hub with direct trains to Paris, to Colmar, and to neighboring countries, plus there are many day trips to the charming towns on the Route des Vins that depart from Strasbourg. There are still the charming half-timbered buildings that will wow you but it's the Cathedral that dominates the town, and you'll see the sky-high spire as you wander around. The building of cathedral was started in the 12th century and it held the record for the world's tallest for many years (466 feet). Pop in to admire the stained glass and snap a photo from the street in an attempt to capture the entire building at once.
Check out my rundown on spending one day in Strasbourg.
Enjoy a Picnic in the Vineyards
7This was an unexpected sweet moment for our brood: picnicking in the vineyards. If you've been to France before you'll relate to this scenario: Arrive day one. Buy loads of meats, cheeses, mustards, etc., etc. after convincing yourselves that you absolutely unequivocally will 100% eat all of this before you leave because it's too delicious to pass up. Realize that you have all of these sumptuous leftovers the day before departure. Our solution? Take it to the vineyards for a picture-perfect picnic. We packed up three types of cheeses, a range of cured meats, tiny containers of spicy French mustards, fresh baguettes, a couple of sweet treats, and a bottle of wine and unloaded when we found a backdrop that couldn't seem to be any better. Set somewhere between Saint-Hippolyte and Ribeauvillé we stumbled into a small park with a picnic table set amidst the vines with a tiny town perched perfectly in the background. The only downside is that it was a bit chilly for my blood in April but as summer wears on and the sun intensifies there's hardly a better way to enjoy an afternoon.
Want more information on picnicking in Alsace? ⬅️ Read the tourist board's tips on locales.
Scope Out Petite Venise in Colmar
8For many, Colmar is a home base during a trip to Alsace. It's a larger version of these quaint villages, but still brings loads of charm. Day trips are readily available as are buses and trains for exploring nearby areas. Petite Venise is one of the areas that draws the largest crowds, an area set along the canal with candy-colored buildings lining the way. Colmar is beautiful all around though, and while Petite Venise is only part of its stunning make up it's one of the most iconic sections of town. We were there during Easter when all of the facades were enlivened with scenes of spring and fresh flowers. During Christmastime, it's even more jaw-dropping.
Climb to the Chateaux in Ribeauvillé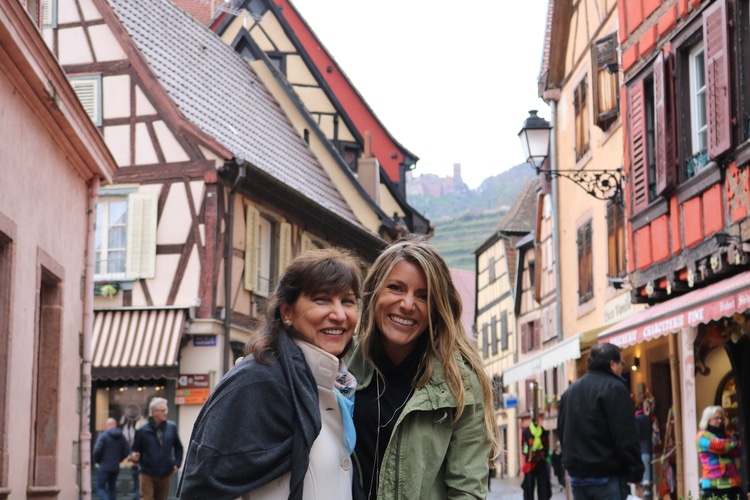 9You can glimpse one of Ribeauvillé's famous castle ruins in the picture above. There are three châteaux in total, all set up on the hilltops and all accessible by hiking trail. We visited during a drizzly day so a hike to the castles didn't make the cut. If you're there on a dry day and are looking for something active, carve out a few hours for your adventure — and wear appropriate shoes since there's altitude and forested paths to contend with. I was amped on visiting the castles and had weather and timing worked in our favor, this would definitely have been on my list. You can visit Château de Saint-Ulrich, the oldest of the castles, followed by Château du Girsberg (built in 1288, situated at 528m high), and then finally Château du Haut-Ribeaupierre, the highest of the castles situated at 642m high.
Read Expat Ballerina's take on hiking the three castles.
Consider a Day Trip to Germany or Switzerland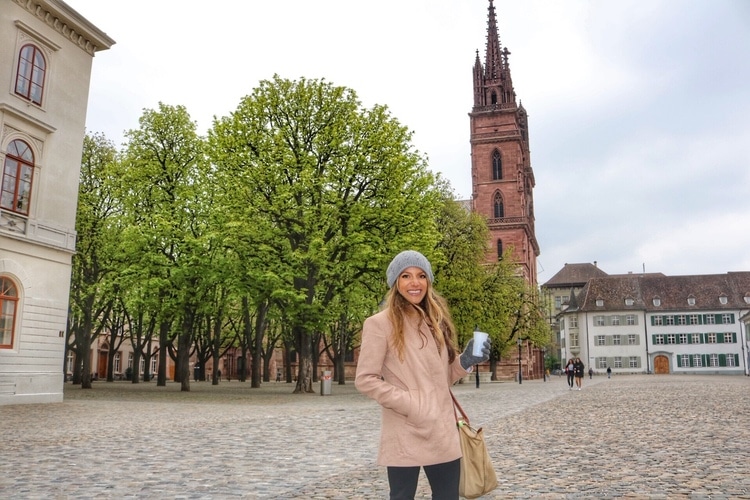 10Lastly, this one actually involves jetting out of Alsace for a day trip. Alsace sits in the eastern part of France, bordering Germany and Switzerland which makes easy day trips to neighboring countries an option if you want to venture further afield. We opted to spend one day in Basel (45 minutes by train from Colmar) for an art and history fix, but Freiburg in Germany is another option for those more interested in a Black Forest experience. I'll be sharing more on our day in Basel soon so stay tuned to see what we got into during our brief time in Switzerland!
Is Alsace on your travel list? If you've been, what would you add to this list for must-have experiences and things to do in Alsace?