After kick starting our spring escape to France in Paris, we jetted to spend one day in Strasbourg to begin our week in Alsace. Trains depart Paris' Gare de l'Est station throughout the day to Strasbourg and for those making the trip to Alsace, this is probably the easiest way to make the journey. To give you some perspective: the drive from Paris to Strasbourg would take 4 1/2+ hours while the train takes less than two hours and operates a direct route. It's a total breeze. Our tickets were around €70 each (first class) but that rate was due to my procrastination (can you believe it?!). Booking tickets 3 months prior is generally the sweet spot. I found tickets for around €30 each (second class) three months prior to our journey but after waiting a bit to discuss with the group, pricing went up. My advice would be to commit in advance if you're okay with sticking to a schedule. You'll save quite a bit of money that way and will be able to select seats together if you book a first class seat (second class is generally open seating).
When you exit the station in Strasbourg, you're about 15 minutes' walking from Petite France, the picturesque quarter that's become synonymous with the city. If you're looking to rent a car to explore Alsace like we did, rent a car at the Strasbourg train station where they're more readily available than in small towns. We paid around €50 per day for our car rental, and pick-up and drop-off were a breeze. You can check-in with your rental, leave your luggage in the car in the parking garage, and then go on your way exploring the city on foot.
9:05AM 〰️ Arrive in Strasbourg
If you're taking the train like us, you'll arrive early morning into Strasbourg, giving you ample time to collect a car if you've arranged one, before heading into town. Our first stop? A boulangerie for a latté and a croissant, lest we miss out on every opportunity to indulge in French cuisine. It's worth bringing French language skills up at this point as I found myself particularly grasping at cafés and restaurants. Our French skills are admittedly limited. By that I mean they're relatively non-existent. I always make an attempt with a few phrases but I'm well aware that French isn't currently my strong suit. Generally speaking though, we found that we could get around fairly well with a few basic phrases and we met many kind locals who tried to return our courtesy in equal measure. There were a few places where the hosts didn't speak any English and where I floundered a bit, but we managed. My advice would be to have some courtesy words and at least know how to order a relevant quantity of coffees, croissants, etc., plus how to note any dietary restrictions (in my case, this meant asking about vegetarian options and verifying dishes were made without meat). A French phrasebook or having Google translator handy will help in a pinch.
10:30AM 〰️ Walking Tour of Petite France
After your morning caffeine fix, start your day with a free walking tour to get some history and insight into Strasbourg and its picturesque Petite France area. We joined Happy Tours, which departed from in front of Strasbourg Cathedral. As a tip, the tour doesn't actually go inside or explore the cathedral itself so if you're keen to go inside and look around get there a bit early so you can spent some time inside prior to your tour (or plan on going later in the day). Our guide, Matthias, was interesting and informative and the tour lasted about 90 minutes in total, which was long enough and short enough. Tours are offered in English and in French so look for the correct signage (you'll see a British or French flag affixed to the Happy Tours sign) to find your tribe.
Petite France is a cobblestoned pedestrian area with centuries old half-timbered homes, once home to butchers and tanners that lived in the area. You'll pass a few supremely picturesque backdrops and we found that we had to back track a bit to get in our photo tour so we didn't interrupt the flow of our group. The tour passes by some of Strasbourg's most charming areas along with some of its most historic, and includes some insight into Alsatian history in an area that has had a bit of an identity crisis historically. The region bounced back and forth between France and Germany for years and while it's technically French it feels very German in many ways. Not only are the village names German in origin, the region has its own Alsatian dialect, the food scene is heavily German influenced (think lots of meat, potatoes and sauerkraut), and the architecture and overall feel is reminiscent of charming German villages.
12:30PM 〰️ Lunch at La Cloche a Fromage
If you're a cheese lover, look no further. You've found nirvana. La Cloche a Fromage is heaven, with a menu that's focused on fondue, raclette and cheese plates paired with French wines. Their fondues and raclettes are all you can eat, which is simultaneously fabulous and frightening. There are two main tips with that in mind: 1) Give yourself ample time to enjoy and 2) Don't overdo it. It's not a challenge to see how much cheese you can eat, it's an opportunity to enjoy fabulous French cheeses in a whole host of formats. If you're confused about how it works, here's how it worked for us: four people, four different orders, all shared. We had two fondues at the table: one blue cheese + espellete and one Munster cheese fondue. Munster is the regional specialty so opt for that if you want something traditional. Scott ordered a cheese plate (shown above) which came out with a host of incredible cheese that we all enjoyed. They'll range from mild to extra stinky; something for everyone. I ordered the raclette, which was an experience. If you haven't had raclette before, expect a half wheel of cheese delivered to your table (Jura is the traditional variety) alongside of a heat lamp and a host of accoutrements to use as vehicles for the cheese. The heat melts the cheese just perfectly so you can scrape it off onto your pile of veggies and consume to your heart's content. Expect to pay around €30 per person but you'll likely not need much for dinner after your cheese-filled lunch. If you don't know raclette, here's a quick vid:
La Cloche a Fromage also has a cheese shop right across the way from the restaurant, a perfect place to grab wedges of your favorite varieties along with charcuterie and specialty items (honeys, jams, pastas, etc.). We stocked up on a few picnic staples to keep at our house for the week.
2PM 〰️ Shop Along the Grand'Rue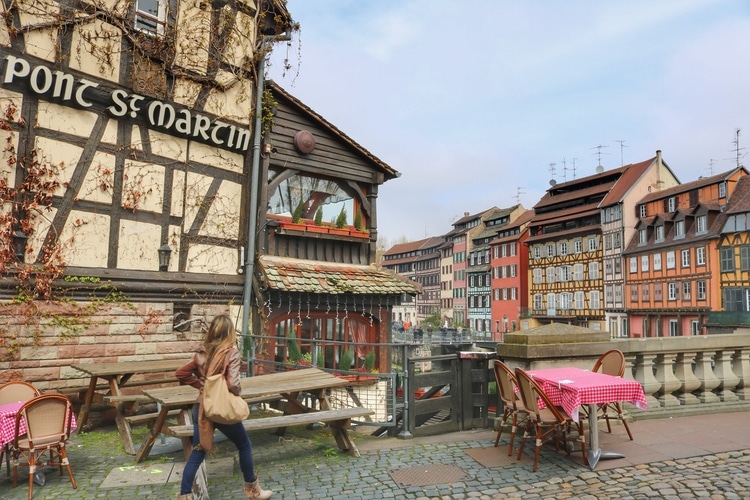 One of my favorite things about traveling in European cities is walking. Somehow I feel better about all of the food and wine after looking at my step count at the end of the day (one of our days we had 32,000 steps!). After your cheese-laden lunch hit the road and get in some steps while you shop! Strasbourg is the biggest city in Alsace and besides Colmar it will be your best opportunity for shopping depending on what you're searching for. You'll find major brands in Strasbourg but will also stumble into quaint boutiques focused on everything from Tibetan jewelry to gingerbread (pain d'epices, an Alsatian specialty). If you're in the market for wine to take home, I'd hold off if you're planning on exploring other towns in Alsace. You'll have a chance to buy from tasting rooms and wineries so go to the source vs. buying from a shop.
4PM 〰️ Boat Cruise with Batorama
Our day in Strasbourg was cut a bit short as we headed out to make our way to check in to our gite in Riquewihr, but the afternoon is a perfect time for a boat cruise in Strasbourg if weather permits. We saw Batorama boats out during the day, cruising the waters around the Grand Île. Cruise times range, but last roughly 45 minutes and cost around €10 per person (discounts for children). We did a boat tour during our day in Stockholm this past fall and loved seeing the city by water. Besides bringing a new perspective, it's a nice way to get some sightseeing in while giving your feet a momentary break from city wandering.
What About Staying in Strasbourg?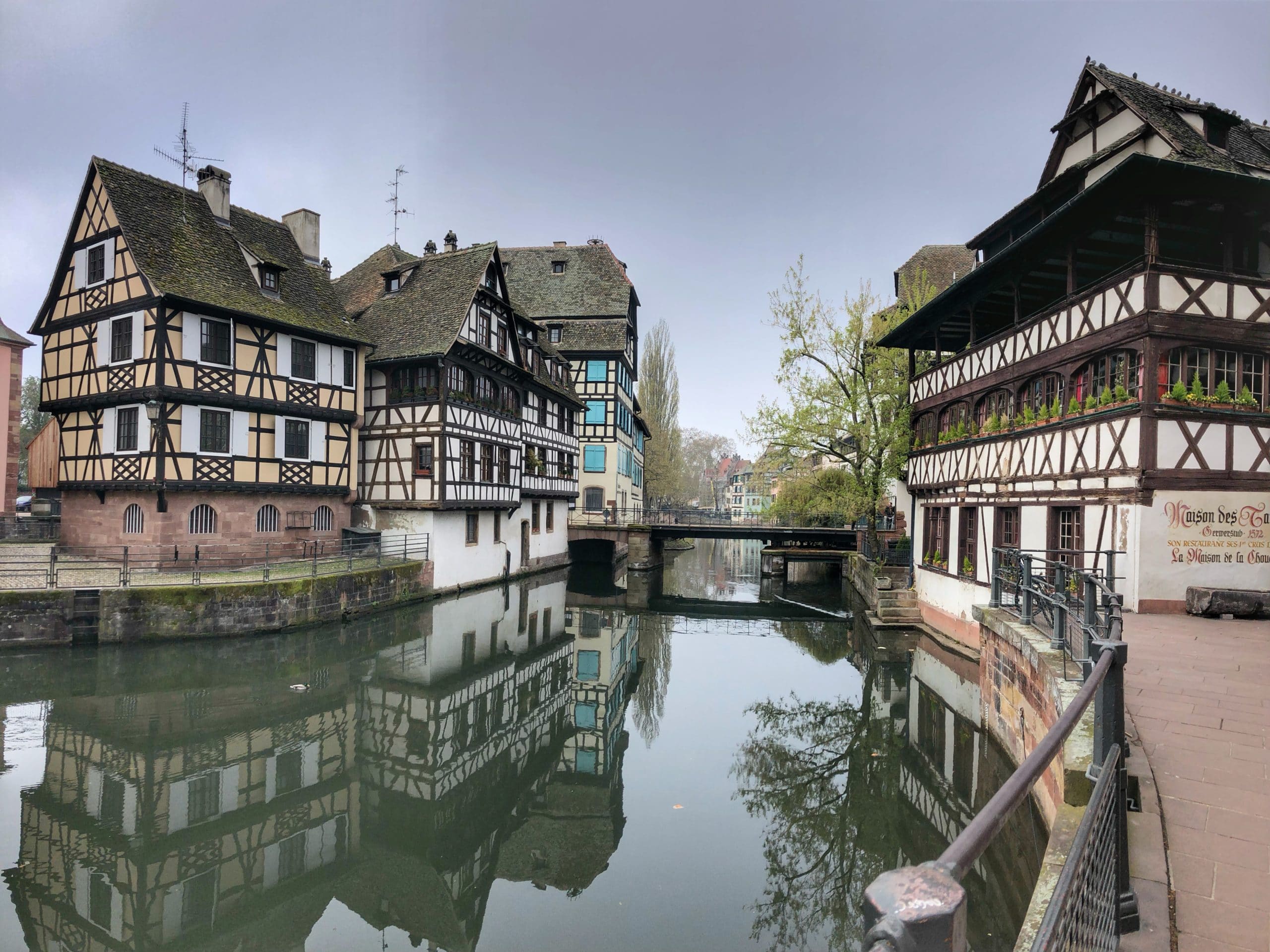 Now, lastly, I'm going to share my thoughts on staying in Strasbourg. We spent a week in Alsace based in the town of Riquewihr which was utterly next-level charming. I thought we'd prefer the small town experience and we 100% did (not even a question in our minds). I'd absolutely recommend staying in one of the classic villages over one of the bigger towns for a really memorable getaway. I think larger towns/cities can have their merits, too, though, depending on your budget and travel style. The benefit of staying in a town like Strasbourg (or even Colmar for that matter) is that it's very well connected. You can take trains to/from Paris, Colmar, Basel, etc., etc., and buses are readily available, too. There are also ample day trips that depart from the area if you prefer to opt for a group tour. Then there's the matter of nightlife. In small towns we found that most shops closed around 6 or 7PM and the villages were virtually dead in the evenings except for some dinner restaurants. The bigger towns/cities will afford more options in the evening if that's your focus.
Strasbourg will likely be your first brush with Alsace if you're coming via Paris and it's charming… if you haven't seen other towns in the region. I remember briefing my mom as we took the train in, saying that Strasbourg was going to be gorgeous but the towns that were coming next would be next-level. When we departed Strasbourg she asked how it could possibly get prettier. It did. The towns further south bring loads of beauty and charm, plus you'll be in the heart of wine tasting on the Route des Vins d'Alsace. To me, these small towns represent the heart of it all; perhaps it's a bit of a personal preference in travel style as well. The downside of being in a small town is that getting around is a bit more complicated. You don't have the volume of traffic to warrant big train stations or major bus connections. We rented a car for that very reason knowing we'd be a bit more limited. All that said, you can't really go wrong. Whether you choose to spend one day in Strasbourg as part of a larger trip to Alsace or to spend many days based in Strasbourg exploring the region, you'd be hard pressed to find a place in Alsace that doesn't charm you. ??
Have you been to Strasbourg? What would you add to a perfect day in the city?