After spending a week in Alsace, I can hardly wrap my mind around how people visit the region in just a couple of days! I always believe that any time you can carve out is better than no time (I mean, most of us have time constraints and financial constraints to contend with) but I think Alsace is deserving of a dedicated trip. I felt like a week in Alsace was a perfect amount of time for us to get a taste of the region, see a variety of towns, and have a range of fabulous experiences, but it was also the right amount of time to make us realize we could easily return to see more of the area. It's everything you've envisioned and more: stunning villages, a unique food scene, some wonderful wines and wine education, with easy access to other parts of France or nearby Germany and Switzerland. An itinerary for one week in Alsace could take a variety of forms but I very much enjoyed the itinerary the we crafted for our getaway. We had enough to do but rarely felt like we had to stick to an 'agenda'; a perfect balance for those that want to meld a well-planned out trip with room for spontaneity.
Note: we rented a car for our week in Alsace, which I would recommend if you're planning on spending any length of time there, especially if you're based in one of the smaller towns. Stay tuned for a guide on tips for visiting Alsace, which I hope will be helpful for those trying to work on their logistics for visiting the region.
Alsace by the Numbers
Nights Spent: 6
Forms of Transportation: 4 (Train, Bus, Car, Taxi/Uber)
Restaurants Experienced: 11
Hotels Stayed In: 0
Villas Rented: 1
Towns Explored: 10
Total Spent Per Person: €735
Day 1 〰️ Strasbourg
We arrived by train from Paris to Strasbourg where we begun our week in Alsace. Strasbourg is a natural point of entry, about a two-hour train ride from Paris with trains departing the French capital regularly. Our day in Strasbourg was a nice introduction to the region with a free walking tour, an epic cheese-laden lunch, plus some historic sights in town. For those looking for a home base where you don't need a car and would have lots of access through public transportation, Strasbourg may fit the bill. We chose to continue on to the small picturesque village of Riquewihr, where we based ourselves for the week. You can see more on our gite in Riquewihr here.
We arrived in Riquewihr around 6PM and had a few hours of sunlight remaining in the day to explore the scenic town before dinner. For our first night, we opted to eat in with a freshly purchased baguette, charcuterie, pretzels, mustards, cheeses, wine and specialty items we purchased at a local market in Riquewihr. Let the freshly baked pretzels hanging in the window be your guide for finding the shop. If you choose to dine out, you're in luck as Riquewihr has a great range of restaurant offerings in town. Fan faves for more upscale casual options include Le Grognard, L'Ecurie and Brendelstub (amongst many others), or La Table du Gourmet or Au Trotthus for fine dining.
Read more about our day in Strasbourg.
Day 2 〰️ Riquewihr, Hunawihr + Ribeauvillé
After having had our first night in Riquewihr settling into our home for the week, we enjoyed the beauty of not setting an alarm. My plan for the day was simple: get up when we were done sleeping and make our way on foot to Ribeauvillé via Hunawihr. The drizzle was rather expected based on the forecast but still unwelcome as we were traveling on foot. The walk is a bit hilly at first but is doable for nearly anyone who's mobile and looking for a scenic stroll.
Hunawihr is a tiny town that didn't have a lot going on. There was one restaurant that I was interested in for lunch (Chez Suzel) but they were fully booked for the day when we arrived around noon. Book in advance if you're interested in dining there and be prepared with some French language skills. With our Hunawihr plans foiled, we continued on towards Ribeauvillé, a mid-sized town with plenty going on and lots of dining options. Ribeauvillé wowed me with its beauty and made my list of 7 towns to visit in Alsace.
There are quite a few wonderful lunch options in Ribeauvillé but we discovered that reservations were necessary for many (the vast majority of spots were full or finished serving fairly early). It's worth noting that many places close around 2PM for the afternoon so plan your lunchtime schedule accordingly. We had lunch at Zum Pfifferhus, a classic winstub, and spent the afternoon meandering before finishing up the day at the Cave de Ribeauvillé, a wine tasting and educational establishment right on the edge of town.
If it weren't for the rain and grey skies, I could have spent even more time wandering the pretty city streets. If weather and time permit, you could hike to the three châteaux of Ribeauvillé for a bit of exercise, castle ruin exploration, and epic views.
Day 3 〰️ Eguisheim + Kayserburg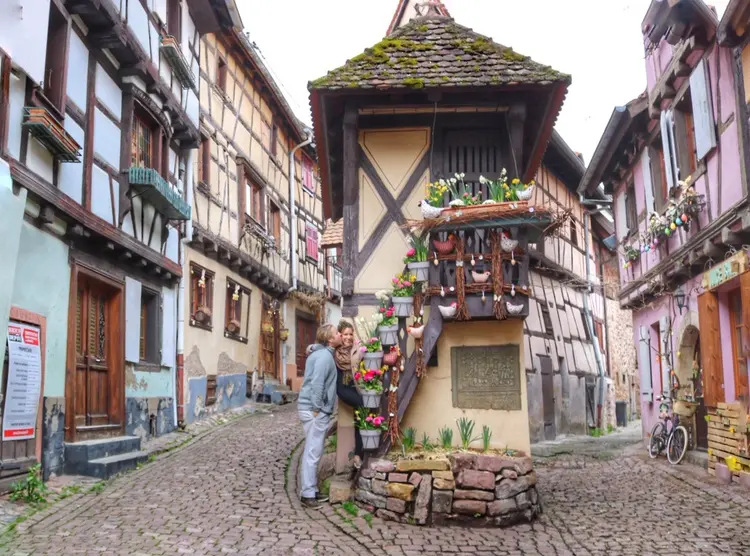 Our third day was my absolute favorite during our week in Alsace. We spent the day exploring Eguisheim and Kayserberg, two towns that always make the list of prettiest towns in France. We made it to Eguisheim in the later hours of the morning with time to explore on foot before enjoying a Segway tour in Alsace. Our tour lasted about three hours in total and was the absolute highlight for all of us, allowing us to zip through the picturesque towns before heading out into the vineyards and finishing up with a wine tasting.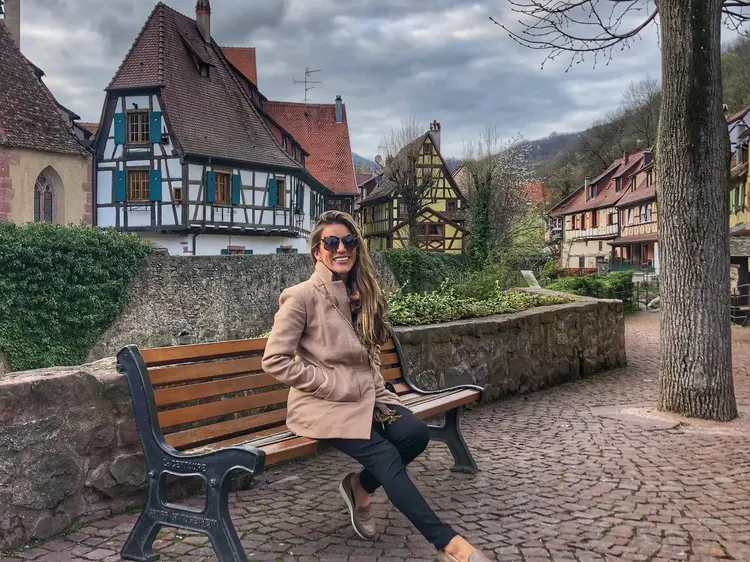 We finished our day in Kayserberg, a beautiful town that we simply didn't have enough time to explore properly. By the time we arrived in the evening many shops were closing down but we had enough sunlight left in the day to take in the pretty village scenes along the water. In Kayserberg, we opted to dine at Winstub du Chambard, the more casual dining option at Le Chambard, a five-star boutique hotel in the area. The more formal option is a Michelin two-starred restaurant, La Table d'Olivier Nasti, perfect for the foodiest foodies in the bunch. We found the winstub a nice blend; more upscale than many of the down-home winstubs we'd seen in the region (prices reflect this) but still cozy enough to be approachable and accessible.
As I mentioned above, we had a rental car which allowed us to operate on our own timeframe. The downside of this is that someone in the group needs to commit to passing up on the majority of wine tastings and opting for water at dinner. If that sounds like an unpleasant option, you'll be better off taking taxis or trying to use Uber to get around (I'll share more on this is a forthcoming post – Uber is an option, but not a guaranteed one as it's not as commonly available in smaller towns).
Day 4 〰️ Colmar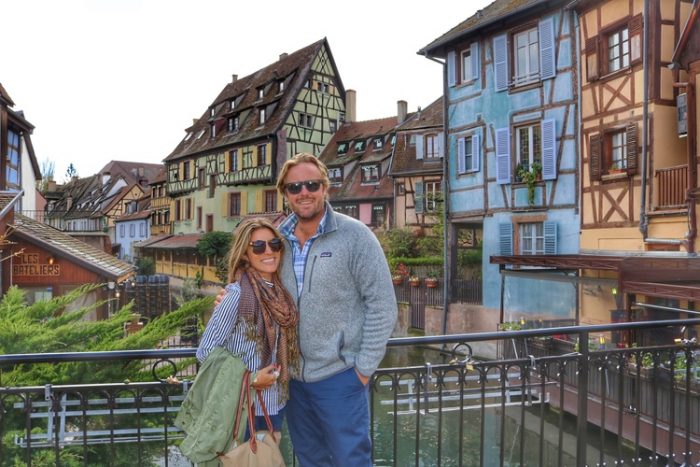 Colmar is the largest town in the region with the exception of Strasbourg (which is farther north) so is worth dedicating a day to explore. We struggled with rain during our morning there which made it a bit more difficult, but by the afternoon the sun was in full force. From Riquewihr, buses (Route 106) are available to deliver you right to Colmar, within a 15 minute walk of Petite Venise. We visited during the Spring Festival, Fête le Printemps, and Colmar couldn't have been dressed up in a more dazzling way. It's recognized as the Capital of Easter (whether that's designated or self-dubbed, I'm not sure!) and it didn't let us down with its décor, festive market stalls, and fresh blooms. There's a small train to jump on that provides a tour through town (with audio) if weather isn't working in your favor. You'll run into the city's main sights just through exploring on foot so wander freely and enjoy the picture-perfect views along the way.
There's a renowned wine bar in town, Le Cercle des Aromes, which opens at 6PM. If you're interested in trying a range of wines by the glass, time your evening around having a bite and a flight here!
Day 5 〰️ Basel, Switzerland
For our fifth day in the region we actually headed out of France and into Switzerland to spend one day in Basel. From Colmar, a train is available for about $15 per person for a 45 minute or so journey. While Basel isn't the typical Swiss postcard (more focused on history and art than on snowy mountains and fondue), it's an interesting city for a day trip as you can see quite a bit in a short period of time. We started our day with a guided tour (thank you, George!), visiting Basel Minster (shown above) and taking in the Old Town and its history before heading to Kunstmuseum Basel, the city's most famous museum. I'll share more on our day in Basel but worth noting is that if you can do one thing and one thing only, visit this museum. Basel is famous for its art scene and museums abound in the city but their fine arts museum is a major wow, filled to the brim with Picasso, Van Gogh, Monet, Renoir (etc., etc., etc.) with virtually no other tourists in sight. This part of Switzerland is German-influenced so food and drink will reflect that. Basel is cosmopolitan so your options are broad but a traditional lunch will likely be on the hearty side, with no shortage of meat and cheese in the mix.
Take the train back to Colmar – trains leave regularly in that direction.
Day 6 〰️ Haut Koeningsbourg + Tiny Towns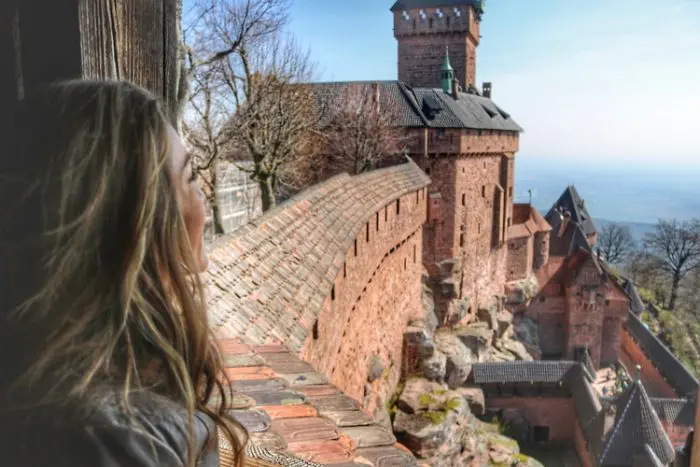 When I was crafting our itinerary I left our final day of our week in Alsace open. I wanted the flexibility to revisit any towns that wowed us or to explore new areas that we may not have been aware of from the start. We chose to start our final day with a visit to Haut-Koenigsbourg, the most famous château in the area, before heading on. If this is on your agenda, dedicate two hours to Haut-Koenigsbourg to explore.
From there, we headed back towards Riquewihr allowing ourselves to stop in small towns along the way. We wandered through St. Hippolyte and Bergheim before finding the perfect place for a picnic, a small playground in the vineyard within the town of Rodern. For us, it was the perfect way to finish up all of the nibbles we'd collected throughout the week, lest we let anything go to waste!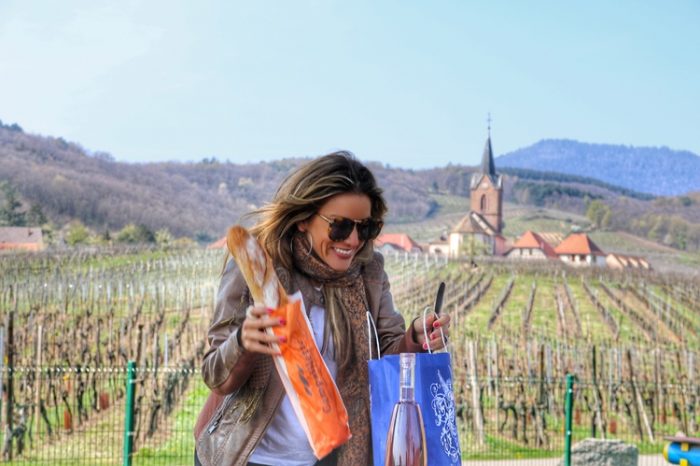 When you're talking about Alsatian villages, a 'small' town can be very small. In some you'll find gems; in some you'll find that there's really nothing going on and may just dedicate ten minutes strolling along the main road before bidding the town adieu. Days like this in particular are where rental cars come in handy. For an exploratory mission without a rental car, plan on hiring a driver for the day as public transport is not a viable way to get around to the tinier towns, and taxis/Uber/Lyft aren't necessarily a reliable way to sightsee.
Other options for the final day include visiting some of the other prominent towns in Alsace like Obernai, Selestat or Mulhouse. For the more ambitious of the bunch, a day trip to the Black Forest in Germany (or to Freiburg) may make the list, too depending on where you base yourselves.
For more inspiration, read my round-up on 10 Things to Do in Alsace.
Day 7 〰️ Train to Paris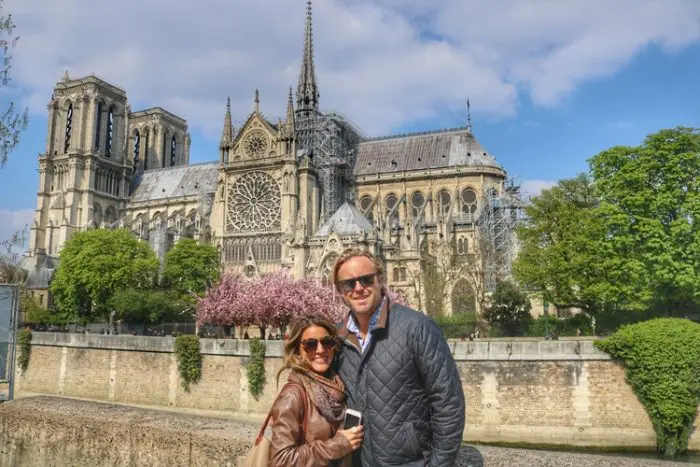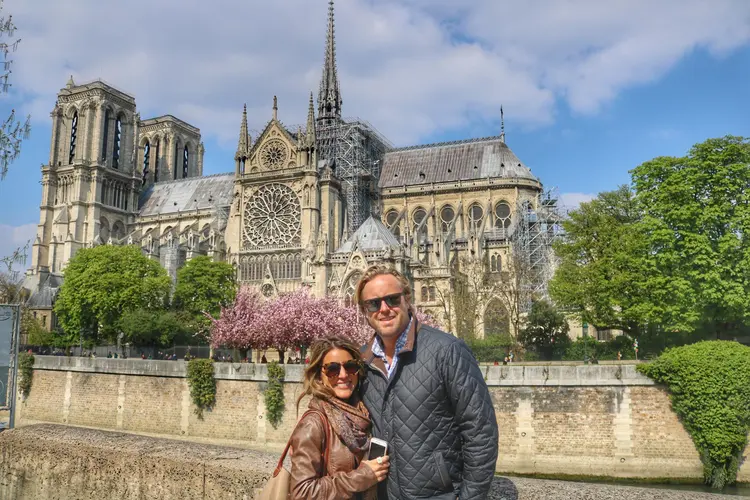 Finally, time to return to Paris. Trains are available from Colmar and Strasbourg to Paris but we chose to depart from Strasbourg where we could return our car and have a straight shot back to the capital. There are a number of trains to Paris available and booking in advance is advisable for better rates. We waited until the week of our stay to book, which was a mistake. Prices were far higher last-minute, and studies show that three months prior is the sweet spot for best available rates. Plan on roughly two hours from Strasbourg to Paris' Gare de l'Est station. You can book your trains through the SNCF site in advance.
---
Weather was the only thing that hindered our itinerary a bit. If we'd had sunshine during our days in Colmar and Basel, we would have likely allowed ourselves more time to explore each city at a leisurely pace. In Ribeauvillé we would have taken the time to climb to the châteaux if weather was friendlier but instead found ourselves ducking into shops to stay dry. That said, our week in Alsace was awesome. If we'd had just a few days in the region, I think I would have felt short-changed. We all left knowing that we could easily return, which is always the sign of a great destination. As many locals will proudly tell you, Alsace is one of France's true gems.
How would you spend a week in Alsace?