At 165 square miles, Naxos is the largest Cycladic island and home to a wealth of experiences that go far beyond Naxos town and neighboring beaches. It took me a day or so to get into Naxos' groove because, as it turns out, Naxos' groove is quite different from its neighboring islands. It doesn't try to compete with Mykonos' party scene, Paros' glamorous harbor or Santorini's romantic side; Naxos is its own thing entirely. It's an island with major soul, where ancient ruins abut family farms, where farm-to-table was celebrated far before farm-to-table was a thing, and where uncovering its true beauty and character means going beyond the superficial. We dove into Naxos headfirst to try and understand what made it special, and we left begrudgingly, working out how we could fit the island into future trips. Below, I'm sharing some inspiration on 10 things to do in Naxos with a few highlights that are musts for a trip to the Cyclades.
Discover Naxos Town
1After spending five nights and four days in Mykonos, I wasn't sure we'd find a main town that brought as much beauty and charm but Naxos gave Mykonos Town a run for its money. The town is a maze of restaurants, boutiques, cafés, and bars lining alleyways up to the city's high point where views over the water make for a perfect sunset perch. There's the classic Cycladic charm you'd expect: whitewashed buildings with those picture-perfect stone-lined pathways, and restaurants that offer dining that spills into the streets. There's also one of Naxos' key historic sites, the Temple of Delian Apollo, perched out just on the outskirts of town where you'll have stunning views back to the city.
We visited during August 2020 when COVID had done a number on the visiting population. During our time there, numbers were slashed by about 75% which meant we were extremely fortunate to be able to meander the streets without crowds. In normal summer months, you can expect a bustling scene in town. If you want to explore sans crowds, head to town during the afternoon period when most island visitors are sunning at the beach. From 2PM – 6PM or so many shops are closed for their daily siesta so crowds are thin, which means perfect timing for a photo tour of the town!
Hike the Island
2Naxos is the perfect island for lovers of the outdoors, whether that's beachy watersports (see below) or hiking enthusiasts. You'll be hard-pressed to find a better island in the region as far as hiking is concerned (though Sifnos gives Naxos a run for its money here). While the island's epic Mount Zas hike, the highest point in the Cyclades, is continually touted as one of the top things to do in Naxos, there are plenty of smaller, more manageable hikes to work into your day-to-day on the island. We found Naxos incredibly well signed, and you'll see hiking signs marking trails throughout the island, noting locales and estimated timing to reach various destinations. Take your walking shoes and plenty of water — the sun is hot in the summer months so earlier outings are recommended.
Visit the Island's Villages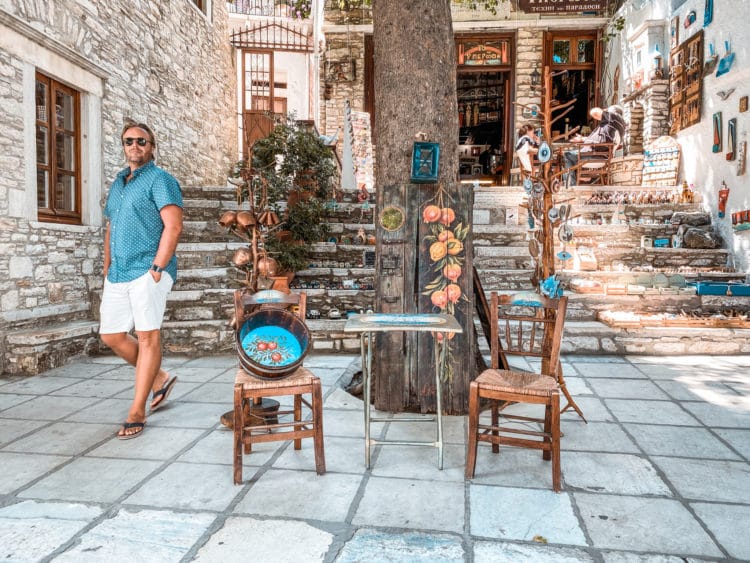 3Naxos Town will likely be your home base for shopping, dining, and exploring, but Naxos' larger size means that there are a number of other charming towns to visit around the island. Apiranthos, a mountain village constructed largely of marble, is an artsy enclave worth a stroll. It's been home to a number of influential Greek figures, and it has a unique history with influences from Crete which have shaped the town's cuisine, dialect, and more. You'll find boutiques here along with some gorgeous views that come with the town's elevation.
Halki, Naxos' former capital, is another one for the list, a central town with an upmarket feel, offering some lovely shopping opportunities for anyone interested in arts, local crafts, or textiles. Cafés and restaurants line scenic alleyways, making it a perfect stop for a mid-day coffee or lunch. Nearby, you can walk from the town center to a historic church from the Byzantine era (more on that below).
Visit Naxos' Kitron Distillery
4In the town of Halki, you'll run into the island's Kitron distillery where Naxos' specialty liquor is made. Kitron, made from the leaves of the citron tree, can only be made in Naxos with its Protected Designation of Origin status. Kitron is a rather particular flavor but it's worth trying while you're on the island as it's a local specialty– plus it's a great gift to take home! The distillery offers three varieties of Kitron (30%, 33%, and 36% ABV) that you'll get to try along with their raki, which was my personal fave.
Delve into Naxian Culture through Food & Wine
5If you've read about our experience on a food and wine tour in Naxos with Philema Tours, you'll know it was one of our favorite things to do in Naxos (and in Greece broadly). Agriculture is integral to Naxos' history and traditions, which means farm-fresh cheeses, world-class olive oils, fresh-from-the-earth veggies, and some wonderful natural wines are being produced locally. Of all of the Cycladic islands, I think a food and wine tour is arguably most culturally relevant in Naxos and worth putting on your agenda if you have at least two days on the island. Truth be told, even if you had just one day in Naxos, I think this would be a fun experience for foodies. Wine lovers, this is a must because it's the only way you'll get a real brush with winemaking in Naxos!
Read more about our food and wine tour in Naxos with Philema Tours.
Uncover Naxos' History
6As legend has it, Zeus was born in Crete but brought over to Naxos as a child where he was raised in what is now called Zas Cave (part of the Mount Zas hike I mentioned above). From the Greek mythology perspective, you'll see ruins dotting the island including the Portara (the Temple of Delian Apollo) that frames Naxos' Chora. It's a must-visit in Naxos as it's easily accessible on foot from town, providing gorgeous views of Naxos. The Temple of Demeter sits in the center of the island and can be visited if you have a car or ATV to explore the island (more on that below). Note that the Temple of Demeter is closed on Tuesdays (the one day we tried to visit) so plan accordingly!
Beyond the ruins of Ancient Greece, you'll find churches dating back to the 9th century (like Agios Mamas in Potamia) and the Byzantine church of Agios Georgios Diasoritis, which dates back to the 11th century.
Get a Vitamin D Fix at a Naxian Beach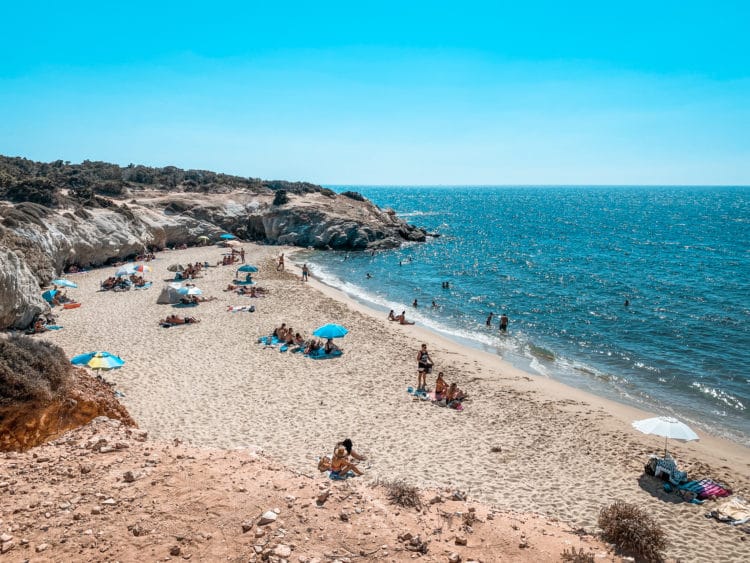 7When we arrived in Naxos, nestled into Agios Georgios beach, I swore that Naxian beaches got undue fanfare. After a few days of exploring, we found the beaches on the island that have earned Naxos some love for its beach offerings. The most stunning stretch that we visited was Plaka beach, followed by Agios Prokopios and Agia Anna. Aliko and Hawaii beaches are also beauties, offering rugged scenery in addition to sandy stretches. Plaka Beach is mind-blowingly long and there are plenty of stretches of sand where you can plop down with a towel, no sunbed required. If you prefer the sunbed offering, you'll have plenty of choices to settle in for the day.
Learn to Windsurf
8And that same stretch of sand on Plaka that I've been talking up? It's also the perfect place to try your hand at windsurfing, stand up paddleboarding, etc. Plaka Watersports is based in the center of the beach and offers lessons for newbies. My first time ever trying windsurfing was in Naxos with Dmitris from Plaka Watersports who coached Scott and I in a semi-private lesson. An hour private lesson + windsurfing is €50, while a semi-private session is €70 if you have a travel partner you want to share with! The calm and super shallow waters of Plaka make it an ideal place to give it a whirl. And be prepared – it's far harder than it looks! If you're an experienced windsurfer, rentals are available (sans lessons) as well.
Shop at Naxian Boutiques
9Between Naxos Chora, Halki, and Apiranthos, you'll have a slew of wonderful boutiques available that range from locally made clothing to ceramics, textiles, and housewares. In Naxos Chora, check out Boho Love for breezy island wear, Tereza's Concept Store for some great pieces by Greek designers, and Ta Axotica for lightweight Greek clothing for adults and children. Just on the outskirts of the old town, Pagonis Sandals has been whipping up custom-made sandals for years — a perfect (and functional) souvenir! In Halki, visit artsy stores like Fish & Olive for pieces to take or ship home.
Explore the Island by ATV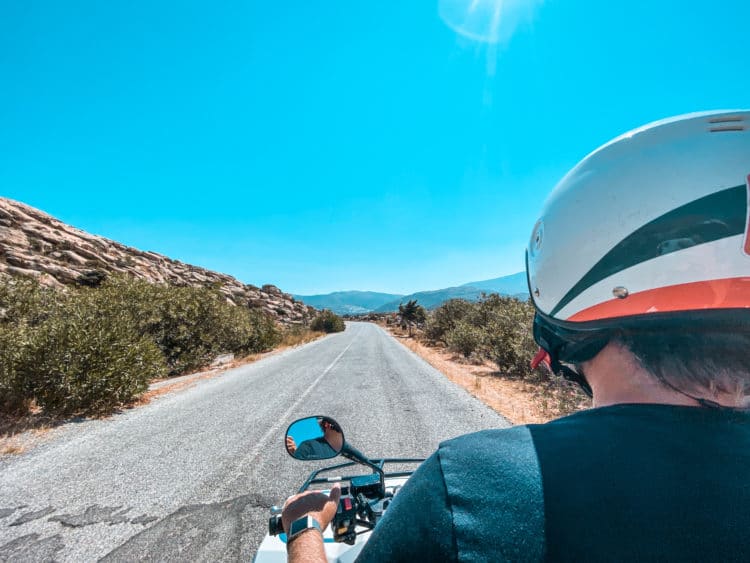 10Dare we visit a Cycladic island and not rent an ATV? I truly think that exploring the islands by ATV is the ultimate way to get a feel for the landscapes and zip around to discover the hidden gems each island has to offer. In Naxos, we rented an ATV through Tony's Bikes & Car Rental (€40 per day). Non-EU visitors, an International Driving Permit is a must. We were asked for our IDP on every single island and would have been left renting bicycles if not for our IDPs. Make sure you secure yours prior to your trip! Interested in an ATV Tour of Naxos? Stay tuned for a post on our day exploring Naxos on a quad!
Naxos lovers – I know there are many of you! – what would you add to this list for a first-timer visiting Naxos?