There are some moments in a trip that are pivotal, the moments that make you fall in love with a destination in a genuine way. In recent years, the most influential moments have come from private tours that we've done with passionate local guides who've helped us with having a true sense of place; learning about a destination's history and makeup to understand what makes it unique. Food and wine tours in particular have become a favorite for me when we travel because history, tradition, heritage, and social structures are so intertwined with a destination's gastronomy. Our food and wine tour in Naxos with Philema Food Tours was a glimpse into centuries – perhaps millennia –  of Naxian history, but it was also a conversation about the way forward for Naxos, and the role of tradition in an ever-evolving tourism landscape. With Philema founder, Eleni, and our driver, Manos, we set off for a deeper dive into Naxos to find out what makes the island unique.
Olive Oil Tasting in an Olive Grove
Olive trees cover the town of Damalas, green leaves teeming with olives and age-old twisted trunks dotting the otherwise dry landscape. Olive trees are ever-present in Greece and are practically synonymous with this part of the world. According to legend, the Greek city of Athens earned its name because of Athena's gift to the residents (which beat out Poseidon's offering): an olive branch, which people saw as not as simply a branch but for all of the things that an olive tree can bestow: wood for fire and for crafting, nourishment from the fruit, and shelter from the sun. Some of the trees in Damalas date back millennia. Eleni set us up under one such tree, a 5000-year-old specimen that has given birth to a small enclave of trees providing the perfect shade for our first mission: an olive oil tasting.
Let me pause to say that if you're heading out with Philema Tours on a food tour of Naxos, don't eat breakfast. Do yourself a favor and have a coffee instead of a meal because you'll be spoiled with some incredible food options throughout your day. Mid-morning, we nestled ourselves under the olive tree to sample a spread of three olive oils (two from Naxos and one from Kalamata) along with local cheeses and a spattering of farm-fresh vegetables. If you've never done an olive oil tasting, you'll be surprised by the quality of olive oils you taste at the source vs. what we typically purchase in our local grocery stores. And yeah, you'll be tempted to take home a few bottles of the good stuff with you.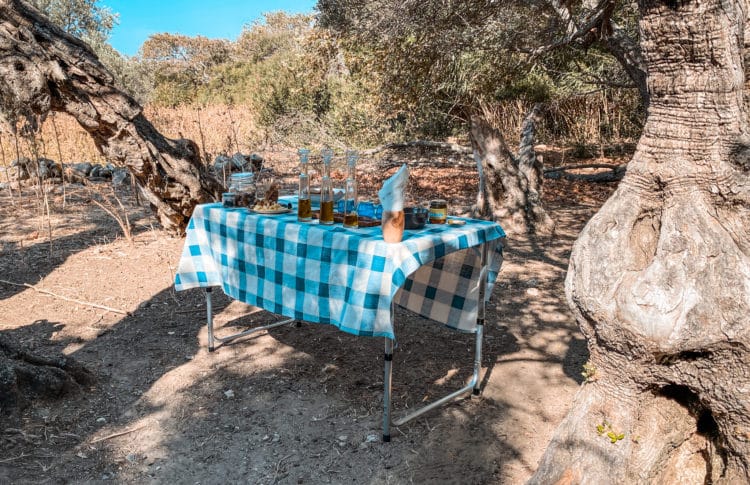 There's a traditional press nearby that we visited to see how olive oil production was historically done. And, by the way, when I use the term 'historically' we're not talking eons ago. We're talking pre-1965, around the time that power came to Naxos and modernized some age-old practices. The process is less painstaking now (and probably more efficient) but the traditional community press stays to share a bit of the heritage of oil extraction.
Down the road in the tiny town of Damalas (population 48 according to a recent census) is a pottery workshop and storefront that we visited before moving on. Here a local Naxian named Manolis has been casting pots for virtually his whole life.
I'll pause here for another half-tangent.
I had this moment in Naxos where I watched Manolis crafting his pots – this was after watching a man work leather into sandals, watching women making jewelry and bags, and eating farm-fresh cheese that locals had whipped up with milk sourced on their farms. I jokingly said to a lady putting out her wares that my shopping excursions were quickly making me feel as though I had no talents. But seriously! So many of these crafts, like Manolis's pottery that he can practically whip up blindfolded, take a lifetime of practice and are traditions passed down from one generation to the next. Modern technology and mass consumption have made much of this a lost art, and supporting these craftsmen throughout our journey has been such a reminder about how our spending supports what we want to see survive in the future. And here, in this pottery shop in Damalas, we wanted to see people like Manolis thrive so we left with a couple of items for our home, lifelong memories of Naxos to be displayed in our kitchen.
Kitron Tasting in Halki
From Damalas, we headed to Naxos' former capital, the town of Halki. Halki is petite but has an upmarket flair, with textile shops and artsy boutiques lining the alleys. There are plenty of cafés and restaurants to visit as well but we were on a mission to visit the kitron distillery in the center of town. Kitron is a local specialty in Naxos that's specific to the island, made using the fruit and leaves of the citron tree. You'll sample the three iterations of kitron: 30%, 33% and 36%, plus you can sample their raki. I'm not a huge ouzo or raki fan so I wasn't expecting to like kitron much either (I'll be honest, it's not my fave). That said, it's worth trying and if you're a fan of it, it's a great gift to take home since it's so island specific! For a subtler use of kitron, their bar in town offers up cocktails made with the local liquor.
Visiting the Marble Town of Apeiranthos
From Halki we ventured on, into the heart of mountainous Naxos and up into the postcard-perfect hilltop town of Apeiranthos. If you've watched Anthony Bourdain's episode from the Cyclades, you'll remember scenes from Apeiranthos, a town made of local Naxian marble, giving it a gorgeous glistening effect during the day. Apeiranthos is unique in the Naxian landscape, a town where food and dialect have been influenced by Cretans who settled here. It's an intellectual enclave, too; a city where a number of political figures and Greek game changers have emerged.
Here we took the time to explore on foot and enjoy lunch with a view. Apeiranthos' hilltop locale means the views are some of the best on the island, and the town itself brings charming alleyways to explore on foot. We settled into lunch with Eleni and Manos with a slew of local specialties to taste dishes that have emerged as beloved favorites from Naxos — some from Apeiranthos more specifically. One of the beauties of private or small group tours is the ability to simply converse with a local and to take the time to learn more about the place you're visiting plus what makes it unique from a local perspective.
Our conversation circled back to the idea of celebrating tradition and heritage, one of Philema's core goals and mission as a food and wine tour operator. Let's be real: well-crafted food tours are about so much more than food, and this was a prime example of that. Superficially, this tour is about food, but it goes far deeper. This tour is about people: the people who have been cultivating crops, making food, and crafting wine for generations. It's about supporting the older generation who have kept these traditions alive, and –  perhaps more importantly at this juncture – it's about supporting the youth who are making a conscious decision to keep these traditions alive for future generations. At the end of the day, isn't travel about celebrating what makes us unique and about exploring these very traditions? What would the world be if these faded into obscurity?
Wine Tasting at a Local Vineyard
Speaking of tradition and supporting the youth who keep it going, enter the wine portion of our tour with a young, passionate winemaker in Naxos. As Scott and I finish our WSET Level 3, I set out on this month in the Cyclades with a mission to visit vineyards and/or wineries on every island that afforded me the opportunity (check out my full post on wine tasting in the Cyclades for more). Greeks consume 95% of the wine produced in the country so unless you've made it a mission to familiarize yourself with Greek wines, they're probably very unfamiliar (with the exception of Santorini's famous assyrtiko). This was the part I was most excited about and it was made better through random happenstance; one of those things that happens on a journey that make you feel like there was something bigger at play.
The night prior to our tour Scott and I nestled up into a wine bar in Naxos despite our tiredness. Oinohoros, located near Agios Giorgios, is a wine bar and shop that celebrates Greek wines. Konstantinos, the owner/bartender/doer of all things there, was there when we moseyed on up to the bar to chat about Greek wines. He didn't provide us a wine list. He was the wine list. We spoke about our likes and dislikes and he poured us up each a glass of vino that he thought we'd vibe with, explaining the history and winemaking of each. (For the record, he nailed it for both of us.) We were impressed. This was definitely the best wine bar we'd been into in Greece. As we settled our bill, we told Konstantinos that we were excited to be heading out on a food and wine tour in Naxos with Philema Tours the next day where we were going to do some wine tasting at a local vineyard.
You know where this is going, don't you? We were scheduled to go to his vineyard to taste his wines on our tour. My mind is actually blown by these moments sometimes.
We felt immediately at ease when we pulled up to Konstantinos' place, a vineyard housing seven indigenous Greek grape varieties alongside his home. Adjacent to his plot is a small, wild vineyard that was planted by his grandfather. We started with a tour of the vineyard to learn more about the grape varieties (many of which were foreign to us), vineyard management, and his philosophy on winemaking. Konstantinos' natural approach is all about the grapes and vineyard management and less about human manipulation. The vineyard is organic and he's working towards a biodynamic model (if you're confused about the difference, read this piece on biodynamics). The product is a range of brilliant wines, including some natural wines that are fabulously unique. We've been on a number of wine tasting adventures around the world, but have never had as much natural wine as during our time in Greece. There's a wonderful movement towards embracing tradition here and Konstantinos is definitely part of the cohort leading the charge. Wine has been made in Naxos for generations upon generations but in small scale productions generally designed for personal consumption. To this day there is no commercial winery in Naxos so for wine enthusiasts visiting the island, the food and wine tour with Philema is practically a must to scope out the vineyard and taste the wines produced by the grapes grown on site.
We tried a range of wines: whites from different vintages, plus a natural rosé and red, all paired with Naxian cheeses. We spent the afternoon together, talking about wine and drinking it with generous pours of small production wines (think hundreds of bottles, not thousands). Konstantinos is not just passionate about wine, he's incredibly knowledgeable about wine from a winemaking, a wine pairing, and a consulting perspective. We'd seen him in his element in two different settings and we'd felt lucky to enjoy a few glasses with him on this August afternoon. After trying his rosé, which I particularly loved, I asked about future production. This rosé was fabulous, would he be able to recreate it next year? As it turns out, the answer is no. Generally speaking in winemaking the answer is probably no since there are too many uncontrollable factors, but in a no-intervention approach the answer is really no. When your focus is on working what you have – not manipulating it into something it's not meant to be – you get the benefit of enjoying new wines each year. Different blends, different aromas, different products entirely perhaps.
For us, this was so full circle in our Naxian experience. We were there celebrating what the island has to offer: its rustic edge, its farming culture, its tradition, its soul. The food and wine tour left us feeling full, both figuratively and literally. We'd had our fill of Naxos' specialties, but perhaps more importantly we got a glimpse into what makes the people of Naxos – and their traditions – special. I started our time in Naxos unsure of what to expect and left having Eleni pencil me in for next year's harvest festivities.
Get a glimpse into our food and wine tour in Naxos here:
---
PRACTICAL NOTES: We enjoyed the full-day Cheese, Wine & Highlights Tour, but there are a range of tours available through Philema including kids' focused excursions. The food and wine offering is her most popular and I'd highly recommend it to anyone coming to the island. If you're a wine lover, this is a must, non-negotiable. It'll 100% be one of your favorite experiences!
GROUP vs. PRIVATE: We visited during COVID which meant that tours necessarily were private. Philema's focus is on small-scale meaningful tourism so semi-private options are available in normal years but you won't find large group tours here. With a private tour experience, everything is customizable so don't hesitate to discuss your interests with her so she can craft a tour focused on what you're most intrigued with.
OUR EXPERIENCE vs. TYPICAL PHILEMA EXPERIENCES (non-COVID): In typical years your experience may differ a bit from ours as we were slightly limited with some interactions. We enjoyed cheese from local farms but didn't visit the farms themselves due to COVID regulations. Eleni pivoted with the tour and brought in experiences that were available to us. Everything was excellent and we wouldn't have known the difference!
TIMING AND LOGISTICS: The full-day tour is around 8 hours and includes pick up and drop off at your accommodations. Remember, GO HUNGRY!
---
What are some of the most memorable tours that you've done? Any food and wine experiences that have stood out to you in your travels?