Plus, highlights and tips for each
According to data in the region, Alsace is composed of 2 departments, 13 districts and 75 townships. For visitors to Alsace though, there are a few of those towns in particular that spring to the top as must-sees with their idyllic backdrops, exceptional gastronomic scenes, ease of access, and activity offerings. We visited 10 towns during our time in Alsace – plus spent one day in Basel – but there were a few that reigned supreme. Below, I'm sharing my take on 7 towns to visit in Alsace, what makes each worth a stop, plus some must-visit places and experiences in each village.
Riquewihr
1First thing's first: let's start with Riquewihr, the town that we called home for our week in Alsace. Riquewihr is straight out of a fairytale, a gorgeous village that abuts the vineyards and ranks amongst the region's most beautiful. For me, it was the perfect sized town to use as a home base; large enough to be filled with wonderful restaurants and shopping but small enough to have that quaint quality. You'll find many of the Instagrammable backdrops that you've seen online housed in Riquewihr (the Feerie de Noel building, for example, is a fan favorite) and if you don't use Riquewihr as your home base, you should allocate at least a half day to explore, dine and wine taste.
➤ For dinner, try L'Ecurie, which serves up Alsatian specialties including green choucroute which is a specialty that's specific to Riquewihr.
➤ For wine tasting, visit Hugel & Fils, which offered our favorite wines from Riquewihr.
➤ For wine by the glass, head to Earl Jung Gustave et Fils, which boasts a cozy interior and fabulous wines for €3 – 5 per glass.
➤ To try some Alsatian spirits (yes, they're a thing!), head to Distillery G. Miclo, which offers up a range of liqueurs, eaux des vi, and locally made whiskies.
➤ If beer is your thing more than wine, make your way to Brasserie du Vignoble (Bra'V), a cool brewery set right outside of the heart of Riquewihr), offering a range of craft beers along with a selection of food.
Eguisheim
2If we hadn't stayed in Riquewihr, we likely would have booked a stay in Eguisheim, another one of Alsace's towns that is continually ranked amongst France's most beautiful. It's hard to say which of the towns is the fairest of them all (it's too difficult to compare), but if I had to pick I think Eguisheim could very well be a top contender. There's the beautiful main square, along with the series of charming alleyways designed in concentric circles. Each corner brings a wow, and a few in particular are jaw-droppingly photogenic so have your camera at the ready at every turn.
➤ For the most fun experience you'll have in the region, book a Segway tour in Alsace through the town of Eguisheim + vineyards with Segway Alsace. Their premier package includes a wine tasting at the end.
➤ For wine tasting, my personal favorite wines were actually Jean-Luc Freudenreich & Fils, which you would try during the finale of the Segway tour. We ended up taking home 5 bottles from them!
Kayserberg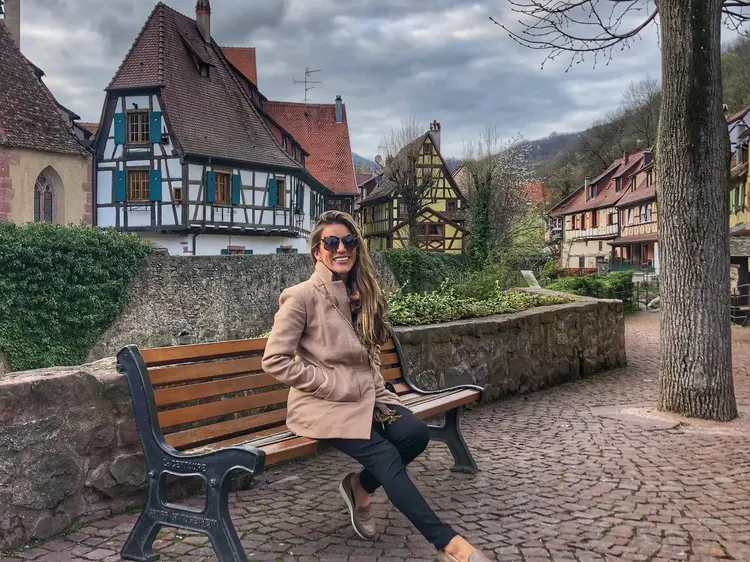 3We spent the least amount of time in Kayserberg, just a single evening to wander around and enjoy dinner, but we could have easily spent a bit longer in town. It's worth noting that most towns in Alsace become super sleepy after 6PM and Kayserberg was no exception. Many stores were closing down as we wandered the streets during early evening (sun didn't set until around 8PM during our visit in April). Kayserberg's setting is particularly pretty with the River Weiss running through it, providing that iconic image that has come to be equated with the town.
➤ For dinner, head to the Winstub du Chambard, an upscale take on a traditional Alsatian winstub at the five-star Relais & Chateaux Le Chambard Hotel (of Anthony Bourdain fame). It's a bit spendier than many traditional options but melds upscale dining and down-home coziness well.
Ribeauvillé
4Ribeauvillé was a surprise for me. It's a sister town with nearby Riquewihr where we stayed, but I'd never given it quite as much credence. It manages to stay under the radar, missing all of those 'best of' lists that we all like to create. It only took a wander down the main thoroughfare in town to make me scratch my head… how is this not on every list?! Having spent a week in Alsace, I would definitely consider Ribeauvillé as a home base on a future trip. It's larger than Riquewihr, brings ample beauty, and has a number of great shops and dining in town. In fact, the tiny bit of shopping that I did do during our trip was in Ribeauvillé where you can find a blend of classic touristy finds plus cool boutiques with clothing and accessories.
➤ For lunch, check out Zum Pfifferhus in town where you can try Alsatian delights like foie gras and oxtail in a class winstub setting.
➤ For great shopping (not kitschy), head to Marie-Laure Boutique "Coup de Couer" where you'll find great jewelry, bags and accessories for all seasons.
➤ For wine tasting, don't miss the Cave de Ribeauvillé, a large tasting room, wine shop and educational facility that represents a host of growers. Learn about the seven grapes grown in the region and chat with the staff to find the wines that will best suit your palate.
Strasbourg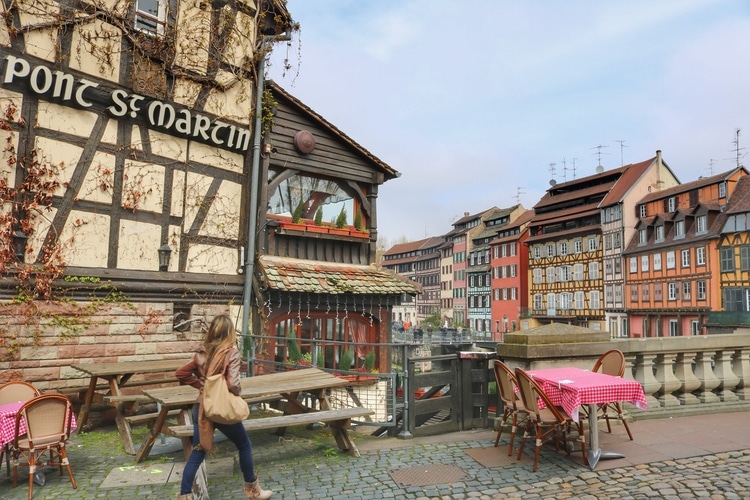 5Strasbourg is the largest city in Alsace, and I've referenced it as the gateway to the region many times because it really is the hub. If it's your first glimpse of Alsace you'll be wowed by the prettiness of it all. It's not as charming as the smaller towns but it's a great introduction to the region and trains from Paris are readily available. Our train took less than two hours (it would have been five to drive it!) and cost around €70 each one way. For train tickets, look at buying three months prior when fares are best… we waited a bit and saw prices go up more than double!
➤ For lunch, cheese lovers cannot pass up Le Cloche a Fromage, a cheese focused restaurant doling out fondue and raclette alongside of Alsatian wines. A must!
➤ For a bit of history and insight, join the free walking tour with Happy Tours, which departed at 10:30AM in front of Strasbourg Cathedral (90 minutes).
➤ For a bit more inspiration, read my post on One Day in Strasbourg.
Saint-Hippolyte
6Saint-Hippolyte is a random village to include when faced with major towns in Alsace like Sélestat, Obernai, Mulhouse and others but I do have a reason behind including this sleepy town. If you've done some research about Alsace you'll know that the region is famous for its white wines (6 varietals), but they also produce a single red as well, Pinot Noir. The majority of pinots that we tasted left quite a bit to be desired but the odd one that was good came from Saint-Hippolyte. It turns out that the town is famous for its Rouge de Saint Hippolyte, so if you're intrigued with pinots from the region and want to give them a whirl this is the place to go. Nearby, you can also visit Haut-Koenigsbourg, a castle that made my list of top things to do in Alsace.
➤ For wine tasting, schedule tastings and tours in advance in Saint Hippolyte to work out a day of Pinot Noir tastings.
➤ If you want to stock up for a picnic, head to Pfertzel Sarl for a range of cheeses, charcuterie, baked goods, and pre-made specialties.
Colmar
7If you're looking for a home base that blends small village vibe with the access of a city, Colmar fits the bill. It's the unofficial capital of the Route des Vins d'Alsace and while it doesn't have that super small-scale charm that you'll find in some of the towns I've mentioned above, it will still have a whole heap of that bewitching beauty plus the benefit of access to trains, buses, and tours that depart from this hub. It's a great place for shopping – both boutiques and major brands you'll be familiar with – and there's also plenty of dining and wine shops to indulge.
➤ Explore Colmar's Marché Couvert. A small to mid-sized market in town, you'll find fresh fruits and veggies alongside fresh wheels of cheese and stalls doling out perfectly prepared French favorites. Great for a morning bite!
➤ For wine tasting, head to Cercle des Aromas where you can sample an array of wines.
---
Read my guide to wine tasting in Alsace for first-timers for inspiration and information for your visit!
Beyond these there are many towns in Alsace worth a visit; too many to reasonably pack into a single trip. There are the larger options of Sélestat, Obernai and Mulhouse, but also little villages like Mittelwihr, Beblenheim, Bennwihr and others that you'll run across if you're driving through the region. If you have a week in Alsace you can absolutely visit all of these towns, plus some. If you're faced with a single day or two, prioritize based on which towns you can group together easily without spreading yourself too thin (I would do 2 – 3 towns max in a day). You can easily pair Riquewihr and Ribeauvillé or Eguisheim and Kayserberg for example, and you'll stumble into other sweet towns in between. Suffice it to say, whichever towns in Alsace you choose, you won't be disappointed.
Which towns in Alsace did you love?