Exploring Guatemala for the Physically Challenged
In a land where 508 compliancy doesn't exist and cobblestone streets and dirt roads add to the allure, I had to ask myself: how accessible is Guatemala for the physically challenged?
When we planned our trip to Antigua and Lake Atitlán, there was no doubt that my 90-year-old grandmother would be joining us for our Central American adventure. In part, the destination itself was predicated on a few elements that created a comfortable atmosphere for her: foods and cultural elements from her youth and a Spanish-speaking environment. My grandmother typically walks with a cane for security, but we use a wheelchair for her for long distances because she tires fairly quickly. On this trip, she brought her own wheelchair and her cane so she wouldn't have to miss out on any of our excursions. Worth noting: my grandmother is a tiny little thing, at around 4′ 10″ and 110 pounds so we had comfort in knowing that we could always carry her if need be!
Before we embarked on the journey I scoured the web to find out about handicap accessibility in Guatemala: did Antigua have reasonable sidewalks? Would the cobblestone streets be too difficult for a wheelchair to negotiate? Would there be too much traffic for a wheelchair to be in the road reasonably? Would areas be too difficult and hilly for someone to push her without extreme exertion? What would the boats on the lake be like?
To my dismay there was very little online but for a couple of expired threads with a few old responses on some travel sites. I posed the question on TripAdvisor in relation to Lake Atitlán and got a handful of helpful responses, some saying it was possible, some saying it was doable but difficult, and some with a guarded response that tried to remain optimistic while really telling me that it would be quite challenging.
Now that we've explored Antigua, Lake Atitlán and Guatemala City (briefly) with an elderly traveler, we feel much more comfortable with what's realistic, which areas are easiest to explore and which areas are most challenging.
Antigua, Guatemala
My father is a champion. The man took the reigns on pushing my grandmother around the cobblestone streets of Antigua and didn't complain once despite the rugged terrain that had them both bouncing like a roller coaster. Antigua is a preserved old city which, while charming, makes it very difficult to navigate by wheelchair. With a cane it would have been impossible since the terrain is so uneven. I even had to trade out my ever-present wedges for flip-flops as soon as I exited our car. Flats are an absolute must in Antigua, no question.
Antigua does have sidewalks through much of the city that are just wide enough for a wheelchair if there aren't too many vendors sitting on the edges. That being said, there are drop offs with some of the sidewalks that will require someone to assist a wheelchair off the sidewalk edge and then back on. The alternative is to stay on the cobblestone streets which can be done as well. Traffic was light enough where we could push the chair a fair bit on the road, but the ride was difficult for both my dad and my grandma since the wheels constantly get caught in the thick stones. Through trial and error we discovered that pushing the chair on the back wheels alone or by pulling the chair backwards over some hills made the ride a bit smoother over certain obstacles.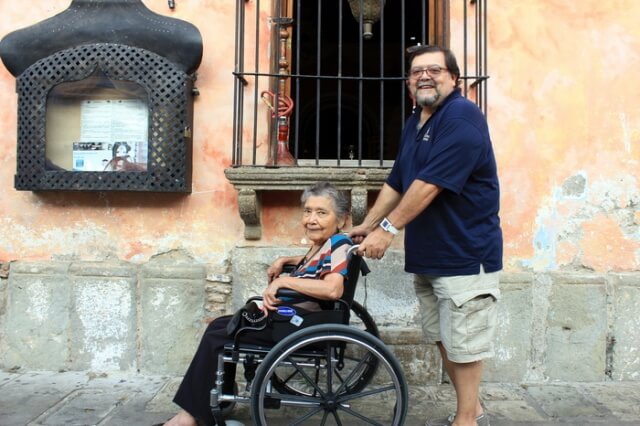 The city isn't designed to be wheelchair accessible so most restaurants and shops will have a step up into the storefront to enter. My grandmother is mobile enough to walk around easily with a cane in these instances so we had less of an issue helping her explore. For someone who doesn't have the option to walk at all, getting in and out of stores will be nearly impossible without assistance. Solo handicapped travelers will have an extremely difficult time trying to get around in Antigua (I don't want to use the term 'impossible', but it would be extremely difficult), but seeing the city may be an option with a support system in tow.to assist at obstacles.
Lake Atitlán, Guatemala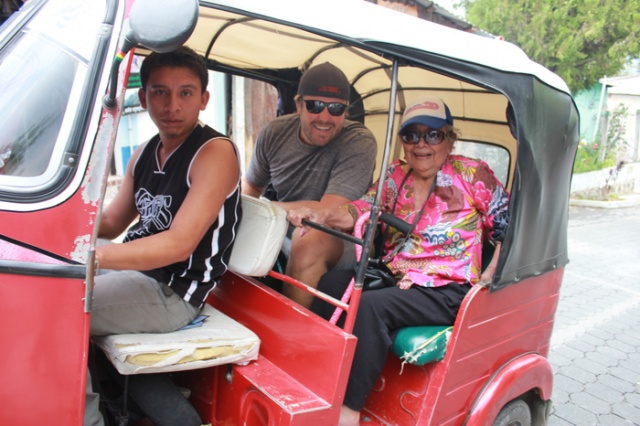 My initial concerns were actually about Lake Atitlán. I had read about using lanchas to explore the lakeside towns. My grandmother has successfully gotten in and out of boats in Anguilla, but we didn't know what we were getting into this time. How far would the distance from the pier to the boat be and how deep of a drop? How calm – or not – is the lake?
During our day chartering a boat to explore Lake Atitlán we were about to find out how feasible this excursion would be. I asked my grandmother the day before our proposed boat charter if she had any interest in joining us on the adventure. Knowing that it would be a challenge, I wanted to put the ball in her court. She apprehensive told us that she did want to explore but didn't want to burden us.
We knew we had to make it happen, and we did.
Slowly but surely, we walked her down to the private dock at our villa. Being honest, this was a fair challenge for her. The distance alone winded her a bit, but to be fair, the altitude had us all huffing and puffing a bit. For anyone who's using public boats, you'll head to your nearest pier where public boats depart regularly.
Once we made it to our pier, we had one person inside the boat and one outside to help assist her with getting on slowly. We also took the wheelchair and her cane in our boat. If you're in a situation like ours, I highly recommend chartering a private boat vs. taking the public option. With a boat to ourselves we didn't feel rushed and we took our time to make sure my grandma felt comfortable each time we boarded and exited the boat. If we were pressured for time or space the experience would have been very different.
Each town on the lake is different so it's hard to lump them all together when discussing Lake Atitlán. Our first stop, San Pedro La Laguna, was fairly easy for her to get on and off with assistance. Perhaps it was early in the day and she had more energy or perhaps the lake was calmer, but she was quick and somewhat agile with stepping in and out of the boat, stabilizing, and getting into her wheelchair to be pushed around. San Juan La Laguna was a bit more difficult since the pier was a higher distance, and the same was true with San Marcos La Laguna.
The roads in all of the lakeside towns we visited were actually fairly nice though. Unlike the super uneven cobblestone streets of Antigua (major challenge!), these streets were mostly flat and pretty easy for a wheelchair to navigate. We even saw some handicapped residents in the towns getting themselves around.
We skipped Santa Cruz La Laguna after reading about how steep it is, but learned quickly that San Juan also has a fairly sizable hill. In terms of scenery and culture, we loved San Juan but it was one of the more difficult destinations for distance and for pushing the wheelchair. Our best bet – this is something I highly recommend – was using a tuk tuk to get from Point A to Point B. For Q.5 per person in many instances (less than $1) and never more than Q.10, we were able to get in a tuk tuk and put her wheelchair in the back. This helped with bypassing the hills reasonably without making it impossible for my grandmother or for us.
Two things to note here, though they probably go without saying: getting in and out of a tuk tuk is probably not an option if you have zero mobility. For folks that are limited but able, this is a great option for covering longer distances in a reasonable amount of time with little difficulty.
Secondly, the boats. My grandmother is small, and she was fortunate that my dad and Scott (and my mom and I) were able to assist her with getting in and out of the boat. We were a solid team that wouldn't allow her to fall or miss out on any of these experiences. In more than one instance Scott had to pick her up, bring her in the boat and settle her into her seat so she was safe and comfortable. This would have been virtually impossible if she'd been a larger person. If you can't get in and out of a wheelchair, you'd need to find a boat that has a handicap friendly ramp to get in and out, though I'm not sure that anything like this exists in the area.
In terms of handicap accessibility, some notes about the towns we visited:
Panajachel's main street, Calle Santander, is fairly even for wheelchair access and provides opportunities to visit lots of vendors selling textiles and local goods.
Santa Catarina Palopo is slightly more difficult in that the main roads have both shops and two-way traffic, along with sidewalks and steps up into and out of shops. There are steep steps to get to the iconic church, and the pier has a fairly sizable drop into the boats.
San Pedro La Laguna had one of the easier docks from our experience, with a pretty quick on and off onto the pier. There is a slight hill when you initially enter the town, but it flattens out and offers some flat roads that are relatively simple to navigate with a cane or wheelchair.
San Juan La Laguna has stairs leaving the dock (a half-dozen or more) along with a fairly rickety bridge. Once you enter town, there's a fairly sizable hill dotted with wonderful vendors and colorful shops throughout. The hill is steep enough to be somewhat prohibitive for a wheelchair.
San Marcos La Laguna offers a fairly flat road into the hippy town but the pier represents a pretty large on and off step that will require some serious assistance (see below). One option to consider could be bringing a pillow to allow someone to sit on the edge of the pier and slide themselves into the boat if needed. One of our challenges here was being bombarded by local children who surrounded the boat and continued to follow us around town. For someone who wants to exit with a bit of grace (my grandma is one of these), it's easier to do without an audience.
All of the towns we visited offer tuk tuk services which are useful and affordable. They can fit a wheelchair in the 'trunk' (behind the backseat) so it's doable. We paid a few people for an extra 'person' since they were toting the chair, too, but it was well worth the extra expense to make it a comfortable ride.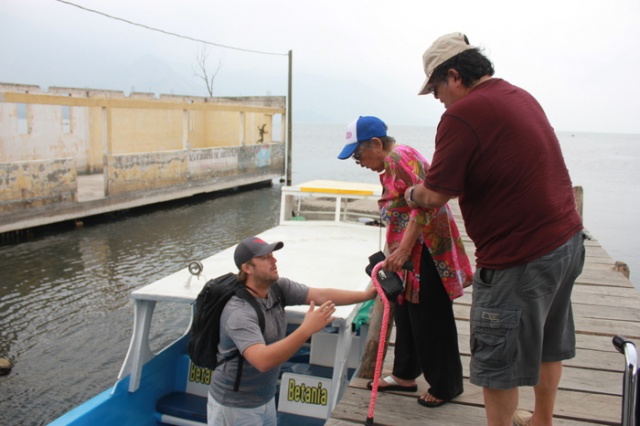 In Guatemala City, we were pleasantly surprised by the even roads and easy access. We stayed in Zona 10 (Zona Viva) and had no issues. There was a ramp to the hotel, an elevator to the room, a shuttle service to dinner and everything was handicap accessible. Guatemala City would be totally doable and fairly simple, even for a solo handicapped traveler.
My primary takeaway is this: the real key for physically challenged travelers is the presence of a support system. Friends and family traveling with an elderly or handicapped person will need to understand that they'll have to assist in many instances and may need to alter plans in some situations. I would also say that someone like my grandmother is in a very different position from someone who truly needs a wheelchair all the time. We were able to get her in and out of a tuk tuk, on and off a boat, etc. with assistance, while this would be a much more difficult task to envision for someone who's wholly limited with mobility. In all, I wouldn't say that Guatemala is the most handicapped friendly destination, but for those wanting to explore the country, there are certain areas that are more doable than others. If you're headed that direction, cheers to wonderful and safe travels!
If you've traveled Guatemala as a physically challenged person (or with someone who is!) please feel free to leave comments and suggestions below. For anyone planning a visit, I'm happy to answer any other more detailed questions about our experience!