Nantucket is an absolute dream, and to say it met our expectations would be an understatement. Being on the island instantly transported me to the summers of my childhood, with the thick scent of jasmine in the air and the salty scent of the sea at the beach. If it's your first time to Nantucket – like it was ours – three days is a great amount of time to dip your toes in (literally and figuratively) and fall in love. Going in, I wondered how people spent a week – sometimes two – on this tiny island each summer. What kept them there for that length of time and what kept them coming back year after year? By the time we left Nantucket, I fully understood the love, and it's not unlike the passion people have for Anguilla. Someone along the way described it as 'magnetic', and I can't think of a better way to convey the pull that destinations like this can have on people.
It's a place that quickly draws you in, and with a few days on the island you'll be scheming on how to book a return trip STAT. Wondering how to spend 3 days in Nantucket? Here's what we crammed into three days for a great taste of the island:
Day 1 〰 Explore Town
Nantucket is picture-perfect Americana and it's best explored on foot to really see all of the hidden gems tucked into the tangle of streets. There are frequent flights from the East Coast during season, and we arrived on island mid-morning to maximize our first day there. For those coming in by ferry, the Hy-Line drops off in the heart of town, easy walking distance to great dining and quaint hotels that dot the town center.
Nantucket has one centralized main town, which makes it relatively easy for first timers to get their bearings and explore in a short period. In town you'll find loads of great restaurants, gorgeous water views, plus lots of shopping. In season, shopping isn't for the faint of heart. Prices are sky-high so be prepared to splurge or to window shop. The storefronts and postcard-worthy facades are enough to keep you strolling to take it all in.
For lunch, don't miss out on an opportunity for some local oysters and a famous New England lobster roll. My favorite was at CRU where a citrusy lobster roll paired perfectly with an atmospheric outdoor scene and water view. If you need a mid-day cool-me-off, head to The Gazebo, an open air establishment that's slingin' their famous mudslides (of all things!).
For history buffs wanting a bit of a primer on Nantucket's rather interesting background, head to the Whaling Museum ($20 per person) where you'll learn all about the island's role in whaling, and its history as a seafaring community.
For dinner, you'll have no shortage of options. We were impressed, if not a bit overwhelmed, by Nantucket's incredible dining scene. In season, make your reservations well in advance if you have days, times, and restaurants in mind. In three nights, we had three great meals all in fun settings. Our standout? The Nautilus, serving up small plates perfect for sharing, accompanied by inventive cocktails.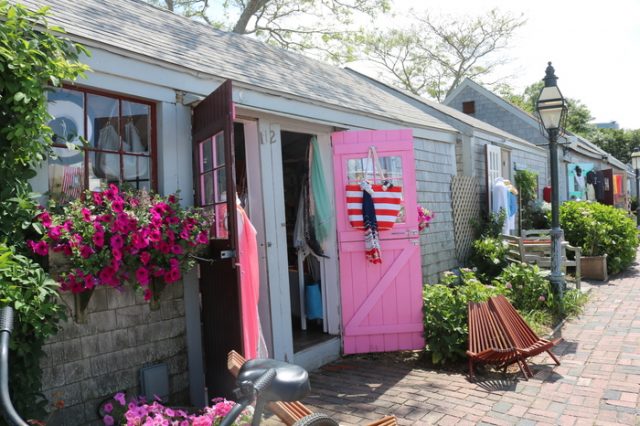 A few tips + notes for first timers:
As far as dress code goes, Nantucket is a polished island though not strictly formal, and you'll find that most men and women are very put together by day and night. Ladies, skip the stilettos. Nantucket's cobblestone downtown is not suited for skinny heels. Wedges or dressed up sandals will be much more practical for nights out!
If you're a first timer to the island, stay in Nantucket (that is, in town) for your first experience. Others may disagree, but I think being central makes a great home base and helps get your bearings for traveling further afield. We loved our stay at Regatta Inn, a chic B&B in the heart of town, but you'll find more  budget-friendly options and more splurge-worthy options nearby. If budget is an issue, opt for an entry-level room at a quaint B&B in a good location or look at renting a house if you're in town with a group.
The sun sets fairly late in the summer months so err on the later side with your dinner reservation. We found that dinner towards the 9:00PM hour was perfect, allowing us to enjoy sunset and a long day before prepping for our evening out.
Day 2 〰 Brant Point Lighthouse + Cisco Brewery
If you explored the town of Nantucket during day one, you probably got a solid primer on the island's core and a good feel for the shopping and dining in the area. On day two of your 3 days in Nantucket, head a bit further afield to scope out some of the other gems around the island.
You can grab a taxi or rent a jeep, but we opted to rent bicycles to scoot around the island for a dose of exercise with our exploration (plus who can pass up riding a bike?!). We worked with Easy Riders Bike Rental, who delivered the bike right to Regatta Inn – within an hour, impressively – where we quickly dealt with paperwork and set off on our ride. Check out Young's Bicycle Shop's website for information on some bike rides around Nantucket for a bit of inspiration.
Stop #1? Brant Point Lighthouse.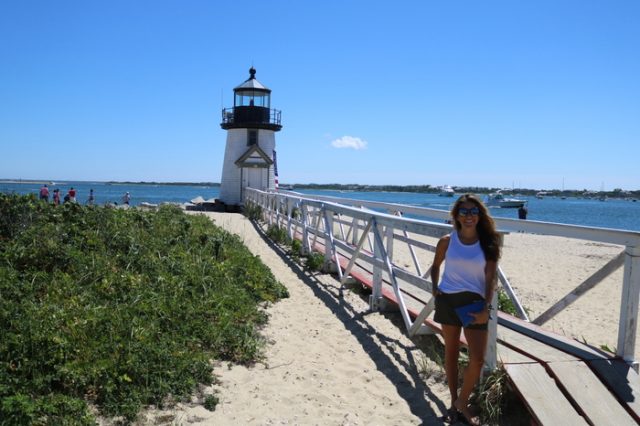 New England is dotted with pretty lighthouses that pay homage to the area's maritime history. I included lighthouse spotting as one of my top 5 things to do in Nantucket, and we kickstarted our own lighthouse expedition at Brant Point Lighthouse, established in 1746. It's the perfect place for a photo op, with the prominent American flag on its facade, a sandy beach sprinkled with fishermen, and sailboats gently scooting by.
Unless you're joining in on the fishing, scoping out the lighthouse will take twenty or so minutes. When you're done taking it in, hop back on your bike and continue on to Cisco Brewery, where you can easily spend a half day or more. Feeling peckish? Stop at Sandbar at Jetties Beach for a round of oysters and a drink for cycling fuel.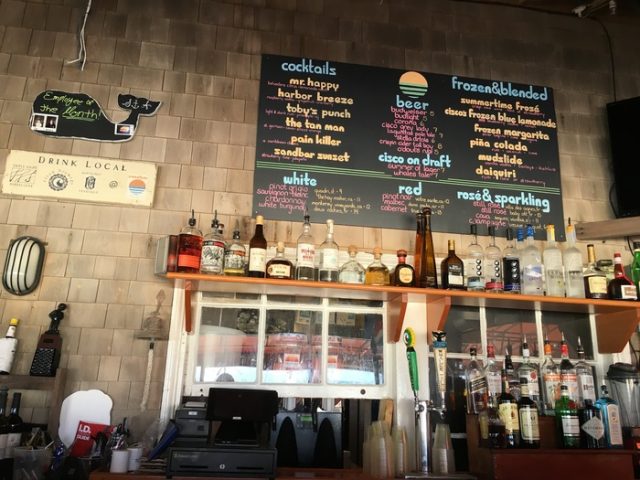 Take your bike on down to Cisco Brewers, where you can lock up your wheels and spend a few hours indulging in all that the brewery has to offer. I'm not a beer drinker so when Nantucket lovers suggested we pop into Cisco, I questioned whether I'd personally find anything that I liked. Cisco is more than a brewery though; it's composed of three distinct elements: the brewery, Nantucket Vineyard, and Triple Eight Distillery. If you're not a beer drinker, you'll still find something you love between their wines and spirits. They have a winery serving up a range of whites and reds plus some fun wine-based drinks (like their must-have frozen sangria).
We were there on a Sunday and spent a few hours taking in the live music, and balancing our cocktails with a few bites from food trucks and stalls on site. Millie's serves up filling Mexican, 167 raw serves up seafood platters and one-off raw bites, plus the Lobster Trap truck serves up steamers, mussels and oysters to get your fix of New England cuisine. If you're going with friends, give yourself plenty of time to enjoy.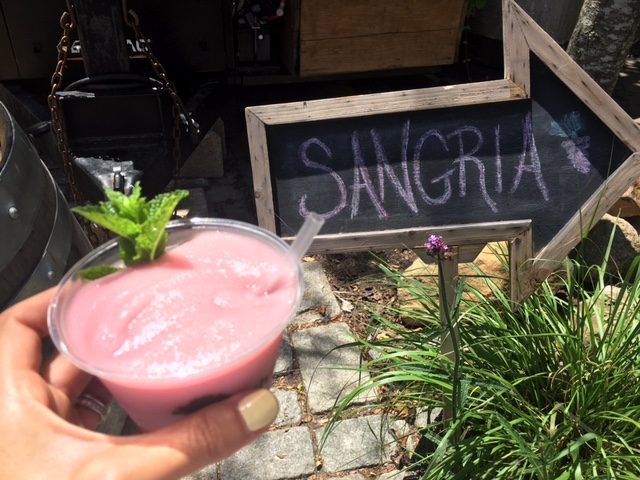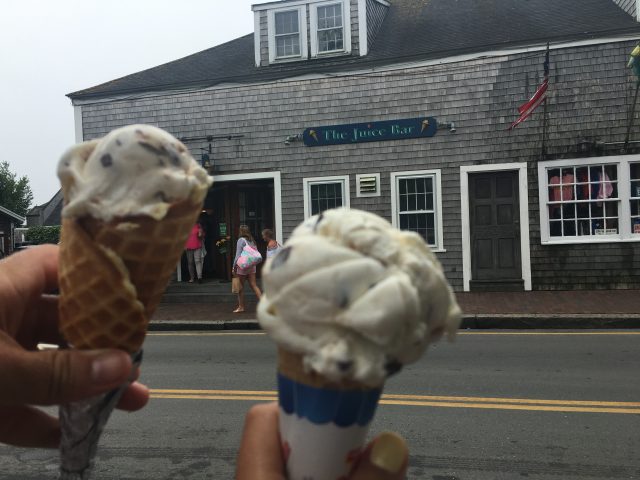 Head back to town for dinner, and if you're feeling particularly ambitious cap off your night with a sweet treat from the Juice Bar, Nantucket's famous ice cream shop that draws crowds for blocks. Truth be told, I don't think my palate is refined enough to tell what makes this ice cream better than any other ice cream, but it's a veritable rite of passage so I couldn't pass up a scoop!
A few tips + notes for first timers:
Cisco Brewers offers a couple of set tours each day, and the tour is a great way to explore all three parts of the property while getting to taste along the way. For $20 per person, you'll be in a small group with a guide, and get a fun souvenir glass to take with you.
We visited Sandbar at Jetties Beach twice during our stay in Nantucket: once as a pit stop between Brant Point Lighthouse and Cisco Brewery, and then again for happy hour! For those wanting to indulge in the New England oyster scene without breaking the bank, head to Sandbar for their buck-a-shuck from 3PM – 5PM where you'll get their house oysters for $1 each.
Day 3 〰 Bike to Sankaty Head Light + 'Sconset (+ Madaket)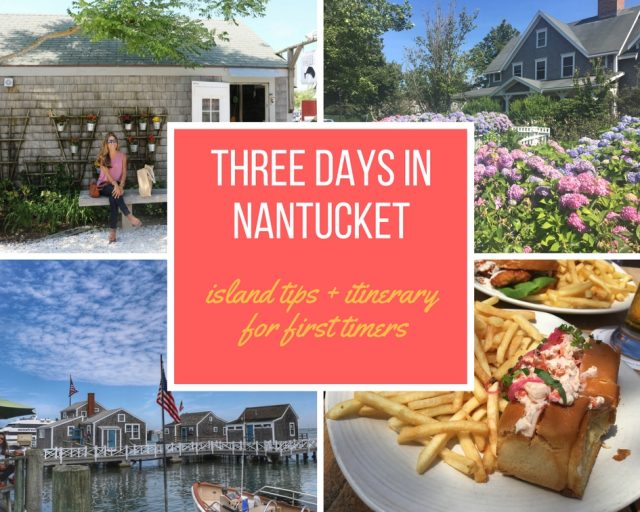 In two days, you've explored town, had a few great meals, slurped some oysters, sipped cocktails + craft beer at Cisco, and visited a lighthouse. For day three, it's continued exploration out east to check out another famous part of the island: Siasconset, referred to simply as Sconset.
It's a fairly long bike ride, but on a sunny day it's a great way to get in some exercise and see the island at leisure. The roads are flat so you don't have to be a super athlete to undertake the journey. From town to Sconset is about an 8 mile bike ride. Add on the journey to Sankaty Head Lighthouse and back, and you're looking at about 12 total miles (one way).
Slather on some SPF and throw on a hat – it can be a sizzly ride when the sun is up!
You'll have to go through Sconset to continue on to Sankaty Head Light, but take a gander when you arrive in Sconset and move on (do take some time to admire the absolute perfection of this gorgeous town). You'll have plenty of time to spend in Sconset later on! First, head to the lighthouse and try to get there before others trickle in for their photos.
Sankaty Head Light is gorgeous, and it's a must. You've seen the photos and it's worth taking the time to go down and see it first hand. It's a bigger lighthouse than Brant Point and it's incredibly picturesque with the wild landscape and sea views. After you're done at Sankaty, it's time to head on back to Sconset where you can enjoy some beach time in this sleepy little town.
Sconset is tiny.
I had envisioned it being a smaller version of the main town, but it's absolutely not. There's one main store, a handful of eateries, and a mostly residential feel with a gorgeous stretch of beach. We come from Anguilla so we're a bit spoiled as far as beaches are concerned, but we found lazing on the beach in Sconset to be very peaceful. It wasn't crowded (I was expecting hordes of people), and it seemed like the perfect place for a casual beach picnic.
For lunch, you'll have a few choices in town but we headed to The Chanticleer for an enchanting midday meal. Seriously, this place is straight out of Alice in Wonderland. It's your dream house on steroids with the most incredible landscaping in all the land, and it doesn't hurt that the food is excellent. Choose a few things to share, like a round of oysters, the tuna tartare and the bluefish paté served with homemade potato chips – you earned it after that bike ride, right?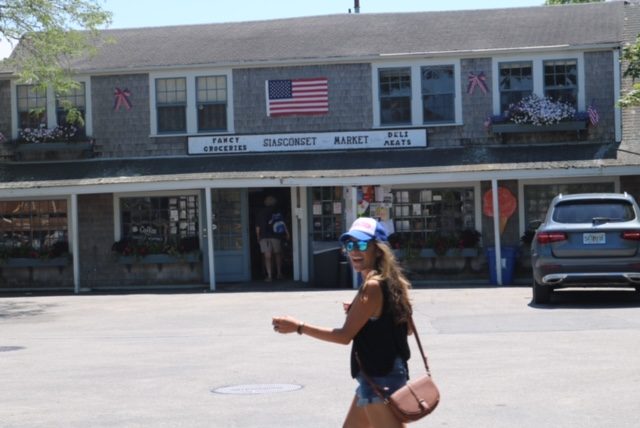 Now, if that 12 mile bike ride didn't faze you, ride back to town when you're done in Sconset! If, like us, the prospect of riding another eight miles in the sun with a belly full of oysters sounds a bit daunting, catch the WAVE back to town! Nantucket's bus system is comfortable, easy, and affordable ($2 each), and there's space for two bikes on the front of the bus.
Feeling ambitious for an evening out? We were, too. I mean, with only three days in Nantucket we couldn't not maximize every moment. Hop on the WAVE down to Madaket for sunset! The vibe at Madaket seemed notably different to me. It's still beautiful but a bit less of the postcard-perfect scene of Sconset with a relaxed vibe; it's the perfect contrast and a great way to end your evening. If you want to stay in Madaket for dinner, head to Millie's for a margarita + some Mexican food.
A few tips + notes for first timers:
Bring a swimsuit and a beach towel if you're heading to Sconset – the beach is the perfect place for some R&R so throw down a towel and let yourself soak up some rays!
It'd technically be possible to ride to Sconset and ride to Madaket but unless you're training for some sort of biking expedition, it's a lot of time to spend on a bicycle and quite a long distance to cover. I'd choose one and then utilize the WAVE bus – it's a great way to get around for just a few dollars each way.
Your turn: how would you spend 3 days in Nantucket?