Less than 50 square miles with much of the island designated as conservation land, Nantucket has a personality and reputation that belies its tiny size (much like another island that I talk about quite a bit). It's posh, preppy and polished, yet has a beautifully rugged and natural element that co-exists perfectly with the upmarket vibe. Mention to an in-the-know New Englander that you're visiting Nantucket, and you'll get a list a mile long of places to eat and things to do on island. As first timers to the island, we loved our brush with the New England gem and crammed in a lot of sightseeing into three short days. Below I'm sharing 5 must-have experiences in Nantucket based on our own island getaway.
Zip Around the Island on Bikes
1Sure you can rent a jeep or take a taxi, but there's really no better way to explore the island than by bike. For the most part, Nantucket is a flat, easy-to-navigate island which makes it relatively simple to bike around without it feeling like you're taking on the Tour de France. We rented through Easy Riders Bike Rental on island who delivered our wheels directly to our doorstep. There are a few shorter rides near the main town of Nantucket, but if you're feeling like an extra dose of exercise, you can head further afield to Sconset or Madaket.
If you're like us and find that you're a bit spent after a 12-mile bike ride in the sun, you'll be happy to know that the WAVE, Nantucket's regional transit, zips around the island regularly and can take you back to town for a mere $2. There's room for two bikes on the front of the bus so you can make the ride home a total breeze with your bikes in tow.
Eat + Drink Your Way through Nantucket
2Nantucket is a dining haven, and if you do even the tiniest bit of research you'll be hard pressed to find a bad meal on the island. We found ourselves wanting to extend our time on the island based on our dining alone! You'd need weeks to explore the island's dining establishments, and you'll almost certainly develop your own affinities pretty quickly.
One of our main dining objectives in Nantucket was to get in the requisite New England lobster roll plus slurp up our fair share of oysters. You'll be proud to know that we accomplished both… a few times over! As far as lobster rolls go (we tried the one at Cru, the one at Straight Wharf, and a hot lobster roll at Neptune in Boston), Cru's was my favorite without question. It's zesty and fresh; the perfect incarnation of the lobster roll for someone who likes bright flavors. Lobster rolls will set you back quite a few dollars (like, between $30 and $40 depending on where you go), so sharing a lobster roll plus something else with your dining companion may ease the pain of that spendy lunch endeavor. On the bright side, we never felt like they skimped on the lobster. Every roll was packed the brim with meaty chunks, never mayo-drenched and always super fresh.
Planning your own trip? Here were a few standout bites that we'd almost certainly have again:
The lobster roll at Cru – zesty, fresh and perfect
The bluefish paté at The Chanticleer (in 'Sconset) – possibly the most charming place on earth
Dinner at Nautilus – with small plates for sharing, you can't go wrong
Frozen sangria + craft beer at Cisco Brewery – plan on spending a day there ?
Oysters from the region – we loved our oysters at Cru but try out the $1 oysters at Sandbar at Jetties Beach during happy hour if you don't want to splurge on $3 – $4 oysters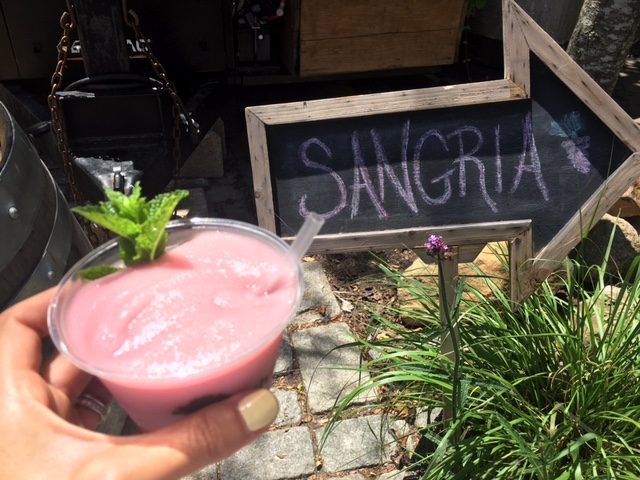 Lest I skimp on the topic of Cisco Brewery (this place is worth its own bullet point), plan on spending a half day at Cisco at the very least (they have a shuttle or you can bike there). We opted for a Sunday and found it to be busy enough to create atmosphere but not so slammed that it was uncomfortably packed. Take their tour ($20) and you'll get to visit – and taste! – at the brewery, the winery, and the distillery; three separate components that make up their establishment. Their frozen sangria is a must, and beer lovers will love their brews. Pair your drinks with fresh seafood from 167 Raw or snack on guac + chips from Millie's food truck.
Get Your Lighthouse Fix
3Is there anything that captures the spirit and essence of New England more than an image of a lighthouse? There's something so beautiful about lighthouses to me, and we got our fix during our time in Nantucket. There are three main lighthouses on the island: Brant Point Lighthouse, Sankaty Head Lighthouse, and Great Point Lighthouse. We saw the first two only, and found both to be wonderful picturesque stops (we biked to both), and neither were crowded when we visited. While we now think of Nantucket as a posh resort destination, its history is really based on seafaring people, with whaling playing an integral role in shaping Nantucket (you can visit the Whaling Museum in town for a great primer on this). The lighthouses pay homage to the region's maritime history and are a quintessential backdrop for a New England snapshot.
Spend an Afternoon at the Beach
4For many visitors to the island a trip to Nantucket is a beach vacation. The island is home to a number of beaches and each seems to have its own personality which resonates with different travelers. During our time on island, we headed to Madaket for sunset (left a bit too early to see the sun's final dip), spent a few hours lazing at Sconset, plus slurped oysters at Sandbar, the restaurant on Jetties Beach… and we weren't even focused on beach time! If beach days are your thing, you could spend every day on a different stretch of sand soaking it all in. Pack a beach chair, a towel and a picnic lunch to soak up the summertime sunshine.
For the inside scoop, check out Fathom's Insider Guide to Nantucket's Beaches for more.
Tour Town for the Perfect Photo Op
5Last but not least, there's the town of Nantucket, the island's heartbeat. We opted to stay at Regatta Inn, a wonderful B&B in the center of town which was perfect for exploring. After venturing to the outer parts of the island, we agreed that staying in town is key for first time visitors. Using town center as a base makes it easier to get your bearings, plus you'll have easy access to dining and shopping. Nantucket has one main town so everything is fairly concentrated and easy to take in, perfect for exploring on foot. You'll stroll by picture-perfect houses drenched in hydrangeas and iced with the ever-present American flag, you'll stroll over cobblestone walkways by brick facades, and take in waterfront shops and restaurants perfect for a midday or sunset sip. Plus, for history buffs there's the Whaling Museum for a primer on Nantucket history. For shoppers, take in the quaint boutiques (it's okay if you can only afford to window shop), plus don't miss picking up your pair of Nantucket Reds – the real deal! – from Murray's Toggery Shop in town. For foodies, see point #2 above – there's no shortage of amazing food on the island, and much of it is concentrated in town. For those looking for a great photo op? Every single turn will bring plenty of inspiration for shutterbugs.
Check out this video for a bit more inspo:
Your turn: Been to ACK? Share your favorite experiences in Nantucket in the comments section below!