The ultimate St. Barths experience
When it came to getting thoughtful Christmas gifts for family, Scott's parents were a bit of a conundrum to us. His brother we could certainly buy for, but we had no idea what to get for his parents. After an incredible year in 2013 with both of our families having done so much for us, we wanted to find something thoughtful and memorable. We decided to do away with buying gifts and instead charter a plane for the entire family to go to St. Barths for the day. The kicker? They didn't know until we arrived at the airport.
We told everyone what to wear and (at the last minute) advised them to pack their passports. While everyone had their assumptions at that point, it wasn't until the pilot announced our final destination during boarding that we were able to finally talk about the trip. Scott's brother had never been to St. Barths, and while his parents had been there twice prior, they had never been by plane. The tiny plane took us soaring over the Caribbean for 12 minutes, passing over St. Martin before landing abruptly in St. Barths' airport. After our last trip to St. Barths, we discovered how expensive cabs were and decided to uncover the island on our own. We had arranged for a rental car to be ready upon arrival, loaded our bags up and went out to explore.
The Island Tour
Loaded up in our SUV, we began our day by heading down to St. Barths' capital city, Gustavia, to do a bit of window shopping and take in the town's vibe from a street side cafe. Shopping generally isn't for the faint of heart; there's some serious sticker shock for people that aren't used to high-end boutique pricing (think €400 for a cover up) and luxury brand overload (Cartier, Bulgari, Louis Vuitton, etc.). There are a few spots that carry souvenirs at a reasonable price, but it takes some digging.
From Gustavia, we departed on an island tour, exploring the nooks and crannies of St. Barths, beginning in the island's east end. While the waters are the turquoise colors that we see in Anguilla, the beaches don't really compare. There are a few nice beaches on the island, but many are nonexistent. During our first trip to St. Barths a couple of months back, we were surprised by how small the island is. The island's reputation as a celebrity playground would have you believe that there's an endless number of things to do, places to eat and trendy beach bars lining the sands. In fact, there seems to be a lot less going on than there is in Anguilla. Certainly beautiful, clean, and chic, but very small.
Nikki Beach
So, what is the St. Barths experience? After our time on Saturday, I would venture to guess that our afternoon in St. Barths captured the essence of the island perfectly. In lieu of a big lunch, we lounged at Nikki Beach with an insanely large bottle of rose and a stunningly beautiful backdrop. It ended up being one of those idyllic afternoons with perfect weather, great service and even greater company. We had some sushi and a few appetizers but mainly enjoyed chilled wine, good conversation and relaxation with our toes in the sand.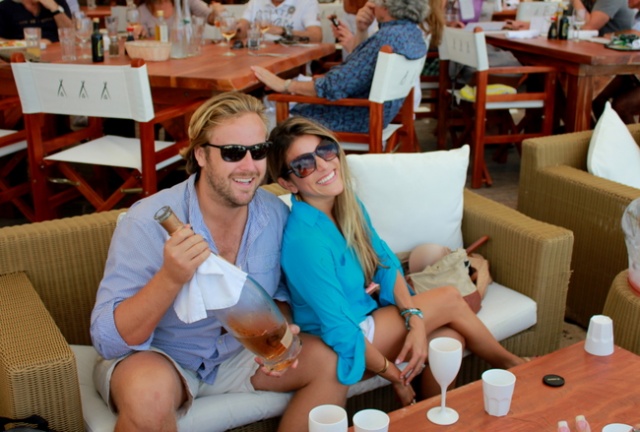 Our day had some emotional turns which I'll talk about a bit more tomorrow but our surprise Christmas getaway to St. Barths was a massive success and one of the more memorable days on record. Scott and I also got to benefit from our Christmas gift to his family, but I like to think it was a wonderful day for all of us enjoying each other's company, relishing the day and being thankful for life.
Wishing everyone else a lovely holiday filled with great memories!