No trip to Rio de Janeiro is complete without scoping out the world-class views of the city and its beaches from picturesque Sugarloaf Mountain. Along with Christ the Redeemer, a trip to Sugarloaf on the iconic cable car is a must for most visitors to the city. I'm pretty sure I'm not alone in this, but I'll admit a couple of things I discovered about Sugarloaf Mountain during our journey to Rio:
1Christ the Redeemer is not on Sugarloaf Mountain.
This is a major duh moment for anyone that's been to Rio, but for many that haven't, you may assume they're one and the same. I thought this before we started researching this trip, and we ran into many people in Brazil who had clearly thought the same before arriving in the city as well. Christ the Redeemer is at Corcovado which offers great views of the city, too, plus a view of Sugarloaf itself. Sugarloaf is a different beast entirely – a more magical one in my mind.
2 Sugarloaf Mountain is reached by two sets of cable cars. The first ride takes you from the base to a viewing platform that seems like the grand finale. You can hop on helicopter tours from here and capture some great shots from this point (see the photos above) but this isn't the terminal point. From here, you'll hop on another cable car that actually takes you to Sugarloaf where the views are even broader and more sweeping. You'll have great views of Christ the Redeemer on a clear day and the famous Copacabana Beach will be in eyeshot. Worth noting: for a super great shot, plop yourself in front of Sugarloaf when you're on the first viewing platform. The views from Sugarloaf are amazing but you won't have the iconic mountain in your photo from there.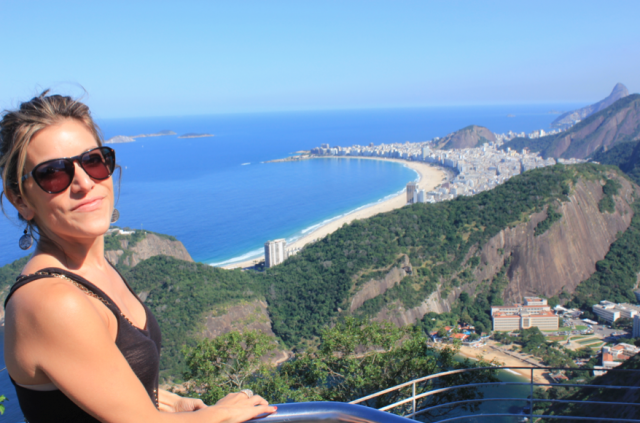 My in-laws had been before and made the suggestion to bring a bottle of wine and some cups so we could enjoy the vistas with a little vino. BEST. SUGGESTION. EVER.
Being up at Sugarloaf is all about taking in the views; simply admiring the majesty of Rio. This is a pretty easy task made even more sublime with great company and a cold glass of white wine. Absolute perfection. Also worth noting: there's a restaurant at the top where you can buy a caipirinha and enjoy the views like a true carioca.
How spectacular are these views?!
In all honesty, Sugarloaf was more of a highlight for me than Christ the Redeemer. As I mentioned in my previous post about the World Wonder, I didn't find myself overly impressed if I'm being totally candid. I think Rio has some astoundingly beautiful draws (Sugarloaf being one of them), and while Christ the Redeemer is a must for anyone visiting the area, the experience is more of a rite of passage for visitors than anything. After being at Sugarloaf and taking in the views, I understood why my in-laws were so taken with Rio's beauty. As far as stunning cities go, it's tough to beat.
Have you been to Sugarloaf? What did you think?