Honestly, after navigating the bridges and waterways of Venice and the hills in Tuscan and Umbrian towns like Montepulciano and Assisi, the idea of navigating Rome with a 96-year-old in a wheelchair seemed relatively straightforward. Rome is mostly flat (a bonus) but its challenge, as most visitors to the Eternal City will tell you, is that it's spread out. On previous visits to the city, we've easily gotten 20,000 – 25,000 steps per day with places like the Colosseum and Vatican City at opposing points in the cityscape. With just three days in Rome, we had some ground to cover so I found myself in search of creative alternatives to maximize our sightseeing without committing to a sequence of 20,000+ step days pushing a wheelchair through the city center. The solution? A private golf cart tour of Rome with My Best Tour which allowed us to hit the ground running taking in Rome's key sites. The biggest plus? After over a dozen trips to Rome, I left wowed by our guide and the insight he shared. Rome is so layered with so much history that whether you're visiting the Italian capital for the first time or the 25th time, you'll find that there's always something to uncover. With Daniele in the driver's seat and the five of us in tow, we set off to see Rome by golf cart.
The Tour
A private tour means that you can completely customize your destinations or tap into your guide to figure out which locations will make the best roundup of highlights for a single day. Our mission was simple: we were visiting the Colosseum and Vatican City separately so wanted our first day to be a tour of Rome's other must-see spots; stunning piazzas and famous locales that would really give everyone the sense that we'd arrived in Rome.
For us, this included Piazza Navona, the Spanish Steps, Campo di' Fiore, the Pantheon, the Trevi Fountain, Borghese Gardens, plus lesser-known highlights along the way. The beauty of a golf cart tour is that the cart is registered to drive within the ZTL (Zona a Traffico Limitato), where cars are generally not allowed to pass without special permitting. For most travelers, this means the simplest choice for exploring Rome in normal circumstances is getting around on foot. With the golf cart, we were able to zip around the city and make our way to keys points of interest without facing obstacles with mobility challenges. We pulled right up to the main thoroughfare near the Spanish Steps, drove right next to the Pantheon, and parked front and center at Piazza Navona.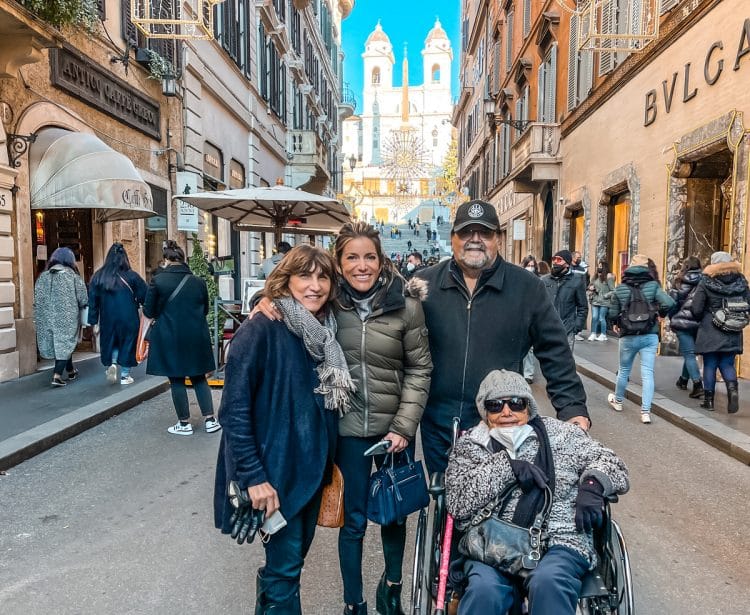 The tour involves commentary while you're driving around because, hey, it's Rome and virtually ever corner has some interesting historic slant, but it also involves stops along the way where you can get out and stretch your legs as well. We stopped at the Trevi Fountain, Piazza Navona and in the gardens, for example, where we were able to enjoy each spot for as long as we wanted before moving on.
One thing I'll note here is that our focus when talking about mobility was my grandmother. During much of our deliberation about tours and experiences, it focused around what was doable with her, knowing the limitations with stairs, hills, cobblestones, doorways, etc. At nearly 100 years old, getting around is more complex for her than it once was. That said, her being in a wheelchair actually made things more straightforward in some ways. Sure, there are limitations with stairs and old buildings, but we could theoretically cover long distances with her in a chair with a bit of a workout on our end. For folks that have mobility issues that still require them to walk (think joint issues, back pain, and general issues covering longer distances) this tour is an even bigger plus. For travelers that fall into that category, your alternative is to actually walk (not to be pushed around in a wheelchair) so the thought of covering 10 miles a day may seem daunting or just downright impossible. Tours like this help bridge the gap. The same could be true for families with children – the tour is engaging, fun, and can be tailored to your needs so can be particularly helpful when you have younger kids in tow.
All in all, we all loved the experience. My parents immediately enjoyed the idea of being towed around in a golf cart, my grandmother was easily able to appreciate things in a more engaged way (she was sitting with us chatting vs. being pushed around), and Scott and I didn't have to be concerned about which path would provide the least resistance since we had a pro with us. If you're planning for the Italian capital and trying to figure out how to work around mobility issues, a golf cart tour of Rome is worth wrapping into your plans. 👌🏼
Have you ever done a golf cart tour in a city? Would you?