You've heard of the Ring of Kerry and you're also likely familiar with the Dingle Peninsula, but what about the lesser-known Ring of Beara?
Until we began our planning for a week in County Kerry I knew nothing of it; quite a shame after having seen its untold beauty first hand. The Ring of Beara came highly recommended to us by the owner of the villa we stayed at in Kenmare and it piqued our interest. Kenmare sits right at the crossroads of the Ring of Kerry and the Ring of Beara making it an ideal destination for exploring either locale easily.
The Ring of Beara is a notably shorter drive than the Ring of Kerry at roughly 130km, about 80 miles (that was our drive distance from Kenmare to Kenmare going clockwise). 80 miles doesn't sound like a lot but this isn't a race, it's a leisurely scenic drive that requires sufficient time to be able to enjoy the stops along the way and the breathtaking vistas (there are many).
In truth, I found relatively little information online when I was looking for itineraries, highlights, etc. about the Ring of Beara. Their tourism site (here) provides a good starting point, but hopefully these images and a first-hand perspective will be somewhat useful to anyone planning this adventure for themselves.
The Ring of Beara
We headed clockwise around the Ring of Beara, beginning in Kenmare, approaching the drive in a rather leisurely way. I had a list of highlights along the ring, key towns and some distances, but we didn't really have a timeline. I'm of two minds on this: this is probably how you should approach it so you can enjoy each stop and not have to be a drill sergeant throughout the day. On the flip side, we found that we ended up spending hours of our day exploring before we even reached Glengarriff. For many, Glengarriff may be perceived as the actual starting point of the Ring of Beara. So, here are highlights from our day and a bit of feedback and insight as to which areas you may want to prioritize if you only have a day to drive the Ring of Beara.
Bonane Heritage Park
Within 10 minutes of our drive we saw signs for the town of Bonane and the Heritage Park within its borders. The Office of Public Works' Heritage Cards are not accepted here as the Heritage Park is a community initiative to preserve the unique histories found within the compound. Entrance will cost somewhere between €3 and €5 (discounts for seniors and students), and the staff will equip you with a map to begin your journey. Visitors can explore the entire park, a 1 – 2 mile loop, on foot, and it's worth allotting at least an hour to explore the various sites. If you have mobility issues, it's worth noting that there are some inclines and the roads are not handicap accessible (you can see the gravelly roads in some of the photos).
While it appeared to be a rather small operation from the outset (one lady welcoming people, collecting money and passing out maps), the park itself is very well done with great signage and explanations for the sites within the park's borders. There are two walking paths: one that's a bit longer with less of an incline, and one that's steeper but a shorter route. The easier, longer route (called the 'Druid's Walk') is totally accessible for the majority of people. You'll find a stone ring along the way, a stone fort (the fort is mostly in ruination and requires some imagination), a bullaun stone, a cooking area from the early centuries, and a famine house which represents a more recent Irish history. As I mentioned during my introductory write-up about our Irish road trip, we're all different travelers, but we all enjoyed this stop. The natural beauty alone is breathtaking, and the walk is easy enough for most travelers, and provides a fairly high concentration of Celtic sites.
Molly Gallivan's Cottage
After leaving Bonane, we shortly arrived at Molly Gallivan's Cottage, a quaint cottage setting with shops and a tea room facing the beautiful Druid's View. The stop is impossible to miss; you'll see cars parked opposite the cottage with an old truck marking the entries.
If you have the time and desire, you can tour the grounds, which are home to famine ruins, a bog, a lime kiln, a stone row and a poitin still. We opted to poke around the shops inside without embarking on the journey but the grounds are a great place for history buffs wanting a bit of insight into local history.
Even in our short time there, we were absolutely enchanted with the story of Molly Gallivan. As a single mother of seven children, she struggled during the famine to feed her family and survive. The poitin still on property was where she distilled her strong homemade whisky, or poitin, called 'Molly's Mountain Dew', which she sold illegally. Even if you opt out of doing the full farm tour, it's worth popping into the charming craft and gift shop to snatch up some locally made Irish goods.
Keep reading to see our other stops along the Ring of Beara, plus things we missed and takeaways from our experience!
Glengarriff
Our first stop was Glengarriff, the second largest town that we experienced on the Ring of Beara. Along with Castletownbere, this was one of the more bustling hubs, with restaurants, bars and shops lining the main street. If you're taking a ferry to Garinish Island, this is where you'll embark for the experience. We found a few cute shops in Glengarriff doling out typical, though not kitschy, Irish takeaways; Irish wool, Celtic jewelry, and children's books highlighting Irish lore.
There are a number of restaurants and pubs that would be suitable for lunch here but we knew that Castletownbere would have more to offer and we needed to set the pace a bit if we were going to make it around the Ring of Beara before dinner in Kenmare.
Castletownbere
Castletownbere is the de facto capital of the Ring of Beara and overlooks Berehaven Harbour. Of the towns we came across, it was the largest and most vibrant with a lovely charm about it. There are a number of restaurants to choose from, with many serving up locally caught seafood fresh from the shores. Without much forethought as to where we would eat, we ended up at Breen's Lobster Bar for lunch which ended up being a great setting for a casual bite with excellent fresh selections. For cider lovers, try the Orchard Thieves cider that they stock! Along the main road, you'll find a few sweet shops and specialty stores, banks, grocery stores, and some outdoor market stalls.
On the hunt for fresh oysters (there were bound to be some, right?!), we came across a man with outdoor food stall that piqued our interest. Oysters were nowhere to be found, but his table housed one small wooden vat after another filled with a variety of olives, fresh made cheese, artisanal dips and cured fish. We had all been mentally hoping to stock up on some specialty items for a picnic during our time in Ireland and this was the perfect starting point; we loaded up with little bits of many things and parted ways with Glengarriff.
Puxley Estate + Dunboy Castle
After we left Castletownbere, our intention was to head around the tip of the peninsula to make our way to Allihies, a coastal town famed for its copper mining days of old. Here's the beauty of road tripping independently around Ireland, though: there are surprises around every corner and you get to make up the itinerary as you go.
When we stumbled upon a sign that said castle, we turned the car around and headed down a nondescript road to see what was in store. We quickly came upon old domineering gates, beautiful ruins that acted as an entrance to a jaw-dropping castle estate. Could we go this way? It looked like there was some construction going on but we couldn't be sure. BUT THIS WAS A CASTLE WAITING FOR US, and not just castle ruins or some private estate that someone called a castle but an actual castle, and we were still working on getting our fill of princess moments.
My dad, with his sage wisdom asked, 'What's the worst they can do? Kick us out?'
Fair enough. So we continued on to the princess castle, which is actually the Puxley Mansion (I'm still calling it a castle in my mind), which sits on the Puxley Estate. It was clearly a private space and obviously being worked on so we didn't go in.
We just parked our car across the street and scoped out the area, walking along the water facing the estate. It was an absolutely gorgeous time of day with the sun bouncing off the inlet and illuminating the landscape. By the water we noticed a sign for Dunboy Castle and the history of the site with records dating back to the 1600s. Was this Dunboy Castle?
I was now very confused, so we continued walking.
No, no.
This was Dunboy Castle: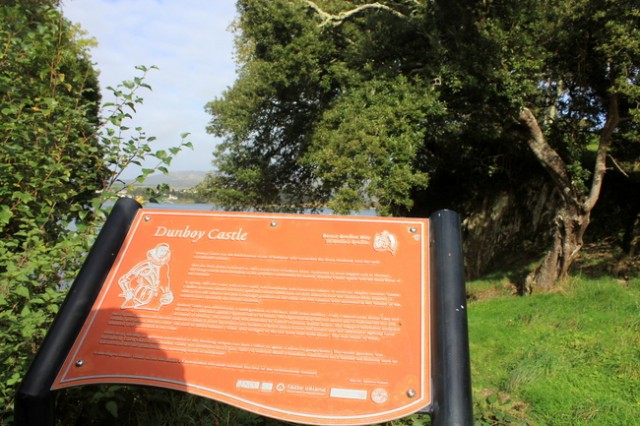 Okay, was I just transported to The Shire?
Also, duh there's a castle behind the castle-like mansion, because doesn't every estate have real castle ruins in their backyard? I mean, It's only proper.
We took our time running around the shamrock-laden fields and taking it all in. The sun was shining, we had just stumbled upon these castle ruins, and we were the only people in sight. We scaled the hill and made our way down to the water to scope out the estate from around the bend. There was no doubt about it: we had fallen into a dreamy storybook and we were all just praying that we could stay in this dream for a little bit longer.
My mom, with her childlike wonder, was taking in the views before noticing a bush of blackberries nearby that clearly needed to be devoured. She only ate one before my sister and I lectured her about how they could probably most definitely be poisonous. She swallowed it just to spite us and kept frolicking, and I was happy to just be in that moment of everyone else's happiness.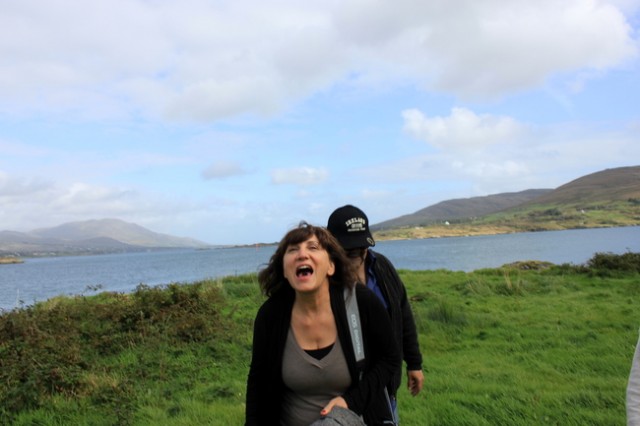 Allihies, Eyeries and Ardgroom
It was sometime after 5PM at this point and we were barely past Castletownbere along the Ring of Beara going clockwise. We still had a fair way to go and didn't want to rush our experience along this scenic loop. To give ourselves enough time to enjoy, we moved our dinner reservations back from 7PM to 9PM; enough time to continue along the route, get home and get cleaned up for our evening out.
I had read about Allihies, Eyeries and Ardgroom being traditional fishing villages worth visiting. There's no doubt that the towns are charming but I don't know that they're necessarily all worth a stop when faced with the issue of limited time.
We quickly drove through Allihies before we had really realized we had driven through it. It's a quaint town with a history of copper mining, but its quiet – nearly comatose – pace didn't do enough to compel us to stop and wander. Eyeries, with its pastel homes, was charming to drive through, but at this point in our trip and at this point in the day we needed something a bit more than charming facades to draw us in. We drove through with admiration and headed to Ardgroom. To be honest, the scenery along the way was more of a highlight than any of the smaller towns were. We stumbled upon a stunning burial site covered with unique Celtic crosses and the ruins of what appeared to be an old church. Within minutes, we had passed a corner with sweeping view of a beach and pink and blue painted sheep grazing the grass. It was beautiful. Beautiful in that way that makes you stop for a moment, breathe it in, and say thank you for the precious world we live in.
What We Missed, Tips + Insight
So, what did we miss and what would we do differently next time?
Some highlights along the Ring of Beara that we missed:
The Healy Pass: We drove from Kenmare to Kenmare counterclockwise and planned on seeing the towns along the outer perimeter of the Ring of Beara. Whether this was the right choice, I'm not totally sure. Another route would take you along the Healy Pass, which essentially cuts through the Caha Mountains from Adrigole in County Cork to Lauragh in County Kerry. Those who have gone rave about the stunning natural beauty.
Garinish Island: As you saw above, Garinish Island can be reached from Glengarriff by taking a ferry across. Due to our limited time, we opted out of this experience. It's positioned as an 'island garden', which is supposed to have amazing botanicals, gorgeous walks and a seal colony. For us, this wasn't a priority.
Adrigole: A town along the Ring of Beara, Adrigole is home to the highest waterfall in Ireland, and is the entry point (or exit point?) of the Healy Pass.
Dursey Island Cable Car: Dursey Island is one of the few inhabited islands in the area, but the biggest draw is the cable car, the only one in all of Ireland and the only cable car in Europe that travels over open water. There are no restaurants, pubs or shops on the island so the biggest draw is landscape, hiking and bird watching – none of these were a priority for us.
Stone Circles + Stone Forts: We had seen a few of these during our day on the Ring of Kerry so they weren't musts for us during our time on the Ring of Beara. For anyone interested in these sites, here's a link to some key places that may pique your interest. Also note that from our experience on the Ring of Kerry, a sign pointing to a Stone Circle or a Stone Fort doesn't mean that it's going to be right around the corner; it could be miles down narrow roads to be reached.
There were other scenic drives we missed out on, towns we didn't get to see, and other little islands (e.g. Bere Island) that we completely bypassed. After our day of exploring, here are some general thoughts from our experience that I hope will help for anyone that's planning a trip of their own:
Give yourself ample time. It's technically not a long drive but there are many, many things to see along the peninsula and there's absolutely no way you'll be able to see everything. Start early, say 8AM, and plan to grab breakfast or a snack along the way. Either opt out of dinner reservations or make late dinner reservations (around 9PM) to give yourself a nice full day to explore.
Prioritize. I said this when I talked about Dingle and I think this is absolutely relevant with every scenic drive. To piggyback off of my last point, even with ample time you won't see everything you want to see so make a list of what you're most excited about, perhaps 3 or 4 stops along the way, and try to enlist your time management skills (to an extent) to make sure you hit those spots. In a group like ours with somewhat differing interests, perhaps have everyone pick at least one thing that is an absolute must for them to make sure everyone leaves feeling like they had the experience they came for.
Plan but allow flexibility. We stumbled upon Dunboy Castle; it wasn't initially on our radar, but it ended up being an absolute fun highlight for us, perhaps in part because it was unplanned. Give yourself enough of a buffer during the drive – during all of these types of drives – to simply explore. The beauty of this experience is being able to pull over at any given time and uncovering the gems that lie around every corner. You won't know until your there what piques your interest and what looks most captivating. On the flip side, something you plan on doing or seeing may end up seeming ill-fitting in that moment. I think we may have actually been a bit too flexible (ahh, this never happens!) in that we didn't have a good grasp of our priorities during this drive which allowed us to squander a bit of time and miss a few key drives. Lesson learned though!
For anyone interested, here's a map with some points of interest that I initially put together for our trip! Feel free to poke around:
After having experienced the Ring of Beara and the Ring of Kerry, I can see why locals tout the unspoken and unspoiled beauty of the Ring of Beara. We weren't fighting tourists very much in general, but we hardly came across another car during our day on the Ring of Beara. For the most part, it felt like us and the world. A gorgeous, untouched, vibrant world. The scenery is equally stunning, if not more so, than what we saw on the Ring of Kerry, and the roads are equally well-kept. We felt worlds away driving along the Beara Peninsula and it's a drive I would recommend to anyone in the area. Ideally, you'd have more than a day to really delve into the natural beauty that this area holds, but even with a single day it's worth the drive and the time. You won't be disappointed, just start early!
Have you driven the Ring of Beara? What did you think? Any highlights or must-sees that we missed out on that you would recommend to others?
xo,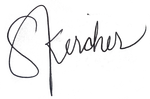 ---
Keen on doing an Irish road trip like this? Check out Dromard Villa, our fabulous home base in Kenmare, for exploring the Ring of Kerry, the Ring of Beara and the Dingle Peninsula. Stay tuned as I discuss having a home base in Ireland vs. bouncing around during your road trip.