An Evening Exploration with Jaya House
With four days in Cambodia to cap off our month in Southeast Asia, we dedicated our second and third days to exploring the temples in Siem Reap. Our first day, we arrived mid-morning from Ho Chi Minh City, giving us plenty of time to explore the city itself and take in the beauty of the town's peaceful vibe. For me, the town of Siem Reap itself fell somewhere between the uber-peaceful zen quality of Luang Prabang and the more vibrant (and more gritty) city of Chiang Mai. Siem Reap certainly has a more well-trafficked feel than Luang Prabang but despite the significant increase in tourism over the past few decades, it seems to have stayed clear of any real, palpable grittiness.
Our check-in at Jaya House was a heavenly introduction to the city, with a personal welcome from the General Manager and an overview of Siem Reap, our location, what to do and see, and more. They graciously shared with us the opportunity to explore beyond the city center on an evening expedition to see some neighboring ruins, watch the sunset, and visit an active temple. We gladly accepted.
For those visiting Jaya House, there's a host of tours and excursions offered by the hotel. What we enjoyed was a miniature version of the Jaya Discovery; an afternoon exploring an off-the-beaten-path temple, scoping out a floating village, and more. We set off with our driver/guide for a three-hour evening journey for a perfect start to our 4 days in Siem Reap.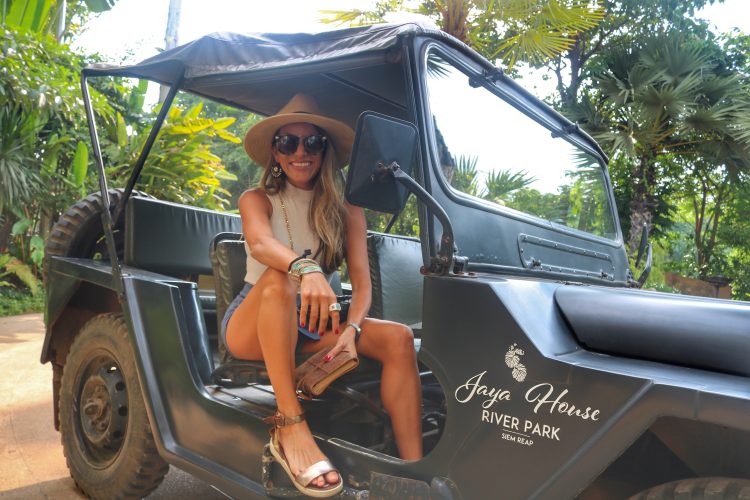 Generally speaking, you'll get around by tuk-tuk in Siem Reap. It's the primary mode of transportation for locals and visitors alike, and it's a rather interactive way to travel as you'll better feel the environment around you as you zip from place to place. Jaya House also has a super-cool retrofitted 4×4 for visitors for a ride that's a bit faster and better suited for off-roading terrain. We jumped in the back seat and headed off with our driver/guide, Mill, who shared a bit of Cambodian history as we weaved our way to the ticketing office for Angkor Archeological Park. To visit the temple of Phnom Krom on this evening exploration (more on this below), tickets were required, which forced us to buy tickets the night prior to our time visiting the temples in Siem Reap (?? read more on ticketing + logistics for visiting the Angkor temples). In hindsight, it ended up being a useful thing as we were armed and ready to go for the following morning's sunrise at Angkor Wat.
A Temple Blessing
We started at a Buddhist temple, where a local couple was being blessed when we arrived. The Jaya House team provided us with a small bouquet of lotus flowers as our gift to the temple during our own blessing. We were quiet and happy observers at the beginning as a local couple joined the monk for a short ceremony, which culminated in red yarn being tied into matching bracelets around their wrists.
We were up next. We left our shoes outside and made our way in where we met the monk and received our marriage blessing. 4+ months later, the red yarn is still tied tightly around my wrist as a fond memory of our first night in Siem Reap.
Phnom Krom
Photographers refer to that beautiful pre-sunset glow as the golden hour for good reason. There's hardly a prettier time to watch the world go by, and we were lucky to be visiting Phnom Krom during that magically golden period where the ruins were bathed in sunlight. This was our first of 4 days in Siem Reap so our time at Phnom Krom marked our first temple sighting. In comparison with Angkor Wat or Ta Prohm, it's a subtle and small site, but when you've not seen any temples in Siem Reap yet during your visit, it's utter splendor. As our first brush with anything like this during our time in Cambodia, it felt wild and beautiful, especially with no other visitors in sight.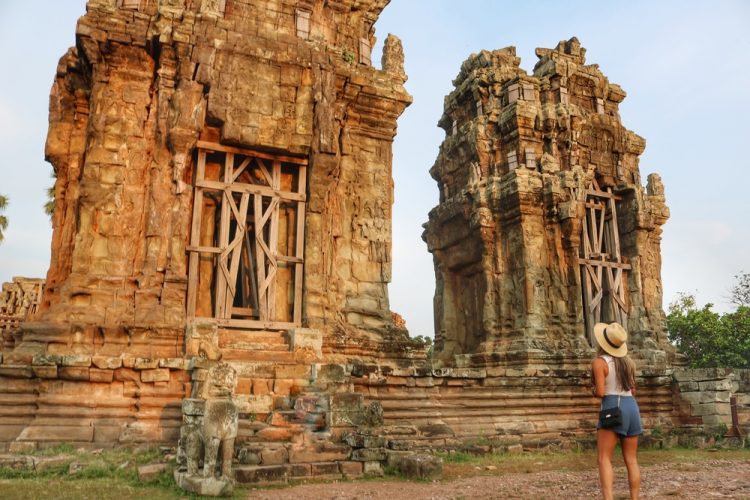 The mountain near the temple is home to a gorgeous sunset viewing point, which brings people in to watch as day turns into night. Mill escorted us down and we shimmied down the mountain, finding a little nook to sit and watch the sunset over the water. Isn't it amazing how travel forces us to enjoy life's simple pleasures?
We made our way back to the hotel to change before our first evening out in town. The 4 days in Siem Reap that were to come brought us some amazing moments but suffice it to say, our intro was golden. ✨