My annual travel round-up is one of my favorite exercises of the year. Like many people, I don't always take the time to really reflect on what the year has brought me personally and professionally to the extent that I should. Ever year I swear that we're never going to top the adventures we've undertaken. In 2014, I was certain we could never beat a trip to the Middle East and a trip to East Africa in the same year. In 2015, I swore up and down that between exploring Central and South America and having an incredible trip to Western Europe, there was no way to top those memories with our families. And this year… well, I'll tell you again that this year brought us some adventures of a lifetime from a family escape to Lake Atitlan in Guatemala to gorilla trekking in the Democratic Republic of Congo. As I've always said, it's an impossible task to 'rank' trips in any helpful way. How do you really compare South Africa to Quebec City or the Congo to Basque Country? In my feeble attempt, here is my best stab at an ordered list – my top 10 travel moments from 2016 with trips that take the top spots in this year's memories:
A Springtime Escape to Toronto
10Dare I say that this was our first time ever to Canada? Despite growing up in California with beautiful BC just a couple of hours away by air, Scott and I had never prioritized Canadian travel. When friends of mine tied the knot in the city in May, it was the perfect reason to set off for their wedding plus Scott's birthday celebration. The end of May brought picture-perfect weather, a reunion with great friends, and a chance to better understand what makes Canada such a draw for international travelers. Great bars and restaurants, friendly residents, plus – as we discovered – a pretty efficient hospital, made for a memorable first brush with our northern neighbors.
Read my take on how to spend three days in Toronto.
Jungle Immersion in Costa Rica
9The past few years have had us on a Central American kick. Last year we spent time in Panama and Honduras, and this year we kicked off 2016 with an escape to Costa Rica after a stressful January in Anguilla. The trip brought the brief respite that we needed and the hotel was a haven of restful relaxation set a jungle-meets-ocean setting overlooking the water. To be totally honest, the hotel was the highlight for us. It was a great experience in a country that seemed much more developed than many other areas we have visited in Central America, but the areas we visited were also heavily touristed and seemed to lack a bit of authenticity for us. I would return to Costa Rica, but would focus more on the central part of the country with volcanoes and a lush jungle landscape.
Read about R&R in Costa Rica.
Keep reading to see the rest of my highlights from 2016!
Anniversary Getaway to St. Barths
8I've long said that I don't 'get' St. Barths after a visiting on day trips from Anguilla. For our anniversary this year, we wanted a quickie getaway to celebrate, and neighboring St. Barths made the cut as a fairly easy – albeit expensive – escape.
You guys, I've changed my mind.
St. Barths is better than I originally thought. Whether it's the strengthening dollar vs. euro or the fact that we got to enjoy a couple of evenings in SBH, I'm not totally sure, but I found myself more enchanted with the tiny Caribbean island than ever before. It's a fabulous contrast to Anguilla with its French accents, pretty architecture and dose of glitz, and it was the perfect place to escape for three days to celebrate.
Read my take on Anguilla vs. St. Barths for visitors to the Caribbean.
History + Outdoor Adventures in Rwanda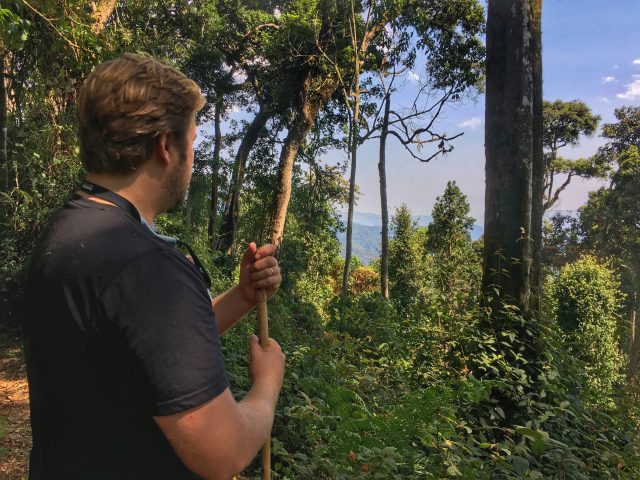 7Our month in Africa was hugely anticipated. It was the adventure of the year, and undoubtedly one of the adventures of our lifetime. Rwanda was the first leg of our trip and it started us off right. Kicking off East Africa with a day in Kigali and a visit to the Genocide Memorial was powerful and provided a rich context to the trip. Rwanda is a stunning, safe and impressive destination with jaw-dropping landscapes, a layered history and sense of community.  To be honest I actually liked the feel of Rwanda more than Uganda, but our experiences in Rwanda were limited. We went on a failed chimp trek and didn't have enough time to enjoy the tea plantations in Nyungwe Forest. In talking about returning to East Africa, we kept going back to how beautiful the country is but wondered, what would we do? I loved Rwanda, but in terms of our year's experiences it didn't rank quite as highly as some of our other spots. All of that being said, if you're considering Rwanda in a more complete way (e.g. with a chimp trek, gorilla trek, tea plantation tours, etc.) it's a great place, especially for families or for those that want a self-drive experience.
Read about our failed experience chimp trekking in Rwanda.
Girls Weekend in Sea Island, Georgia
6After my first visit to Sea Island in 2013, I promised myself that one day I would have a home in Georgia. Sea Island embodies the charm of the South, with luxe offerings that leave anyone feeling pampered. This year, I booked an impromptu girls trip to Sea Island at the end of August, and even with just four days together our trip was one for the books! From taking a class at the shooting school at Sea Island to sunset cocktails at the Lodge and pampering at their world-class spa, it was an absolute dream and the perfect destination for a girls (or guys!) getaway. Plus, sometimes you just need time with your gal pals.
Read about my top 5 experiences for a girls getaway in Sea Island. 
Safari in Uganda's Queen Elizabeth National Park
5Let's be honest: safaris are bucket list experiences for almost everyone. We embarked on our first safari in 2014 in Kenya and it was the perfect first brush with East Africa but our safari just wasn't long enough. This time around, we dedicated three days to exploring Queen Elizabeth National Park where we had seriously successful game drives. The first night we spotted two lions on the way to our camp and the next morning we came across a leopard in broad daylight. It was a major success as far as wildlife spotting goes, and we loved getting to know our guide in the process. An aside: we also really enjoyed our time at Lake Bunyonyi in Uganda for unexpected reasons.
Read more about our safari in Uganda.
Guatemalan Escape with the Family
4I adore my family and I don't get to see them often enough. When 2016 began, we started brainstorming a getaway for the family somewhere special where we could enjoy a much-needed week together catching up and bonding. When a dreamy villa became available on Lake Atitlan, we pulled the trigger. My grandmother's family came over from El Salvador to enjoy time with us in Antigua (so special!), and we had an amazing and low-key week based on Lake Atitlan in the town of Santa Catarina Palopo. Generally speaking, anything involving family is a win!
Read about our day exploring Lake Atitlan by boat.
Winter Wonderland in Quebec City
3We booked Quebec City and Montreal relatively last-minute. If you would have told me earlier this year – or ever – that a trip to Canada would be one of my most memorable trips, I wouldn't have believed that. Yet, Toronto surprised us with its cool kid city vibes in May, and Quebec City blew us away. Quebec City often gets ranked one of the best cities for Christmas in the world, and I can definitely see why! The streets brought next-level charm, and we were able to experience the European-inspired city with some of our best friends. This trip was a great reminder that even with just four days to spare, you can make some seriously amazing memories.
Read about our Christmas in Quebec.
Exploring South African Cities + Wine Country
2South Africa has been on my bucket list for eons. It always came up when we'd discuss our dreams for travels but it wasn't until this year that we actually made it a reality. Cape Town was a stunner as expected, but it was Hermanus, with its chic coastal vibes, and Franschhoek, with its quaint-meets-luxe wine country charm that seriously wowed us. We expected something great and South Africa delivered something greater.
Read about our perfect day in Cape Town, our journey on the Franschhoek Wine Tram, and see photographic proof that you should visit Hermanus.
The Je Ne Sais Quoi of the Democratic Republic of Congo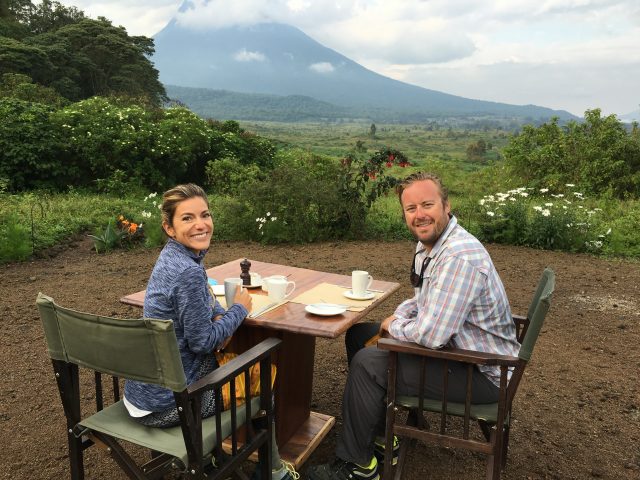 1I honestly feel warm and fuzzy writing this right now. Honestly, I think at this point in my life that the DRC is the most special place in the world that I've visited. Our time in the Middle East exploring Israel, Palestine and Jordan is right up there, but there is something so utterly captivating about the Congo that's indescribable. Despite its challenges – and I'm aware there are many – it's a place that is naturally so stunning, with the most unique opportunities to engage with nature, wildlife, and a cultural exchange that is totally authentic. Our experience gorilla trekking in the Congo is one of the most incredible things we've ever done (there are no words or photos that can capture the feeling of it), and our time in general was inspiring and moving.
To be honest, I was worried that my high expectations entering the DRC would leave me a bit underwhelmed but the opposite somehow managed to be true. There's undoubtedly much work to be done in the Congo but our experience there left me extremely hopeful about the potential role of tourism in development, especially within Virunga National Park.
Read my take on Media vs. Reality and why you should consider visiting the Democratic Republic of Congo.
---
It's been a truly amazing year for us, and I sometimes find that it's doing these recaps that makes me step back and realize exactly how much we've crammed into a single year and all of the memories that we've created not only during our travels, but right at home in Anguilla as well. We've created some amazing memories with our families – including my grandma and dad coming in as a surprise for my 30th birthday in Anguilla! – and continued to build some special friendships. The time flies by and it seems to move faster with each passing year but I'm excited for the adventures that 2017 has in store for us and grateful for all of the memories and travels that have made us who we are today.
Thanks, 2016. You were a good year. 
What were your travel highlights for 2016?
xo,