Our Second Gorilla Trek in the DRC
We woke up our second morning at Bukima Tented Camp more comfortable with the idea of gorilla trekking, knowing more or less what to expect, and especially excited for another day of gorilla trekking in the Congo and interacting with a gorilla family.
We headed to the briefing station where a two rangers joined us. There were six of us headed out to see the gorillas: Scott and I, another guy from California (via Germany), a Brit living abroad in Nairobi, and two Belgian hikers doing this before their Kilimanjaro trek. There's a max of 6 – 8 that can go in a group for trekking, but In lieu of having us all go together they separated us into two groups of three to visit two different families. One of the highlights about our experiences in the DRC was the small sizes of our group experiences. The Congo is a less impacted destination for these types of experiences as compared with Rwanda and Uganda (largely due to stability issues in the DRC and ease of travel to Rwanda and Uganda) so we noticed much more flexibility than I think we would have experienced elsewhere.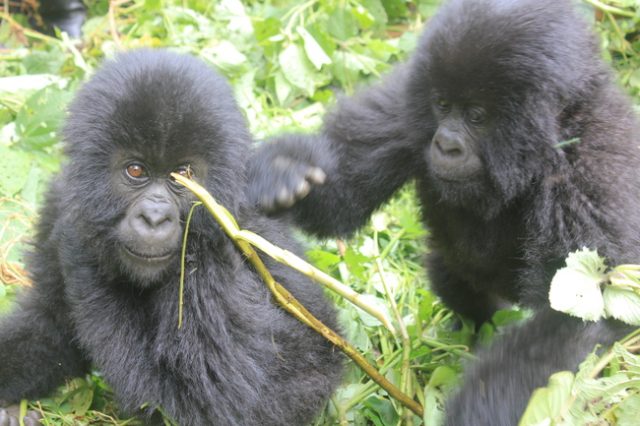 For our second day we went with Peter, the same guide we had for our first experience gorilla trekking in Africa, to visit the Humba Family, a gorilla family of nine individuals: 2 silverbacks, 2 adult females, 1 silverback adult female, 2 juveniles and 2 babies. According to the whiteboard at the ranger station, the trek seemed to be shorter.
From the start our experience was totally different. On our first gorilla trek in the DRC we spent a good 45-plus minutes trekking through farm land that ran parallel to the borders of the actual park. Once we cut in, we moved delicately through dense jungle until we arrived at the Rugendo Family. On our second trek we headed out in a different direction and immediately were forcing our way through extremely thick jungle. There was a narrow pathway wide enough for us to walk through, but we were battling vines and trees and jumping over logs and ants for the entire journey. This trek – definitely described as a trek – was much shorter though. We arrived at the gorilla within about 40 minutes (compared with nearly two hours the day before) and were told to equip ourselves with masks to protect the gorillas from human disease.
We continued in through even denser terrain, standing precariously on mountains of loose twigs and leaves while we entered the gorillas' domain. Immediately we saw a baby running around, curious as ever, standing at my feet (literally trying to touch me, but the rangers encouraged it to move away). 5 – 10 feet away was a silverback, basking in the sun, an absolutely peaceful sleeping giant. It was the biggest silverback we'd seen thus far but seemed to not at all be flustered by our presence which set me much more at ease.
We continued in to the brush a few feet until we were standing between the sleeping silverback and between a quad of playing babies and juveniles who were wrestling and playing tag in a dense bed of leaves. The babies in this group were even more active than what we saw in the Rugendo family the day before: they would run up a branch barely strong enough to hold them, and then thrust themselves off into a bed of leaves, using the branch like a diving board and slide. They'd run back through and do it again, occasionally stopping to play tag.
Other gorillas appeared around us and each time one would approach, I found myself tensing a bit and backing into the brush in attempt to camouflage myself. We were so close to the babies I kept fearing that they would see us as a threat but they seemed absolutely unfazed by us being in their territory. The silverback occasionally rustled until he finally got up and continued further into the jungle.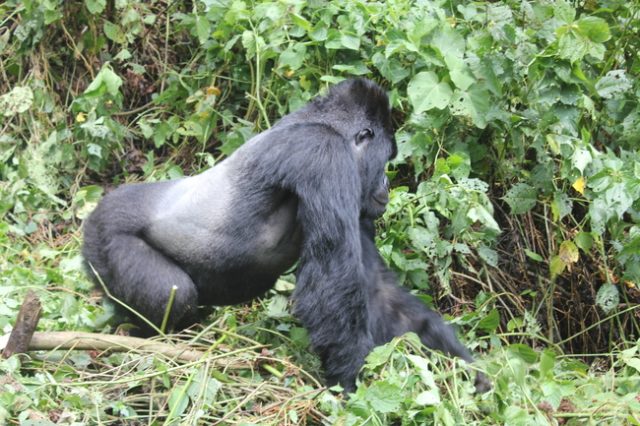 Once the rest of the family had followed we continued behind them, the trackers slowly hacking away at thick branches with their machetes to clear a path. We continued into a pocket with trees and vines that was the ultimate playground for the little ones. The silverback sat watching while one baby twirled endlessly from a vine that hung from the center of this patch of forest. We stood mesmerized watching him play: twirling, twirling, twirling on a single stretch of vine, occasionally testing its strength and climbing part way.
We continued like this: the silverback would lead, we'd stay a reasonable distance behind him and follow the family to its next playground. We watched them play, watched them groom each other, watched them cuddle, and watched them eat branches and leaves that covered the jungle floor. Check out this video of the Humba family during our second gorilla trek in the DRC:

Takeaways from Gorilla Trekking in the Congo
We opted for two experiences gorilla trekking in the Congo at the recommendation of our tour operator and were both very glad we did. Firstly, if anything had gone awry we had comfort in knowing that we had two opportunities to see gorilla families. Secondly, when they say no two treks are the same we found that to be true. The trekking itself was entirely different (one long and less dense; another shorter but extremely dense) and even the family dynamics were different. During our first gorilla trek in the Congo, the silverbacks seemed more watchful and protective (though I may have just felt like this since I was more intimidated by them during our first trek), while the silverbacks during our second gorilla trek were lounging and eating, less focused on us. The babies during our second trek played together a lot while we saw a baby playing with a juvenile more during the first trek.
Beyond there being differences in the experience and dynamic, I think opting for two treks is perhaps most important because you'll see it differently the second time. The first time I had no idea what to expect and was so in awe that I couldn't help but take a thousand photographs and video every single moment. To be honest, I was also intimidated. There were silverbacks around (400 – 500 pounds) who were observing us. Being so close to the babies concerned me: am I going to upset dad by being this close?! There's certainly a healthy respect there, but I found that the fear dissipated during our second trek. I watched more intently and wasn't as concerned about being close. During our second trek, I took photos and videos but also stopped and just watched and observed them. It was an opportunity to enjoy a really special moment: just us and a gorilla family in the middle of Virunga National Park. In terms of magical wildlife experiences, this is hard to beat. I mentioned in the post from our first experience gorilla trekking in Africa how I felt this was more intense and real than what we experienced on a traditional safari. We weren't just observing: we were surrounded by gorillas during both experiences in what felt like a special and intimate moment between us and them.
We weren't just observing: we were surrounded by gorillas during both experiences in what felt like a special and intimate moment between us and them.
Needless to say, Virunga National Park exceeded expectations and I couldn't have imagined a more exceptional gorilla trekking experience. The rangers continue to protect the gorillas of Virunga National Park against poachers, and their job is a risky but an extremely critical one. If you haven't seen the documentary Virunga, I encourage you to watch it to understand what's happening in the park and what political forces are at play.
If you haven't read it already, check out my post from Mikeno Lodge where after we embarked on the Mt. Nyiragongo hike (11,500') for an overnight visit to the world's largest lava lake!
What's your most memorable wildlife encounter?