Chimp Trekking in Rwanda's Nyungwe Forest National Park
Guys, seriously. I could hardly write this post.
After not one, but two chimp treks in a day, with a 4:00AM wake up call and nine hours of trekking, we saw approximately 70% of one chimpanzee. We saw it move through a tree for a brief second so we're counting that as a score because if we don't, it's a terrible story to recap.

Let me backtrack: our phone rang at 4:15AM as a wake up call from the hotel. We were meeting our driver in front of Nyungwe Forest Lodge at 5AM and needed to get ready and have a cup of coffee before our trek. By the time we picked up our guide and actually set off on our expedition it was around 6:30AM (we had to wait around 45 minutes to even get started on the trek once we arrived) and I couldn't help but wonder why we really had to have that 4:15AM wakeup call after all.
Nevertheless, we were off! One Rwandan guide, two German trekkers, one Finnish nurse and two Americans setting out on an excursion to find chimpanzees in the wild. My first thought: damn, this forest is big. How do they even know where to start looking or how to find these guys? Plus, don't they move faster than we do? Our guide, Solomon, had a walkie-talkie with trackers radioing him with intel but we trekked and trekked for a couple of hours before we heard sounds of chimps in the distance. This was a good sign, right? RIGHT?!
I looked around, hopeful, camera at the ready, wary of crunching too hard on leaves that may scare away our chimp friends. There were no chimps. We continued hiking, with long waiting periods in between (we would sometimes stop and wait for 20+ minutes until trackers would radio in). Hours and miles passed.
Now, let me stop and share something here for anyone looking to go chimp trekking in Rwanda. You may be wondering what a chimp trek is actually like and if you're like us (and everyone else we met during this journey) you're probably thinking that it's a literal walk in the park. You'll put on your hiking shoes, stroll through flattish terrain, and chimps will whimsically be swinging from branches overhead as you snap photos.
I hate to be the crusher of dreams but this is not what happens. Chimp treks are actually fairly strenuous (on the upper medium level for me), and can be very strenuous depending on your fitness level. In total, we hiked roughly 8 miles today with elevation changes on uneven terrain. We ran through wild forest that was quite literally off the beaten path and hopped over logs covered in fire ants. It's an adventure, it takes a few hours and there are no guarantees that you will see a chimp. After all, it's nature.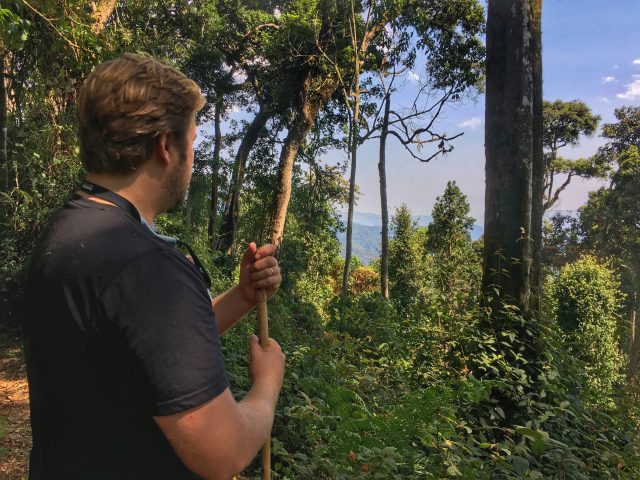 So, back to our trek (the first one). Hours and miles had passed (about 5 hours and approximately 5 miles) and our guide had to share the bad news: the chimps were far away and we weren't going to see them at this point in the day. At least not here and now. Our German trekker friends, clearly hikers on a mission to see chimps, pushed back a little and asked about alternatives, explaining that they'd purchased a chimp trekking permit and wanted to see chimps even if it took the whole day. I was waffling on the edge. I'm not a German trekker so I wasn't into the whole part about it taking the entire day, but I was with them on wanting to see chimps.
Our guide explained that we could go to another branch of the forest, a little pocket with habituated chimps where he told us that our chances of seeing chimps were good, around 70 – 75%. The Germans were in. Our Finnish friend was totally out, and we were debating. See chimps or go back to our super nice lodge and chill for the day to finally become human after days of travel and early wake-up calls? We finally decided that since we're in Rwanda, we couldn't justify not trying our best at seeing these guys. The second trek site was an hour and a half away by car. We committed to joining.
Now, in hindsight I'm not sure how I feel about this decision, but I think it was the right thing to do. My instinct is that I would regret not having tried more than I would have regretted trying and not having great success. At least we gave it our all, right?
So, an hour and a half later down a rugged road (our driver called it an 'African massage', and I like that way of looking at it), we arrived at this little branch of forest for our chimp trek. I was optimistic. I waved goodbye to our driver explaining that we'd be back in an hour with lots of chimp photos (hey, if I wasn't optimistic, why would we have driven this far for a second sweaty trek?!). So, at around 1:10PM we set out on our second chimp trek of the day, us, our German friends and Solomon. About thirty minutes in, we spotted one! We ran through the rugged brush to the top of a hill and watched as one chimp moved through a tree. I saw it's back. All I really wanted to see was its face. Just for a few seconds, that's all I wanted. Then, suddenly, the chimp was gone and the trackers were on the move and we were running after them, deep into the forest until we had to stop and wait for more tracker feedback. They'd lost the tracks and were trying again. Now, I'm going to stop an already long story from becoming entirely too long. After two or three hours in the forest, we finally had to call it quits and I was getting impatient waiting. I led the pack on our trek back setting a fast pace knowing that the sooner we made it to the car, the sooner I'd get back to the lodge and the sooner I could take a hot shower and enjoy the lodge for our final night. Scott spotted a group of monkeys on the way back – including a baby! – which ended up being our highlight as far as forest sights were concerned.
To be totally honest, my highlight was the drive itself, watching the Rwandan landscape pass us by (stunning, to be sure) and driving down the rugged road past a village with little kids so excited to see us. As we'd drive by they'd run up and wave yelling, 'Mzungu! Mzungu!' I asked our driver if they were excited to see a car driving by (there were next to none traveling down this road) or if it was because we're white. He said, 'It's because you're white! You hear them yelling 'Mzungu!' when they wave? That means white man. They don't see many white people around here and they get excited when they pass by.' As if I wasn't already in love with their smiling faces enough, I opened the window and heartily waved back at every child we passed, wanting to tell them that I was even more excited to see them in return.
So, for a somewhat failed day, it was a bit of a success. We saw a beautiful forest, we waved at happy children who were excited to see us, and we watched the sky turn into a watercolor painting of pinks, purples and gold as the sun rose over Nyungwe. Chimps or not, Rwanda is a beautiful place to be.
Have you been chimp trekking in Rwanda? Did you have better luck than us?