When we arrived at Lake Bunyonyi, a lake in southwestern Uganda near the border of Rwanda, I was expecting a quiet couple of days to cap off our time in Uganda. Lake Bunyonyi has been described by many who have visited as magical; relaxing; peaceful, and I can understand why. Dotted with a 29 islands – some inhabited, some uninhabited – and home to a Pygmy tribe, it's undoubtedly a place of wonder and beauty where culture and tradition run thick. Lake Bunyonyi is a volcanic lake, about 25 kilometers long by 7 kilometers wide and is an ideal location in Uganda for an exploratory boat cruise (the same cannot be said about Lake Kivu).
Departing from the pier at Birdnest Resort, we headed out on a scheduled boat tour with Nicholas, a young local guide who himself grew up on Lake Bunyonyi and is integrally involved with social development in the area.
The highlights for many visitors are Punishment Island and Bwama Island, a former leper colony, but there are other key islets that have their own unique histories as well. A visit to the Pygmy tribe is on many people's radar as it was ours. The Pygmy population is a small and declining one, and sadly one of the Pygmies had died the night before our boat tour which meant that the afternoon was set aside for a funeral. During our boat trip, we visited both key islands and what we took away from our tour was more than I could have ever expected.
Punishment Island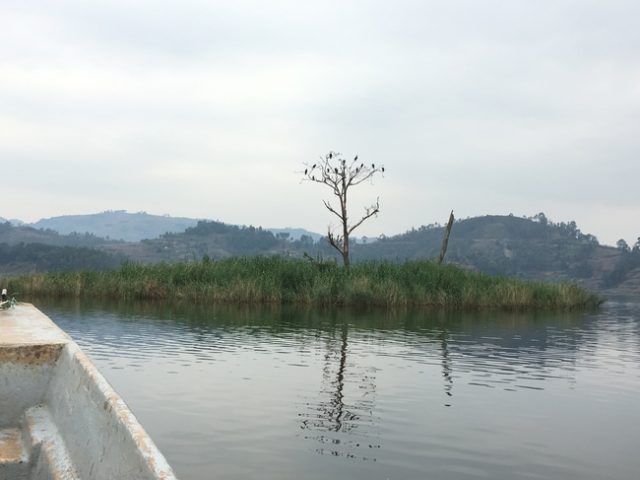 Punishment Island has an absolutely fascinating history. We had heard stories of Punishment Island from Milton, our guide in Uganda, but Nicholas refreshed our memories with tales of the island's somber history. As is still custom today, dowries are paid by men to women's families in exchange for their hand in marriage. We spoke with our guide about this to learn more about the modern-day practice, and learned that it is very much still an active custom amongst Ugandans including educated city dwellers. The dowry typically takes the form of cows or livestock, and can amount to a pretty hefty sum (for example, a cow can cost several hundred dollars and a dowry of twenty cows or more is not unheard of).
The role of women in East Africa has changed (hugely in some instances) in recent history and while there's still plenty of room for growth, there's been a strong movement towards girls education. Through female education and new opportunities for women in the workforce, their value has changed in society. Historically (up to just decades ago), a woman's financial value to her family essentially was the dowry received. Part of that value was (and perhaps still is) predicated on her virginity. If a woman were to get pregnant before marriage, her value was lost.
This brings me to Punishment Island.
Unmarried pregnant women were taken to Punishment Island. Now, keep in mind that when I heard this story, I thought Punishment Island was a thing of the distant past but this practice was very real until relatively recently. Here women were tied to a tree and abandoned. In some cases, these women perished on the island. In other cases, they would be saved by men – fishermen or boyfriends that impregnated them in the first place. The more we discussed this, the more I began to wonder about the role of boyfriends in this scenario: wouldn't it behoove a poor man to impregnate his girlfriend before marriage so she could be left at Punishment Island where he could then save her and still marry her without paying a dowry? I mean, it has to have happened.
When we heard the stories of Punishment Island, I had envisioned a large island where a number of women were dropped off and tied to trees. Once we began our boat trip, we heard that Punishment Island was in fact the smallest of all of the islands in Lake Bunyonyi.
When Nicholas pointed the island out during our trip, I initially overlooked it because it's so tiny. There's one tree on the little island, presumably the same tree that women were tied to in the past. Certainly a pretty vibrant, if not morbid, history.
Bwama Island
In contrast to tiny Punishment Island is Bwama Island, the largest island in Lake Bunyonyi. Punishment Island was actually our final stop before heading back to shore. Our first stop, and our most impactful stop, was Bwama Island. If you visit Lake Bunyonyi you will undoubtedly hear the tale of Dr. Leonard Sharp, a Scottish missionary that came to Uganda in the 1920s to spread Christianity. After witnessing the huge impact of leprosy in the region, he ended up doing work within the leper community on Lake Bunyonyi (Sharp Island in Lake Bunyonyi is named in his honor). He established a treatment center on Bwama Island and then a primary school where children of leper parents could study. He facilitated the construction of homes on the island that were used for lepers; a number of these small homes still exist today.
While leprosy is no longer a threat in the region, Dr. Sharp's goal of assisting disenfranchised communities lives on at Bwama Island. The island is now home to a secondary school, and the former leper homes are now used as dormitories for students. We had the good fortune of visiting the school and meeting with the Andrew, the Director, and Kenneth, the IT Director, who gave us a comprehensive tour of the facilities so we could get a glimpse into the life of students on Bwama Island.
The school is unique not only in the region, but in the country. The focus is on girl child education, along with science education, and access for vulnerable populations including orphans, a bit of a legacy from the leper orphans that were educated on the island in the past. The school is composed of around 60% girls, one of only two schools in Uganda with a majority female population. As soon as we stepped foot on the school grounds I was inspired. I focused heavily on HIV/AIDS and access to education in sub-Saharan Africa during graduate school and this was the perfect example of my studies and interests right before me.
We walked the school grounds where talking points are set throughout the property to incite dialogue amongst the students (e.g. 'have self esteem', and 'menstruation is good and it is normal'). Since the school focuses on girl child education, part of their mission is to dialogue about the issues that girls face across Uganda, including the issues that cause girls to drop out of school (yes, the monthly visitor is one of those reasons, as awkward as it is to talk about). In our conversations the director told us that they don't guide these conversations; they simply allow the children to sit outside and share their thoughts on a topic in a peer-to-peer format.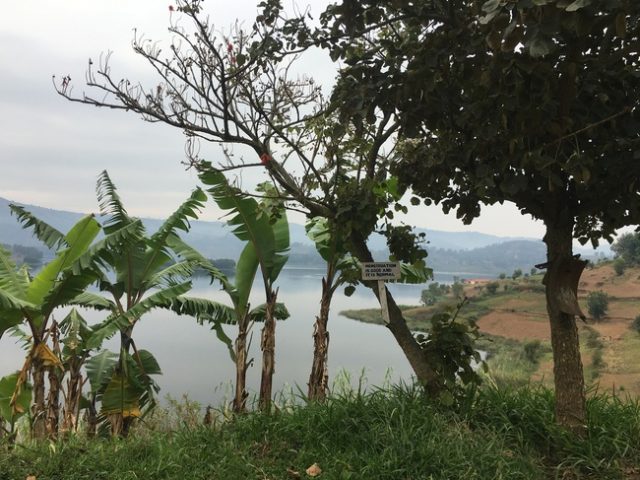 We visited a couple of classrooms including the science lab where we saw the learning environment for the children. As you may imagine, there are some resource limitations but I was amazed at what this group has been able to do with the resources that they do have. One of the most impactful stops for me? The computer lab. 
Above you can see a snapshot of the computer lab, set up with a range of desktop computers for student use. I chatted with Kenneth about the program and he shared that students are taught the full Microsoft suite, including Office, Power Point, Excel, Publisher and Access, plus they're adding web design in the future.
To be honest, I was shocked to meet an 'IT Director' when I stepped foot on the island initially. How does an island in the middle of a lake in Uganda power a facility for information technology? The answer: solar power. Impressed yet?
I left the island brainstorming how to make impactful contributions in the future; to me, visiting this school inspired many ideas of how individuals and organizations can have a huge impact on a single program. It may just be me, but I think people generally get a bit overwhelmed when trying to give philanthropically. Who do we donate to? Do we know where our money is really going? What kind of impact does it really have? When I see projects like this, it seems to me that in-kind donations that can actually make it to the school grounds can be hugely impactful. There's a great opportunity in instances like this to donate in a really meaningful way: computers to add to their computer lab;  new technology that leaders can learn and sustain to educate the next generation of change agents in Lake Bunyonyi; or science supplies that will help impact children interested in the sciences.
"Seeing the work done by a young man in a resource poor area is definitely inspiration for me to look at how we are currently contributing and how we can be contributing in impactful ways in the community that we're in."
Nicholas grew up on Lake Bunyonyi and began his education here. After graduating, he moved back and taught at the school and created his own way of giving back to the community that raised him. I've kept in touch with Nicholas since we left Uganda and he shared his project with me: the Kacwamba Orphanage, an NGO focused on serving orphans and disenfranchised populations. I encourage all of you to click on that link and take a peek at the project he's working on in the Lake Bunyonyi community. Seeing the work done by a young man in a resource poor area is definitely inspiration for me to look at how we are currently contributing and how we can be contributing in impactful ways in the community that we're in.
I genuinely hope to work with Nicholas' program and with the school in Lake Bunyonyi in the future, whether that's through in-kind donations or knowledge sharing. Having spent time studying international development with hopes to work in the field in Africa, this was one of the biggest highlights for me from our time in Uganda and it reignited the passion that I have for projects like this.
If you visit the school, be aware that there will be an opportunity for you to contribute financially. After walking the grounds and seeing the work being done, we felt inclined to leave a donation so bringing some cash may be wise (you can do this in Ugandan shillings or in US dollars). Donations seemed to vary hugely, from $20 – $200+. As a point of reference, educating a child costs roughly 250,000 Ugandan shillings per term, about $75. As you can imagine, financial contributions go far.
Following our time at the school, we visited the local church, which was a gorgeous way to end our time on Bwama Island.
Lake Bunyonyi wasn't what I expected. It was far more, and for anyone interested in projects like this, I think a boat tour of Lake Bunyonyi and a visit to Bwama Island is a must for some serious heart-warming inspiration. It makes me wonder: what can we do to be bettering the world? 
A big thank you to Nicholas for being our tour guide, and to Kenneth and Andrew for taking the time to show us around the school and share information on the program with us. I hope your students in the computer lab are reading this!