Questions and Answers to Seven Common Questions
This morning I was putting the final touches on a detailed African itinerary for a Compass & Vine traveler, inserting a few of my personal photos from my past safaris along the way. Just thinking of Africa was enough to make me want to teleport instantly. It's a destination that I find fascinating and energizing, and a place I could talk about for eternity. I've always been drawn to Africa, as I know many out there are, but I also realize that for many first-timers considering an African getaway, the thought of how to approach an itinerary is intimidating… where do you start and what questions should you ask? When it comes to Africa travel, it often feels like there are more questions than answers when you're in the exploratory phase.
I get it. There's a lot to consider when talking about African escapes. They can take many forms, can span a huge range of budgets depending on your approach, and can encompass all sorts of experiences. There's no 'perfect' itinerary for Africa because, as with all travel, it's a matter of personal preference and interests. When I started Compass & Vine, Africa was actually my impetus. It's a region that's heavy with logistics and planning but so rich and rewarding once you make the journey. If you're considering a trip to Africa and are in the exploratory/brainstorming phase, reach out! I'm happy to chat – no obligation – and help sort out your direction.
Now, let's talk common Africa travel questions for safaris and beyond — plus some answers. Below, I'm sharing six common considerations, some insight, and hopefully some inspiration. If you came to this page from my weekly C&V newsletter, thank you for popping by. 👋🏼
How Long Should I Allocate?
When it comes to how long to allocate for an African getaway, there are a number of factors to take into consideration, the most obvious being your personal situation with work and life obligations. I've done it many ways: I once visited Kenya for one week (!), I spent a month in Africa exploring East and Southern Africa, I spent two weeks in Tanzania last year, and three weeks in Kenya this year. Each trip took different amounts of time, captured different itineraries, different people, and different focuses. All of that said, my general response to this without very much context would be two weeks. Yes, you can go for less time, but if you're traveling from the US, there's travel time to consider, jet lag (it gets even the best of us at times), and internal travel logistics.
Depending on your lifestyle and personal obligations (retirees will have a different set of questions than honeymooners trying to take time off of work), the questions of 'how much time do I allocate?' and 'where should I go?' may come in different orders. For some of us, our time constraints dictate where we can feasibly go; for others of us, our wishlist will dictate the amount of time really required to do it right. However much time you allocate, remember that spending time in each location is important. Nature is unpredictable so you'll want at least 3 nights at each camp to get a feel for the pace and for what's out there, more if you can swing it.
Where Should I Go?
This question is multifaceted because Africa is not solely about safari life, though that's the obvious draw for many. First, consider your personal preferences and desires. What are you interested in experiencing during your time there? Are you just focused on a safari or would you like to incorporate beach time, city time, or wine tasting into your itinerary? How important are cultural experiences to you? What sort of landscapes are you envisioning when you're visualizing your trip? Those elements will help point you in the right general direction.
When we practically talk about Africa, I find it mentally helpful to break the continent into two sub-regions: Southern Africa and East Africa.* During my Abercrombie & Kent Africa Specialist program, we discussed comparing and contrasting Eastern and Southern Africa in terms of wildlife, landscapes, food and wine, beaches, etc. After better understanding the differences in these regions and the activities and experiences on offer you may feel drawn to one region over another.
For example, if you're keen on doing a bucket list hike and a safari, Tanzania would fit the bill combining Kilimanjaro with safaris in world-class destinations like the Serengeti, Ngorongoro Crater, and private reserves. If you're more focused on a water-based safari, Botswana would better suit you. If you want safari life combined with a week of a cosmopolitan fix and seaside R&R, then South Africa could better suit you to fulfill adventure + gastronomic pursuits. If mountain gorillas are a dream for you, you'll be focused on Uganda, Rwanda, or the DRC.
The season in which you choose to travel (more below) may also have a bearing on your choices. Wet season vs. dry season are considerations, and in places like South Africa, winter vs. summer months in certain regions may encourage you one way or another.
*North Africa is a conversation that is better lumped in with Middle Eastern travel, and West Africa is a different region entirely.
Take a peek at a South Africa vs. East Africa comparison.
Should I Visit Multiple Countries in One Trip?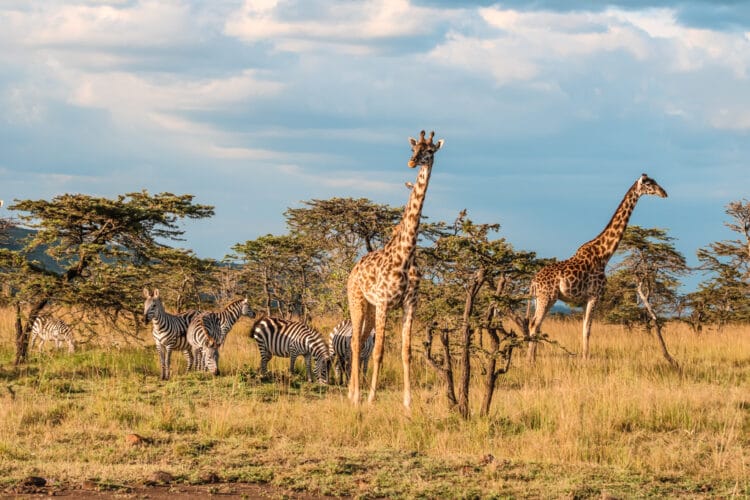 You're going a long way – it's normal to want to wrap in as much as possible! Whether or not a multi-country itinerary makes sense has to do with activities, allocated time, and tolerance for internal logistics. Let's start with one fact: Africa is a massive continent. It's bigger than China, India, the contiguous U.S. and most of Europe combined. That said, there are countries that are natural pairings that work well together. You could look at combining Kenya for safari + Uganda or Rwanda for gorilla trekking, combining Kenya + Seychelles for a bush + beach escape, or potentially combining Namibia for desertscapes with South Africa.
That all said, it's worth also remembering that these countries have beautiful diversity within them. During our three weeks in Kenya this year, for example, we spent a week on safari in the Masai Mara, a week on the beach in Diani, and nearly a week based on the island of Lamu for a serious culture fix. In Tanzania, you can pair hiking Kilimanjaro with a safari in the Serengeti and a post-safari break in Zanzibar. In South Africa, you can easily combine a safari with R&R on the coast, wine tasting in the Cape Winelands, and a city fix in Cape Town.
When Should I Go?
This is a question about seasonality and it's an understandable question: if this is my one and only trip to Africa, when should I go? Well, here it's a bit less about winter and summer, and more about wet vs. dry seasons. Some destinations and experiences (e.g. the Great Migration or whale watching) are more seasonal by nature while others can be enjoyed year-round. Some parks are also more apt to be fruitful in 'green season' while others may be much more of a no-go. If the Migration is your focus, you'll want to set your sights on the July through October time frame depending on where you're heading (Kenya vs. Tanzania)… and you'll want to budget accordingly. That said, we visited the Masai Mara during March, their 'green season', which was more prone to weather given it's the season of the short rains. We had an amazing experience seeing the Big 5, including tons of babies. The scenes were different than what we saw in Tanzania during the migration when wildlife was overflowing, but our experience was still spectacular.
Take a peak at this quick overview of the best time to travel to East Africa vs. Southern Africa.
How Much Should I Budget for Africa Travel?
The most common question that no one really wants to ask… how much do I budget?! First, I think it's critically important to recognize what the cost represents and understand that even luxury has a broad range available. While it can be tempting, it's really not very useful to think about safari camps like a traditional hotel when you're considering your budget (e.g. 'X amount per night'). They're not a traditional hotel (they go far beyond that), and when you're looking at a quote for your African travel experience, it includes more than simply accommodations and is generally quoted on a per-person basis. Generally, when I'm providing a quote for Africa, it includes everything: accommodations, yes, but also your meals, beverages, sundowners, transfers, drivers/guides, internal logistics (flights), park/conservancy fees, along with some additional experiences in cities and in some cases a contribution to community initiatives. Also, it's worth bearing in mind the remote nature of operating a camp in these areas and the expense of doing so. Camps have to operate a business successfully and support staff which includes everyone from drivers, guides, cooks and camp managers to laundry attendants, guards/night watchmen, vehicle mechanics, and behind-the-scenes folks who repair your tents and take care of other necessary operations needs.
With that said, I'd suggest mentally starting your budget at $1000 per person per day, knowing that figure can very well go up to $2000+ per person per day for ultra-luxury experiences during peak season. Rates vary based on seasonality and the difference can be quite substantial. If you're heading to Kenya or Tanzania during the Migration, budgeting $1000 – $1250 per person per night (roughly) will get you into a solidly lovely 4* property, while you'll want to skew to the $1750 – $2500pppn side for 5* luxury options. Again, keep in mind the per person per night figure that you budget is for the scope of your trip. For 10 days in Kenya for example this could mean 2 nights in Nairobi (less expensive) and 8 nights on safari split between two camps (more expensive). Those nights may not each be $1000 per person per night, but we also account for internal flights, drivers, and other logistics.
Worth noting: while some camps and quotes include your gratuities, oftentimes they do not. Tipping should be budgeted for as well as it's an important income component at most camps and is a general practice. Usually, tipping involves tipping your personal driver and guide who've taken care of you (this can be one or two people), and then also tipping the camp with a sum that will be distributed appropriately amongst the staff by the camp manager. Tips are done in cash and can be done in local currency or USD.
What Extras Should I Splurge On?
Alright, I mentioned that your safari is really all-inclusive so there's very little you need to consider beyond those expenses with the exception of gratuities, souvenirs, and some extra experiences here and there. What's worth splurging on? My #1 thing would be a hot air balloon. ICYMI, we went hot air ballooning in the Masai Mara and it was pretty much the greatest. Even my acrophobic mother and husband were in utter awe and swore we would splurge on doing this again on a future trip. Balloon costs vary but expect to spend $400 – $500 per person for ballooning and a champagne brunch to cap off the experience.
Other things that could be add-ons depending on your destination (these can be added into the initial quote provided): privatized experiences (like a private afternoon at the Sheldrick Wildlife Trust vs. the public session), visiting the Reteti Elephant Sanctuary in Lewa, a zip line adventure down the edge of the Great Rift Valley, cycling experiences, food and wine tours, helicopter flights, whale watching tours, SCUBA trips, ATV experiences, private boating experiences, and more.
Are Safaris Kid-Friendly?
This is a bonus question not included in my newsletter this week but a question worth discussing. In this section, let's talk safaris in particular as this is usually the biggest question mark for parents. When we ask this question, we really mean two things: 1) Can I take my kids on safari (as in, are they actually allowed), and 2) Should I take my kids on safari (as in, is it worth the expense and will they remember it)?
The short answer to number one is: it depends. It depends on the camp itself. Some camps are firmly adults only, usually only making an exception if you're buying out the property with a group. That said, there are camps that are totally kid-friendly as well. Serian, for example, where we have stayed twice, welcomes children of all ages. All vehicles are private use so other guests aren't impacted by having someone else's children in their vehicle, and the guides can even cater their discussions and experiences to a kid-friendly level (eg. going out on a walking safari focused on learning about tracks and animal behavior).
Question #2 – should you take your kids – is a matter of personal choice and financial means. Kids are often less expensive than adults price-wise but it's still an investment. Knowing your child's personal capacity will help dictate whether they have the understanding and maturity level to be out on safari. Depending on their stamina, you may need to alter your schedule to work with theirs. That said, I generally think 7 – 10 is an entry point age-wise (again, depends on the child's maturity). There is so much to learn and appreciate at a young age, and what they may not fully comprehend and appreciate given their limits, I think is made up for by the fact that they're expanding their minds in a major way, learning not just about wildlife and conservation (so important!) but also about different cultures and ways of life.
---
Alright, have I got the juices flowing with all of this safari talk? I'm ready to book a return trip ASAP and if you need help with yours, let's talk! If you're not already subscribed to my weekly newsletter with Compass & Vine, pop over and sign up to get more travel talk in your inbox twice a month.
Do you have more Africa travel questions? Freel free to drop them in the comments below!