If there is one travel experience that I'd recommend to everyone as a must-have bucket list escape, it's going on safari in Africa. If you're fortunate enough to visit Africa on the regular, so much the better, but even if the trip is once in a lifetime, I think a visit to the African continent – when done right! – is arguably one of the most transformative travel experiences that can be had. For me, it's the only place that I can allow myself to truly disconnect from the day-to-day mayhem and reconnected with nature. It's also an incredible education on wildlife, the importance of conservation, and the role of tourism in economic development in many areas. Are you in the process of planning your African getaway? Here are 10 tips for planning an African safari to keep in mind to get the most out of your experience.
Give Yourself Enough Time in Each Camp
1Planning an African safari is a major adventure so the desire to see as much as possible in a single trip is understandable. That said, it's important to remember that nature is unpredictable, and if you want to improve your chances of exceptional sightings, you should give yourself enough time in each camp to really take everything in. It's not just about animal spotting and ticking off the boxes; the most memorable moments are the incredible scenes you'll encounter: a team of scavengers at a kill, a lioness and her cubs, cheetahs on the prowl or wildebeest crossing the river en masse during the Great Migration in the Serengeti. Plus, don't discount the magic of camp life! If you're constantly on the move then you're not settling in anywhere for long enough to fall into the rhythm of safari life. We spent 4 – 5 nights at each camp (and met some people staying up to 2 weeks at certain spots), which meant the team knew our morning preferences and our ideal nightcaps — and getting to know the staff by name made our experiences extra special. Camp owners would probably suggest a week if time permits, but I found that even 5 nights was great!
Pack Thoughtfully — and Plan to Layer Up!
2There's this general misconception that Africa is a hot weather climate, and while the days can sizzle in the midday sun, you'll be surprised by how much the temps drop overnight. Your early morning and sunset game drives can be downright cold depending on the climate that you're used to so layers are key (keep in mind that I'm coming from the Caribbean so my definition of 'cold' and your definition of cold may be different). I generally found myself wearing a tank top, layered with a button-up, followed by a vest and scarf. I threw on a sweatshirt (an impromptu Addis airport purchase) during a couple of mornings, too. A lightweight jacket or fleece would be great to include as well for packing! If you're like us, you'll be layered up when you depart during the chilly mornings and will find yourself slowly de-layering as the morning progresses. By breakfast, I'd be sans sweatshirt and scarf, and the vest would come off shortly after. Don't forget a hat for sun protection, too! By mid-morning, you'll feel ready for a full costume change with the climate changing so dramatically over the course of your morning game drive.
Worth noting: Laundry service is generally available at most camps. This is vitally important if you're taking bush planes during your trip as the small air carriers generally have strict luggage restrictions. For our flights, the max luggage allowance was 20kg per person for all combined luggage (hand luggage + checked luggage + personal items like camera equipment). We took advantage of laundry service at least one time per camp which made packing light a breeze!
Embrace the Out of Office Mentality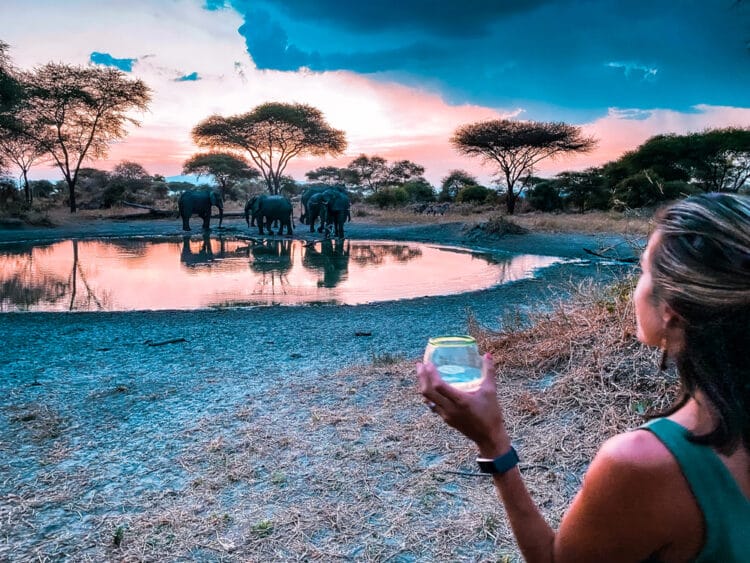 3If you're planning an African safari, you need to prepare to be out of office. I'm notoriously bad about disconnecting when we travel, often checking in for work obligations 2 – 3 times a day to stay up to speed with everything while we're away. When you're heading out on safari, you really have to jettison that mentality to fully enjoy the experience. Some camps are 100% WiFi-free, and many that offer WiFi have such thin connections that it's more frustrating trying to figure out how to get online than just accepting being disconnected. People close to me were not-so-secretly chuckling about my ability to be in a WiFi-free area — could I really do for 5, 10, or 15 days without any solid connectivity? As it turns out, I can, and it's amazing. There are so few times in our lives that we can truly disconnect anymore, and it only takes one frustrating email to put you in an off mindset. There is no better place to embrace a back-to-nature approach sans cell phone and internet and it's amazingly liberating. If anything, getting back on the grid after being away will feel tough!
Don't Hyper Focus on 'Seasonality'
4I'm not gonna lie – I get a bit hung up on this when planning our trips (I'm currently working on a Kenya trip for next spring) — and let's be real, it's hard to not want to ensure that everything is beyond perfect. The reality is that we don't all have the luxury of choosing the 'perfect' time to get away. Our work and life schedules sometimes dictate these things for us, and that's okay! It's worth remembering that this is nature – yes, there are 'seasons' but animals are there throughout the year. You'll generally find that there are certain areas that are bigger draws during certain seasons (e.g. calving season in February in the southern Serengeti or witnessing the Great Migration from July through October in the northern Serengeti) and that's definitely worth factoring in, but different seasons have their perks, too. While the dry season is a huge draw for abundant wildlife, it also means exponentially more tourists and higher prices. Going in the green season on the other hand can have its perks: lower rates, fewer cars, and super lush landscapes. That said, you do want to keep some level of seasonality in mind to avoid peak rainy seasons where roads can become impassible or difficult to navigate.
Budget for Tipping for Guides and Camp Staff
5If you've been planning an African safari – or have started the process – you'll know that planning for gratuities is something you'll absolutely want to budget in. Between your personal driver/guide, the camp staff, the teams critical in helping plan itineraries, and your day-to-day moments, it's a very hands-on experience with staff being truly integral in making your experience. Plus, there so many people that you don't see that are doing their magic behind the scenes: the cooks, the maintenance teams keeping the camps functioning, the car mechanics, the guys helping with your morning wake-up call, the security guards monitoring the perimeter of your campsite at night… the list goes on and on, and leaving a gratuity at the end of your stay is an important component to factor in. So, what's a reasonable tipping policy? It will vary from camp to camp, but we generally found that $10 – $20 per guest per day for our guide + about the same amount for the camp staff was a pretty fair figure. For example, if you're staying for five nights, a tip of around $150 – $200 for your guide (from a couple) + about that same amount given to the staff tip pool (for the other staff members – not your guide) helps cover everyone. Your driver/guide is going to be your point person for most of your stay and the person most instrumental in shaping your overall experience. If you're at a camp that has a butler, you'll want to factor in a dedicated figure for them as well. We tipped in USD, which was acceptable throughout.
Know That Your Experiences are Customizable
6This is YOUR trip and much of the safari planning piece allows for customization. There's quite a bit of documentation during the booking process that goes beyond the traditional payment contract. When you book a safari camp, you're booking more than a hotel room. It's the ultimate all-inclusive experience where your game drives, your food, your housing, everything is really included. You'll generally have the opportunity to share your preferences during the booking process, including any food intolerances, drink preferences, special occasions, etc. I had fabulous vegetarian or pescetarian meals everywhere along the way, and the camps all had some of our favorite spirits stocked. More importantly, your schedule and timing is ultimately up to you. Your guide will give you suggestions for the early morning game drives, afternoon drives, etc. but if you'd prefer to skip a morning drive or chill at the camp at sunset, that's totally up to you. Don't be shy about expressing what interests you most and what you're hoping for in your day-to-day so the team can help really make the experience work for you.
Understand National Parks vs. Conservancies (e.g. for night drives, etc.)
7We split our time between four camps over our three weeks in Tanzania: Alex Walker's Serian in the Serengeti, Nomad Entamanu in Ngorongoro Crater, Nomad Kuro in Tarangire National Park, and Little Chem Chem in its own private conservancy. It was the perfect way to compare and contrast the national park experience with the conservancy side, a concept that can be a bit confusing from the outset. National parks are exactly what their names imply – they're national, state-run, government parks, which means you'll run into more rules and regulations in line with their policies. While it depends on the country and on the park, that generally means things like sticking to driving on the roads (not off-roading) and no night drives. National parks also have the potential to be far more crowded as the number of vehicles/visitors isn't generally limited, plus self-drive options are allowed as well. Conservancies function a bit differently and they're best thought of as a private park, managed with a focus on conservation. With a self-prescribed set of rules (following a broad framework), you can enjoy things like night drives, walking safaris, and off-roading in search of game. Conservancies generally don't allow self-drive so you'll be led by a driver/guide that knows the area intimately.
Keep Distances in Mind
8As I mentioned in my first point above, it can be tempting to try and piece together a multi-country itinerary over the course of two weeks, but it's worth noting that driving distances can be long and time-consuming, and small planes to tiny airstrips can be costly. Don't be fooled by a seemingly short distance on a map. There's terrain to keep in mind, plus speed limits can be insanely low which can make a short distance take way longer than expected… and do you really want to spend 8 hours in a car driving from Point A to Point B? Too much time in transit means less time in enjoying zenned out safari camp vibes or less time on game drives spotting wildlife. When you're planning your itinerary, edit it down. If you're spending two nights at each camp, you're missing out on falling into the pace of safari life entirely, not to mention you'll miss the connections with the camp team, and reduce your moments out on game drives taking in awe-inspiring scenes. If you've read my post on witnessing the Great Migration in the Serengeti, I mention that nature cannot be put on pause — but it also can't be sped up. You're going to see what the world gives you on a given day and if you really want to watch nature and scenes unfold, you need to give yourself enough time in one place to be an observer.
Know Your Travel Style as Far as Accommodations Go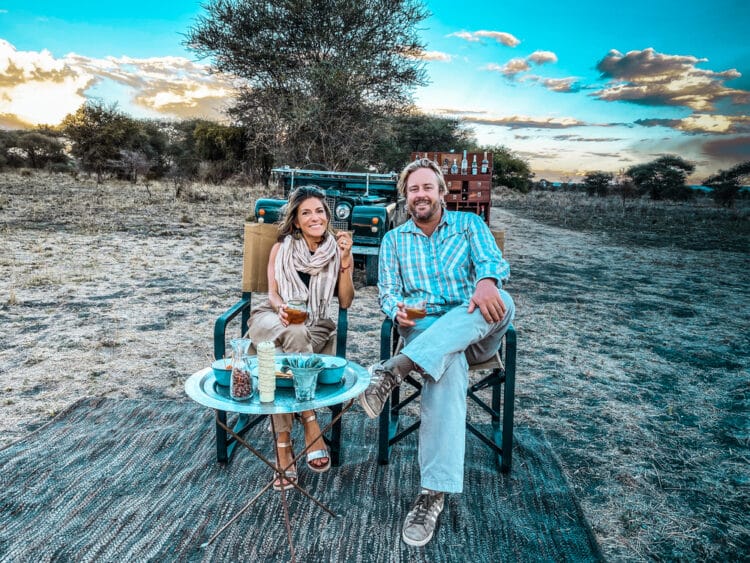 9When you're planning an African safari, you'll likely be creating a broader itinerary that includes a range of camps, lodges, and resorts (especially if you're tying a beach destination into your safari experience) along the way. Know your style and your preferences going in – there's no right or wrong answer! Are you someone that needs Wifi and connectivity or do you prefer being totally off the grid? Do you prefer a cottage or lodge to a traditional camp? Dig into what makes you most excited and what places have inspired you most so you can help narrow down the best places for you. You'll find a variety of places, like what we experienced during our trip to Tanzania – Gibb's Farm for a lodge/cottage-style accommodation, Little Chem Chem for a gorgeous glamping vibe, Nomad Entamanu for fabulous lodge vibes, and Serian's Lamai lodge for more of a traditional tented safari experience. All were amazing but all were very different, too!
I'm launching an exciting new element to my business next year as a travel consultant and itinerary designer to help put together itineraries just like ours!
Work with a Pro
10Last but not least, work with a professional! This brings the perfect segue for big news on my end: I'm launching an exciting new business next year as a travel consultant and itinerary designer to help put together itineraries just like ours! It's no secret that I love sharing our travel experiences but I'm even more excited to help recreate some of these magical experiences for other travelers, with bespoke itineraries and all of the nitty-gritty details and insight from our own experiences! The truth is that many of these trips involve a lot of time and research. You need to sift through the noise — there's so much information out there that editing down an itinerary and knowing what's right for you can be confusing when trying to plan big, logistically-involved adventures. Finding a consultant to help work with you to figure out what makes you tick, what sort of accommodation you like, what experiences are the most transformative for you, etc. is a great way to ensure that your trip is crafted to keep you inspired and to make your memories magical. ✧
---
Time to share your insight! What are your tips for planning an African safari?