I said this in a recent Instagram post, and I'll say it again here: Vienna is a place of beauty; a place with gorgeous facades, an affinity for the arts, and a beautiful music culture. It's a city that seems to embrace the art of living: enjoying a good conversation paired with a cup of coffee, or the little luxuries of a perfectly made sweet treat or a hand-crafted cocktail perfectly presented. During our time in Vienna, our home island of Anguilla was being hit with Hurricane Irma, and we struggled to be present in the moment during much of our trip. Vienna tried to reinvigorate us though, giving us gorgeous glimpses at every turn with architecture that was consistently beautiful.
To be honest, we struggled with our emotions quite a bit in Vienna. We knew going in that the city was going to be our dive into culture, the arts, beauty, and yes, luxury. We stayed at Hotel Bristol, a gorgeous Luxury Collection property in the heart of the Austrian capital (thank you, SPG points for making this possible). Our suite there was beyond words; spacious, glamorous, with white marble bathrooms and a closet that gave me major closet envy. Sitting in that room at night, watching life unfold in Anguilla felt incredibly unsettling for us. Not only were we away from home unable to help as our friends and pet fought through this unprecedented storm, but we were away in this suite that felt like we'd been transported to another era, living other people's all-too-glamorous life. For us, it was a sharp juxtaposition of emotions seeing the world around us contrasted with our real life at home in Anguilla. Despite what we were dealing with emotionally, Vienna still inspired and wowed us, and we felt as though we got a great feel for the city in just two days. If you're headed to Vienna with just a couple of days to explore, here are 5 things to do in Vienna to get a taste of Viennese culture:
Wander the City Streets
1Weather wise, we had two absolutely perfect days in Vienna; sunny and 75°, perfect for strolling and discovering. Vienna's a city that involves more wandering than it does actual sightseeing per se. There are museums and some historical buildings, but it's a very different city experience than Rome or Paris. The city itself is a UNESCO World Heritage City and there's awe-inspiring architecture around every bend. The city is extremely clean – noticeably so – and museum lovers will love MuseumsQuartier, where the Art History Museum is said to be one of world's best museums. It faces the Natural History Museum, with the Leopold Museum nearby for modern art.
Not far from there, you can wander the main thoroughfare, a pedestrianized stretch where you'll see restaurants, cafés, hotels and shops for a long stretch. In the center, you'll spot St. Stephen's Cathedral, one of Vienna's most iconic buildings, which dates back to the 12th century. Don't worry – you can't miss it when you're strolling, and it's worth taking some time to go in and check it out even if you don't pay to do the full walk through. It earns a top spot amongst the prettiest churches that I've glimpsed in real life.
Also within the relatively concentrated center of Vienna, a visit to the Imperial Palace (Hofburg) is a must from a historical and architectural standpoint. It's oldest parts date back to the 1200s, and the palace was the center of the Hapsburg empire. It now comprises a number of elements including the Sisi Museum, the Imperial Apartments, the Treasury, the Spanish Riding School and much more. On a return visit, we would dedicate a bit more time to exploring all of these elements a bit more.
Explore Vienna's Ringstrasse on a Tram Tour
2For newbies to the city, there's a Hop On Hop Off bus, but everyone we spoke with recommended the Ring Tram instead (€9 per person), which gives you glimpses of main buildings and sites on a twenty-minute ride around Vienna's famous ring road, which surrounds the main city center. The Hop On Hop Off Bus takes you to many main sites including those on the outskirts (e.g. Shonbrunn Palace) which you wouldn't get on the Ring Tram but when you're strapped for time, the Ring Tram is a super quick primer to the city's highlights, with an audio tour to help you get your bearings. It gave us a great glimpse into the sightseeing around us, and helped us with pinpointing places where we wanted to spend a bit more time. Try to do this early on if you can so you can better narrow down where you want to dedicate more time in the city. Keep in mind, this is the tourist line – prices are inflated for this little 20 minute jaunt, and there is a similar local tram that runs for a fraction of the price. For those wanting to save a few euros, you can download an audio guide on your phone (or take a map to self guide) and hop on the normal public transport line instead.
Enjoy the Dining Scene  
3I use the term 'dining' extremely broadly when talking about Vienna. It's a city that's just as focused on a mid-day coffee as it is an evening meal, and there's such a unique beauty to that. Most are familiar with Vienna's famous café culture, but it's a foreign concept for many of us that are trained to maximize every moment in our day. How dare we spend a precious 30 or 45 minutes sipping coffee and eating strudel when we could be doing something productive, right? From our couple of days in Vienna and a plenty of research on what made our short list, here are some dining + sipping musts (amongst many others) when you get to Austria's capital:
Sip a cappuccino paired with apple strudel – or a piece of cake, if that's up your alley. Since you're doing it right, opt for vanilla ice cream to go with your apple strudel… when in Vienna, right? We opted for Café Museum, but the city is home to many wonderful cafés.
Meat lovers, try Vienna's famous tafelspitz, boiled beef in broth, served with all sorts of accoutrements. Plachutta Restaurant is one of Vienna's most famous spots for a helping! Don't worry – I can attest to the fact that vegetarians can find something there, too.
Enjoy a glamorous sip with a handcrafted cocktail at one of Vienna's most glittering hotels. Hotel Bristol's bar brings an old world, warm and cozy feel, while Hotel Imperial's bar embodies opulence and elegance perfectly. Vienna's not an inexpensive city so be prepared to fork over $15 – $20 for a cocktail but plan on lingering – think of it as an experience, not just a drink.
Plan on a post-dinner slice at the Sacher Hotel, where their world-famous Sacher Torte has become a legendary dessert. Truth be told, chocolate cake doesn't really do much for me but having an authentic piece of Sacher torte at the hotel is practically a rite of passage. For those wanting to take a cake home, they come in a range of sizes and are perfectly boxed for travel.
Visit Shloß Shönbrunn  
4If you're headed to Vienna, Shönbrunn Palace is a must. There'll be a rundown of palaces and places to see in Vienna, but Shönbrunn is sure to wow and inspire from every angle. History lovers will appreciate its significance as the former imperial summer residence, and the audio tour gives great insight into this. Design, art, and architecture lovers will love the grandeur held within the walls. Those in search for a dose of natural beauty will appreciate the gardens, an expansive green space with vibrant pops of color. Shönbrunn Palace is located about 20 minutes outside of the city center but is easily accessible by public transport. If you're staying near Karlsplatz, you'll hop on the U4 on a quick twenty-minute journey and exit at Shönbrunn, just a few minutes walking from the palace.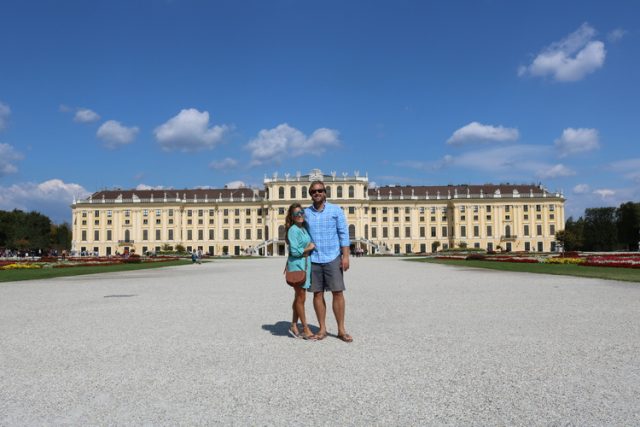 Allow yourself at least two hours, but upwards of a half day if you want to really take your time exploring. You'll have a few options for tours: the Classic Tour, Imperial Tour and Grand Tour. All offer different levels of access and include audio guides. We opted for the Classic Tour (about 50 minutes), which includes access to the palace, plus an extra portion at the end that's not included in the Imperial Tour. If the gardens aren't included in your tour, they're still worth the visit. They're expansive and offer gorgeous views of Shonbrunn Palace from a variety of angles. For photo lovers, pictures are prohibited inside but the gardens offer one of the prettiest places for great captures.
TIP: Shönbrunn is one of the top sights – if not the top sight – for visitors to Vienna and the lines to buy tickets can be daunting. You'll see a main ticket office when you enter which offers the ability to buy tickets by machine or with a teller. The machine is credit card only, and offers limited options for tours. It's worth knowing that this isn't the only line for ticket purchases. When you enter Shonbrunn you'll see more ticket machines and a ticket booth, where lines are much shorter.
Take in the Arts
5Vienna is arguably the world's most famous city when it comes to embracing the arts, most notably music. Mozart, Hayden, Beethoven and many others called Austria home, and Vienna in particular continues to embrace and share that musical tilt with their visitors. An evening at the opera or a Mozart performance in traditional dress may not beckon to all of us in real life, but there's something rather magical about taking in a formal performance in the city that truly does it best. If you're at all inclined, do it. The Vienna State Opera House is world-famous and has showings regularly. If you'd like to see the Opera House but don't want to see an actual performance, tours of Wiener Staatsoper (the Opera House) are available daily. We opted to take in the Vienna Mozart Orchestra at the Musikverein, a world-famous gold-hued hall with regular musical performances. Over two hours, the 30-person ensemble performed a range of Mozart's most famous pieces.
That barely scratches the surface of Vienna, and lovers of the city will most certainly be able to share a list a mile long to uncover the secret gems of Vienna. We felt fortunate to have a couple of beautiful days in the Austrian capital, and while it was a bittersweet getaway, Vienna showed us that it knows how to do sweet very well. Thank you, Vienna, for bringing some glitter to our lives during a tough time!
For those that have been to Vienna, what are your musts on a quick visit to the capital city?