I'm always up for capitalizing on a long layover. We've done it in Paris, London, and Panama City before, and this time we planned our 14 hour layover in Doha with the same vigor. With a 4 – 6 hour layover, we would have been tempted to stay close to home with the offerings available at Hamad International Airport. Aside from some great shopping (coming from Anguilla I now appreciate this enormously), they have a four-star hotel with spa and fitness center so visitors can get a workout and a facial in while waiting for a flight.
We had an entire night ahead though and didn't want to miss out on getting a taste of Qatar's capital city, a city unlike anywhere we'd been in the Middle East to date. Fortunately for us, it was the evening so temperatures were more bearable than the scorching daytime hours. Even during our walk back to the hotel at 10PM, it was around 90°F. While many sights you'll want to see are in walking distance, be prepared for serious warmth and humidity.
Saraya Corniche Hotel

With a quick layover in Doha, we knew we wanted a hotel that provided a great location and good value with a sense of place. After eschewing some of the larger chains, we opted for Saraya Corniche Hotel. Being centrally located is key and Saraya Corniche Hotel fit the bill for us: a property in walking distance of the main sites we wanted to see in Doha with comfortable rooms and amenities.
Besides being able to wake up to an incredible view of Doha's glittering skyline, the service was a standout to us from the get-go. Their concierge service before and during our arrival was exceptional and was part of the reason our stay in Doha was as memorable and as comfortable as it was. The hotel helped arrange our transfers, and we were met at the airport by a hotel rep who made us feel like instant friends. Being in the hospitality industry in Anguilla and assisting guests of our own with their transitions, I think we sometimes forget how impactful this really is for people visiting a new destination. Having local insight and guidance makes a world of difference; it feels like you have instant friendships in a new destination. Instead of going straight to the hotel, we opted to meet our luggage at the hotel later in the evening. We had disembarked at Hamad International ready to hit the ground running. First stop: The Museum of Islamic Art.
Museum of Islamic Art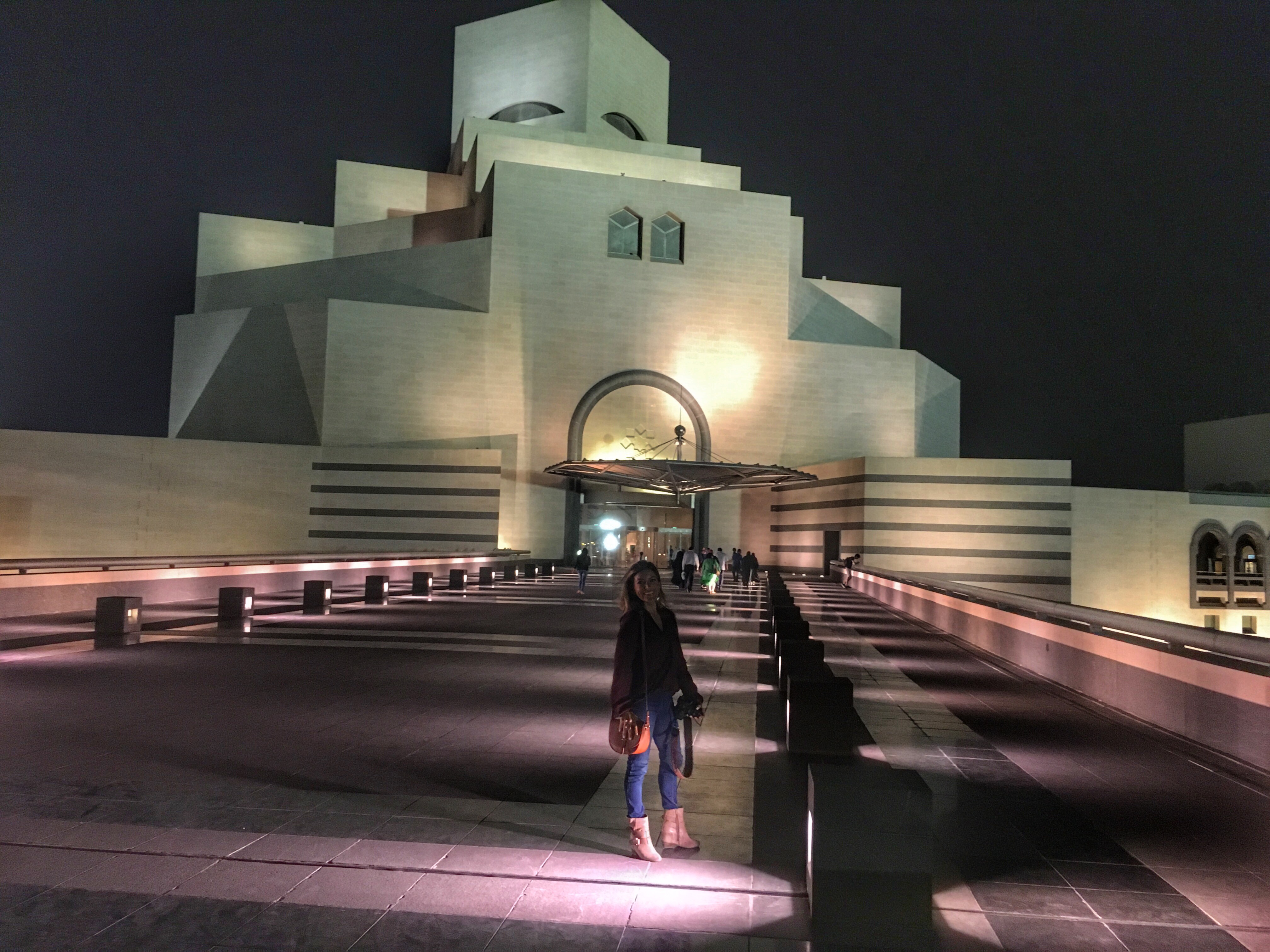 One of Doha's acclaimed gems is the Museum of Islamic Art, a museum that aims to position itself as a center for knowledge and dialogue about Islamic history and civilizations. The museum hours vary throughout the week, but fortunately have an 8PM close time Thursday through Sunday (the museum closes at 5:30PM the rest of the week), which meant it was first on our radar for a visit! Doha is a compact city, essentially separated into two sides: Old Doha, home to the Museum of Islamic Art and Souq Waqif; and the glittering new side with a twinkling skyline.
Regardless of your religious persuasion (or lack thereof), the Museum of Islamic Art is a must-see for most visitors to Doha. It represents the world's largest collection of antiquities and artifacts that chronicle Islam's history in the region. The building itself, the brainchild of I.M. Pei, is a cool Old Arabia meets modernist design that somehow captures the very essence of Qatar: modern in many ways with a rooted culture and Islamic tradition. I haven't been to other Gulf Countries, so Qatar was my first real brush with that contrast of glitzy opulence in a sea of tradition. Compared to our time in Israel, Jordan, and the West Bank, it was a total different incarnation of the Middle East.
If you're a history buff or a museum lover, you could probably spend hours scouring their four floors of exhibitions, including a new Chinese exhibition that includes Xian warriors, and a temporary exhibition as an homage to the late Mohammed Ali. We wanted to see the MIA, but spent about an hour walking through the floors examining some of the museum's highlights. There are tours available throughout the day depending on what time you get there so be sure to find out what guided offerings are available. If you're in the market for a great coffee table book, don't miss their gift shop for some serious inspiration.
Highlights: Check out the Museum of Islamic Art's highlight tour, which pinpoints 10 artifacts that are particularly important within the museum.
Cost: Entry to the museum is free.
Tips: For ladies who are wondering, there's no strict dress code but it's best to dress modestly in line with customs across the region. 
Souq Waqif

Souq Waqif is the veritable heart of Doha. In a city that's extremely modern, the souq brings a bit of Old World Arabian charm to the city. Let's be honest here: it's not going to have that authentic millennia-old feel of places like Jerusalem, but the city has done a nice job of focusing on the market's preservation to create a bit of a cultural hub. The market quiets down from 12PM – 4PM, but in the evening it's a great place for dining, shopping and people-watching, which is precisely what fit the bill for us.
A maze of restaurants and shops, it's a great area to get in some souvenir shopping or to grab dinner. It's worth mentioning that while you can order a cocktail at most Western hotels and select restaurants, Qatar is a dry country. In lieu of a social hub teeming with bars, coffee shops take their place. Many shops offer refreshments and hookah, for an evening of chatting and people watching.
I was interested to see if Souq Waqif was a tourist attraction or a real hangout for Qataris and expats. Just stepping foot into the market it was clear that it's just as much of a local hangout as it is a tourist hot spot. There are other great restaurants for dining beyond Souq Waqif (think Nobu and Alain Ducasse's restaurant at the Museum of Islamic Art), but if you only have a night, a dinner in Souq Waqif gives you the perfect reason to head there to dine and explore. We opted for Parisa, a glittering Persian restaurant (around $50 for the two of us, a great reminder of how much you can knock off your bill by not ordering alcoholic beverages), but there are options for every palate and budget.
So, the verdict after our layover in Doha? It's actually the perfect destination for a long layover where you can get out and explore! Ideally, you'd have 2 – 3 days to explore more of Doha's offerings, but it's a city that's actually 'doable' as a layover in the sense that it's compact and walkable, the city is very close to the airport, and there are limited must-see sights. We missed out on the Katara Culural Village, a dhow cruise, and the mall (which I'm sure actually is a sight to be seen) but felt like we actually got a decent taste of Doha during our super brief layover. If you have the opportunity to build in a layover to Doha during a Qatar Airways flight, take advantage of the offerings that the Qatar Tourism Authority has put in place and explore!
Have you been to Qatar? How would you spend a long layover in Doha?