I'm going to finish recapping our time in Israel after this post – there's still so much more to share! – but thought I'd break it up with a different destination that perks everyone up just a bit: Paris. After saying our sad goodbyes to Israel and to Scott's family, we arranged for an early morning wake up call (if you can even call 1:45AM 'morning') to have sufficient time to get to Ben Gurion Airport in Tel Aviv. Our flight was slated to depart at 6:10AM, with a connection in Rome, having us arrive in Paris at around 12:25PM. We were going to have an afternoon and evening in Paris, which we were looking forward to – it would break up the long trip back, plus give us an opportunity to experience the City of Lights together (we've been independently – you'll remember my trip with my sister and dad back in 2010).
As luck would have it, El Al was looking to bump a few people from the flight to Rome and had a direct flight to Paris leaving at the same time. We gladly took them up on the proposed arrangement and napped our way to Paris, arriving over two hours ahead of planned time. Major score.
Mastering a Long Layover
In March, we learned the art of the long layover (we spent a day in London on our way back from Nairobi), and this time, working in a 24 hour layover in Paris wasn't by accident. Here's one of the most important pieces of the layover puzzle: find the Left Luggage counter in your airport. We did this in London and we successfully did it again in Paris. For 34€, we were able to leave two 50 pound bags for up to 24 hours, which seemed like a deal to me (the rates vary depending on number of bags and length of layover). If you don't have a hotel room for the night (e.g. your layover is more like 10 hours), then the Left Luggage counter is really non-negotiable. In our case, we had a hotel room arranged in Paris, but lugging two massive bags was unnecessary and would be cumbersome when negotiating public transport. For us, this was an easy decision and I think for most people, it's a step that will make your layover much more pleasant. Pack your carry-on accordingly — we packed our toiletries, a change of clothes and other necessities in my rolling carry-on, and placed all other unnecessary items in our checked luggage.
This is based on personal preference and my travel style, but here's a suggestion on the hotel front: If you have a mere 24 hours in a city, location trumps luxury. If I have $200 to spend on a hotel room, I'll be picking a mid-range hotel with smaller rooms in a central location over a spacious luxury hotel set further away from the city's hotspots. This is true for me almost all of the time anyway, but it's even more critical when you only have a day to enjoy a city's main sights. Plain and simple: you don't have time to waste dealing with transportation. You'll want to be able to head to your hotel (ideally with easy access to public transport), drop off your carry-on, quickly freshen up if need be, and then walk out to the city's main highlights.
24 Hours in Paris
In Paris, we chose Hotel Saint Paul Rive Gauche in the Saint-Germain-des-Prés district of the city (6th arrondissement). Scott and I had agreed beforehand that Saint Germain or the Latin Quarter were our preferences for a hotel, and Saint Paul Rive Gauche's boutique quality, price point and location fit the bill. We took public transportation from Charles de Gaulle (RER B) all the way to Luxembourg station (9,50€ each), exited the station, and walked a short 5 minutes to our hotel. Armed with a map provided by the concierge, we hit the road, ready to explore on foot.
The weather was working in our favor, sunny with just enough crispness in the air to make the long day of walking comfortable. We wound our way through the Latin Quarter, where I tried to find the place that my sister, dad and I had eaten four years earlier. I remember being utterly enchanted with the Latin Quarter, telling myself that if I were to return to Paris, I would stay in this area (mission accomplished). I had been daydreaming of a perfect Parisian lunch, and meandering the streets, we stopped at Cafe Panis to get our fix. We only had a brief period of time in the city, so I was taking mental snapshots of the moments, and this was a perfect hour spent dining on a corner near Notre Dame. Nestled into a teensy tiny table with a glass of rose and a Croque Provencal, I switched off between chatting and people-watching through the window. There's something about Paris that is so unequivocally picture perfect that even the most mundane day-to-day activities somehow seem entirely more glamorous.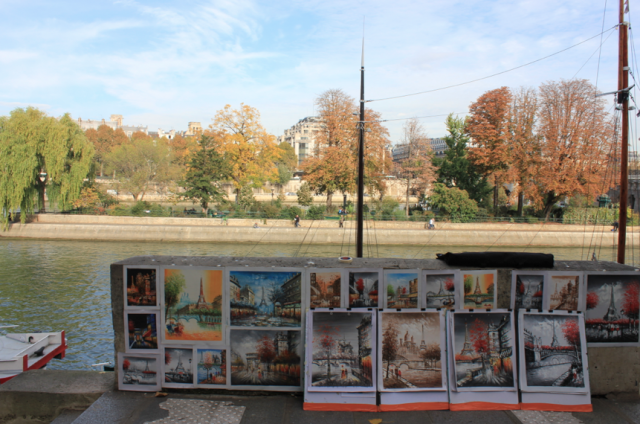 Once we'd finished lunch, we began our walk along the river, taking in the sites, and making our way toward the Eiffel Tower. Though it had been over four years since my last visit, I was surprised by how much I remembered of different pockets of the city: an iconic fountain in the Latin Quarter, the way the gold on Les Invalides glistened, a book shop on a rather nondescript corner.
When I had visited last, the weather was terrible. It was cold, rainy and drab, yet the city still managed to look captivatingly beautiful. I remember standing in front of Notre Dame, umbrella over my head, wearing my dad's jacket and literally shivering with the cold. This time around, with the sun shining, I was pretty confident that Paris, with its architecture, history and art, had to be one of the world's prettiest cities.
We walked past bridges with love locks, which are soon to be banned due to the weight the locks are placing on the bridges. We walked by art vendors on the streets selling old maps, paintings, books, and sketches of Paris' iconic vistas. Finally, like a beacon, we could see the tip of the Eiffel Tower poking through behind the buildings directly in front of us. We headed to the Palais de Challiot, the best place for the ultimate Eiffel Tower views, where we were going to meet up with the guide from City Wonders to make the most of our brief time in Paris.
City Wonders in Paris
I've said this time and time again – Scott and I are not tour people, but I wouldn't really classify our time with City Wonders as a tour. It was the ultimate way to maximize our time in Paris and involved a VIP Eiffel Tower Tour + a Seine River Cruise. With a start time of 4:30PM (meeting with the group at 4:15PM), we'd be done by 7PM and get a glimpse of Paris' iconic monuments from the sky and from the water.
Our guide, Randa, a US native, expertly led the tour, showing us the best spots for pics of the iconic tower, and giving us some interesting insight into the tower's history (it was originally built in 1889 for the World Fair and was only supposed to be a temporary structure, standing for six months), plus a bit of Parisian history to accent the monuments. After having been on tours for the past week in Jerusalem, I found her commentary refreshing – interesting and engaging. We made it to the Eiffel Tower where our group was able to skip the line (this saved us about two hours), and jet straight to the second level where the views are jaw-droppingly beautiful. It provided us with an incredible layout of the city. We could see beyond the bounds of Paris itself, plus could see sites like Les Invalides, the Louvre, the Luxor Obelisk in the distance. The sun was beginning to set and the sky was turning pink behind the city skyline; totally beautiful and a reminder as to why Paris is always top of mind for romantic cities. We had been given our Seine River cruise tickets in advance, and the tour officially ended there, on the second floor of the Eiffel Tower. At that point we had the ability to go to the summit if we wanted (there's a champagne bar there!) or to the first floor to walk along the glass and glimpse the views below. I was pleasantly surprised – the tour was enough to give us the info that we needed and to allow us to skip the line (I can't even describe how incredible this part is), but wasn't rigid. Ticket holders could stay as long as they wanted and explore any parts of the tower they desired.
We had tickets for a Seine River cruise as a part of this City Wonders tour, as well, but didn't have to go as part of a group. The tickets were valid for any departure, with the last one leaving around 11PM. By 6PM, night had fallen, the Tower was lit up, and Paris was beginning to get cold at this point. We wanted to board a cruise as soon as possible to avoid the biting cold later in the evening. We arrived just in time to catch a 6PM cruise, leaving from the base of the tower. The night was chilly (bring a coat and scarf to stay warm!), but the city was stunning at night. The cruise is an hour-long tour, pointing out main sights along the Seine with a bit of commentary to make it more informative. At the back of the boat was a bar doling out snacks and beverages. Armed with a hot chocolate, we sat at the back of the boat, saying goodbye to a twinkling Eiffel Tower as we made our way down the river. On my last trip to Paris, I hadn't seen the tower lit up at night and definitely didn't get to see it twinkle at the turn of the hour. It's magical.
Even without the tower, Paris is magical at night. The lighting in the city is just perfect; utterly romantic and picturesque. We made our way slowly down the river, passing glittering lights, and restaurants built into boats. After having seen the city from the second floor of the Eiffel Tower, we had a better idea of the Paris' layout which made the river cruise an even better experience. We departed the cruise at 7PM, just in time to catch the Tower's glittering encore as we hopped in a cab to make our way back to our hotel.
After having experienced the Eiffel Tower and Seine River Cruise tour, I can't recommend it enough to anyone who has limited time in Paris, especially for first-timers that haven't had a chance to see some of the main sights. Even if we didn't have limited time in Paris, I would still have gone this route purely for the VIP Eiffel Tower entry. I don't know about you, but spending two hours in line is one of the last things I want to do on vacation. During our last trip to Paris, we had opted out of going up because the lines were too daunting and would eat up too much time during our brief few days in the city. Getting to skip the wait made tour worth it in and of itself. The river cruise is a really fun add-on and a great way to see monuments and get a bit of historical insight in the span of an hour. Plus, it's a great way of gaining a bit more perspective and a better understanding of the city's layout. If you do have limited time in Paris, like we did this time around, this is an incredible way to add more depth to a brief experience.
Follow my map here:
For a brief 24 hours, we left feeling as though we'd confidently maximized our time in the city. We made it home by 7:30PM after our Seine River cruise. Tired after an early morning, ready for a good night's sleep, and not wanting a heavy French dinner, we walked to a Vietnamese restaurant two blocks away, packed with Parisians, doling out piping hot pho. After a cold evening, it was the perfect way to warm up and to finish out our night in Paris. We fell asleep by 9PM, saying good night to Paris and goodbye to an incredible two-and-a-half weeks away.
xo from Paris,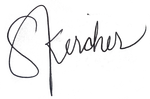 A big thank you to City Wonders for allowing us to experience the VIP Eiffel Tower Tour and Seine River Cruise during our layover. As always, all photos and opinions are my own and are genuine.