Holy Sites + Jewelry Shopping in the Old City
Despite the fact that we'd been in Jerusalem for about a week, we had yet to see the glistening Dome of the Rock and some of the other iconic sites in the Old City. We'd been staying at Abraham Hostel and using that as our home base to explore the West Bank and Jordan. During our first full day to explore on our own, we walked the Via Dolorosa, explored the Church of the Holy Sepulchre and spent time shopping in the Muslim and Christian Quarters. We'd missed the small window within which non-Muslims are allowed on Temple Mount/al-Haram ash-Sharif to see the Dome of the Rock and al-Aqsa Mosque.
During our second day exploring the Old City, getting to Temple Mount was our mission. I was not going to leave Jerusalem without getting to see Jerusalem's iconic buildings and holy sites. We headed out early in the morning, about 7:30AM, to stand in line to enter Temple Mount. There's one entrance for non-Muslims and the line can be long since visiting hours are limited. During our first day in Jerusalem, we naively tried to enter Temple Mount from Muslim-only entrances. Kids tried to shoo us away and locals kept telling us to turn around but we didn't really understand why. It wasn't until we reached a small gate guarded by local security that we were told that those entrances were only for Muslims. As we rather embarrassedly walked away, I wondered, how do they know we're not Muslim? My head was covered and while we perhaps don't fit the traditional profile for the region, it seemed like profiling to me. What? Two blonde-ish kids can't be Muslim? Naturally, I Googled the matter only to find that people (presumably just people that look questionable) have to recite verses from the Quran to prove their faith and gain entry. Makes sense.
So, we waited in the line this time. Ladies, if you're non-Muslim, you don't have to cover your head to enter though we did see many wearing head scarves out of respect. After about an hour – maybe an hour and a half – of waiting, we went through security, showed our IDs (bring at least a drivers license with you!), smiled at the guard and made our way in. Finally. We made it.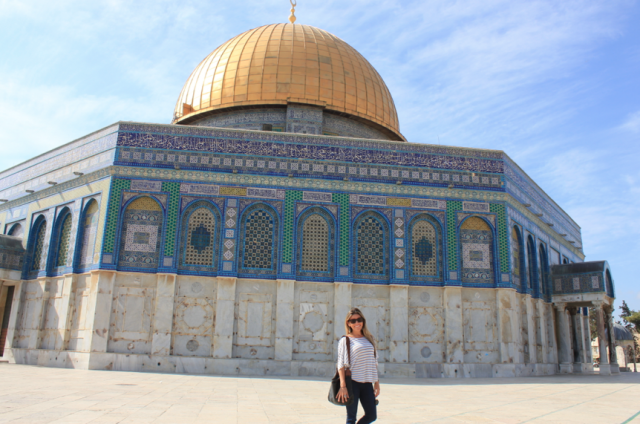 The Dome of the Rock is probably the most recognizable site in all of Jerusalem and it's even more brilliant in real life. The colors, dazzling gold and vibrant cerulean, were like a beacon on an otherwise neutral colored slab. Abrahamic religions find this place holy as the rock is said to be the slab on which Abraham was set to sacrifice Isaac (Muslims believe it was Ishmael not Isaac). Additionally, according to Muslim tradition, Muhammed was said to have ascended to heaven from this very slab, making it one of the holiest sites in all of Islam.
Interestingly, the day we were up there, we could sense some tension. It was the first moment – though brief – that we felt a bit unsure about safety during our stint in the Middle East. We could hear chanting in Arabic and there was a horde of people walking together towards a Jewish man who was on Temple Mount. IDF forces escorted him off the premises (see below). The following day, though I doubt there's any connection to this particular incident, Temple Mount was closed to non-Muslims for the first time in 15+ years after escalating tension between Israelis and Palestinians. Had we tried to go a day later, we would have missed our opportunity.
Sinjlawi, Jewelry Mecca in Jerusalem's Old City
We spent the rest of our day exploring the local souqs. We'd seen the holiest sites in the city, we'd walked Via Dolorosa and experienced Mahane Yehuda market. We searched for the best hummus and sampled the best kanafeh (go to Jafar's on Khan el-Zeit Street in the Old City for Anthony Bourdain and Yotam Ottolenghi-approved kanafeh). I'd boosted my antioxidants by slugging fresh-squeezed pomegranate juice at every turn and dined at some of the coolest restaurants we've ever experienced in the world. The one thing I had left on my agenda was to pick up something from Jerusalem (a souvenir for me and a few things for family) to take back home with me. I don't really get behind buying kitschy souvenirs — the cheesy tees and keychains don't really do it for me. The one thing I do allow myself (rather, Scott allows me!) is jewelry. I love cool jewelry (not diamonds luckily for him) that tells a story; a statement piece that brings back memories every time I put it on. I have handmade jewelry from Kenya and cool Incan pieces from Peru that I wear on a daily basis, little pieces that connect me to the places that we've been and the places that have shaped our perspectives on the world. I wasn't going to leave Jerusalem without something special.
Enter Sinjlawi.
I should say that there are endless shops from which to buy really cool jewelry in the Old City. The city is famed for their Roman glass, which are cool pieces of green-hued glass with patina that jewelers buy from the Israeli Museum, craft into unique pieces, and sell. Each piece should come with a certificate from the Israeli Museum so if you're going that route jewelry-wise (or buying jewelry made of authentic old coins), you should get a certificate with it (though I sometimes wonder how authentic certificates of authenticity really are). You'll see a number of shops selling Roman glass, jewelry made of old Palestinian or Bedouin coins (some authentic, some not), chunky cuffs, major statement necklaces, and simple chains with a hamsa hanging (the classic palm-shaped amulet you see extra zen people wearing).
All of these shops deserve a look, but Sinjlawi is the ultimate shopping experience for any jewelry lover. The store is comprised of three rooms, and that's just their showroom. The family that owns this place has been in Jerusalem for over a millennium and have owned this store space for 380+ years. They're jewelers, all five brothers and one sister, and it's a trade that's been passed down for generations. You'll see all of the siblings' work in the store, all very different using different mediums. In addition to the items they make, they have an incredible selection of old jewelry, heirlooms that have been passed down for generations and then sold to them. These are one-of-a-kind pieces – incredibly unique – with some of the items featured in collector's catalogues. In total, I think I spent about 6 hours in this store (I'm not kidding) and I didn't regret one second. Their collection is unbelievable. Chain necklaces handcrafted in Bethlehem 450+ years ago, old headdresses worn by tribes, and cuffs so intricate that you can't help but wonder how anyone would have the patience to craft these pieces by hand (many were made before having advanced tools). I was in awe.
Naturally, I had to buy a piece. Plus, the shopkeepers were the coolest, kindest guys – no pressure, just helping us and chatting with us about what brought us to Jerusalem. As you can imagine, after hours there, we learned a fair bit about each other. The family owns an olive grove north of Jerusalem producing thousands of liters of olive oil annually. They use about 150L of it personally. The rest they give to the poor, people who can't afford to buy the oil on their own. As Yussef, one of the owners, said to me, we'll never sell a drop of oil – we use it, and we give away anything we cannot use. What a concept, right? Honestly, conversations like this — chatting with people, hearing their stories and building genuine connections — remind me why I love to travel so much. Yes, part of it is about the sights and seeing the world, but a hefty part is about the people. Too often, people from foreign countries (especially non-Western countries) are thought of as 'the other'. They're different than us; they look different, they worship differently than us, and they speak different languages. I think one of the most important thing that traveling teaches us is that most of us are fundamentally the same. We want to live good, happy lives, want to give back in whatever way we can, and want to build something great for our kids and future generations. It's true – the more you travel, the smaller the world gets.