Otherwise titled, That Time We Were Rescued by the Rwandan Military While Crossing Lake Kivu
"Did you know that Lake Kivu can spontaneously combust at any point?"
Scott was reading an article online one night before bed and volunteered this exciting new information after learning about the methane gases that live below Lake Kivu's surface. Harnessed correctly, the gases can provide enough energy to power Rwanda for 400 years.
I stared back, with a little laugh. When we planned this trip, crossing Lake Kivu was the least of my concerns. Little did I know it was going to be a life-threatening situation, and it had nothing to do with methane gas.
Traveling Across Lake Kivu
We arrived at the boat dock in a town called Cyangugu, across the lake from our ending point in Gisenyi, where travelers cross the border to the Congo. The boat was small and sat just above the water line, room for us, our guide and two boatsmen plus their containers of fuel for the ride. We had paid for a private speed boat to cross Lake Kivu in 2 – 2 ½ hours, and while this little boat with one two-stroke 40 hp engine wasn't our idea of a 'speed' boat, we trusted that our guide and the company had set us up with the appropriate transport. Perhaps this was their idea of a 'speed boat' on Lake Kivu?
We started off, going at an extremely leisurely pace across the lake. Our guide explained that they could go as fast as we'd like but asked if this speed was okay. We were enjoying the flat water and the scenery, and if this was the speed that was going to get us there in two hours, we were fine with that. The boatsmen spoke solely Kiyarwandan, the local tongue of Rwanda, and we were unable to communicate with them directly.
We passed by islands upon islands, some big, some small, some desolate, some inhabited with electricity. Nearly two hours had passed and we were hopeful each time we saw land, only to be told that what we were seeing was another island. Around 2 ½ hours in, we checked with our guide. We should have arrived at this point – were we close? He suggested maybe thirty minutes away, the boat captain said there was about another hour and a half.
An hour and a half?! This whole trip was supposed to be two hours. We had no bathroom, no food, no shade, and no water on board since we were imagining arriving by noon at the latest.
An hour and a half passed, and that's when I started to become seriously concerned.
Now, as most of you know, we live in Anguilla and are on boats very frequently. We understand the water and Scott has a solid understanding of boats and boat safety. We were in the middle of Lake Kivu, the second deepest lake in the world, looking at a methane plant way in the distance and hitting waves that the boat couldn't handle. Water rushed in over the front, soaking us and our bags (including bags with computers and cameras). The boat was filling with water and the one of the boatsmen was using a small plastic pitcher to empty water from the boat, one cup at a time.
"Is this safe?!" I asked our guide. He responded positively, but how could he have ever known? He'd never been on a speed boat in his life. This was his first experience and he was new with the company.
Our boat was moving a snail's pace – maybe a mile per hour – because the boat couldn't survive the waves. They were trying to let it float to land. Land was barely even in sight at this point, we were sitting in the middle of Lake Kivu and it would have taken us hours and hours to reach a solid surface at this rate. We encouraged them to keep moving, at least slightly faster than this so we could be close enough to land if the boat were to flood or capsize and we were to have to swim to shore. This was a legitimate concern and Scott, staying extremely calm, had our guide translate that we needed to head towards the nearest land, whether that was Gisenyi (our intended destination) or not. I asked him to send another boat to intercept us. The boat was rocking in the waves and felt as though at any moment it may tip over and we'd be flung into the middle of one of the world's deepest lakes with a methane plant nearby that we were warned had the power to pull us in if we were to capsize too close.
From the middle of the lake, I called our contact at the organization we worked with and I explained that I felt extremely unsafe in this boat and we needed help.
We needed help. We weren't going to make it in this boat. At the beginning, in the calm waters of Lake Kivu surrounded by islands and dugout canoes, we felt fine. We hadn't known any better and assumed we'd be there in the time promised. In the middle of this lake with not another person or boat in sight, we were essentially floating in a bathtub with a 40hp engine with water pouring in.
With assistance, they called the Rwandan military to explain our situation and elaborate on where we were. The men who owned the boat were concerned – they clearly wouldn't have called on their own – we were told that they feared they would get in trouble. They confessed the boat wasn't up to standard since it was filled with water and it couldn't make it across Lake Kivu (they ended up having to sleep on a nearby island later that night while they waited for the waves to subside).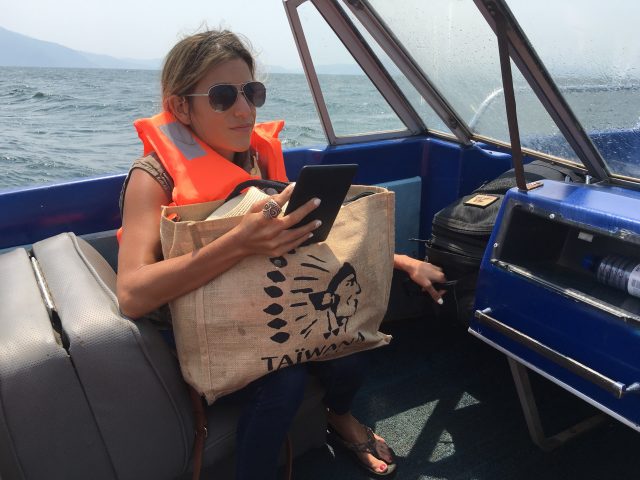 My heart was racing. I was crying. I felt like I was going to throw up and felt the beginnings of panic, though Scott held my hand to reassure me we'd be safe. If we float, and go with the waves, we can survive, he explained. We can survive until help comes.
We were told that the Rwandan military was informed and sent a rescue team to save us. We waited, bobbing up and down in the lake, trying to push closer and closer to land to feel just a bit safer.
Finally, we made it close to land; close enough to swim to shore. In the distance we saw a speedboat. A real speedboat, with camouflage paint and machine guns at the bow and stern. Our guide stood up with his orange life jacket in hand and waved it to help them see us, our tiny boat in the middle of this huge lake. They spotted us and sped in our direction. After they arrived, we pulled our boats next to one another and tied up. The officers pulled us into the boat and assisted with bringing our luggage in. They fitted us with military life jackets and reassured us we were okay. They were going to take us to land, not to Gisenyi but to a closer point.
At this point, it was nearly 4:30PM. We had left our hotel at 7AM and departed on this boat at 9AM.
The military boat cut across the water at lightning speed for about thirty minutes (thirty minutes in this boat mind you) until we came up to a dock in the town of Kibuye, a pretty lake town that seemed to be a beach destination of sorts for visitors and locals. We tied up and the military men helped us out gingerly. I was still shaking and thanked each of them with the ferocious gratitude you muster when you know that someone has legitimately saved your life.
"You saved us. Thank you so much for helping us," I said to the boat captain.
He looked at us, we were still visibly shaken, and said, "You should never have been in that boat. It wasn't safe to cross the lake in that."
As we learned shortly after, the boat we were in would never have made the crossing in less than seven hours. When we coordinated with our contacts at Inspired Journeys, we learned that in Kibuye, where we'd landed, we were still four hours driving from Gisenyi.
FOUR HOURS.
How was that possible?! We'd been on a boat for hours upon hours and we weren't even half way there. If the boat hadn't rescued us, we would have never made it. If our guide hadn't been there to translate and help us with the rescue mission, we really may have never made it as we could have never communicated with our boat drivers. To be honest, that thought scares the life out of me all over again, and it kept us awake that night with pits still in our stomachs.
We were put up at the nearby Cormoran Hotel for the night, where we recounted what happened with each other, still in utter shock and disbelief and grateful to be alive. We wouldn't make it across the border that night, and would have to go the next day, but with luck we could rearrange our permits to get in the activities we had hoped for in the DRC.
Going into this journey, we looked forward to our boat excursion across Lake Kivu, watching villages pass by on the lake that sits on the Congo-Rwanda border. I like to think that we're pretty laid back travelers. We've traveled enough to developing nations to learn to go with the flow and be flexible, but this wasn't a matter of going with the flow. It wasn't a matter of us having expected a 'better boat'; it was a matter of us expecting to make it across the lake safely.
I've never felt more helpless in my life, and have only felt that level of fear on a couple of occasions ever. It was our first time working with a tour operator and my instinct is that we put a little too much faith in something we didn't coordinate ourselves. Normally, we would have known exactly what we were getting into. We would have known what the boat should have looked like. We would have known who our captain would be. Without knowing that, we wouldn't have gone. In this instance, we assumed we would be fine since we worked with a company we trusted that had assisted us hugely during our planning process (and with the rescue mission, and with rearranging our permits afterwards). To be honest, I'm not sure that there is a 'takeaway' for me from this beyond that; beyond the fact that we need to have an even better grasp on every single aspect of what we're doing (I thought I knew everything going in, but there were clearly details that I took for granted).
We're alive and we're safe now, and we didn't share the news on my blog, on my Facebook page or anywhere else where our parents would learn of what happened. We couldn't deal with telling them until we'd arrived safely in Uganda because we knew they'd question our journey broadly (they were already a bit concerned about the whole DRC piece of the puzzle). Beyond that moment, we've felt safe on this trip and the last thing I want to do is paint this entire experience with a broad paintbrush. This particular day was extremely unsafe and the boat captains were irresponsible for letting us board that boat in the first place. I'm sure the company won't ever contract with that boat or any like it in the future.
Since we couldn't make it across the border, Inspired Journeys was able to revise our schedule to move a few things around and still do the activities we had planned. Stay tuned for our experience crossing into the Democratic Republic of Congo, and our journey from Goma to Virunga National Park.
Love from the Congo,