Living in warm sunny temps year-round, we try to plan a pre-Christmas getaway where we can immerse ourselves in wintry weather and holiday vibes before our busy season goes into full swing. This year, we chose to experience Christmas in Quebec City and Montreal with some of our best friends in tow to continue our year of Canadian exploration.
What we experienced was beyond what we could have imagined. Quite simply, Quebec City is the ultimate holiday destination. We based ourselves at the stunning Chateau Frontenac, an iconic property that holds the title for the world's most photographed hotel. The castle's facade is a beauty and the interiors are all kinds of regal and holiday-inspired with an entire hall lined with Christmas trees. If you're given the option, choose a room with a view. We originally booked a standard room but were happy with the choice of upgrading. We had two mornings in our room; one that brought sunny skies shining over glistening fresh powder, and one that brought a blizzard with thick snow swirling violently outside of our window. Both days were awesome, and watching the world outside was great as newbies to the city!
Postcard from Quebec: Quartier Petit Champlain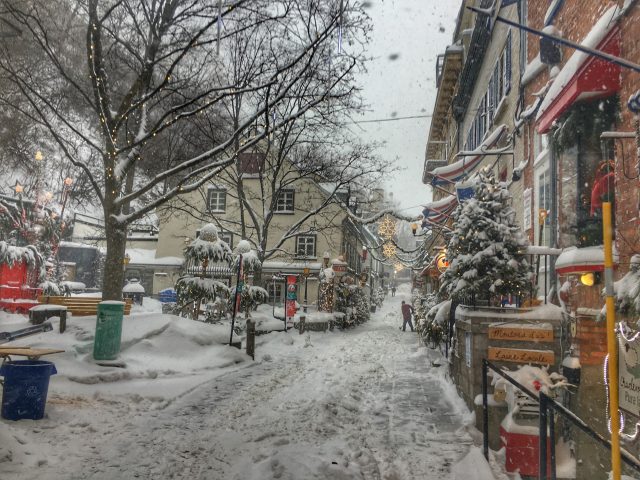 Quebec's Old Town is essentially composed of two parts: the upper old town and the lower old town. If you're on the hunt for the picture-perfect scenes of Old Quebec, head to Quartier Petit Champlain where you'll fall straight into a scene from a Christmas movie. Dating back more than 400 years, this part of Quebec City oozes charm and the experience is only enhanced by the snowfall. Christmas trees line the streets, wreaths and large lit snowflakes hang from the rooftops, and Christmas lights take the fore in this part of town.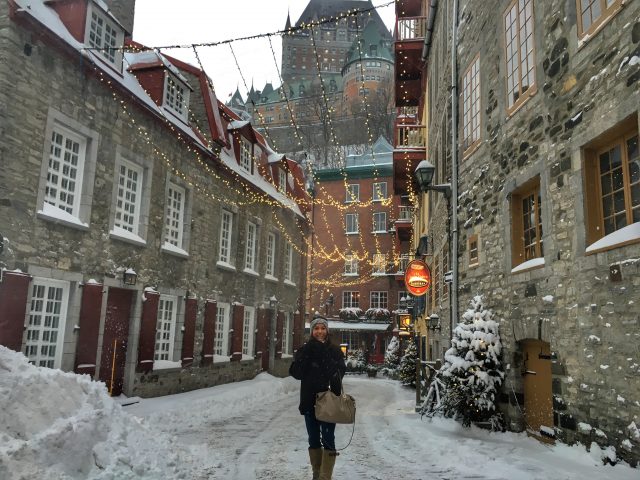 Petit Champlain is exactly what you'd expect: fudgeries, boutiques, quaint pubs and sweet shops adorning the streets and holiday music playing through the main thoroughfares. It takes the idea of holiday spirit and charm to the next level. When we were visiting in mid-December, the streets were empty but for us and a few other visitors meandering the snow-covered roads and snapping photos of main square. Generally speaking, the first two weeks of December are a great time to travel if you can swing it. Fewer people are jetsetting since many are saving their holiday getaways for Christmas and New Year's weeks. For those that can getaway, it's ideal: not only will you be able to enjoy a lesser-trafficked experience, you'll also enjoy lower prices since tourism takes a bit of a dip.
If you're staying at Chateau Frontenac or somewhere nearby, you have a couple of ways to access the Lower Old Town. You can either take the stairs – around 200 of them – to descend into the magical old quarter, or you can take the funicular (C$2.50 per person each way) which leaves from outside of Chateau Frontenac (Terrasse Dufferin) and drops you off right at the head of Petit Champlain.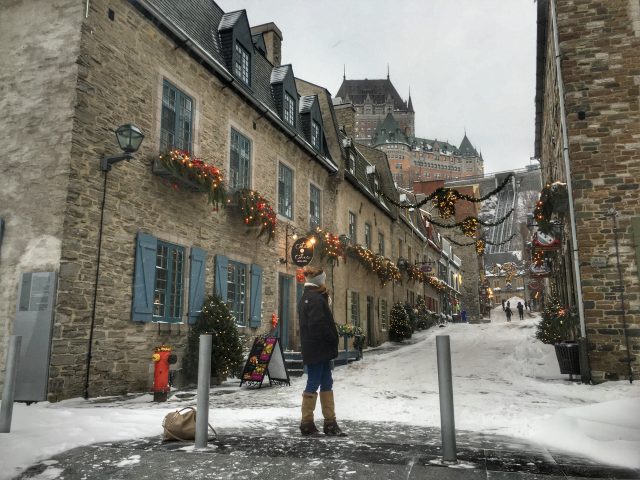 For the ultimate romantic holiday scene capturing the essence of Christmas in Quebec City, you must head down to Place Royale at night when the streets are lit up and the giant Christmas tree in the main square takes center stage. Backed by Notre-Dame-des-Victoires, the oldest stone church in North America (1688), it's a dreamy tableau. You may recognize the church from Catch Me If You Can, in a final scene that takes place with Leonardo DiCaprio in a church in what's alleged to be a 'small town in France.' As it turns out, that scene was actually filmed in this exact square, a pretty solid testament to the French influence and feel that exists in Old Quebec City. The Lower Old Town is replete with quaint restaurants perfect for a cozy meal, and it's worth having at least one night slated for this part of town to enjoy the nighttime enchantment. After dinner, head to L'Oncle Antoine's, a centuries-old home-turned-pub that was recommended to us by friends. Escape the freezing temps and warm up with a seat by the fire or a cup of mulled wine.
People often say that they believe Quebec City is the closest thing to Europe that visitors can experience in North America. After our recent visit, I have no doubt that's absolutely true.
Going in to this holiday getaway, we were set on finding a destination with Christmas markets and a wintry feel, and had our hopes set on Western Europe (Tallinn, Strasbourg and Vienna all made the shortlist). Timing and logistics encouraged us to go to the US or Canada instead. I was looking for something whimsical and picturesque but had no idea quite how European and charming the entire experience in Quebec City would be. It exceeded our expectations, and we had many friends who were so enchanted with the pictures that we posted that they wanted to know where exactly we were spending our pre-Christmas holiday (could it really be Canada?!). People often say that they believe Quebec City is the closest thing to Europe that visitors can experience in North America. After our recent visit, I have no doubt that's absolutely true.
Here's a quickie four-minute glimpse into our four-day getaway for Christmas in Quebec City! 
Have you experienced Christmas in Quebec City? Where is your dream holiday escape?