Morning + Evening Game Drives in Uganda
We departed Mikeno Lodge in the town of Rumangabo at around 7AM, in time to make it to the Congolese-Ugandan border at Buanagana around two hours later. After dealing with immigrations and customs, we said our sad goodbyes to the Congo and entered into Uganda for our final portion of our East African adventure.
The road exiting the Congo and leading into Uganda is a sight. Congolese roads – at least the area we saw – are largely unpaved, marked by rugged terrain and potholes that the Virunga park vehicles take shockingly well. Uganda is more similar to Rwanda in terms of infrastructure, with paved roads that are largely well-kept. The dirt road ends at the border, and a paved road starts; a visible demarcation of Uganda vs. Congo.
The only two mzungus anywhere in sight, we were easy to spot when our Ugandan guide came looking for us. Milton, our driver for the duration of our time in Uganda, loaded us into his SUV and we hit the road, making our way to Queen Elizabeth National Park. The drive is long, about 5 hours from the Congo-Uganda border, but we split our time between taking in the stark new landscapes of Uganda and reading (note: bringing a book or a Kindle is key with the kind of transport time that there tends to be on an African adventure).
Game Drive #1: Sunset in Queen Elizabeth National Park
We had spent about 10 days in a cool jungle climate with lush, untamed surroundings. In Uganda, we began descending into more traditional African plains; fields of long dry grass with tiny puddles that were reflecting the sunlight.
To kickstart our time in Uganda, we were heading to Kasenyi Safari Camp, our home for the next three nights. Situated right in the middle of Uganda's Queen Elizabeth National Park, the camp is strategically located for daily game drives for those on safari in Uganda. We had gained an hour when we moved into Uganda (the time zone goes from GMT +2 to GMT +3) and finally reached the park at around 6PM, greeted by a small herd of elephants crossing the road. With the sun beginning to set, we headed out for a small game drive to see what we could take in before heading to the lodge. Milton took us straight to an area that he had traditionally seen lions in the past, though there are never guarantees. Going into the trip, we were most hopeful about seeing cats on safari and tried to temper our safari wish list with reality.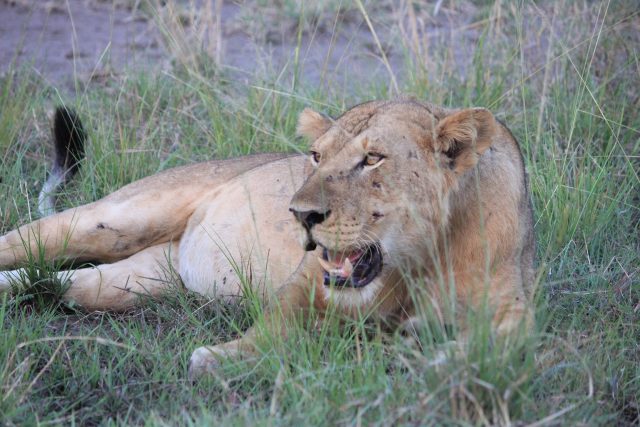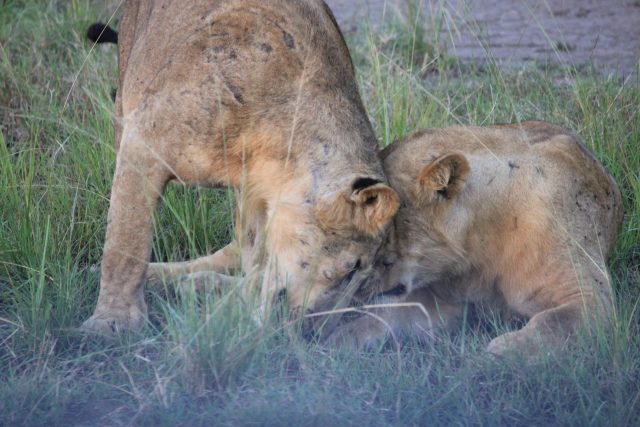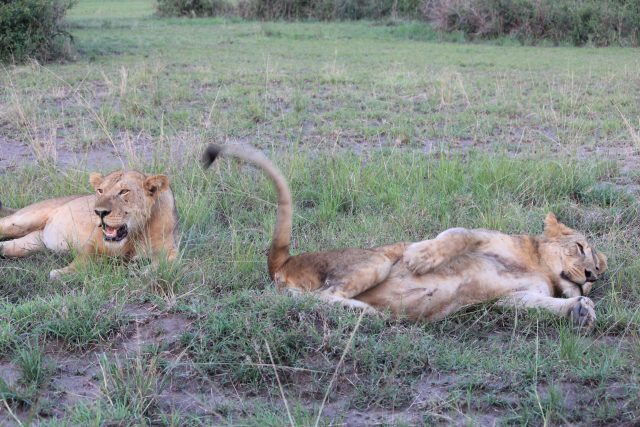 Within a couple of minutes of driving, we spotted two lions; a female and a juvenile male crossing the road and relaxing in the grass just a few feet away from us. During our safari in Kenya in 2014 we didn't really see any lions – not close enough to actually observe, at least – so this was a highlight from the get-go.
After a few minutes of just taking it all in, we slowly headed towards Kasenyi, where we saw herds of kob, warthogs (including a couple of babies), and hippos during our drive. For such a quick initial game drive, we were absolutely wowed by the introduction to QENP. We overnighted at the camp and prepared for our 6AM wake up call to set out for our morning game drive. When it comes to wake-up calls, guides are quick to explain that early morning and evening game drives can be the most fruitful for wildlife spotting, and night drives are also key if you want to see predators that hunt in darkness. We were there to get the most out of our few days on safari in Uganda so we were excited for the sunrise wake-up call.
Game Drive #2: Morning Expedition for Big Cats
The staff at Kasenyi Safari Camp helped gently wake us up by bringing coffee to our room at 6AM as our wake-up call. Caffeinating for the morning, we headed out for an early game drive just before 6:30AM, when the night was fading into day.
We talked with Philip, the owner of the safari camp, about his daily morning game drives and what we were hoping to see during our time in Uganda. We were still on the big cat train and while we had accepted that we probably wouldn't have the good fortune of seeing a leopard – a rare sighting, extremely by day – we were hoping to see more lions, especially an adult male or lion cubs if there were any.
After our first quick game drive experience on our first evening, we were excited for what the second day may have in store for us. Armed with a zoom lens, binoculars and our phones for video footage, we headed out to explore Queen Elizabeth National Park.
The morning greeted us with herds and herds of kob, intermixed with a few domineering waterbucks and a lone hyena that limped across the savannah to sip from a puddle of water. We met some ladies at our camp who had gone out the night before with the explicit intention of trying to glimpse hyenas and sadly had no success. We weren't out particularly early so seeing a roving hyena was a promising way to start our drive.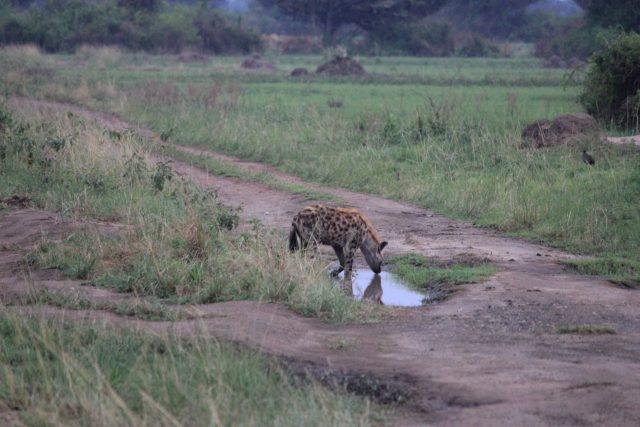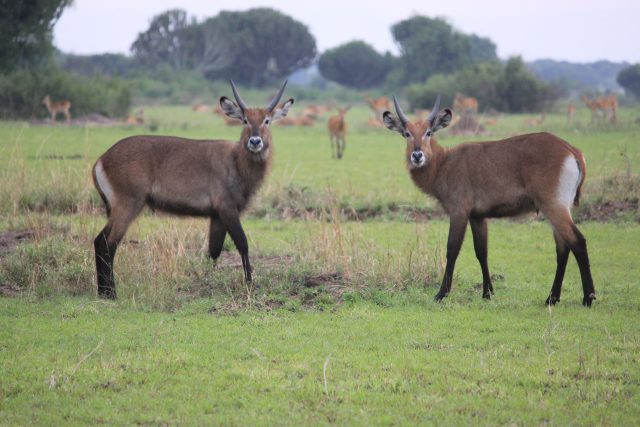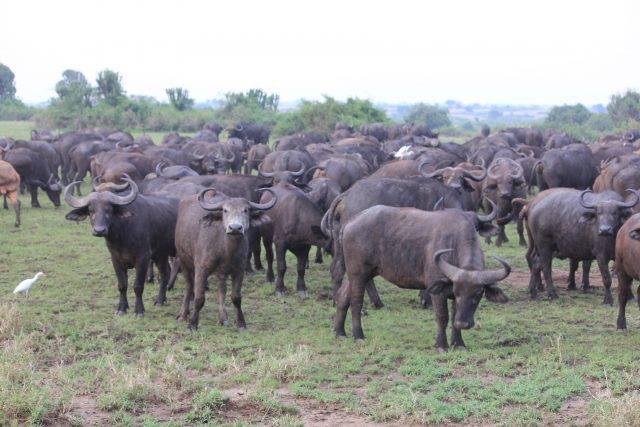 Then our luck got even better.  Milton received a phone call about lions nearby so we eagerly set off to see if we could glimpse a few more lions to add to the two we had seen the day before. The SUV navigated the dirt roads of Queen Elizabeth National Park, dodging the muddy terrain that was cropping up with the arrival of the rainy season.
Then we stopped.
Milton, our guide who had driven through the park countless times, halted with excitement and surprise and continued on slowly. He whispered in that loud yelling whisper that you use when you're really awe-struck but also realize that you need to use an indoor voice.
"A leopard!"
We were stunned. A leopard? A leopard was what I was hoping to see above everything but I was managing my expectations. Everyone told us that the chances of seeing a leopard were extremely slim, especially during the day. It was about 8AM, the sun was up and it was just us surrounded by the open African plains.
We looked ahead in the distance, and sure enough, there was a leopard. It was moving gracefully around a cactus tree and through tall grass that surrounded the spiky oversized succulent. Its coat was golden-orange, so bright and vibrant that it forced us to stop to take it in. It locked eyes with us, golden leopard cat eyes, but didn't run. We slowly moved toward it and it continued to move nearby. We were within feet of him, close enough to see the shape of every spot on his coat and to see the ombre coloring fade from white to golden wheat to a vibrant golden sunset hue.
Together we watched, we photographed and video taped and slowly followed behind just feet away, and for a few minutes in time it was just us; just us and the leopard and the African plains that seem to go on for eternity. He walked away, into the grasslands and we all sat a bit stunned by the good fortune that we had. Another car pulled up a few moments later, and then another one, and we couldn't help but feel like the luckiest three people in the whole park for having had such a close encounter.
That moment and the excitement of seeing wildlife actually in the wild is what makes a safari so worth the investment. Pretty stunning, right?
Notes About Safaris in Uganda
All of that being said including the bit about our incredibly good fortune, it's worth knowing what you're hoping to get out of a game drive when you pick your destination. Queen Elizabeth National Park is home to lions (including the tree-climbing variety), leopards, elephants, water buffalo, warthogs, hippos and smaller animals. What you won't see in Queen Elizabeth National Park are giraffes, zebras or rhinos. We saw a number of giraffes during our safari in Kenya but in Uganda visitors are more apt to see giraffes at Murchison Falls or at Lake Mburo. Zebras are also found at Lake Mburo and in Kidepo Valley Park, though we did see two rogue zebras on an island in Lake Bunyoni (more on Lake Bunyoni to come). The rhino population has sadly been decimated in Uganda. Once home to 700 or so rhinos, there are now 13 in the country and they reside at a rhino sanctuary where they're monitored with hopes for future repopulation. For us, hoping to see big cats on this trip and not wanting to make the journey to Murchison Falls for the sake of time, Queen Elizabeth National Park was a great option. If you do head to Queen Elizabeth National Park, I wish you the same luck we had!
Game drives vary in time but can take from 2 – 4 hours depending on how far afield you go and if you have specific intentions highlighted during your excursion. We went out with an idea of what we hoped to see in the context of what we knew was possible, but were also flexible. We really just wanted to be out on a drive in nature and see what the world set before us (lions and a leopard were major icing). One common misconception is that you need to be physically fit to go on game drives (we heard this from senior travelers during our trip). Unless you're doing a strenuous walking safari, a traditional game drive doesn't require any level of physical fitness. In fact, my 91-year-old grandmother could successfully enjoy a safari in Uganda. You're in a car from start to finish so there's no agility required. The only thing to be aware of is heat and sun exposure and staying hydrated on particularly hot days.
How many days should you allocate? I'll use our case as an example: we carved out time for two full days of game drives and ended up only going out for one morning and one afternoon. After two incredibly successful drives we simply didn't feel the need to continue with game drives. We would have liked to see an adult male lion, cubs or a tree-climbing lion but we were extremely happy with what we did see and opted to enjoy the serenity of the game lodge for an afternoon. We could have cut a day in Queen Elizabeth National Park and been absolutely fine. That being said, you never know how successful your game drive will be. We could have easily gone on those same two drives and seen no lions and no leopard, in which case we would have wanted an extra day to go out on additional drives to try to see as much as possible. Allocating a couple of days to game drives within a single area is probably safe; not too much time but long enough to go out on a few drives to see different areas of a park. When we talked to our guide about the average amount of time typically allocated to game drives, he mentioned that most travelers set aside a day in each park destination to explore. When dealing with conversations like this, my instinct is that if you are lucky enough to carve out any time to do this, you're lucky! When you're crafting your itinerary don't be afraid to ask questions of your guides and/or tour operators beforehand so you're embarking on an itinerary that best fits your needs.
Next up, I'll share some photos and a recap of our boat safari on the Kazinga Channel for a different take on a safari!
Have you been on safari in Uganda or in other parts of Africa before? What were your highlights?