Discovering paradise with Garifuna Tours
Gorgeous stretches of tan sand. Stunning, perfectly placed leafy palms. Turquoise and emerald waters lapping onto the shore. Monkeys bounding from tree to tree overhead. Landscape that looks like a blend of Caribbean perfection with a drop of Southeast Asia from the rugged outcroppings.
I felt like I was transported to a paradisiacal wonderland where the water was fresher, the colors were brighter, and time passed more slowly. And even more unbelievably, the four of us were the only people exploring this untouched haven. Where does this happen?!
This is Punta Sal, a slice of Tela that blends beachy wonders, dramatic landscape, and untouched jungle, and it's quite possibly one of the most beautiful places on earth.
The area is home to the Garifuna population, an indigenous community that is culturally far more Caribbean than it is Central American. The tour company that we chose to help guide us for the day, Garifuna Tours, shares the indigenous group's name. There are a slew of tours that the company offers within Honduras but Punta Sal was at the top of our list. We had gotten a fair dose of adventure between our days at Pulhapanzak plus our experience 'extreme spelunking' at Taulabe Caves. What we wanted for our final excursion was something that would blend an outdoor experience with an opportunity to marinate a bit, just soaking up our surroundings during one of our final days. Punta Sal did just that.
We debated – do we opt for the more expensive private tour so we can guarantee it'll be just the four of us, or just book online through their normal portal for $36 per person. The private tour was more than twice as much, and while it still represented a decent value we didn't think it was necessary. If there were others on the trip that wouldn't be such a bad thing anyway. Half the fun of travel is meeting other travelers, right?
Ultimately it ended up just being the four of us on the trip anyway. We met at around 8AM at the Garifuna Tours office in Tela and jumped in a van with our tour guide, Darren, a Honduran who had spent a number of years in the States. Unlike our previous journeys with Spanish-speaking guides, Darren spoke English which made everything extra simple. Our first stop on this day long adventure was the jungle, where the tour would begin.
The Jungle // Jeanette Kawas National Park

In most places this beautiful and this well-maintained, you'd be lining up to walk through and glimpse the beauty. We were entering a slice of Jeanette Kawas National Park, a protected area named after the female environmental activist who worked to ensure the preservation of flora and fauna in the area. Here, we were the only people, following as Darren led us through the jungle. He warned of jaguars who had made a couple of appearances and when we oohed and ahhed over the monkey that seemed to greet us, he advised that the monkeys would probably follow us around for the duration of our journey.
He was right.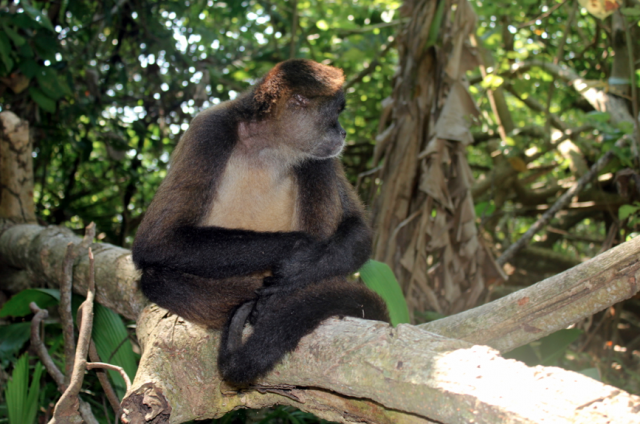 When we went to the Amazon, we were prepared. Long pants, long-sleeved shirts, tennis shoes, hats, a bug repellent bath, etc. Here, we couldn't help but laugh at how poorly dressed we were for the environment. I was wearing a bathing suit with cut off shorts, a coverup tank, and flip-flops, and everyone else was wearing some rendition of the same. Still, it wasn't too strenuous of a walk so it wasn't a major issue, and luckily I'd brought along a travel-sized insect repellent that we all found ourselves using immediately.
As you can probably tell from the photos, monkeys were the highlight for me. It's not every day that monkeys walk in step with you, and we were in awe watching them up close and personal in their natural habitat, especially with no one else around. We encountered a few larger-than-life spiders that would normally have had me running for the hills, and we each ate a termite to see what they tasted like (for the record, they taste like carrots and herbs mixed together, and they make your tongue a bit numb). We saw huge, vibrantly colored butterflies, and trees that mimicked what we'd seen in the Peruvian Amazon a couple of years back (some covered with thousands of thick thorns, similar to the one that poisoned Scott; plus trees with gorgeously thick trunks that spew red 'blood' when they're hacked).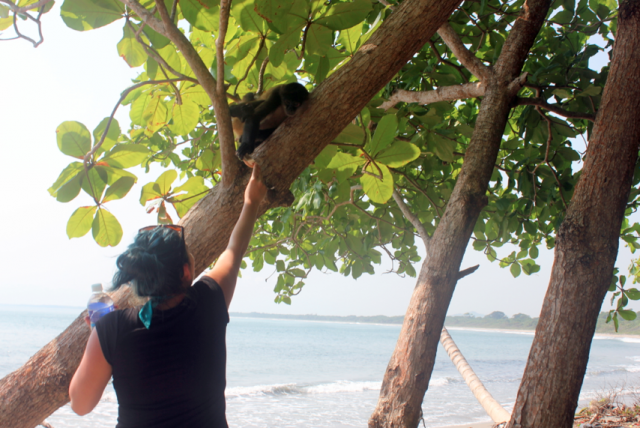 After we'd made it through the thick brush, we reached a beach, the spot that was used as a hideout by Captain Morgan during pirating days in the region. Now, it's much more benign; a gorgeous conch shaped stretch of sand lined with trees and brushed by extra calm, protected waters. Garifuna Tours had it well thought out. Instead of trekking back the way that we came, our boat was waiting for us here to jet us off to our next destination.
It was stunning, plain and simple. The old adage, a picture is worth a thousand words? That's no truer than instances like this where words can't quite capture the je ne se quois of an experience.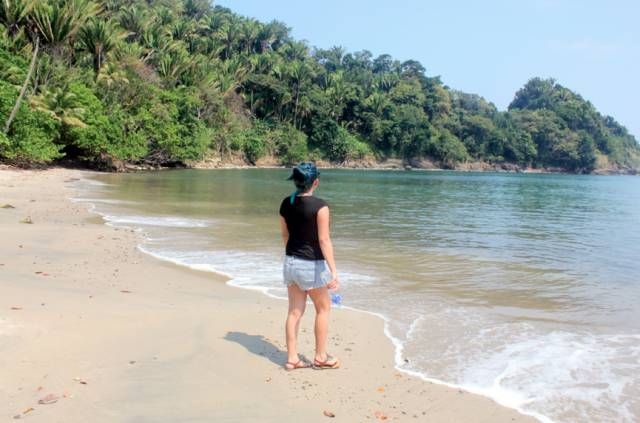 Punta Sal, Honduras from Shannon Falzon on Vimeo.
The Beach
We made a quick pit stop to snorkel through the Lover's Cave, where visitors are meant to make a love wish while they make their way through. From there, we let the wind and sun dry us off as we rode over to our final destination, a beach with a perfectly placed hammock where locals serve up huge plates of local fare: fried whole fish, rice and beans, and plantains accompanied by an ice-cold Salva Vida.
We were astounded by the natural beauty of the area. The beach juxtaposed with the gorgeous wild landscape is breathtakingly beautiful, and the fact that it's not overrun with sun worshippers is especially enticing. We looked around and periodically popped into the sea to cool off, soaking it all in. There was one local family sitting on the beach when we arrived, charging their mobile devices with a solar-powered unit, and playing in the sand. I'm sure they'd agree: paradise found.
---
For anyone intrigued by Garifuna Tours, know that the company operates beyond the borders of Honduras, and their excursions span the majority of Central America, reaching into El Salvador, Guatemala, Nicaragua and Costa Rica. Our experience with Darren and the team in Tela was top-notch and they come highly recommended.
xo from Central America,