Itinerary Ideas for Every Traveler
South Africa is so much more than Cape Town, but let's be honest: for most first time travelers to South Africa, Cape Town makes an appearance on the itinerary. And it should! Cape Town is an absolutely stunning city with a unique history that makes it culturally rich and engaging. We had four days allocated specifically to Cape Town and loved having the opportunity to melt into the city vibes by unwinding in Camps Bay, slurping oysters at the V&A Waterfront and strolling through Kirstenbosch National Gardens. While you could spend dozens of visits uncovering cool corners of the city, three to four days seems like an ideal amount of time to wrap into a typical South Africa itinerary. I was afraid we would be rushed in four days but we actually took our time in Cape Town, and while there is plenty for us to do on a return visit I think you can get a sense of the city and its highlights in a couple of days if you're crunched for time. Side note: one of my biggest pet peeves is when travelers cheekily say, 'you really need weeks to really experience it properly.' Most of us don't have weeks to dedicate to a single city, and that's okay, too. I'd rather have a few days to get a feel for a new place than none at all!
So, for those that have limited time in the Mother City, here are some suggestions for a perfect day in Cape Town for different traveler profiles.
For the Culture & History Seeker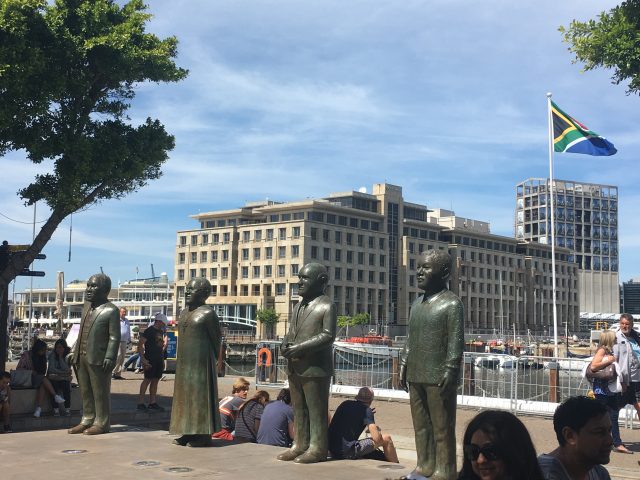 With its layered history and varied cultural influences, a day in Cape Town offers a wealth of options for the culture seeker and history lover. For many, a must-have experience is a journey to Robben Island to visit the site where Nelson Mandela was imprisoned for 18 years. Tours run three times a day during high season with the first boat leaving at 9AM. Journeys last 3 1/2 hours, so expect to allocate the morning to the tour if you're on the 9AM boat. Keep in mind that you should buy tickets in advance and that boats don't always go as planned. The day we were planning on going to Robben Island, the ferry that undertakes the crossing broke down. There are days when the trip is also cancelled due to weather. We actually had not purchased our tickets in advance (shame on us!) and were scrambling to try to buy them the day of with no luck. As it turned out, we wouldn't have been able to go either way but it was a great lesson on the need to buy tickets prior to arrival if you're serious about going! You can buy tickets for R320 on the Robben Island website.
If you've spent the morning exploring Robben Island, you can spend the afternoon in Bo-Kaap to explore the famously colorful Cape Malay area of Cape Town ('Malay' is a bit of a misnomer since the original inhabitants weren't actually Malaysian).The original residents of the Bo-Kaap area were descendants of slaves brought in by the Dutch colonists, many of whom cape from South Asia and other parts of Africa. For a deeper dive into the area's textured history, the Bo-Kaap Museum highlights the contributions made by early Muslim settlers.  Nearby, a visit to the District 6 Museum highlights another layer of South African history by looking at South Africans who were forcibly displaced from the area, and sharing information on forced displacements broadly.
Our journey on The Blue Train took us across South Africa from Pretoria to Cape Town, and the landscapes brought us face-to-face with the incredible contrast of the surrounding townships. The history of townships and how they developed over time is interesting, and a Langa Township Tour provides a more intimate interaction with Cape Town's largest township. (In a similar vein, we did a favela tour in Rio and found it to be one of the most special experiences of our time there.) The township tour of Langa takes approximately two hours and brings travelers face to face with a different side of Cape Town.
A couple of the sites above will likely occupy your whole day, and you can spend the evening dining at the V&A Waterfront or in Camps Bay to experience a different aspect of Cape Town.
For the Outdoors Enthusiast
Cape Town ties with Rio de Janeiro for me as the world's most naturally beautiful city, and many of the things that I found captivating about Rio's landscape were mirrored in Cape Town. There are those stunning stretches of beach, the iconic mountains (Sugarloaf Mountain in Rio; Table Mountain in Cape Town),  and the vast green spaces that manage to bring nature directly to the city. If outdoors are your thing, you'll be spoiled for choice in Cape Town.
Start your day with a trip to Table Mountain. It's iconic and the views are out of this world from the top. The funicular takes you up into the clouds for gorgeous views of Camps Bay and Lion's Head below. There's far more to do at the top than you may initially imagine (think restaurant, shop, walking trails, tables, etc.), and the wildflowers at the top add a dazzling pop to the scene.  You could honestly spend all day up there, and the fact that you have access to food, beer and wine (essentials, right?) at the restaurant means you don't even have to prepare in advance! My biggest tip for visiting Table Mountain is to buy your tickets in advance and get there early. There's a theme here, right? Table Mountain is one of Cape Town's most iconic sights so it's no surprise that the lines can be hours long (seriously, we waiting in line for upwards of two hours). You'll still wait in line with a pre-purchased ticket, but you'll move along at a faster pace, giving you more time to enjoy those dazzling vistas at the top.
Total Time Needed (not hiking): 2 – 3 hours, depending on wait time. You can 'do' Table Mountain quickly once you've arrived at the top but that defeats the purpose doesn't it? You'll want at least an hour to take in the views and walk around the mountaintop. Factor in wait time as well; lines will vary hugely throughout the day and based on the season.
For the more adventurous outdoor enthusiasts: try hiking to the top of Table Mountain and skip the funicular. There are different routes that cater to different fitness levels so most people will be able to hike it if time allows. Want to up the ante even more? Abseil down! I can't even tell you how much I wanted to do this (Scott wasn't as enthused as I was) and it's on my radar for a future visit.
If you want to get your adrenaline pumping in a different way, try tandem paragliding off of Lion's Head for a little rush with stunning views of Cape Town. We watched paragliders swirl overhead and land near us in Camps Bay and I immediately felt a bit wistful with having not booked my own paragliding experience. There are a number of outfitters that can take you for a flight!
If you're looking for something on the more tranquil side in the afternoon, pack a picnic and head to Kirstenbosch National Gardens, a gorgeous botanical garden with great green spaces for a packed lunch. Alternatively, grab lunch at Moyo, their on-site restaurant that serves up great South African food with gorgeous garden views. Kirstenbosch is another place where you could spend hours upon hours walking, exploring, picnicking, etc. On the flip side, if you're limited on time, you can choose some highlights and explore specific elements of the gardens in a couple of hours.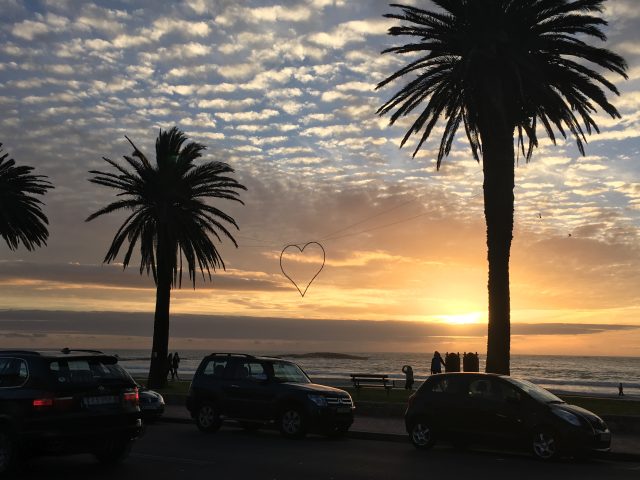 For beach lovers, sunset on Camps Bay may just be the perfect ending to a day. Grab a cocktail somewhere on the promenade – you'll have your choice of spots! – or secure a slice of sand to watch the sunset on Cape Town.
For the Foodie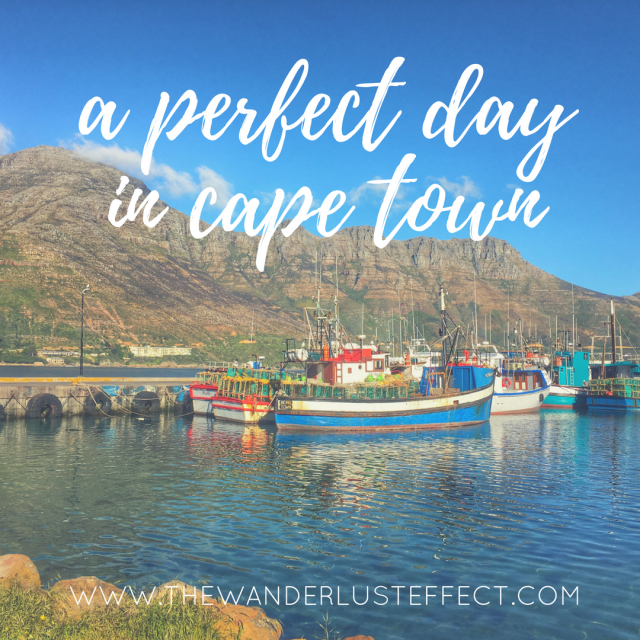 Generally speaking, we found food in South Africa to be exceptional and an amazing value to boot. With the dollar/rand conversion rate working in our favor (around 14:1 when we were there), we were able to enjoy some incredible meals for a fraction of what we would have spent in any US city. With menus showcasing locally sourced produce, meats from regional farms, fresh seafood, and local wines, it's a testament to South Africa's under recognized food scene.
To start your day in Cape Town, head to the V&A Waterfront and kick off your morning with an order of oysters and a glass of Cap Classique, South Africa's equivalent of champagne. Pop up to the second floor at Harbour House at the V&A Waterfront and score a seat overlooking the harbour for a major #breakfastwithaview moment.
If you're a foodie heading to Cape Town, try to be in the city on the weekend. This has nothing to do with what's going on at night and everything to do with what's going on by day! Cape Town has some great food markets that provide a meeting ground for vendors to offer up unique bites in an approachable setting. You can stroll through the V&A Waterfront Food Market to explore the multicultural offerings (think samosas, crepes, dim sum, and a station dedicated to summer rolls) or head further afield to the Neighbourgoods Market for an overwhelming show of exceptional food. Word of advice: go hungry and ready to eat because it's too hard to choose just one place to dine!
The Neighbourgoods Market, located in Woodstock in the Old Biscuit Mill, is a cab ride – or an Uber – away but it's worth the jaunt if you want some seriously good food in a fun setting. Grab a cocktail to start and allow yourself to do a lap or two to evaluate everything available. If you want a seriously foodie lunch, try The Pot Luck Club in the Old Biscuit Mill (take the elevator to the 6th floor) for their acclaimed small plates with a view. Generally speaking, you'll need to make reservations in advance as it books up far ahead of time (it's following in the footsteps of its big sister, The Test Kitchen). That being said, lunch will provide an easier opportunity to get in than dinner, and with small plates on offer you can get as much or as little as you'd like for the table.
Before dinner, a sundowner is in order to give you an opportunity to scope out new places in Cape Town. If you're heading to Camps Bay for dinner and want something with a luxe feel, head to The Leopard Bar at the Twelve Apostles Hotel. The sunset views over Camps Bay are lovely but you'll be just as captivated inside with its glitzy old world feel. They had live music inside when we were there!
If you only have one night in the city, you're in for a challenge with so many incredible restaurants at your fingertips. Cape Town is a vibrant, multicultural city so you'll find a variety of cuisines that are exceptionally well done. The acclaimed stars on the Cape Town dining scene are The Test Kitchen (closed when we were there) and La Colombe, which have both been ranked on world's best lists, but as I mentioned earlier: food is great in Cape Town so with a bit of research you'll have a hard time going wrong. Our two stand out meals were at Kloof Street House in Central Cape Town for an eclectic homey feel (there are a number of bars and restaurants nearby) and The Codfather in Camps Bay for super-fresh seafood and sushi.
For a Tour of the Hot Spots
Lastly, let's talk about hitting the hotspots! If you only have a day in Cape Town, your goal may simply be to leave having seen some of the city's iconic sights with some great snapshots from your day. You can do the Hop On Hop Off Bus for a tour of the city's highlights, but don't discount Uber! We bought Hop On Hop Off tickets – we typically do this for our first day in a city to get the lay of the land – and ended up using Uber the majority of the time. Rides are extremely affordable in Cape Town (some of our rides were less than $2) so if you plan out your sightseeing strategically this may be more cost-effective than the Hop On Hop Off Bus, plus it will probably be more effective as far as time is concerned since you'll be working on your own time frame.
I would argue that the key iconic must-sees for a first timer are Table Mountain, the V&A Waterfront, and Robben Island if you have a single day. Camps Bay is great, Kirstenbosch Gardens are stunning, and a walk through the city is captivating, but with limited time, those three sites will give you some iconic glimpses and photos from a day in Cape Town. The V&A Waterfront with its pretty facades, shops and dining is something to explore at leisure; that is, you can do this in the morning or by evening, possibly even having dinner here, and you don't need to worry about being a specific time table. Robben Island offers ferry service at specific times during the day, and Table Mountain allows ongoing service to the top via their funicular throughout the day, but a ticket is required. Buying tickets in advance for both is key to save time; and not buying in advance for Robben Island may cause you to miss out entirely (it sells out, sometimes days before). Keep in mind that the ferry to Robben Island doesn't always go as planned so have a Plan B for backup activities in case your ferry to Robben Island gets cancelled!
For accommodations, most visitors seem to struggle with choosing between the V&A Waterfront and Camps Bay. Our choice was Camps Bay at the boutique beauty, POD Hotel, and we were happy with the choice to base ourselves in chic Camps Bay! We were spoiled for choice for dining and shopping by night, but were in close proximity to get to the V&A Waterfront to explore the iconic sights. Cape Town has a wealth of great accommodation on offer, from affordable hostels and cool B&Bs to eclectic boutique hotels and large-scale luxury accommodations. If you're in the preliminary research phases, you can check out AccommoDirect for a fun selection of interesting and unique Cape Town accommodation inspiration.
One place that's missing from all of these itineraries? Cape Point and the Cape of Good Hope, which really are a must if you have the time! In an upcoming post, I'll be sharing more photos + a recap from our journey to the Cape of Good Hope which was a bucket list highlight for me. If you have three or four days in Cape Town, check out the Cape Town Big 7 website for inspiration for crafting an itinerary that includes a number of Cape Town's major highlights!
If you had a single day in Cape Town, what would be on your itinerary?