Luxury Train Journey from Pretoria to Cape Town on the Blue Train
There are trains, there are luxury trains, and then there's the Blue Train. Few train journeys in the world have the allure that the 27-hour old-world train journey from Pretoria to Cape Town does, and when we booked our trip to South Africa we knew that the Blue Train would be the perfect way for us to make our way from Johannesburg to the Western Cape.
With an 8:30AM departure, we headed to the Blue Train station in Pretoria around 7:30AM to sign in and grab a cup of coffee in the lounge. We sat next to two other couples about to depart on the journey as well, both first-timers; one couple from South Africa and one couple from the UK. We were the youngest couple on the train by a fair bit, with baby boomers making up the majority of the travelers on board. I immediately felt a bit out of my league. Look at these fancy couples, jetting out on this exclusive train journey, dressed to impress. Who are we?!
"There are trains, there are luxury trains, and then there's The Blue Train."
One of the guys who we ended up chatting with on the train looked over at us and joked, "Isn't it funny how we all think other people live like this; as if this is normal for other people? If it is, cheers!" I immediately liked them, and that sentiment set the tone for the journey in general. We were on board with people from all over the globe at all phases of life, including a number of South Africans who had saved to be able to enjoy this iconic journey. Some were celebrating special occasions (a 25th anniversary, a 60th birthday, fresh empty-nesters, etc.) and some were just splurging on an extra luxe experience as part of their South African itinerary. Regardless, for everyone it was special. No matter how well-traveled or how wealthy, journeys like this are absolutely unique and extraordinary for everyone and they're designed to be that way.
With that in mind, we boarded and I let myself be the extra-excited and extra-grateful passenger that I was. Initially, I was concerned that a 27-hour train journey may feel like a long time. What do we do on board exactly? Well, there's lots of pampering, eating, drinking, gazing and chatting, and I'll tell you what: 27 hours goes by way too quickly once you get going.
After checking into our room, Suite No. 2, we had an orientation with our butler, Michael. Each car has a dedicated butler to orient you with your cabin, and assist with any issues (e.g. Michael helped us with ironing Scott's shirt for dinner and got me a converter when I was in a bind). After our orientation, we did what all luxury train passengers should do: we headed to the bar.
There are a two bar cars on the train – one smoking and one non-smoking –  plus an observation deck. The smoking car was the closest to us (the car adjacent to us, actually) so we popped in there first where we moseyed on up to the bar and met the gregarious barman who eagerly poured us glasses of sparkling rosé to kick-start our trip. Who am I to say no to something so celebratory? We ended up moving down to the observation car to finish our bubbles since it was a bit too smokey in the smoking car for our liking (I'm a bit sensitive to smoke so the non-smoking lounge was much more my speed).
Dining on The Blue Train
Before boarding, the food and beverage manager offered us the choice of two meal seatings: an early seating with a 10:30AM brunch and a 7:00PM dinner, or a second seating with a 12:30PM brunch and a 9:00PM dinner. We opted for the second seatings, and ended up being very happy with that choice. For those that opt for the second seating, don't worry about going hungry. If the Blue Train does one thing extremely well it's keeping you well fed and sufficiently boozy. We were plied with food and drink from the moment we set on the train and had to pace ourselves on both fronts a bit to be able to enjoy the whole night. Besides the biltong and cashews that accompanied our drinks, spreads of mini sandwiches and pastries were set up in the observation car and bar cars for those feeling a bit peckish before lunch.
Our lunch ended up being pushed back a bit with a 1PM seating time. 'Brunch' is a bit of a misnomer to be honest. It's lunch. And it's a grand three-course lunch at that.
First, there's that wine list, an incredible selection of wholly South African wines sourced from around the country with Cap Classique (South Africa's equivalent of champagne) plus dessert wines, in addition to the usual suspects. We were committed to this enjoying-the-experience mentality (I mean, why shouldn't we all be indulging on this ride?!), so we chose our three courses and picked wines to pair with our meal.
The beautiful thing about dining on The Blue Train is that everything is included in the fare and the service is excellent and geared towards making your experience perfect. I would often ask for just a half glass of wine so I could try a few, and there were times that we tried a wine and opted for something else in lieu. You can indulge as much or as little as you'd like. For me, it was an opportunity to have something little without having to order an entire glass of anything.
Between lunch and dinner times, high tea and an excursion to Kimberley were on the docket for us. Everything is optional of course, but we wanted to scope out the scene and enjoy every element of the journey. The Blue Train serves high tea from 3PM – 5PM or so, essentially abutting the excursion to Kimberley which is slated to take place around 5PM. With our lunch on the later side, there was no way we were indulging in the high tea spread but we did grab a cup of coffee in the observation car to enjoy the passing scenery and take in the ever-changing views.
For those that opt for the early lunch, there may still be room enough to indulge in tea (or champagne!) with tea sandwiches or sweet treats from the spread. For anyone with a sweet tooth, you're seriously spoiled for choice.
Kimberley Diamond Mine

The Blue Train is a pretty spectacular blend of masterful engineering, gorgeous aesthetics, and lavish comforts including showers (and baths in some suites) with excellent hot water and water pressure, something that I notice and appreciate hugely. Where does water come from exactly? Well they have to fill up for the journey, and a stop at Kimberley is the perfect place for them refill their tanks. It's planned out perfectly of course because while they're refilling the water, guests are out on an excursion to the Kimberley Diamond Mine, home to the famous 'Big Hole', for a tour.
We had arrived late so didn't get to spend as much time as we would have liked in the museum but we glimpsed the Big Hole, which is in fact, a really big hole and is alleged to be the largest pit ever excavated by hand. Diamonds and gold both have a large place in South African history so the diamond mine tour was actually a very interesting glimpse into an important element of South Africa's past. The museum is extremely well done, with great diamond displays and a short film that shares a bit of insight into Cecil Rhodes (the founder of DeBeers) and the not-so-flattering realities of how the diamond industry affected South Africa. Their gift shop was closed, fortunately for Scott and rather unfortunately for me. (Kidding, kidding. Everyone knows I prefer my big baubles to perfect diamonds, right?)
Evening Aboard The Blue Train

We returned to the train around 7PM, just in time for the first set of diners to get cleaned up and have a 7:30PM dinner (remember what I said about being happy to have had the second seating?). Dinner is a formal affair on board the Blue Train, which means it's a great chance for ladies to get dressed up and for men to break out their suits. If you're planning a trip on the Blue Train and wondering what dress code really is in practice, I'll tell you this: I was afraid that my cocktail-length dress was too informal but I was absolutely fine (you guys, I'd just come from trekking in the Congo in near-freezing conditions and had limited space for a pretty dress!). There were women wearing gorgeous long dresses, some in cocktail dresses, and a couple of women in dressy pants outfits (though this was uncommon). Men almost universally wore suits or slacks and a sport coat. A couple of men upped the ante with tuxedos which were super dapper for the ultimate James Bond evening. You must wear a jacket and tie but the level of dressiness beyond that seems to be a matter of personal preference. The point of the practice really is to elevate the atmosphere and make the evening special for everyone on board. With everyone dressed to impress, it lends to that sense of being transported to another place and time, to a world much fancier than our everyday life.
So, after returning from Kimberley we got cleaned up for the first time in weeks, and with plenty of time to spare we headed to the bar to chat with other guests while we waited for dinner to start. No surprise here but the bar is really the hub of the social scene on board and it's a great place to meet other travelers. Armed with a Jameson & ginger ale (for me) and a martini (for him), we bounced between the non-smoking bar car and the observation car to soak up the evening atmosphere on board. Dinner was a delicious three-course affair with cocktails and wine to match.
After dinner came to a close around 11PM, we headed to the smoking car to close out the night. In addition to a great bar with talented bartenders, the Blue Train offers a selection of Cuban cigars on board for something special after dinner.
We were shocked when we arrived and were alone with just one other couple to indulge in the bar car. We had the later dinner seating of course, but how were people missing this?! Scott chose his cigar and coupled it with a scotch so we could let the night wind down on board. I opted for an amarula, a classic Bailey's-style South African liqueur that makes for a perfect after dinner sip. You guys, promise me this: if you journey on the Blue Train, you must go to the bar car after dinner and at least take it in for a few minutes. Neither of us are smokers but I do love the smell of cigars (there's something celebratory about them) and we had so much fun just living in another world for a moment in time. I'm still shocked so many people opted for their beds over scotch and cigars!

Speaking of beds, I know what you're wondering. How do those rooms convert into beds, and how comfortable can they really be?
While we were indulging in a long dinner plus our pre- and post-dinner sips, Michael converted our room from a lounge space to a bedroom equipped with blackout curtains and two beds with a nightstand nuzzled in between. I'm not a particularly picky person when it comes to beds but the bed on the Blue Train was shockingly comfortable. After our weeks of trekking and early wake up calls, it was legitimately one of the best sleeps I'd had in a while. I didn't set an alarm and had the pure joy of waking up when I was done sleeping.


I wish I could say that my no-wake-up-call rule involved sleeping in but I was up at around 7AM, feeling very well rested and ready to enjoy the last hours on board the Blue Train. You can see how quickly the 27 hours can go, right?
Breakfast on the Blue Train is a bit different from the lunch and dinner service on the first day. There's no assigned seating and there's no designated time. They serve breakfast from around 7AM – 11AM and we arrived somewhere in the middle of the pack. I opted for the breakfast offerings at their cold food bar (they have fresh fruit, pastries, breads, muesli, yogurts, etc. laid out) but most people ordered off of their hot breakfast menu for a final meal indulgence: omelets, eggs benedict, oatmeals, pancakes, French toast.

Breakfast was our final affair and it was a spectacular sight as we passed through the Winelands and headed into Cape Town. The foggy air cleared and a massive double rainbow led the way for us; the most mesmerizing view of the iconic mountains that grace the Western Cape along with a colorful welcome into the Mother City. We sat, sipped coffee, enjoyed our meal, and took in the final landscapes sweeping past us on this journey.
The closing scene of our trip couldn't have been more apropos, of course. Legend has it that there's gold at the end of the rainbow. Fortunately for us, Cape Town was the treasure waiting for us at the end of the line.
Have you experienced The Blue Train or another luxury train journey before? Share your thoughts below – I'd love to hear about other journeys to put on our list for the future!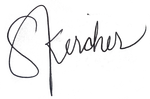 A big thank you to The Blue Train for making this trip possible and for sharing with us the incredible service and overall onboard experience. As always, all thoughts and photos – and video! – are my own and are genuine.