Angkor Wat + Other Temples for Your Siem Reap Itinerary
For anyone venturing to Southeast Asia, there's no doubt that the Angkor Temples in Siem Reap make the cut (or at the very least, are on the shortlist). After our month in Southeast Asia, our time in Siem Reap arguably constituted the most memorable portion of our itinerary. I adored our time in peaceful Luang Prabang, enjoyed every moment of our elephant encounters with Anantara in Northern Thailand, and reveled in the diversity of our two weeks in Vietnam, but seeing the Angkor Temples first hand truly took my breath away.
There are some World Wonders (I'm looking at you, Christ the Redeemer) that are a bit lackluster when measured by your expectations. Angkor Wat is the polar opposite of that. Even compared with your daydreams and expectations, it wows. Part of that is because, like visiting Petra in Jordan (also a major jaw-dropper), the site is so much bigger than most people realize until it's experienced first hand. Even though you know that it goes beyond Angkor Wat and the nearby temples, it's hard to really grasp the number of temples that dot the area surrounding Siem Reap. When you're planning your visit, it's wise to think a bit about which temples you'll be most keen on seeing so you can plan out your itinerary accordingly. We can all agree that Angkor Wat is a given, but what about the others that make up the Angkor area broadly (called the Angkor Archeological Park)? This map to the Angkor Archeological Park helps:
To enter the temples within the Angkor Archeological Park a ticket is required. Scroll to the bottom of this post to read more on practical tips, logistics, etc.
If you're hiring a guide – which, in my opinion, you should – they can help provide a bit of guidance on choosing temples (not to mention the history of what you're seeing), but it can be helpful to do a bit of digging and find out which temples interest you most. Below, I'm sharing the temples, some large and some small, that we visited during our 4 days in Siem Reap. If you've visited these or other temples in Siem Reap, feel free to leave comments/guidance below for other travelers making their way to Cambodia!
Angkor Wat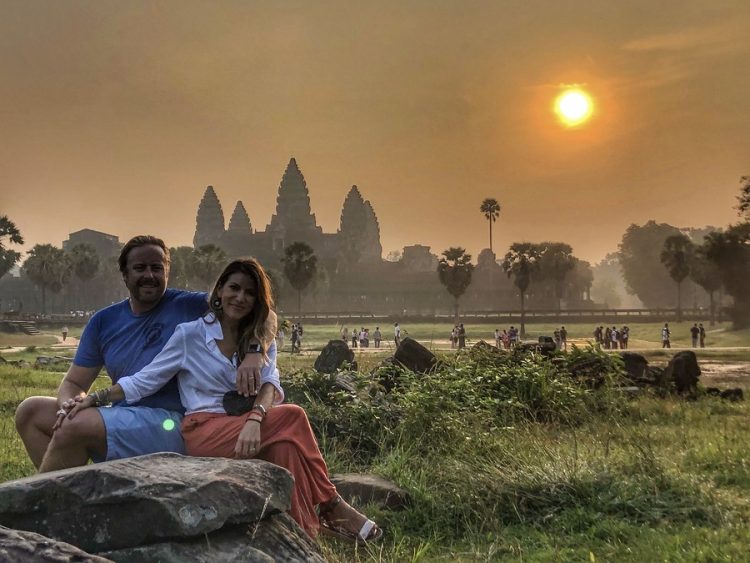 Let's start with the Grand Dame of Temples because, let's face it, this is what you came for and it will probably be your first temple stop in Siem Reap. More than likely you'll start your morning here because watching the sunrise over Angkor Wat has become a sort of seminal experience for travelers around the world. If you're going for sunrise, you'll need to get there early, while it's still dark, to find your place to settle in while the sun slowly peeks out over Angkor Wat. A guide comes in handy here since they'll be able to take you to the best viewing points — no matter what research I would have done in advance, that's something I wouldn't have been able to discern on my own.
After the sun has risen, it's time to explore. One thing to be aware of for women is coverage in your clothing. In conservative areas where I have to contend with heat and humidity, I often wear loose flowing pants (you can find these easily at markets throughout Southeast Asia), and a sleeveless mock turtle neck with a scarf. That generally allows me to cover up as needed, and I can remove the scarf in between for something a bit more breathable. You cannot do that when visiting the Angkor Temples. Our guide warned me that I'd need to wear a shirt with built-in shoulder coverage to visit certain parts of the temples. Plan accordingly! Tees work, as long as your shoulders are covered and your outfit is modest.
We spent two to three hours exploring and photographing Angkor Wat. I'm not going to write anything here about Angkor Wat that you haven't read before but suffice it to say that it's truly spectacular, and you'll want to find a few moments to just mentally take it all in. Angkor Wat is the largest religious monument in the world (Karnak Temple in Luxor is up there as well) and was originally built as a Hindu Temple, though it became a Buddhist Temple shortly after. You'll likely be worried about Angkor Wat being overrun with other visitors and that's a valid concern. Tourism has spiked over the past few decades, jumping from under 10,000 visitors a year in 1993 to over two million by 2012. Whether it was the time of year or expectations, we really never felt like we were fighting to enjoy a space. There were other many other visitors (of course!) but it didn't feel like a mob had descended on the site during our time exploring, and we even had some moments where it was just us with seemingly no one else around, which seemed pretty spectacular. This is not news, but Angkor Wat will more than likely be the busiest of the temples that you visit due to its renown and popularity. Once you've moved on to some smaller and lesser-known temples, you may find that you're there with scarcely anyone else.
We spent about 3 – 4 hours exploring Angkor Wat, though you could definitely spend more.
Ta Prohm
Ta Prohm rose to popularity as the 'Tomb Raider Temple' and it was in some ways equally as busy as Angkor Wat during our visit. We didn't go first thing in the morning as we'd chosen to watch the sunrise from Angkor Wat so by the time we arrived at Ta Prohm there were many other visitors already there. The site of Ta Prohm is small compared with Angkor Wat, too, so it becomes denser far more quickly since many visitors are drawn to the same, now-iconic images.
Ta Prohm was one of my personal favorites because of the trees; a reason that so many find it so enchanting. Angkor Wat, for all of its beauty and splendor, doesn't have that whimsical, overgrown feel with trees quite literally rooted in the temples. It's a spectacular element that's shared by a few other temples in Angkor Archeological Park. It's Ta Prohm's very state of ruination that adds to the beauty and the sense of discovery. Perhaps more than the other temples, there's a bit of a sense of what it may feel like as a Westerner to have run across this temple for the first time; not just the awe-inspiring quality of the structure itself, but the fact that something as incredible as this was left for so many years to be encapsulated by the wild world. There's plenty to explore and walk through during your visit, but the trees, with their unbelievably herculean roots, will undoubtedly command your attention.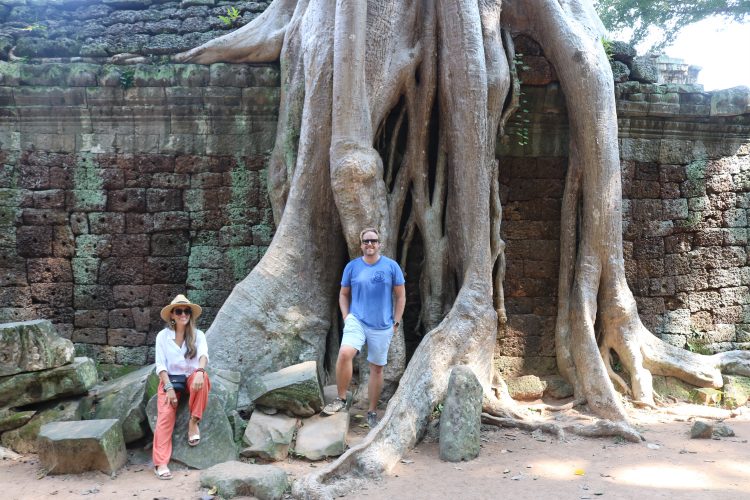 In my opinion, Ta Prohm is a must-visit for every traveler to Siem Reap, whether visited after Angkor Wat or on a different day at the time of opening to enjoy it with thinner crowds. Allow 1 – 2 hours for a visit to Ta Prohm.
Ta Nei Temple
Known as the 'hidden temple' by some accounts, its location and the lack of tourists will cue you immediately as to how this temple earned that moniker. Secluded and under-the-radar, a visit to the temple of Ta Nei will likely provide an opportunity for you to explore solo, without any other visitors in sight. Considering the number of tourists that descend on Angkor Wat annually, finding a slice of peaceful serenity feels like a rare treat in the jungle mix. Many of the temples that have risen to fame over the past few decades are sites that have been partially or fully restored, and some maintain a level of ruination by design.  With Ta Nei, you'll be visiting a site that hasn't been restored yet, which means tour buses leave it off the list.  The temple dates back to the late 12th century and amidst rubble, there are beautifully complete temple structures that have withstood the test of time. We didn't spend much time here – maybe 15 or 20 minutes before moving on – but if you're looking for a peaceful stop during your day of exploring, Ta Nei may make the cut.
Ta Nei Temple is located to the east of Angkor Thom.
Angkor Thom Complex
If it's your first time to Siem Reap, understanding the layout of the Angkor Archeological Park and its composition can get a bit confusing. You'll have heard temple names thrown around by friends and other visitors, but trying to decipher the must-sees, and how things are organized can be a bit bewildering at the outset. Angkor Thom, for example, isn't a temple but rather the name of the entire moated city complex area (see map above) which houses a range of temples. The entrance to Angkor Thom is wildly wonderful with faces guarding the entrance. You'll want some time to just meander in and take photos around the exterior since it's so beautifully crafted. There are five gates to enter Angkor Thom, though the South entrance is where you'll find one of the area's most famous images.
Within Angkor Thom, you'll find a collection of temples including Bayon, the most famous temple within the compound and arguably the most unique of the temples in the region.
Bayon Temple ✧ Angkor Thom
One of Angkor's more distinctive temples, Bayon Temple is the pièce de résistance at the center Angkor Thom. A 12th-century temple, it's adorned with 216 smiling faces over dozens of towers, for a simultaneously cool and slightly haunting effect. Bayon Temple was the state temple of King Jayavarman VII's new capital, Angkor Thom, and some believe that the faces throughout the temple were crafted in the king's likeness (there's a bit of a debate there). When we talk about there being over 200 faces carved into this temple, let me clarify: You'll see many bas-relief carvings throughout the temples in the Angkor Archeological Park, but the faces that people reference at Bayon are larger than life. You can see us standing in front of three towers below.
The entrance to Angkor Thom was one of my favorite images from Siem Reap, and a visit to the area is a must for those making the journey to visit the temples in Siem Reap. If time permits, there are other temples within Angkor Thom to visit as well but Bayon was a really unique contrast to what we'd seen at other temples along the way. Just glimpsing it from a distance is pretty amazing, and being up close to see the scale of everything gives you a serious appreciation for the work done centuries ago.
Banteay Srei Temple
For our second day of temple exploration, we headed further afield to a Banteay Srei, a temple that got rave reviews from the staff at Jaya House, where we were based for our 4 days in Siem Reap. We had hotly debated whether or not to make the journey as Banteay Srei is a fair distance from the center of Siem Reap. Instead of a guide for our second day, we hired a tuk-tuk driver to help take us to a few predestined temples for a half-day excursion. For context, Banteay Srei is nearly an hour's drive from Angkor Wat, but a tuk-tuk ride allows you to take in the surroundings a bit more palpably than being in a car (on the flip side, you'll also feel bumpy roads a bit more which we didn't mind in the slightest).
The temple is the center of the district of Banteay Srei, which is set about 35 – 40km outside of the heart Siem Reap. For those that are looking for an off-the-beaten-path homestay experience outside of the main tourist center, there are opportunities for that in this district of Banteay Srei. The temple dates back to the 10th century (967 AD), which makes it one of the oldest temples that we visited during our time in Siem Reap. The temple was discovered in the early 1900s and was cleared about a decade later. Everyone we'd encountered referred to Banteay Srei as the 'pink temple' because of the pink-hued sandstone that was used to construct the temple. Banteay Srei is the Citadel of the Woman or the Citadel of Beauty, which seems to mesh perfectly with its look and feel. After visiting mammoth temples like Angkor Wat, Banteay Srei will feel small by comparison and there's a reason for that. Unlike the majority of the other temples which were built by kings, Banteay Srei was built by Brahmin priests, so its petite stature is likely by design to keep its proportions modest in comparison to the royal temples.
Is it worth the drive out to Banteay Srei? I'm a bit mixed on it, to be honest. It's a pretty temple with a unique history, but it does take a chunk of time to make the journey out there. If time permits and the history and style of this temple intrigue you, go for it! If time is limited, you'll probably find allocating time to the heart of temple complex a better use of time to take in more sights.
Ta Som
Our final temple stop was Ta Som, a small temple built for King Jayavarman VII that sits at the northeast edge of the main temple center. When we were trying to choose temples on our own to visit, we were at a bit of a loss. How do you really know where to visit without a guide or without first-hand insight from others that have stumbled upon temples they've loved? We dug a bit online and Ta Som appeared a few times, noted for it's Ta Prohm-style trees amongst the temples. It doesn't have quite the colossal roots that you'll see at Ta Prohm but it does offer a bit of that temple-swallowed-up-by-the-jungle feel, without the crowds. There were maybe a half-dozen other people there during our visit, and we watched local children running through the temple, playing amidst the trees; their own home-grown playground (and, for the record, way cooler than the playgrounds I visited growing up).
Tips + Practical Notes for Visiting the Temples in Siem Reap
Cost of Ticket for Entering the Angkor Archeological Park: As you've gathered from reading this post, the Angkor Archeological Park goes far beyond Angkor Wat, and ticketing isn't done per temple; it's done by the day for all included temples. Passes are offered as one day ($37), three day ($62), or seven day ($72) passes. We purchased a three-day pass since we were planning on at least two days of temple exploration. Most temples will have an agent checking tickets on the way in, though we never found we had to wait in much of a line during this process. It's a formality, but not a time-consuming one.
Buying your Ticket for the Park: One of the members of Jaya House's team took us to the ticketing office for the park the evening before we intended to do Angkor Wat. The line was non-existent in the afternoon and it saved us the headache of having to sort out tickets during the early morning hours. You don't need to buy your ticket before you arrive in Siem Reap, but if you're planning on watching the sunrise at Angkor Wat, I'd purchase the ticket the night before for ease.

With our guide, Salon, in Siem Reap.

Hire a guide. We used a guide for our main temple exploration day and I'd highly recommend having a guide for at least one of your days. As I mentioned in the post, the sheer number of temples can feel overwhelming if you can't discern one from the next. Sure, you know Angkor Wat and maybe Ta Prohm, but beyond that it's often a struggle to figure out which temples will best suit your tastes, and interests, and which will best fit into your time constraints. We had a wonderful guide who I'd happily recommend. Please email me directly if you'd like his details.
If you don't hire a guide, plan your temples in advance. I'm a broken record at this point, but guys, planning is key! If you don't hire a guide, you need to do some research to figure out which temples you want to visit. The distances between temples are great so you'll end up hiring a tuk-tuk to zip you from one temple to the next in most cases. Your tuk-tuk driver is not a guide, so you'll need to be able to articulate to them where you want to go next. A bit of planning and mapping out your course will do wonders here!
Dress appropriately. I mentioned this above, but for ladies, in particular, you'll want to be aware of covering your shoulders and legs to get into the temples. A scarf alone won't work for shoulder coverage so be sure to wear something that provides a bit of coverage so you're not self-conscious during your exploration
Bring water, sunglasses + a hat. This is no surprise but it gets hot during your day of exploration so be prepared with a hat for sun protection, sunglasses, and some water to stay hydrated.
Bring some cash for tipping and for purchases. Cambodia's recent history is far from peaceful. We visited the Landmine Museum, the APOPO Center and a few other sites (more on that in my post on 4 days in Siem Reap) which were insightful. You'll see many young people dealing with the aftermath of landmines, and it can be heart-wrenching. At a few major temples, you'll see people selling books or groups of talented people playing music as you enter the site. If you feel inclined, you can tip or make purchases. Be prepared with cash for these instances.
---
It's been months now since we've returned, and writing about our visit in some ways allows me to relive our time in Siem Reap, which was absolutely wonderful from start to finish. The temples in Siem Reap are undoubtedly the draw when you're planning your trip. If your schedule permits, allow yourself time to explore a mix of temples: the larger main draws, sprinkled with a few smaller temples for good measure. The mix of jaw-dropping architecture and the serenity of the off-the-beaten-path sites gives you time to sightsee and to reflect a bit on everything you're taking in.
For those that have been to Siem Reap, I'd love to hear what other temples were on your list. Any other temples in Siem Reap you'd recommend for those heading there?