An Elephant Learning Experience + Walking with Giants
After three days in Chiang Mai, we headed north through Chiang Rai into the jungly landscape that sits at the crossroads of Thailand, Laos, and Myanmar. The aptly named Golden Triangle was once famed for its role in the opium trade but its renown has changed in recent years, with illicit drugs as a thing of the past and luxury tourism the order of the day. We settled into Anantara's Golden Triangle Elephant Camp, an Asian take on a luxurious safari camp experience that focuses on experiential luxury, with options that include everything from cooking classes and spa days to elephant experiences.
And let's be honest, you're not going to visit the Golden Triangle and not sign up for an elephant experience. The resort offers three different elephant-focused activities: the Elephant Learning Experience (ELE) which you might say focuses a bit on 'theory' and provides education on elephants, plus two more interactive offerings, the Walking with Giants Tour or the Mahout Experience (which includes riding elephants). We chose the Elephant Learning Experience and the Walking with Giants Tour, both of which can be done on the same day if desired. I'll address the whole riding with elephants debate below – I probed our educator on it – because it was a deciding factor for us when we chose the Walking with Giants Tour over the Mahout Experience. For those heading to the Golden Triangle wanting a bit of first-hand insight into what these experiences entail, read on. And first, take a glimpse into 30 seconds of our day:
The Elephant Learning Experience (ELE)
The elephant focused initiatives offered through Anantara are done through a collaboration between the hotel and the Golden Triangle Asian Elephant Foundation (GTAEF) to help educate not only tourists to the region but also the mahouts (the elephant's handlers) themselves. Anantara is integrally involved with GTAEF, not only the origins of the foundation, but also in providing the elephants a safe space, in providing mahouts and their families a sustainable livelihood, and in supporting the idea of wildlife tourism in an ethical way. GTAEF focuses on the livelihood of captive Asian elephants in particular. In an ideal world, all elephants would be wild, but in reality there are more elephants in captivity in Northern Thailand than elephants roaming wild: about 3,000 elephants live in the wild, while 3500+ are in captivity. The reality is that as the human population has grown, there have been more human-elephant conflicts, which has changed the dynamics of where wild elephants can roam.
Anytime tourism involves wildlife, we should dig deeper to find the organizations that are doing it right. Our dollars can directly support organizations making a positive impact but on the flip side, they can also support organizations operating unethically. Anantara has helped set the stage for doing it right: they have a no breeding program, which means you won't find baby elephants at their camp, something that's done by design.
Our educator, Ou, has been involved with Anantara for a year as full-time staff but was previously an intern at the camp having studied elephants throughout her university life. That education led us here, to Anantara, where we sat perched up in a treehouse overlooking Pumpui and Dah, two female elephants, ages 17 and 40+ respectively, who had developed a sweet relationship during their time at the camp.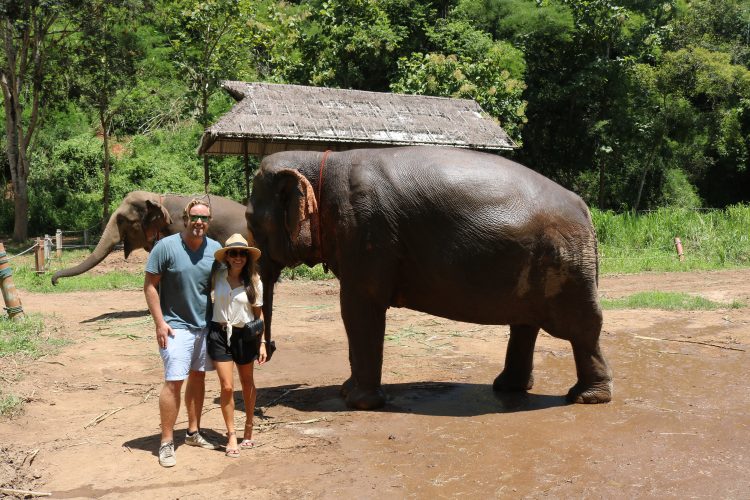 The majority of visitors sign up for an experience that involves elephant interaction (either the Walking with Giants or the Mahout Experience) but I'll say it here: I honestly think that anyone who signs up for an interactive offering should have to do the Elephant Learning Experience. Elephants are spectacular animals and there's so much for us to learn to truly appreciate interacting with them, and to also appreciate the work that goes into keeping elephants safe and healthy as part of these programs. The elephants weigh 3 – 4 tons each and consume about 500 pounds of food per day on average, which is about $18,000 of food each year. When you consider than an average Thai person makes about $7000/year, it'll make you think hard about that reality. The elephants are rented from the mahouts – GTAEF doesn't own them outright – which allows the mahouts to have a sustainable income, provides the best care for their elephants, allows for job opportunities for their families in the camp, and provides a safe living environment. This 'rental' arrangement also ensures that mahouts are educated about elephant care as well – so they can better understand and appreciate their own elephants – and provides guidelines so the livelihoods and care of their elephants is held to a standard.
It's all pretty spectacular but our appreciation of the entire day was heightened hugely by sitting down and learning with Ou through the ELE program. The first 75% of the ELE is theory; sitting, learning and observing outdoors, and the last 25% or so is assisting with feeding, giving the elephants water, and watching from a closer vantage point. There are a range of fun facts you'll learn (elephants sweat through their toenails, they have 40,000 muscles in their trunks, etc.), but perhaps more importantly, it also gives you a forum to chat with the camp leader to dig deeper. My digging deeper was regarding the practice of riding elephants.
Is riding elephants bad?
I was interested to hear what a professional had to say about the topic. Ou had just presented a study that showed that elephants sustained more stress being observed than when being ridden bareback. Could that be? I specifically chose the Walking with Giants Tour (profiled below) because I was adamant that we would not support elephant riding, but as it turns out it's not riding elephants in and of itself that's inherently bad; it's supporting organizations that mistreat and overwork their animals that is the root of the issue.
And when we think about it, that makes total sense. I didn't personally feel the need to ride an elephant – I'm happy to observe and watch them in action – but the crux of the conversation is really how elephants are treated in captivity. A 150 pound person is about 0.5% of a 3000 pound elephant's body weight; it's not exactly what we'd call back-breaking, but our bigger concern is breaking elephants in (specifically the use of hooks has been highlighted by most animal rights groups), how many hours per day they're working, and their overall quality of life. Perhaps the wrong way to look at it is by assuming an organization that doesn't offer riding is inherently good (they could still be mistreating and overworking animals); and that an organization that does offer riding is inherently bad (Anantara for example, still offers their Mahout Experience). The conversation goes deeper than that and the situation is more complex.
There's been a decline in Americans (and much of the Western world) choosing to ride elephants (Ou mentioned that there's an uptick in the Walking with Giants tour and a bit of a downturn in riding), but there are still many tourists that come in for a photo op and little more. But if you're going to visit Asian elephants on their home turf, you're hopefully looking for more than a zoo. It's an opportunity to learn, to engage, to appreciate, and hopefully to support organizations making a positive impact. The absolute most important thing is to do your research and support the camps that have a reputation for treating their animals with care, providing a sustainable livelihood for mahouts, etc. The reality is that supporting organizations who are doing it right likely means forking over more money for the experience but that's often the reality. Our dollars speak for us in the tourism industry, and it's really our job as tourists to support organizations doing the right thing and to be conscious about not supporting organizations that are exploiting and mistreating animals.
We spent the final time of our ELE watching Pumpui and Dah play, eat and roam before heading back for lunch. Next up: our time to observe the elephants up close as we walked with them through the jungle.
Walking with Giants
Our Walking with Giants tour was also led by Ou along with a volunteer veterinarian joining from Mexico. In terms of attire, you're not trekking through particularly difficult terrain so tennis shoes or even sandals with a decent grip work. We trekked with four elephants: Beau, Jathong, Mae Moo, and Pluem, all ranging in ages and sizes. Mae Moo was into her 50s (!), and Beau – the biggest in the bunch – clocked in at 4+ tons.
There aren't really many rules when it comes to walking with elephants except for the fact that you should stay on the opposite side of their food sources, and you should steer clear of grabbing their trunks. The goal is really observation and the tour gives visitors a good opportunity to see the elephants interact with one another through play.
We stopped along the way to give them water, which they slurp up through their trunk, and roamed in the jungle for about an hour and a half before the elephants decided to take a dip in the river. The mahouts join on the walk to help if there's a need (e.g. an elephant gone rogue). For any animal lover, the Walking with Giants tour is a pretty special experience that will make you appreciate wildlife even more. Our excursion took place from 1:30PM – 3:30PM following lunch for the perfect end to a day.
You can learn more about Anantara's Elephant Encounters online, and their team will guide you through timing your schedule when you book your stay with them. For those interested in sponsoring an elephant with the Golden Triangle Asian Elephant Foundation, you can learn more about the organization and their work here.
---
Would an elephant encounter in Thailand be on your wishlist?