Chiang Mai has ranked amongst Asia's most popular cities for years and it's hardly undiscovered. The city is part of a well-trodden trail that skews towards the backpacker lot, which is quickly noticeable with the restaurant/tattoo parlor/massage parlour trifecta that seems to dominate every street. Previous visitors told us to think of Chiang Mai as a city, not a quaint town, and that's wholly accurate. That said, with three days in Chiang Mai there's an opportunity to quiet your mind amidst the chaos and to enjoy the contrast of luxurious moments and culturally unique experiences. We based ourselves at 137 Pillars House, a fabulous boutique hotel that sits just across the Ping River from Chiang Mai's Old City. For us, being slightly removed from the city center was the right choice; we were able to melt into peace and calm but also close enough to walk to town or take a quick tuk tuk ride in. Have three days in Chiang Mai like we did? Here's how we enjoyed a dose of the city center and opportunities to explore beyond the typical.
Day 1
Old Town Chiang Mai + the Night Market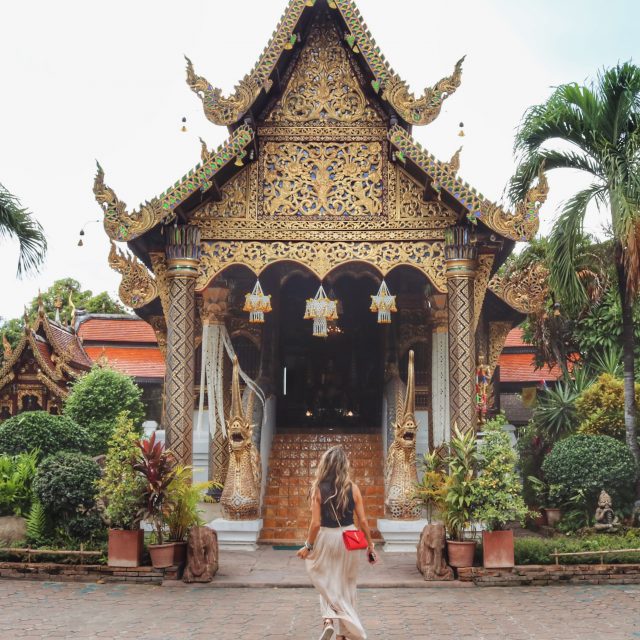 On your first of three days in Chiang Mai, you'll want to set out to explore Chiang Mai's Old City and some of the center's top draws. Chiang Mai was once part of the Lanna Kingdom, and for those unfamiliar with Thai history, you'll have a chance to learn a bit more about this region and the city's role as the former capital. For those wanting to explore the city's spiritual side, you'll be excited – if not a bit overwhelmed – to know that Chiang Mai broadly is home to 1300 temples. The most famous in Chiang Mai, Wat Doi Suthep, sits in the hills beyond the main city center, but we'll save that for Day 2. Within the city, walking distance or a short tuk tuk ride from your hotel, you'll find plenty of temples in the Old City to pique your interest.
Ladies, a quick note on attire and expectations in temples in Northern Thailand and a few general notes on temple visits:
Shoulders and knees must be covered to enter temples so plan on either a) dressing accordingly or b) packing accordingly if you plan on going inside religious spaces. I kept a scarf and sarong with me at all times so I could easily transition from city wear to conservative clothing when needed. Sarongs/wrap around skirts are available for a few dollars in Chiang Mai and besides being functional, make a great souvenir from your stay.

Women aren't allowed in the Ordination Halls in many temple areas in Northern Thailand. This has less to do with Buddhism and more to do with Northern Thai tradition. Due to women's cycles historically being perceived as unclean, women weren't allowed inside and that tradition continues today. If you're not with a guide, keep your eyes peeled for signs that say 'No Women Allowed' or 'Men Only' so you don't violate any local customs.

Shoes must be removed to go inside temples, and you'll see signs noting where to leave them before entering. If you enter a temple, you'll see people kneeling inside. If you're planning on sitting inside – not just taking a quick peek – follow suit. Your feet shouldn't face the Buddha image when you're sitting so kneeling or sitting with your legs to one side is acceptable. If there is a monk inside, you may see him sitting on an elevated platform. You're intended to kneel or sit – to generally lower yourself – as a sign of respect.
---
As far as temples in Chiang Mai are concerned, we visited a handful in town to see a few styles. Wat Ket (pronounced 'Wat Gate') near our home base at 137 Pillars House, was our first temple of the trip and I found it utterly beautiful to see up close. If time permits, the two temples/sites in town that wowed us most were Wat Chedi Luang and the Silver Temple.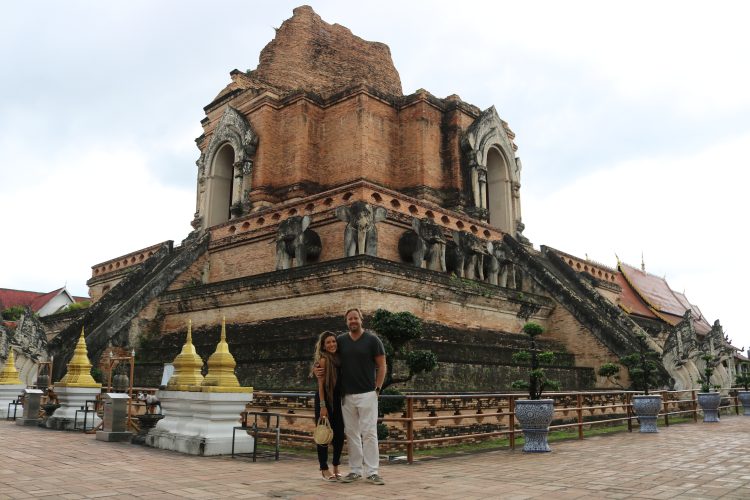 And let's be honest – temple fatigue is a real thing. The same is true after seeing a plethora of stunning cathedrals in Europe. The first few are jaw-dropping and then they start becoming a bit more of the same. That's not downplaying the fact that they're spectacular in their own ways, but it's the reality of how our brains work as human beings. That said, I'd say prioritize a few that you want to see and don't feel like you need to see everything in the city.
Beyond temples, you'll have opportunities to take in some cute boutiques and buy some local crafts if you're so inclined. I purchased some great lightweight pants (perfect for temples as well; about $7 for the pair), some bright jewelry, and a few gifts in town during our stay.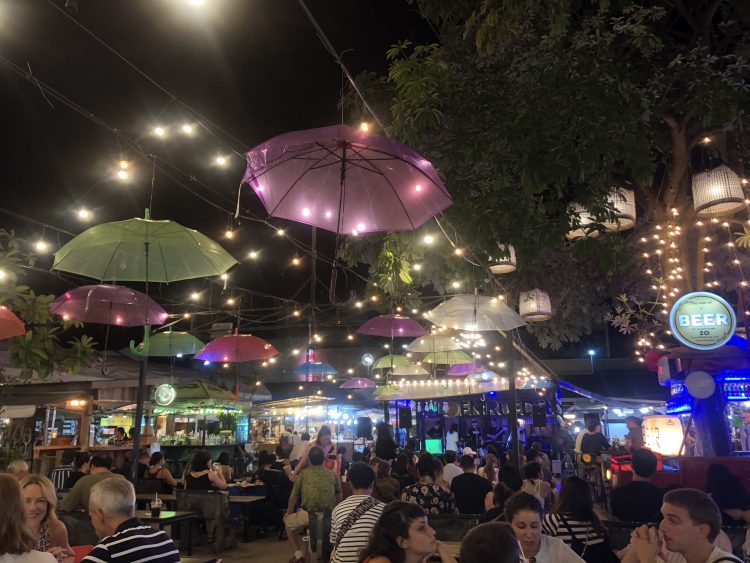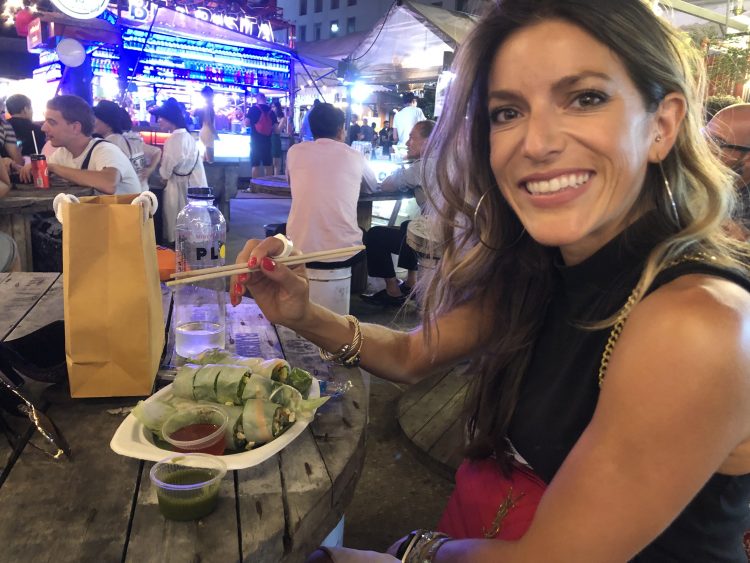 By night, it's time for the Night Bazaar, the perfect destination for shopping and for dining on your first night. The Night Bazaar surprised me in a good way; it's more formalized than I expected, with a number of markets intertwined, each section offering food, music, and an array of goods for purchase. For dining, we headed to Ploen Ruedee Night Market, where a range of market stalls are set up to allow you to choose your cuisine du jour. Local fare is prominent but you'll also see a Mexican stall, Chinese food, Korean, and others. In our experience, the food was great and your concerns about eating street food aren't as strong here. That said, be smart about your choices: steer clear of ice in drinks if you think the establishment seems a bit rustic, or any stalls that have meat sitting out for hours. Local stomachs may handle it without issue, but yours will probably revolt.
Besides dining, the market stalls are fabulous and so fun to explore! It's what you'd expect: a few handmade items, a ton of items probably imported from China, plus an endless supply of elephant pants. We purchased a handful of items from the market; a fun way to buy some local goods and support local vendors.
Day 2
Explore Beyond the City
You've explored Chiang Mai's Old Town and experienced the Night Bazaar, so day two is about exploring beyond the city center. We hired Nid, a Chiang Rai local and private guide, to take us into the mountains to see the Hmong Hill Tribe for a take on local life for a smaller population. About an hour's drive into the heavily forested mountains, we ventured off onto some dirt roads before arriving at a small Hmong community with a primary school, a local market, a few coffee shops and not much beyond that. Despite being a small population, the primary school system impressed us: kids neatly in rows learning not just Thai, but also English at a young age.
Following our morning with the Hmong Hill Tribe, we headed down the mountain to Wat Doi Suthep, Chiang Mai's most famous temple. Our guide assured us that if you were to see only one temple in the region, Doi Suthep is a priority since it carries the most significance of any of the temples in Chiang Mai; a lofty statement considering there are over a thousand.
Legend has it that the sacred white elephant chose this spot for the temple, which is why it carries sacred significance. Beyond the tradition of it, there's no doubt that Doi Suthep is spectacular. There are a series of steps – a few hundred – leading up to the temple, but a tram/lift exists for those with mobility issues (I didn't see it personally but asked about whether one existed). With its location on the hill top, it's no surprise that the vistas are part of the draw in this location, with sweeping views of the greenery and city below. The temple, covered in gold leaf and dotted with many Buddha images, is truly a beauty. Give yourself about an hour to meander, take in the views and enter the temple.
In the afternoon, revisit the Old City or enjoy a bit of R&R at your hotel before dinner. For dinner, choices abound but for those wanting true local flavor, you may want to steer clear of restaurants geared towards Westerners. We visited Dash on our first night which was lovely but felt a bit sanitized for a foreign audience. We preferred destinations like Nun's Restaurant, which brought great Thai flavor in a much more local setting (not great for those that are looking for more of a white tablecloth experience). 
Stay tuned for more about our day exploring beyond Chiang Mai's Old Town, plus deets for our guide in case you want to try the same route! 
Day 3
Spa Day + Spiritual Connections
With three days in Chiang Mai, you've allocated enough time to enjoy a spa day, and I'd argue that at least a short spa experience or massage should be on your radar. It's indulgent and relaxing but it's also affordable compared with Western standards and it's part of Thai culture. We spent our morning at Zira Spa for the two and a half hour Lanna Journey, which included a 30-minute foot massage, a one-hour Thai massage and a one-hour traditional relaxing massage (about $85 per person). Yes, you can find extremely inexpensive options in any alleyway but as with anything, you get what you pay for. Resorts will generally charge resort pricing (similar to what you'd pay in the US or Europe) but there are a range of upscale spas in town that fall somewhere in the middle, providing reputable and luxurious experiences at relatively affordable pricing.
After our morning of pampering and lunch in town, we revisited Wat Chedi Luang where we had noticed monks congregating for 'Monk Chat'. We'd done a fair bit of research on Chiang Mai prior to our trip but I hadn't read a single thing about opportunities to really interact with monks in the city. The monk chat concept is simple but rather progressive in some ways: tourists have the opportunity to engage with monks and ask questions about religion, monk life, local customs, etc. In turn, monks have the opportunity to practice their language skills and engage with interested laymen. Right near the temple in town, you'll see signage and a covered space where monks have settled in, either chatting with visitors or working on their own self-development.
We approached and settled in with a group of four monks; two of which spoke great English and felt comfortable enough really engaging with us and answer questions confidently. At the beginning of our journey through Southeast Asia, I purchased a book on Buddhism to better understand the religion/philosophy that anchors the region. The more we learned, the more questions I had, so we engaged in an interesting and polite dialogue with the monks, who enlightened us, explaining some aspects of Buddhism that we didn't understand, but also explaining life in a monastery, how long they'd been monks, what the future held for each of them, the benefits of education through the monastery, and a bit about their personal journeys. For anyone with a remote interest in Buddhism or just learning a bit more about monk life, I'd highly recommend taking advantage of the opportunity to sit down for a few minutes (we spent about 20 minutes with them) to chat. It's often hard to think of monks as one of us; as regular people with lives of their own, with cell phones and computers. Our chat allowed us to chat with them and laugh with them, not just as teachers but as people. At the end of the day, isn't travel about broadening our horizons and perspectives?
If you have just three days in Chiang Mai, this will be your final afternoon and evening in the city so finish up your souvenir shopping and enjoy a bit of time decompressing after a day of physical and mental wellness. For dinner, don't miss your final evening of Northern Thai delights with fan favorites like Khao Soi, Thai sausage and mango sticky rice. 
---
Chiang Mai is a large region that goes beyond the Old City and regions I mentioned above, but if you're a first timer to the area with just three days in Chiang Mai, a mix of temple visits, R&R, and some excursions beyond the city provide a great primer on the region. During one of our chats with the manager at 137 Pillars House, we discussed how people tend to over plan these trips, with a day-to-day itinerary that's so jam-packed that it doesn't allow for time to just be. Even with our rather on-the-go schedule, we still had time in the afternoons to relax in our room, read or enjoy a leisurely drink at the bar. So, while it's tempting to want to see every temple and cram in everything on offer, I think a visit to Chiang Mai is arguably most enjoyable if you prioritize a few select things and allow yourself a bit of flexibility to take in new unexpected sights and experiences.
Note: All that said about not spreading yourself too thin, I should also note that we spent three nights in the Golden Triangle following our time in Chiang Mai. which allowed us to really delve into the elephant education and elephant experiences on offer in Northern Thailand. If you're not visiting Chiang Rai, your three days in Chiang Mai may also include a day trip to an elephant sanctuary for a bit of wildlife education and an opportunity to see elephants up close. In that case, you could scrap the spa experience and enjoy monk chat on your visit to Wat Chedi Luang to open up a third day.
What would you put on your agenda with three days in Chiang Mai?