During our month in Southeast Asia, Vietnam was really the core of our trip, and it was positioned right in the middle of our time in the region. We started with Northern Thailand and Laos before heading on to Vietnam, and we capped off our trip with time in Cambodia, which left us on a high. We had just about two weeks in Vietnam in total; enough time to enjoy a brush with the country's major cities and top draws, but still at a pace that kept us on the move a bit (just two to three nights in each destination). You could easily spend a month in Vietnam using this same itinerary, adding in a few other smaller destinations along the way. With our itinerary edited down to allow us to spend a month taking in the region's highlights, we prioritized what we believed to be our top draws in the country as first-time visitors. Below I'm sharing our itinerary for two weeks in Vietnam, plus my thoughts below on what we would have done differently.
Day 1 – 3 // Hanoi Introduction to the Vietnamese Capital
Hanoi, the capital of Vietnam, is known for its colonial architecture, its rich culinary heritage, and its Southeast Asian and French influences. The city has been Vietnam's capital for a thousand years with the exception of a brief period where Hue took the title, but it's largely considered a must-visit for first-time visitors to Vietnam. At the heart of Hanoi is the bustling Old Quarter which brings the chaos that's largely expected from a developing city. With nearly as many motorbikes as residents, the art of navigating the city streets in Hanoi is practically a national sport. To be totally honest, Hanoi wasn't my favorite destination but that's a very personal assessment. Many (many!) people had raved to me about the city, finding beauty amidst the chaos. In part, I think more time is required to work past the chaotic elements and find the charm and peaceful enclaves of the city.
DAY 1: EVENING EXPLORATION // We arrived in Hanoi in the evening, after a rather arduous immigration/visa process at the airport. It's worth mentioning that while Vietnamese visas are available upon arrival (you must arrange the paperwork in advance, and can use a company like iVisa), you should be prepared for a long wait when entering the country. We thought having paperwork prepped would mean a quick entry but we waited at least an hour to have our visas processed at the border. By the time we made it to our hotel in Hanoi we had time for a quick stroll near the lake and an inaugural bowl of phở to kick off our time in Vietnam. We happened to arrive on a Friday when the area near Hoàn Kiếm is pedestrianized for locals and tourists to wander in the evenings. If you're there on a Friday or Saturday evening, you'll be able to take in the market stalls and local happenings.
DAY 2: WALKING TOUR AND CITY DISCOVERY // We'd originally not had any plans for our first full day in Hanoi but after our brief brush with the city on our first night, we decided a guided tour may be useful. We found a free tour rather last minute which, to be honest, was one of the worst tours we've ever done – a stark reminder of why planning these things in advance is important! Luckily it was only a half-day so we had the remainder of the day to explore on our own. That said, I think a tour is a valuable idea to better understand the layout. Free walking tours of Hanoi are readily available for a deeper dive into the history, especially where the Old Quarter is concerned.
DAY 3: FOOD TOUR THROUGH HANOI // No trip to Hanoi is complete without delving into the famed food scene of northern Vietnam. Cuisine differs throughout the country and specialties change as you work your way down the coast. To get a feel for the food of the north, we joined Hanoi Street Food Tour, with a guide named Moon, who was very entertaining (though her jokes are not for the more conservative folks out there). The tour left us pleasantly full and educated on Hanoi's food scene. We tried a range of specialties – including many that don't make appearances on Vietnamese menus in the US – and they had no issue ensuring that I had meat-free options at most everyplace along the way.
Day 4 – 6 // Ha Long Bay + Bai Tu Long Bay World Heritage at Sea
Halong Bay and Bai Tu Long Bay bring a peaceful element during tranquil days at sea admiring Vietnam's stunning karst landscape. Choosing a small boat is key for a wonderfully intimate experience, and it's a great way to meet travelers from around the globe who are exploring the region. The most sensible way to reach Halong Bay is via Hanoi, which is one of the main international entry points into Vietnam. Most cruises included pick-up from Hanoi with a shuttle to the Halong Bay Cruise Port, some three and a half hours drive.
DAY 4 – 6: HALONG BAY + BAI TU LONG BAY // On good authority, we'd heard that we should opt for a two-night cruise over a single night experience so we took heed and were very happy with that decision. Not only is one night really just too rushed, it only allows you to see Halong Bay, the more trafficked of the two areas. Bai Tu Long Bay requires a two-night cruise which means fewer boats head out that way and the experience is more tranquil. Plus, you'll end up with a couple of nights on board Wifi free, which can be a nice respite from the connected world that we typically live in. In three days/two nights, we explored by kayak, wandered through caves, and enjoyed many wonderful meals with a view, including a great beach BBQ that absolutely wowed us. Read about our experience exploring Halong Bay and Bai Tu Long Bay with Indochina Junk.
Day 6 – 9 // Hoi An Central Coast Gem

From Halong Bay, we headed to Cat Bi Airport with a transfer service pre-arranged by Indochina Junk. We left the cruise a bit early (most passengers were headed back to Hanoi), and Cat Bi is the closest airport to the Halong Bay Cruise Port for the onward journey. The drive took us a bit over an hour and the airport was a total breeze for us as they deal with domestic flights only. Our original flight was delayed and Vietnam Airlines even got us on an earlier flight with zero hassle. We flew to Da Nang, which is the entry point for Hoi An and cabs are readily available upon exiting the airport. Hoi An was undoubtedly my favorite city in Vietnam. It's a gorgeous and peaceful enclave that is well-maintained. While the increased tourism in Hoi An has recently become a point of contention (part of the conversation around overtourism), we found it pleasant and far from overrun when we were there in late September.
DAY 6: ARRIVAL + MARKET EVENING // We arrived in Da Nang as the sun was setting on the coastline and made our way to Hoi An, where we were based for three nights at a boutique hotel called Little Riverside set walking distance to Hoi An's main tourist hub. We started our first night by visiting the night market and taking in the stunning riverside with the boats peacefully gliding down the water with visitors in tow. The evening market is perfect for an evening bite or full meal, with plenty of options for picking up some local souvenirs from market stalls along the way.
DAY 7: CITY EXPLORATIONS // Our first full day in Hoi An was spent exploring the charming town on foot. For those that love to shop, this is a shopper's paradise! All of those cute bohemian bags you've been eyeing online for $75 – $100 a pop? Yeah, you can find one in Hoi An for a fraction of that, along with fun jewelry and great custom-made clothing. During our three days in Hoi An, I had about a half-dozen pieces custom made with a local tailor (read my first-timer's guide to tailor-made clothing in Hoi An for some direction and inspiration). That evening we dined at Ngon Villa for a de facto tasting menu to give us a chance to try a range of specialties. There are plenty of opportunities for upscale dining experiences (like Ngon Villa) but we generally found that more downhome spots and hole-in-the-wall offerings provided the best and perhaps most authentic taste of Vietnam at extremely affordable prices.
DAY 8: A COUNTRYSIDE BIKE TOUR // Our final day in the city allowed us a memorable morning cycling the Hoi An countryside with Grasshopper Tours, which was a wonderful highlight from our time in the region. If time permits, beyond exploring the charming town of Hoi An there are a medley of treats in the countryside and ample opportunities to take a glimpse into the life of local artisans producing everything from sleeping mats to homemade whiskey. For us, it was the perfect way to wrap in a bit of exercise in an engaging way. We rounded out the afternoon with a banh mi taste test and a bit more shopping in town. Unable to choose how to spend our final evening, we effectively opted not to choose, instead going for the classic Scott and Shannon appetizer crawl, visiting a number of restaurants along the streets of Hoi An for a drink and an app. Don't miss the beauty of the waterfront at night!
DAY 9: A FINAL MORNING // Our final morning in Hoi An provided us a few hours before we had to say goodbye. Our flight to Saigon/Ho Chi Minh City was at 3PM, which called for a transfer to the airport at around 12:30PM. We spent our final hours meandering the city with a Vietnamese coffee in hand, taking in a few final storefronts and the beauty of the town, with its lanterns strung along alleyways. Hoi An was the hardest to say goodbye to of the cities we visited in Vietnam. If you're planning an itinerary and trying to figure out how many days to allocate here, give yourself at least three.
Day 9 – 12 // Saigon Vietnam's Ultimate City Fix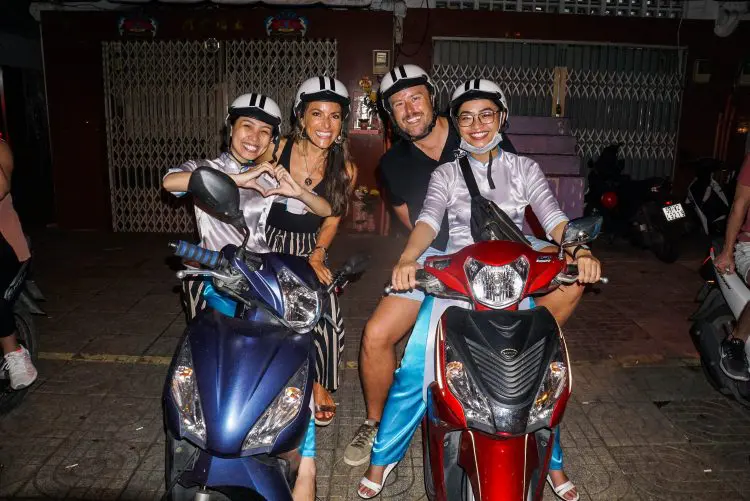 Hanoi and Ho Chi Minh City (formerly Saigon) are vastly different creatures. Going in, I didn't know how to characterize one vs. the other having not visited first hand. Many tout Hanoi's character and find it more of a draw than Ho Chi Minh's modern edge but I personally preferred HCMC. What it lacks in character it makes up for with some hip offerings. Despite a larger population and more motorbikes on the road, it felt less chaotic to me and more like a managed large city. 
DAY 9: ARRIVE IN SAIGON // Our mid-afternoon arrival into Ho Chi Minh City left us time to settle in to our room, clean up, and head out for a night in the city. With only two nights to enjoy Saigon's city fix (our final night was already accounted for), we wanted to get in as much as possible as far as hip rooftop bars and dining hotspots were concerned. We ended up crafting another appetizer crawl, with stops at a rooftop bar, a posh restaurant and a cool hipster spot for contrast.
DAY 10: CU CHI TUNNELS + WAR REMNANTS // For our first full day in Ho Chi Minh City, we wanted to get in the historic musts that the city offers: the Cu Chi Tunnels plus the War Remnants Museum. We opted to go to the Cu Chi Tunnels by boat based on recs from others who'd visited and I think that was the right move. The boat ride takes about an hour but is a much more unique and enjoyable offering than sitting in traffic in a bus. More upscale boat offerings will cost around $85 per person, like the one we did with Les Rives. Following our morning at the Cu Chi Tunnels (allocate a half-day for this), we spent a portion of our afternoon at the War Remnants Museum which is incredibly moving and very interesting to explore, especially as an American visitor.
DAY 11: EXPLORE SAIGON + XO FOOD TOUR // I worried going in that we wouldn't have enough time in Ho Chi Minh City. I was wrong. Two nights is enough to explore the main sights and get a feel for the city. It's more modern than Hanoi but there's not a ton of 'musts' on a visitor's list beyond a few historic sites and museums, plus some dining. The highlight of our final day – and one of our highlights from the entire trip – was exploring Saigon's food scene on a motorbike with XO Food Tours. If you're in HCMC, it's an absolute must. Truly one of the best tours we've ever done. Carve out about five hours and go in hungry!
DAY 12: DEPART SAIGON // We departed early (about 8AM) for our onward journey to Cambodia. The Saigon airport has relatively good flights and connections for onward travel to a variety of Southeast Asian cities. Goodbye Vietnam!
---
Tips + Takeaways for Crafting an Itinerary for Two Weeks in Vietnam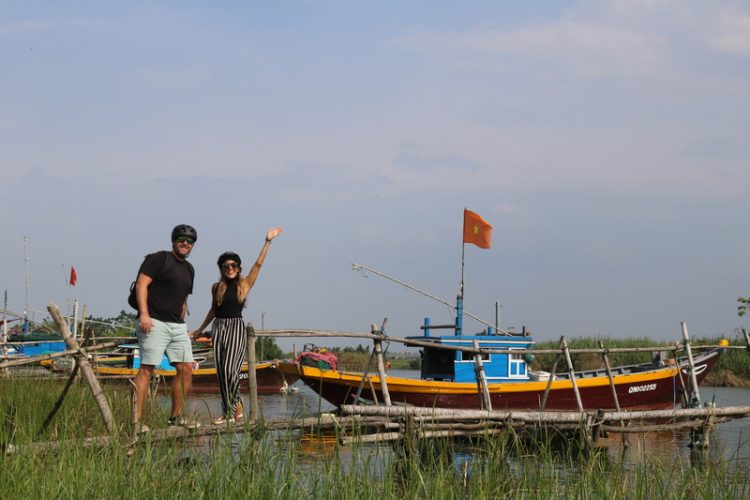 TRY TO ARRANGE FOR MORE TIME AWAY FROM MAJOR CITIES: I generally enjoy being a buzzy city but I found Hanoi and Ho Chi Minh City a bit chaotic for my taste.  If it's your first time, visiting Hanoi and HCMC are musts so you can decide for yourself, but I'd generally advise carving out more time for places like Hoi An, Halong Bay, and perhaps even areas like Ninh Binh, Sapa, or Dalat which people speak very highly of. With two weeks in Vietnam, we didn't want to spread ourselves too thin and ended up sticking to a traditional first-timers routing. We caught glimpses of so much natural beauty and charm in Vietnam… if we were to return, that's where we'd likely focus more of our time.
PREPARE FOR A CULTURAL CONTRAST WHEN COMING FROM OTHER PARTS OF SOUTHEAST ASIA: I found our entry into Vietnam a bit of a sharp contrast coming from the peaceful zen of Northern Thailand and Laos. Going from Vietnam to Cambodia just emphasized this once again. There's a true calmness and spiritual aura around Luang Prabang and Siem Reap. When cities like that bookend your time in Vietnam, you're sure to notice a difference in people's approach and the overall feel in the destination's vibe. People were friendly enough in Vietnam but less warm (for lack of a better description). While these countries are adjacent to one another, their histories and religious approaches differ, which give each a distinct feel.
ADD-ONS: If you have more than two weeks in Vietnam and are able to include another Vietnamese city or area, there were a few other parts of the country that piqued my interest: Ninh Binh, often referred to as Halong Bay on land; Sapa, a city in the northwest which looks over stunning rice terraces; and Dalat, Vietnam's 'City of Eternal Spring', touted for its natural beauty. For history lovers, you may also want to consider a trip to Hue, the former capital which can be visited from Hoi An. Beach lovers, the Con Dao Islands, home to a Six Senses and once the domain of political prisoners, draws those looking for an island escape.
---
All in all, I liked Vietnam, but I think I'd really like it on a future trip with a few new stops introduced and the larger cities removed from the itinerary. Vietnam is naturally stunning and for many visitors with limited time, the nature-focused pieces don't get to play as much of a focal point as they could. For first-timers, a Halong Bay + Bai Tu Long Bay trip is worth being on your radar, and Hoi An is the one place in Vietnam I would continue to put on my itinerary for repeat visits. I also think that visiting some of the historic sites in Ho Chi Minh City – especially as an American – is great for gleaning a bit of insight into the Vietnamese perspective on some of our shared history.
What would be on your itinerary for two weeks in Vietnam?