Discovering one of Vietnam's treasures by water
The moniker 'Red Dragon' junk was beginning to make more and more sense as our journey through Halong Bay drew on. For all the research that I'd done for our one month in Southeast Asia, I realized that I hadn't really dug all that deep when it came to Halong Bay. The legend of Halong and Bai Tu Long Bay form a beautiful tale that's still told today, one of dragons soaring through the sky to help the Vietnamese defeat their enemies, spitting fire which formed emeralds in the water. The emeralds were left behind to create a barrier, turning into the karst islets that exist today as part of the iconic image of Halong Bay and Bai Tu Long Bay.
It didn't take a legend of that magnitude to draw me in to book our trip with Indochina Junk. There was no doubt for us when we were planning our trip to Vietnam that we would do a Halong Bay cruise but everyone we'd encountered who had done the same highly recommend doing more than one night. We took their advice and booked a two night/three-day cruise with Indochina Junk to give us a day at the world-famous Halong Bay along with a day at the somewhat-recently opened Bai Tu Long Bay. If time permits, two nights is the way to go to really settle into the pace of life and take in the landscape and treasures that exist in the lesser-visited Bai Tu Long Bay.
The Boat ✧ Red Dragon Junk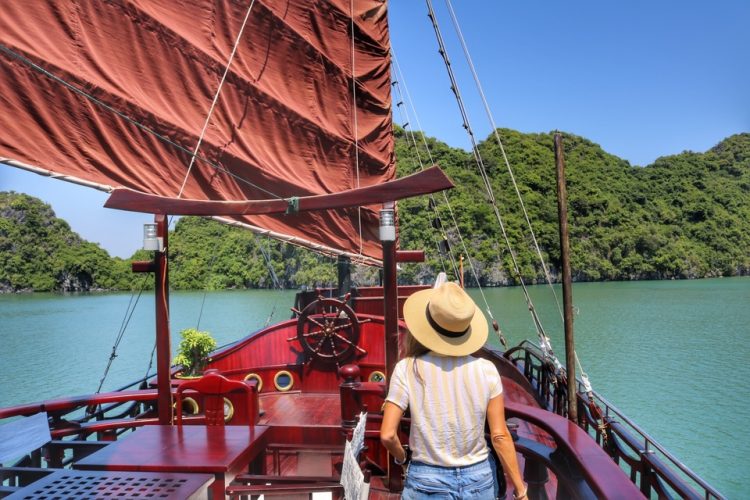 Indochina Junk offers a range of boats, from intimate experiences for two up to 24-cabin boats accommodating nearly 50 passengers. We always skew towards the more boutique experiences and this was no exception. We chose the Red Dragon Junk, a five-cabin boat that was filled during our voyage. Others who've cruised with Indochina may rave about their boats, too, but I truly felt that the size of our boat was absolutely perfect for this experience.
The cabins themselves are compact but well-appointed (what you'd expect from a small boat), and while we could have used a bit more space in the room, I was impressed with the size of the bathrooms and shower on board, all things considered. To be honest, this cruise – and cruises like this in general – aren't really designed for spending time in the room. You're out exploring regularly and the common spaces on deck are nicely designed to allow for comfortable mingling for 10 or so passengers plus crew.
Upstairs, there are essentially three common spaces: a covered dining space, where meals are shared family-style; a deck space equipped with about a half dozen loungers for sunbathing or reading; plus a smaller back deck space where you can sit and chat pre or post-dinner. Speaking of dinner, let's talk food for a moment. Food on board was well done and plentiful, and they were conscious about accommodating for dietary restrictions, which made it a breeze (no issues for my no-meat approach). They mixed up the cuisine during our stay while highlighting Vietnamese specialties, plus brought in an extra-special lunch experience which I've detailed in the itinerary below. Soft drinks, coffee, etc. are included in the package, but they also have bottles of wine available for purchase that you can enjoy throughout your stay.
There's WiFi on board, which I think is a rather top-secret fact as we didn't get the password until we were ready to disembark. Thinking on it, we never asked for the password, which was probably a blessing. We were on board to disconnect for a couple of nights and to connect with other passengers and with the region. We were fortunate in that friends of ours – a couple with their three-year-old daughter – joined the cruise as well, which was a fun dynamic for our time on board. I'm not sure it really dawned on any of us that we were even interested in needing an Internet connection. The itinerary, which I'm sharing below, is extremely well thought out and perfectly orchestrated so you'll be too busy exploring and taking in the bay views to even think about surfing the web.
The Itinerary

The itinerary was the real draw when it came to booking our cruise aboard Indochina Junk. We knew we wanted to include Bai Tu Long Bay, which requires a two night/three-day minimum cruise, and the itinerary that Indochina Junk proposed was perfect for our desired activity level and the time we had to spend in the region.
Day 1: Halong Bay + Sunset Kayaking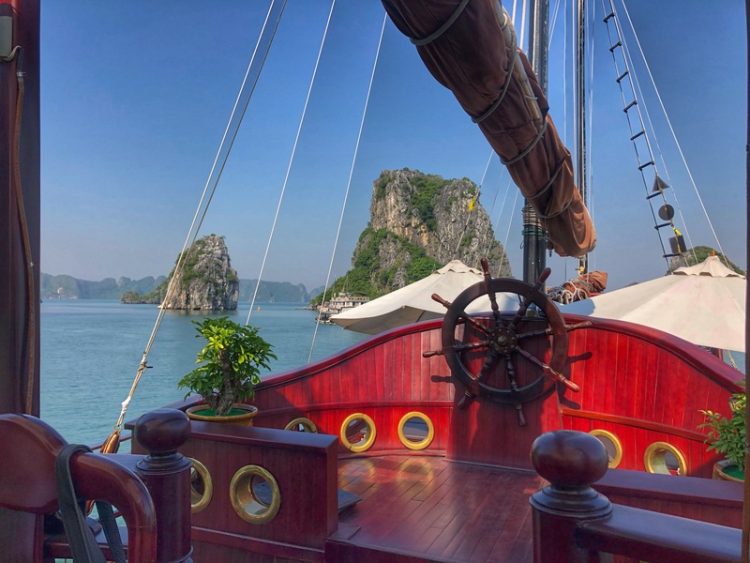 You'll start the morning with a hotel pick-up and head to the Halong Bay cruise port, which takes about three and a half hours. It's a journey but the van is comfortable and you'll make a quick pitstop along the way for a bathroom break or to purchase some snacks and drinks before your cruise. The check-in process at the Halong Bay Cruise Port is a breeze and the facility is a production. Halong Bay cruises aren't exactly unique in the scope of Vietnam and you'll see many people heading out on a variety of cruises. Many travelers go out for a single night cruise but after the long drive from Hanoi you'll be extra glad that you opted for a two-night itinerary.
Shortly after noon you'll check in with a welcome drink and a brief introduction before heading to your cabin to settle in. The cabins aren't large so if you're coming from Hanoi and returning to Hanoi afterward you may want to consider leaving the bulk of your luggage in the city at your hotel vs. bringing it on board. We had all of our luggage with us (for our monthlong journey) which made our quarters extra cozy.  You'll depart right away and the topography that you're expecting from Halong Bay starts cropping up around you almost immediately. As the cityscape subsides it becomes more and more jaw-dropping but you'll instantly be wowed if you're first-timers like us.
Lunch is served at around 1:30PM and is a quick way to get introductions started amongst everyone on board. With just five cabins, you'll become fast friends. The beauty of cruises like this is that they're rather self-selecting so we found that our fellow passengers were generally a very well-traveled and incredibly interesting bunch; the perfect people to share a meal and great conversation.
First stop: Cap Ja and Tran San, where you'll kayak around while the sun begins to set over Halong Bay. Bathing suits and shorts are perfect for this excursion, plus a waterproof camera if you can bring one! Our poor GoPro met its demise in Halong Bay on this very cruise (it fell overboard at some point on our second day), but we did manage to capture a few moments from our kayaking before we lost it for good. In my video (below) you'll see a few clips from our sunset kayaking expedition which was an absolutely perfect way to start the trip. We spent about 45 minutes kayaking roundtrip, with time to spend at the beach and enjoy the water for a bit before heading back to the boat.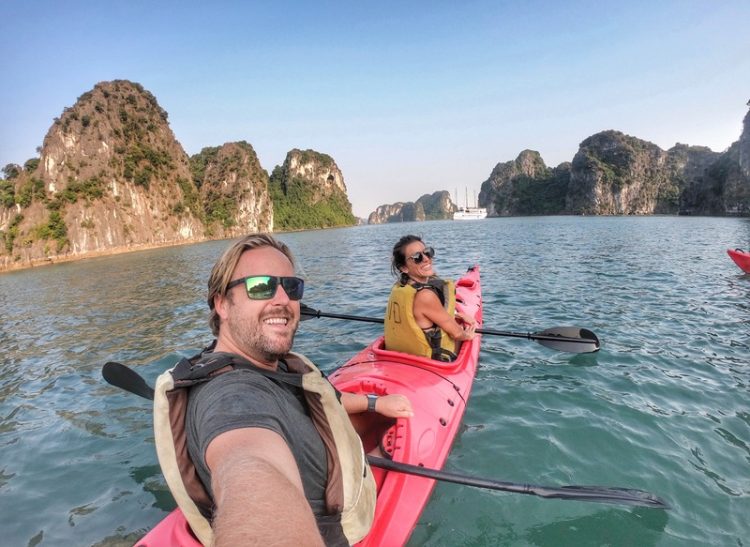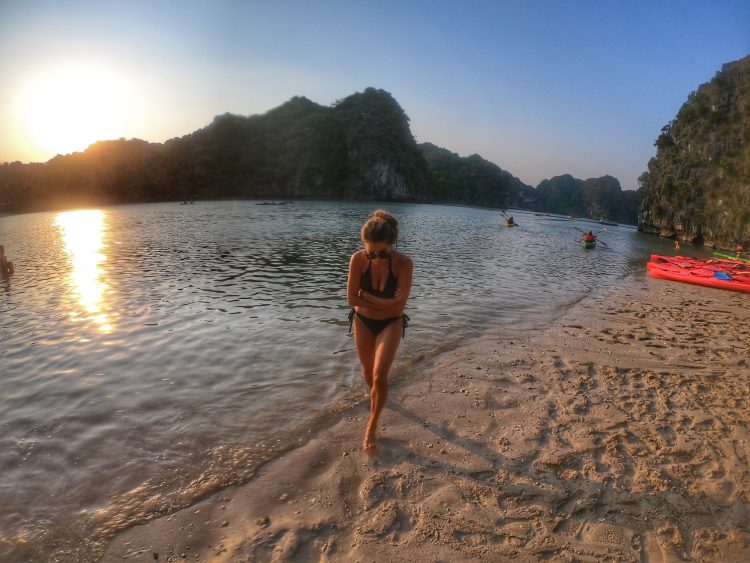 Dinner is served at around 7PM, which gives you time to get cleaned up and enjoy time on the boat beforehand. For most of us, this meant a glass of wine or a G&T with our fellow passengers prior to dinner. Our first night was a long one filled with conversation about travels around the world before we petered out one by one in preparation for the following morning.
Day 2: Bai Tu Long Bay, Beach BBQ + Thien Canh Son Cave

Two minutes in Halong Bay and Bai Tu Long Bay with Indochina Junk ??
Peaceful mornings are one of my favorite small pleasures in life, perhaps because I take the time to enjoy them so infrequently. Most of my mornings involve popping out of bed and immediately turning my brain on. Sitting down for breakfast is a luxury. Sitting down for breakfast on a boat in the open air while scooting through Bai Tu Long Bay is a next-level little luxury.
Breakfast is served at around 7:30AM. If you're someone that prefers a few extra moments of sleep to a second cup of coffee then, by all means, allow yourself some extra time. It's a no-judgment zone and it's your getaway so you can make your way to the dining table when you're ready. During our visit in September 2019, the season was really just starting again which meant we weren't seeing Halong Bay in the height of the thick crowds that descend in peak months. That said, there was still a difference in the number of boats we saw from day 1 to day 2. Bai Tu Long Bay feels less touched and more pristine in some way; it feels like you've taken the extra step and are rewarded for doing so.
The day begins with another kayaking expedition through hidden lagoons and the geological park towards Hon Co, a good way to get our blood flowing as we started another day on the water. This trip was slightly more active than the first day's expedition, an hour or so round trip from where our boat was anchored towards a tiny islet with a pretty stretch of beach, perfect for us to coast up and settle in for a few moments. The beauty of the cruise to Bai Tu Long Bay is that the additional time allows you to take in the landscape from the boat for a more panoramic perspective and from the kayaks, up close where you have a better take on the size and makeup of these islets dotted across the water.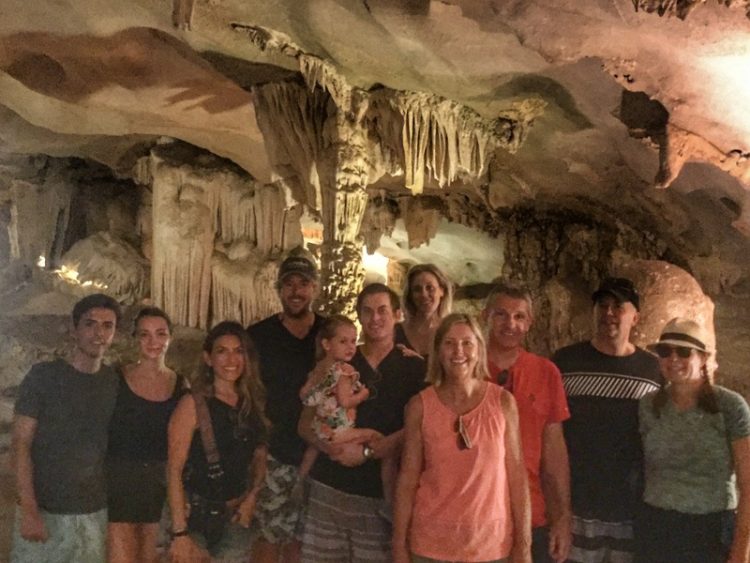 We continued to Thien Canh Son Cave on Cong Do Island, a cave formation set at the top of a series of stairs (flip flops are fine) where we explored the inner workings of the cave formation. As an aside, it brought us to the convo that the largest cave in the world was recently discovered in Vietnam and I can't help but be amazed that we're still discovering things like this. It gives us some additional inspiration that there really is still such a thing as 'off the beaten path' in today's world where it feels like everything's been uncovered. In recent years, operators like Indochina Junk could offer lunches or dinners inside Thien Canh Son Cave as part of their itinerary until the practice was recently banned. Instead, our cruise included something we collectively found even better: BBQ lunch on the beach.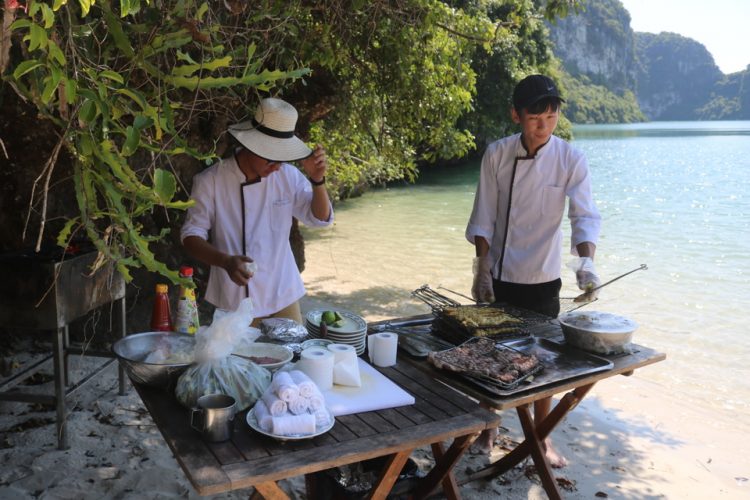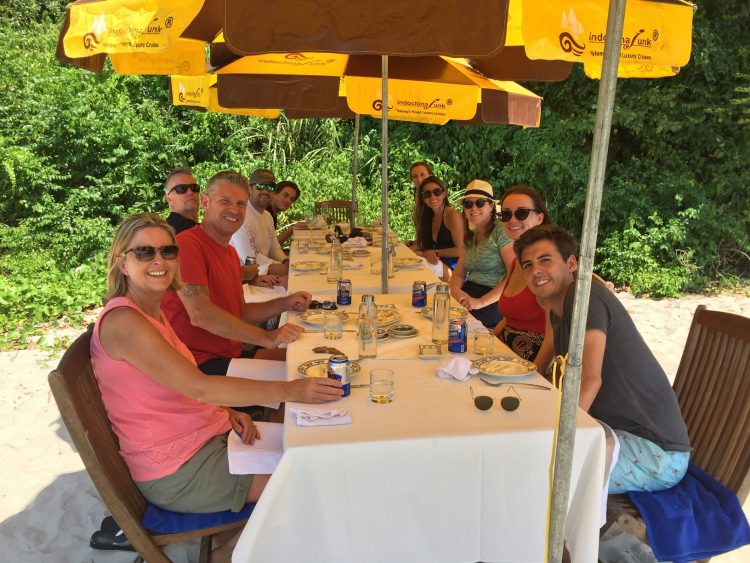 We motored to our lunch destination aboard the skiff and landed on a wild stretch of beach where it was just our group, plus the cooking team set up for the day's BBQ. My GoPro went overboard on this evening so my videos and so many photos from the day went with it — such a shame because the beach BBQ was one of my highlights from our two-night adventure. This was my first time in Southeast Asia but these rugged islets bursting with green and surrounded by the shallow crystal clear water are very much what I expected from the region. That vision that you have in mind of Ko Phi Phi and similar spots? This felt like that, minus the crowds. Just us, sitting in the shallows with glasses of wine, finding shells on the beach, and enjoying a wonderful lunch that felt perfectly crafted.  We spent time pre and post-meal just marinating on the sand, taking in the sun, chatting and swimming before heading back to the boat for our final evening on board.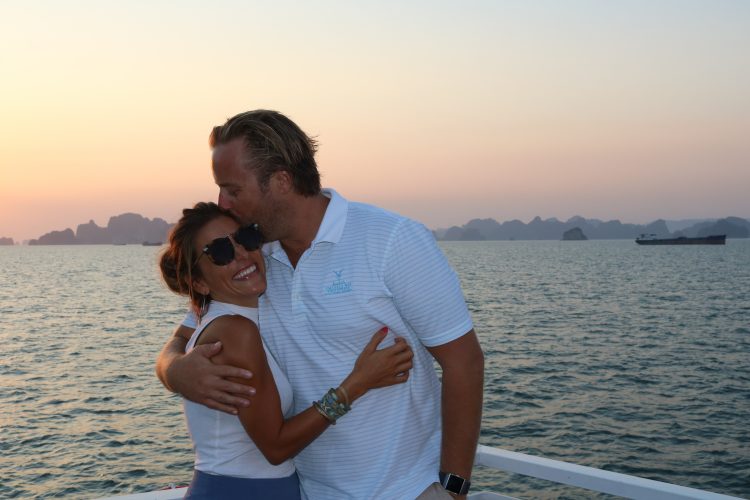 The final evening, as are all final evenings, was bittersweet. We enjoyed our final night together as a group, taking in the sunset from the back deck before having a fabulous final meal complete with our farewells and thank yous for the staff. Our team was led by a local man named Mr. T who was the absolute perfect guide and host along the way, but there's an entire team of behind-the-scenes staff on board that allow the few days on board to go off without a hitch.
Day 3: Vung Vieng Fishing Village + Disembark
Our final morning began with an early morning breakfast call for our final hours cruising back to the Halong Bay Cruise Port. Packed and ready for departure, we disembarked our boat after breakfast and connected with local villagers in the Vung Vieng Fishing Village to join them on their rowboats to tour the community and visit their pearl farming outpost.

We've seen similar communities in South America, seeming to survive on the outskirts of their broader communities, but nothing quite like this. I suppose as far as symbiotic relationships are concerned, this relationship between fishermen and their floating village is an example. Vung Vieng seemed like a particularly established example of a floating fishing village with 200 – 300 residents, nearly 100 of which are children. HIstorically the villagers' income was solely anchored in fishing but tourism has helped elevate and diversify their income a bit in recent years. The entire village is water-based but there are families with some modern amenities like radios and TV sets in their homes as well. Our boat tour included a mapped out routing, which ended with an opportunity to pick up some pearls from their pearl farm.
Vung Vieng was our final stop before an early lunch and our return to the Halong Bay Cruise Port. Those that continue back to Hanoi are collected by van and stop at a water puppet show on the way back to the city. Scott and I continued on from Halong Bay to Hoi An so arranged with the Indochina Junk team to have a driver at the cruise port to take us to nearby Cat Bi Airport for our departure. For those following a similar itinerary, their team was incredibly helpful with these arrangements and it made logistics a breeze when we were done with the cruise.
I should also say that of the experiences we've done like this (Nour el Nil on the Nile River comes to mind first), I think this was one of the best orchestrated and organized of our cruises. I'm a planner (I know, this is not news) and I like having an idea of what's in store for my trips. Indochina laid out for us what to expect on the cruise and they stuck to it beautifully, allowing us to keep our days filled but not in a manic way. I found it to be the perfect blend of peacefulness and activeness, which lent itself perfectly to the type of demographic that it seemed to attract.
Who's On Board?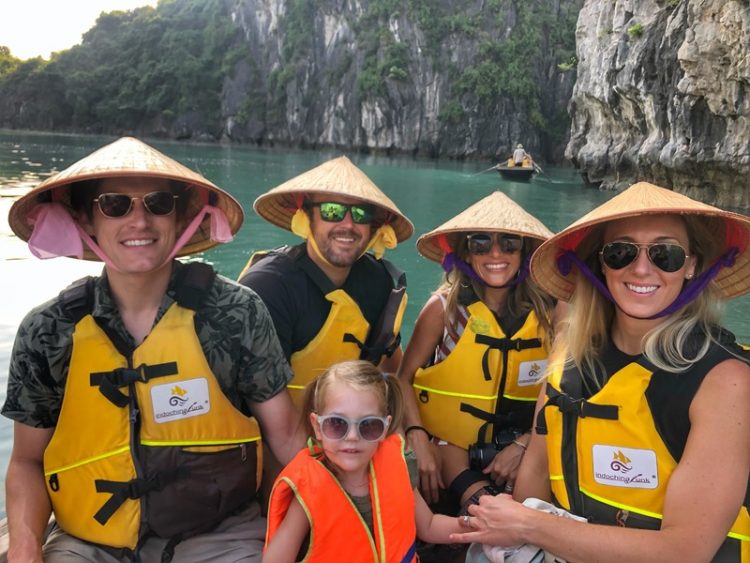 That brings me to the next piece of the puzzle when you're booking boutique cruises like this: who's on board the Indochina Red Dragon Junk?
If you've done cruises like this before, the passengers will be what you expect: that is to say, you can't have expectations because the groups vary wildly. Cruises like this tend to be a bit self-selecting. Those who choose the Red Dragon (just five cabins) vs. a larger boat likely prefer more intimate experiences, want something that feels even more 'off the beaten path', and I'd argue probably inherently skew towards the more social side. Smaller boats lend themselves to more personal interaction with your fellow passengers due to the design (eating family-style, sharing skiffs, etc.), which is something we rather enjoyed after traveling for weeks just the two of us.
Our cruise is perhaps a good example of the mixed bunch on board: besides Scott and I, there was another young couple – friends from California – with their three-year-old daughter, a young couple at university (at my alma mater, LSE!) in their very early twenties, a couple from the UK on their 20th anniversary, and a honeymoon couple in their late 40s/early 50s from Australia. Amongst the blend, we had a diplomat, a glass artist, an art journalist, a NatGeo photo editor, and others. Generally speaking, these types of cruises attract an interesting, well-traveled group and that's exactly what we experienced. We all meshed well despite being from different places and spanning a few decades.
And for families wondering how it is to travel with a little one? We were lucky to have a particularly well-behaved intuitive three-year-old girl on board but I think she may be a good indication of how well these cruises can work for young families with well-behaved children. You're in a confined space so even early bedtimes can be accommodated while adults are upstairs chatting since berths are just down a small flight of stairs. Not a single person on our cruise was put off by having a child on board; rather, the opposite. Everyone loved watching her see things for the first time and learn along the way, and staff seemed to love having a little one there, too.
Is This Cruise Right For You?
If Halong Bay has been on your dream Vietnamese itinerary, then adding Bai Tu Long Bay to the mix will up the ante for you in a great way. Is a cruise on Red Dragon right for you? Here's the low down on how this cruise compared with similar ones I've done in the past (you can read more on our Nile cruise with Nour el Nil, or our Amazon Cruise with Aqua Expeditions).
Bai Tu Long Bay is a highlight on this itinerary. There's a reason that Indochina Junk emphasizes that this two-day itinerary includes both Halong Bay and Bai Tu Long Bay. Halong Bay is a popular tourist destination and while Bai Tu Long Bay is growing in popularity, the reality is that many tourists still just do the single night cruise which solely visits Halong Bay. Getting out into Bai Tu Long Bay allows for a more off-the-beaten-path experience (as far as these still exist in the region) and more time to enjoy the natural beauty of the region up close.
Red Dragon is a boutique experience. Indochina Junk offers a range of cruises, which cater to different needs and preferences. If you prefer more anonymity and a larger boat, this isn't the fit for you. If, however, you're the type that likes the intimate feel of a small vessel and the ability to chat with other passengers, this boat is the perfect choice.
You'll explore beyond the ship. This is a moderately active cruise, with many opportunities for kayaking involved. I wouldn't say you need to be physically fit but you will want to be comfortably mobile to enjoy the opportunities to get out and enjoy the scenery by kayak, skiff, and rowboat.
The rooms are compact. Of the cruises like this we've done, our cabin on Red Dragon was probably the smallest we've had. It's compact, no doubt, but you're not spending a ton of time in the room besides showering, changing, and sleeping. The rooms are comfortably outfitted with a large bed, A/C, and a nice sized bathroom, but for those wanting an extra-spacious stateroom, there may be other boats in their fleet that provide the additional space.
It's a well planned out itinerary. If you're a planner like me, you'll appreciate this. The itinerary on this cruise was thoughtfully designed and very well planned out. Mr. T and his team were great about communicating our plans, letting us know what was next, giving us timing cues, etc. so the entire thing was filled with special moments but never felt rushed or overly active. For me, it was the perfect balance with enough going on to keep us busy and enough downtime to enjoy a glass of wine with bay views.
Indochina Junk prides itself on being a responsible company. I think we're collectively becoming more and more aware of our impact as travelers, and Indochina Junk is on board with this, too. They provide reusable glass bottles during the trip and plastic is collected when you check-in so there's no chance of plastic waste going into Halong Bay or Bai Tu Long Bay. They also help in sharing the benefits of sustainable tourism with local communities (like the fishing village) by introducing tourists into smaller areas.
---
So, would I recommend Indochina Junk? Definitely, but more specifically, I'd recommend Red Dragon in particular which I thought was absolutely the perfect size for this type of experience and a great value for what was included. If it's your first time to Vietnam, a trip to Halong Bay and Bai Tu Long Bay is a must for your itinerary, and the little extras and special experiences off the boat really make the overall cruise a wow.
PS. If anyone sees a GoPro floating in Halong Bay, let me know. ✌?
Have you been to Bai Tu Long Bay? What did you think?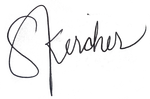 A big thank you to Indochina Junk for helping make this trip possible. As always, all thoughts, and photos – and video! – are my own and are genuine.