Vietnam had been at the top of my list when we began planning our Southeast Asia trip. The idea of it captivated me, and so many friends had come back raving about the country with its natural beauty and bustling cities. Our first brush with Vietnam was Hanoi, which I have yet to write about, and it was a city that didn't wow me as much as I anticipated. Generally speaking, I'm a city person – I love the energy and bustling quality of big cities – but I found Hanoi a bit more chaotic than I expected. It could have been the contrast between Vietnam city life and Laos' zen spirituality, which was a stark one. Our time at Halong Bay and Bai Tu Long Bay with Indochina Junk was just what the doctor ordered: a peaceful, nature-focused escape, then we were on to Hoi An, a city that's beloved by nearly everyone who visits.
When we arrived in Hội An, I felt like we'd arrived in the Vietnam that I had been imagining. There's a reason that Hoi An consistently ranks amongst the world's best cities (#1 in the World this year in Travel + Leisure): it has the charm and magic of a city that manages to feel authentic despite its touristy draw. The town itself is lovely, set along the waterfront with picture-perfect shops lining each street and alleyway, and the way its been thoughtfully designed makes it a highlight. We wanted to get beyond the city though during our three nights in Hoi An, and decided on a half-day tour cycling the Hoi An Countryside with Grasshopper Adventures.
Grasshopper Adventures offers a range of tours throughout Southeast Asia and we'd originally opted for the My Son tour, a full-day excursion by bike. The weather was a bit of a question mark on the day we were supposed to set out so we changed our plans last-minute to jump on Hoi An Countryside tour, the outfitters' most popular option for visitors. As it turns out, the weather was perfect and our choice of tour ended up being ideal for us: enough time to explore beyond the central area of Hoi An with an early enough departure time to allow us to enjoy a full afternoon and evening afterward.
We set off, our group of 9: a family of four from Australia, Scott and I, a solo female traveler from Korea, plus our two guides, one who led the charge and one who held up the rear to make sure cyclers didn't go rogue.
Banh Dap Making in a Local Home-turned-Restaurant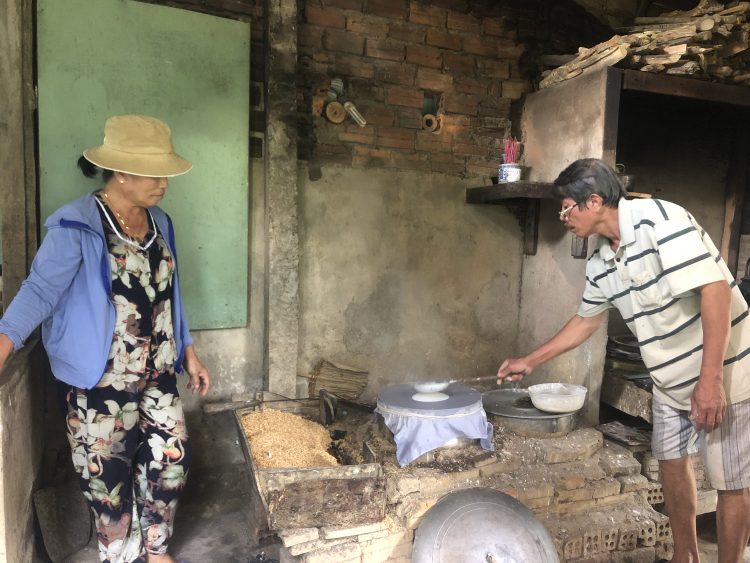 We crossed a long bridge and exited the central city of Hoi An, escaping into the countryside where we made our first stop to visit a local family making banh dap in the traditional way. Banh dap is essentially a rice paper quesadilla (sans the queso part): crunchy rice paper with a fresh, gooey sheet of rice paper in between, folded in half and crunched together ready to dip in a bright, thin sauce. We got to watch – and participate in – the process from start to finish with the local family running the home-cum-restaurant. You'll only have to watch the work that goes into the process of making rice paper once to be absolutely amazed that rice paper and rice noodles don't cost a small fortune. The process is a multi-step endeavor that takes focused effort to complete and learning how to make it first-hand made us all appreciate it so much more.
We started by making the batter before moving into the facility where we had a chance to start steaming the liquid. With a large ladle, we'd pour a bit of batter onto the silk-covered cauldron as if we were making a crepe. In seconds, the steam from under the silk cooked up the thin batter until it became a perfectly gooey piece of rice paper before we'd remove it with chopsticks and deliver it to a basket of completed papers. (To make rice noodles, they'd take this cooked piece and cut it into slices.) After each taking a turn making our own crepes, we sat down as a group for our morning snack before we continued on to our next destination.
We ventured on through the countryside, along the waterfront and through neighborhoods and fields of farmland en route to our next stop. All of the stops curated by Grasshopper Adventures support artisans and individual farmers that benefit from the partnership. The cost of your tour includes these stops and tastings, which help provide a sustainable income for local producers.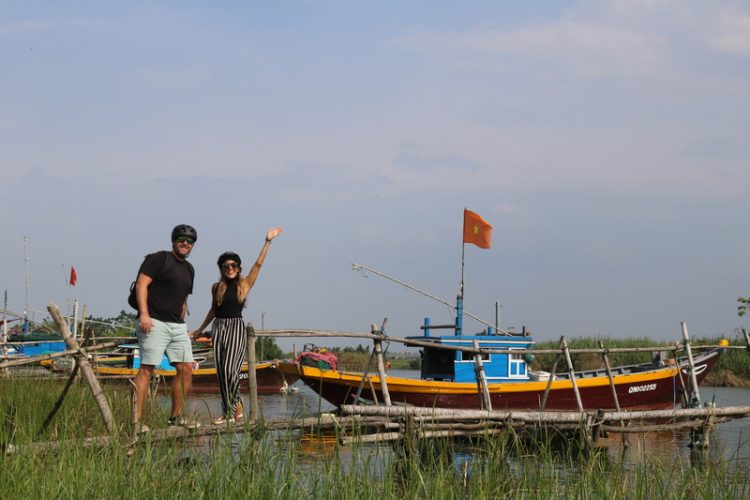 Funerary Customs + Local Traditions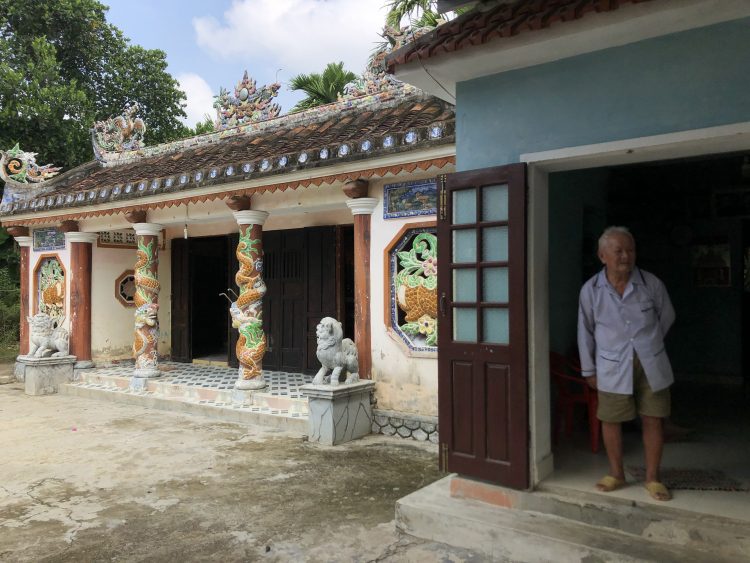 We pulled into a tiny village to visit a home with a family chapel on-site where the family buries and honors their ancestors. The host, nearly 95 years old, fought in the Vietnam War (often referred to as the 'American War' in Vietnam) and his home is filled with medals and plaques from his time of service. In the ancestral chapel, there's a framed photo of Ho Chi Minh looking over the room where the family comes to light candles and pay homage to family members who have passed. They invited us into their home to explore and it was probably the most impactful stop of our trip, especially as American travelers. Scott and I took the time to watch The Vietnam War, a documentary by Ken Burns, prior to our trip (it's a 10-part mini-series that's a bit dense but delivers in a major way for anyone wanting to brush up on their knowledge of the Vietnam War). Having watched that recently with the content so fresh in my mind, it couldn't help but be a bit of a wow moment — thinking of how far we've come, of how many lives were impacted, and of how interesting it must be for those who lived through the war to see American visitors coming in as tourists to Vietnam to explore the history and culture. For our parents' generation – not for all, but certainly for some – the idea of visiting Vietnam as tourists is a bit of a foreign idea. We couldn't help but feel grateful that we were able to see Vietnam now; doubly grateful to get to spend time learning more about local customs and traditions that have been held onto for centuries.
Boat Building in Vietnam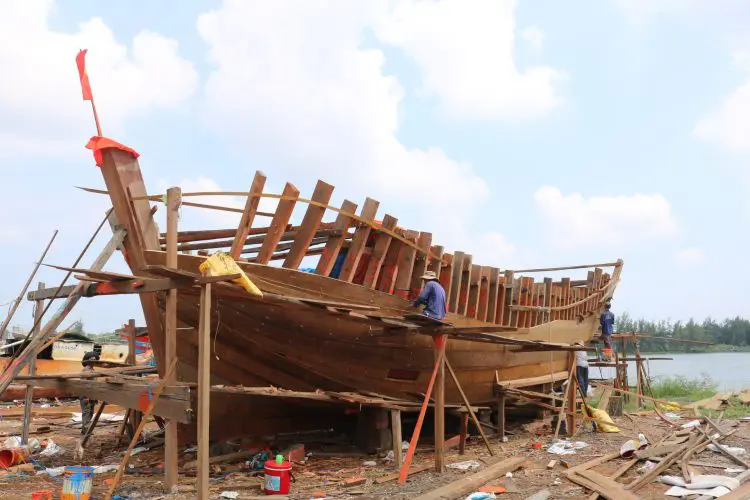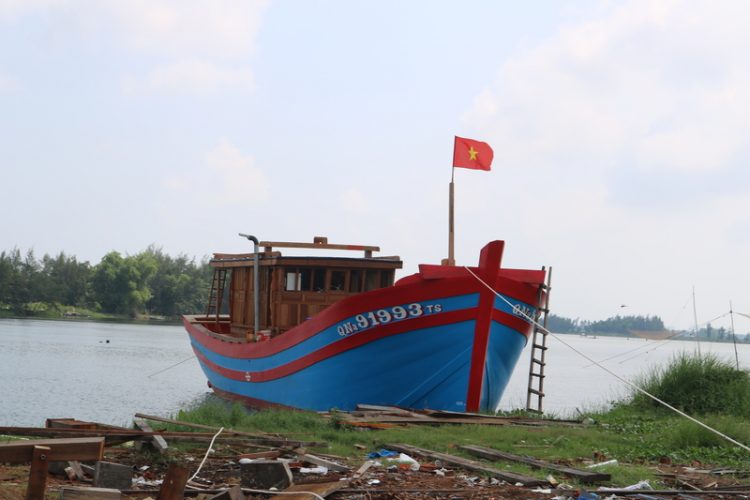 Next, we continued on past rice fields and farms towards a boat building site, where local men were involved with building fishing vessels. While tourism thrives in many areas in Vietnam, fishing is still the lifeblood for many communities, including this one, where boat building is an integral part of the trade. The stop was brief – enough for us to walk around and see the work going into piecing together boats, and that's part of the beauty of exploring by bike – you can be quick and then continue on with the adventure!
Making Sleeping Mats for the Local Village
We rode on to a local home where a mom and daughter were hard at work making sleeping mats that are sold within the community. In lieu of mattresses, many Vietnamese locals use sleeping mats on top of wooden platforms to sleep. The reed mats are made by hand, individually fed into a machine where the artisans can craft intricate designs with hand-dyed reeds. I had the opportunity to learn first-hand, hopping onto the machine, pulling each read one-by-one into the fold to make a mat. People may replace their mats annually so the ladies' business revolves around keeping the community stocked and selling mats people in the nearby vicinity.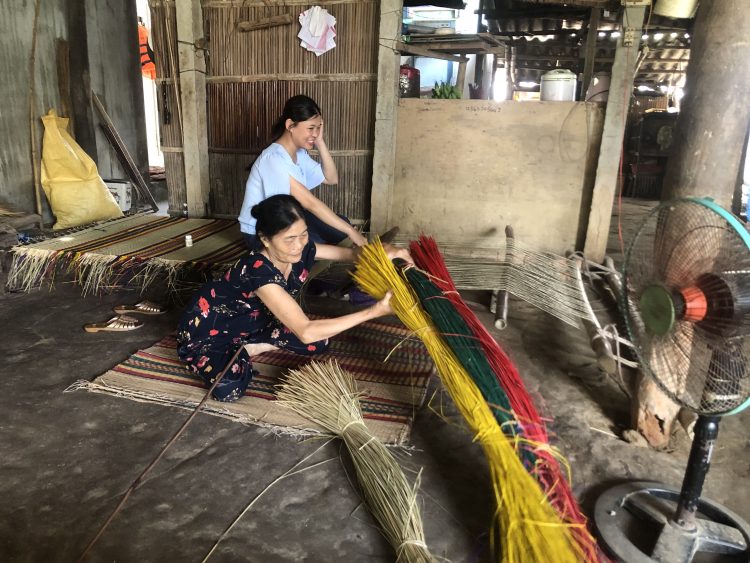 Trying Homemade Whisky at a Home Distillery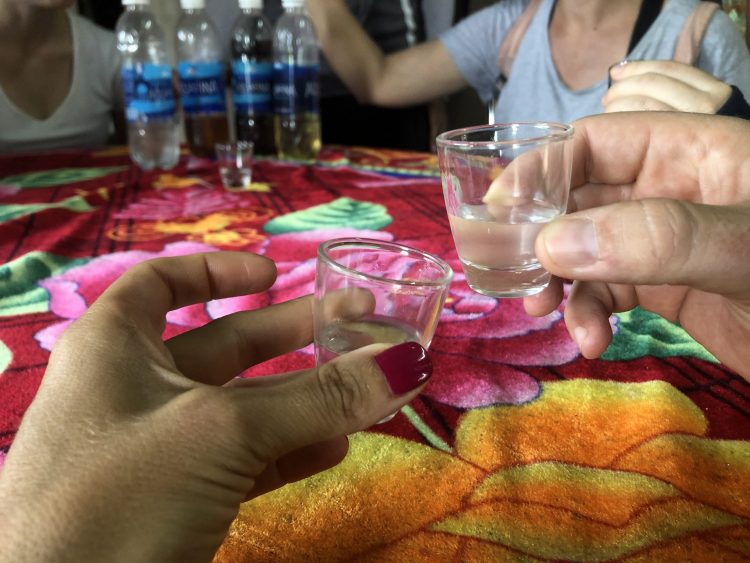 Our final stop was a whiskey distillery, though I'd use the terms 'whiskey' and 'distillery' both extremely loosely. Whiskey in Southeast Asia broadly is more like moonshine; it's not the traditional 'whiskey' you think of, a la Jameson or Jack Daniels. It's a clear rice-based liquor; in this case, made in a local home and stored in large plastic vats. We had the opportunity to tour the facility and take a glimpse into the process of whiskey making in the community. We sat down in a tasting room in the house with shot glasses lined up and Aquafina bottles filled with different varieties of whiskey for us to try. The kids obviously didn't partake but the adults all imbibed a bit. The whiskey may not be winning any global awards but it's worth a sip! ✨
As the lunch hour was nearing, it was time to head back to the city. Instead of going back over the bridge, Grasshopper Tours had a ferry pre-organized to take us and our bikes on a scenic boat journey back to the city center where we could disembark. It was the perfect ending to a jam-packed morning.
Take a peek inside our day: a three-minute clip of our morning biking the Hoi An Countryside with Grasshopper Tours:
For those that prefer somewhat active pursuits, this tour knocked it out of the park. With about 10 miles of cycling the Hoi An countryside and predominantly flat roads, it's a fairly easy ride that's suitable for almost anyone who's able-bodied. We had two children on our tour, both of which were 10+ and handled the ride perfectly. Leaving the city, dodging traffic upon exiting, and crossing the bridge to the countryside are really the only parts where riders need to be very alert. I wouldn't take kids who aren't confident cyclists or aren't old enough to be aware of their surroundings during a ride. I found it the perfect blend of a bit of exercise to start our day, plus a perfect way to get up close with some really unique local crafts and industries. Even if your time in Hoi An is a bit limited, the half-day nature of this tour makes it easy to sneak in to a broader Hoi An itinerary and gives you a glimpse of life outside of the main, picture-perfect city center where tourists congregate.
All around, an absolute highlight for us! As sad as we were to miss the My Son adventure we'd originally planned on doing, we were thrilled with what we chose and found it to be the absolute perfect complement to our other sightseeing adventures in Vietnam.
Have you ever done a bike tour? What were your thoughts?