If Egypt is on your radar and you've begun digging into crafting an itinerary in Cairo (here's some inspiration for three days in Cairo), then you've likely seen references to Coptic Cairo and Islamic Cairo. Before we'd arrived we weren't sure if we'd have time to explore either of these areas but were intrigued with seeing two new parts of the city. After exploring the Egyptian pyramids, doing a food tour through Cairo and visiting the Egyptian Museum we spent our fourth and final day exploring Coptic Cairo and Islamic Cairo. You can easily visit either of these areas independently but after having the luxury of exploring with a private guide, we were hooked. Egypt's history is so rich and layered and having a guide who knows the lay of the land helps provide insight that makes sightseeing so much more impactful.
Coptic Cairo
We begun our journey in Coptic Cairo and I had taken the extra step of requesting a guide that was particularly interested in Coptic history. Real Egypt Tours knocked it out of the park, setting us up with a guide who's part of Cairo's Coptic community. So, what does it mean to be Coptic? You've probably heard the term and maybe haven't truly understood what it means or who falls under the umbrella? At least that was the case for me, so it was good to get a bit of clarification on this as we begun our tour. Coptic Orthodox is the term for someone who may otherwise be termed Egyptian Orthodox. We know Greek Orthodox and Russian Orthodox as branches of Christianity and can easily pinpoint where those religions take root but 'Coptic' is a bit more elusive because of the terminology.
During our tours around Egypt, I asked one of our guides about Ancient Egyptians; the original inhabitants and Pharaohs before all of the foreign influences. It turns out that Coptic Christians are the closest to being 'true Egyptians' (descendants of Ancient Egyptians). About 10% of Egyptians fall into this category, though the registered life events at the Coptic church (e.g. baptisms, funerals, marriages, etc.) shows a slightly higher figure than that.
Abu Serga + the Cavern Church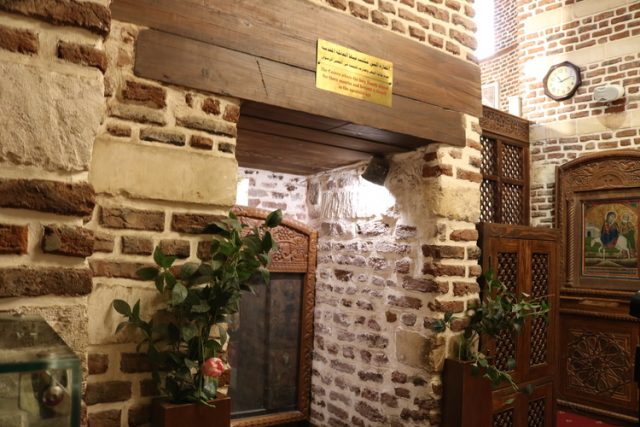 So, now why is Coptic Cairo impactful and worth a visit? I'm ashamed to admit that I didn't know this before our arrival, but Cairo is home to Abu Serga and the Cavern Church. Abu Serga is the oldest Coptic church in Cairo but the real draw goes deeper than that, literally and figuratively. The crypt beneath the church is where the Holy Family lived for months while Jesus was an infant after escaping during Herod's reign. For Christians, this will be a huge draw. The cavern is a UNESCO World Heritage Site and visitors can spend time in the crypt during a visit. Abu Serga Church (technically Saints Sergius and Bacchus Church but that's a mouthful) is fairly simple from the outside but the inside offers some glimpses of Coptic art before you descend into the crypt.
The Hanging Church
.
While Abu Serga is arguably the most important church in Coptic Cairo (at least for Christians visiting), the Hanging Church is probably the most famous. I'll break it to you now: it's not actually a hanging church so don't expect some acrobatic feat from the building. That being said, it's gorgeous to walk through. The entry way has a series of mosaics depicting religious scenes, and the entrance and the facade of the church itself is much more ornate than what you would have seen at Abu Serga. The Hanging Church became the official residence of the Coptic Pope in the 11th century and a walk inside highlights many of the popes and bishops from centuries past.
Ben Ezra Synagogue
We didn't spend a great deal of time here, but we did find it intriguing to find a synagogue in the midst of Old Cairo. Unexpected, right? Located just behind the Hanging Church, Ben Ezra Synagogue is said to be where Moses was found when he washed ashore. In millennia past, the Nile waters would have washed all the way into what's now the city. Photos are banned inside but travelers are welcome to pop in and take a look. In terms of the congregation, our guide shared that there were just four women that are officially part of the church's congregation.
Beyond the churches, you'll find opportunities to shop along the streets, with an entire covered stretch leading to Abu Serga.
In total, we spent about 2 1/2 hours exploring Coptic Cairo, though you could easily allocate a bit longer if you want to leisurely explore the shops lining the streets. The Coptic Museum is also a draw for many, but due to our time we weren't able to add that to the itinerary. The museum is particularly famous for its collection of Christian artifacts and Coptic artwork so art lovers may want to include it in their itineraries.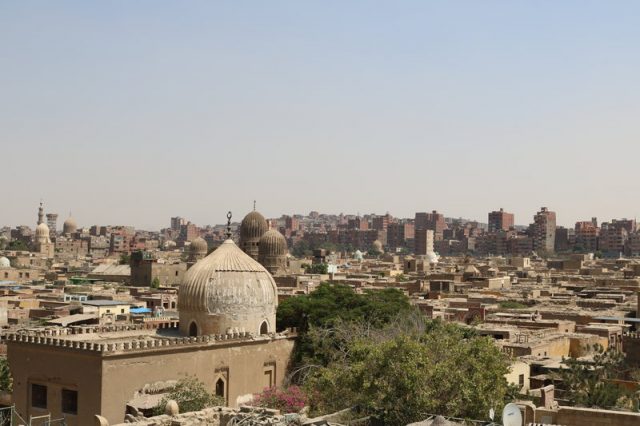 We hopped in our cars to head to our second location of the day: Islamic Cairo, passing the City of the Dead en route. We'd heard about the City of the Dead in documentaries and read about it online before we arrived in Cairo but we only had a brief glimpse on our journey. For those looking for a really off-the-beaten-path Cairo tour, there are options for touring the area with guides. The City of the Dead is an Islamic cemetery and necropolis, and some Cairenes live and work within the four-mile stretch of tombs and mausoleums.
Islamic Cairo 〰️ El Moez Street + Khan el-Khalili
With about an hour or so left with our tour guide, we headed to Islamic Cairo… well, back to Islamic Cairo I should say. It turns out, unbeknownst to us, we actually started our time in Egypt in Islamic Cairo. Khan el-Khalili Souq sits on the outskirts of El Moez Street, a primary artery that runs through Islamic Cairo. We had spent more than half a day wandering the labyrinth of streets that make up this vibrant market, and could have spent longer if given more time. We felt incredibly welcomed during our first day in Cairo and Khan el-Khalili set the stage for a positive experience in Cairo for us. You'd think it would have been all hassles and pressure (there's a bit of that, yes — it's a market after all!), but it felt much more comfortable than we had expected. To me, a visit to Khan el-Khalili is a must if you're visiting Cairo. First, it's the perfect place to pick up some unique pieces. Second, it's a place to just watch life unfold as well. Sip tea at El Fishawy, Cairo's oldest operating café, or just slip into shops and take in all of the offerings. You'll feel like you were dropped into a market scene from Aladdin, and it's kind of spectacular in that sense.
Our main walk through Islamic Cairo was down El Moez Street, which our tour company encouraged as a way to enjoy a glimpse into the everyday life in modern Cairo. I'll be honest: I sometimes feel like I want to be invisible in these places. I desperately want to take photos of all of the colors and sights and interactions but simultaneously struggle with not wanting to offend anyone with having them feel like it's some sort of zoo. Anyone else have that same struggle? I asked our guide if it was okay to take some photos, and I got the thumbs up. Not just a minute later did I have an Egyptian woman yelling at me from an alleyway. Is there any worse feeling than thinking you've just offended someone? Ahhh… awful. Our guide mentioned that many locals have struggled with journalists who have taken photos and gone on to portray Egypt, or perhaps Cairo specifically, inaccurately. Many residents still struggle with the fact that international media has been a contributor to the downturn in tourism and, in effect, a major downturn in their economy.
I get it though. I'll touch on this more in a post about media vs. reality and our experiences on the ground, but it's very obvious that there's a major tourism slump in Egypt. In Cairo this has impacted the lives of people, yes, but we felt it even more in Luxor where nearly the entire population relies on tourism in one form or another. As a visitor this brings mixed emotions: we found no lines for some of the world's greatest sites, and were snapping photos with virtually no one in sight. Pretty amazing for our personal experiences to be able to explore these spectacular places on our own. To step back though and think about the bigger picture –  about the livelihoods of individuals in these places –  it's easy to see how this has negatively impacted them in a major way. Tourism is one of the largest areas for employment (agriculture is also a big player) so the significant post-revolution downturn has affected people hugely. Tour guides have been out of work for years in some cases, shop owners have seen a significant downturn in sales, restaurants and hotels went from having huge demand to virtually none overnight. There's a bright light in this though, and it's that tourism seems to be coming back. People still remain a bit fearful about traveling to Egypt, and again, I'll touch on that further in another post because I want to really lay out our experiences, how we felt being there, the challenges we faced (there were a few, though nothing that would alter my choice of visiting or not), and the incredible experiences we were able to enjoy. The fears about Egypt in general seem to have begun to dissipate slightly though. They're beginning their busy season right about now and it seems that demand is starting to increase once again. What does that mean for us? It's the absolute best time to visit Egypt right now. 
And back to the original content for this piece: exploring Coptic and Islamic Cairo. I'd say that if you have the time and your schedule permits, it's a worthwhile venture. For me, Khan el-Khalili is non-negotiable. You must go there even if you skip other parts of Islamic Cairo. If you're going without a guide, you can easily Uber there. We found Uber to be a super handy tool since it removed the negotiation component and the rides were incredible affordable. The 15-minute drive from Corniche el Nil to Khan el-Khalili cost us just over $1 on Uber (read more about my tips and initial impressions of Cairo). For Christian visitors, a visit to Coptic Cairo will be very impactful. You can absolutely go on your own, but I think going with a guide really does help with providing context and insight. All in all, we found this a perfect end to our time in Cairo and felt like we'd maximized our time in Egypt's capital.
If you've been to Coptic Cairo or Islamic Cairo please feel free to leave your thoughts and recs below!