I had many travelers reaching out via Instagram asking for our itinerary for two weeks in Egypt but I'm going to begin by taking it one piece at a time to make this a bit more useful to stitch together in different ways. Let's start with Cairo because if you're traveling internationally, a flight into and out of Cairo is a given for the most part. We were tempted to zip in and out as quickly as possible and originally planned on allowing for just a day in town and a day at the pyramids before moving on to Luxor, but our flight timing was such that we ended up having four days in Cairo. Would this be too much, I wondered? I considered cutting off a day on the backend to give us even more time in Luxor but decided against it in the end. The result was four full days in Cairo with plenty of history and sightseeing, but also a bit of immersion into modern Egypt, with visits to local markets and a food tour that gave us the chance to see Egypt through the eyes of a local. Here I'm consolidating some our experiences to share an itinerary for three days in Cairo as I think three days is totally sufficient to accomplish the key sites plus some.
I'll note this here since our Luxor itinerary and adventure recaps are forthcoming: For those that are just starting to look into Egypt as a destination, it's easy to think of Cairo as the heart of Egypt from the outset since the pyramids are such an international draw. When it comes to Ancient Egypt though, Cairo doesn't have a ton. You'll have the pyramids at Giza, the Egyptian Museum, plus potential day trips to nearby towns like Dahshur, Saqqara and Memphis. Beyond that though, the real jewels of Ancient Egypt reside in Luxor, formerly Ancient Thebes, a city which deserves at least three days, if not up to five.
Day 1: The Egyptian Museum + Food Tour through Cairo
9AM – 1PM // Egyptian Museum with a Tour Guide
It's your first of three days in Cairo and if you're fresh off an international flight you won't be fully ready to immerse yourself in a day of taking in the pyramids quite yet. Instead, take your first day to lay the groundwork and brush up on your Egyptian history… there are 50+ centuries of it after all, so you have a bit of homework to do before digging into the real sites.
The Egyptian Museum is a treasure trove and it's just steps away from the Nile Ritz-Carlton, the hotel we called home for our time in Cairo (there are many choices for comfortable accommodations on Corniche el Nil). Now, here's the thing with the Egyptian Museum: it represents an astounding collection of artifacts, including the treasures from King Tut's tomb, an array of items from the Old, Middle and New Kingdoms of Ancient Egypt, and an entire room (supplemental fee) dedicated to the Royal Mummies. Some of the pieces have been moved to the Grand Egyptian Museum (GEM), a mega-museum in Giza that's been under construction for upwards of a decade. The opening timeframe for the GEM is still not set in stone (tentatively 2019) but it's slated to be a wonderful collection with a more modern feel than the existing museum. Speaking of modern feels, that's not the Egyptian Museum whatsoever. Artifacts are largely marked with little 3 x 5 pieces of paper typed up on a computer. It's not interactive, it's not modern, it doesn't have pizzazz. What it lacks in pop it makes up for in pure content. The difficult part is knowing how to approach the museum as a newbie. What are the highlights? Where are the highlights? We weren't even given a map when we entered so we had no way of really knowing where things were, which is precisely why we chose to hire a guide. I know it can seem like overkill to have a guide for a museum but in the case of the Egyptian Museum, I'd recommend it. Our guide, Azza, was fabulous and helped us gain a much richer understanding of what we were seeing. She also helped us identify key highlights from King Tut's belongings (truly breathtaking) to the Rosetta Stone and artifacts from famous females Nefertiti and Hatshepsut. We chose to add on the Royal Mummies exhibit at the end without a guide (I believe this was an additional 150 EGP each, about $8). I'd definitely recommend adding this on while you're there – you'll see the mummified remains of about a dozen pharaohs.
You can reach out to Real Egypt Tours for information on hiring a guide for the Egyptian Museum for a half day tour.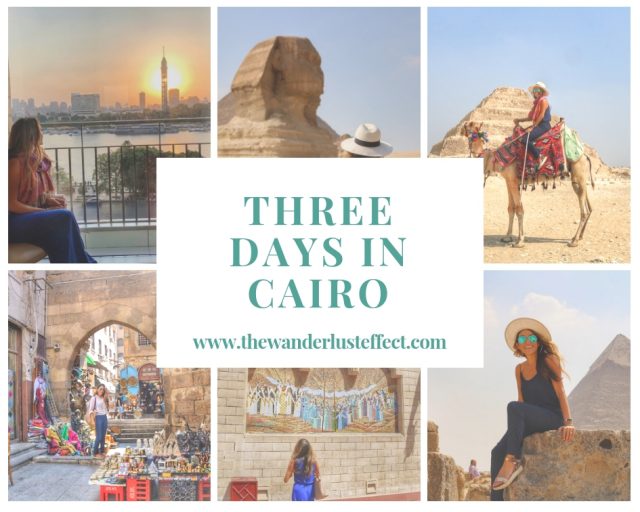 Allocate about three to four hours to the Egyptian Museum as you'll need about a half day to explore and take in the main elements. Ideally, if time permitted, it may be preferable to go twice: once for major highlights and then again to take in smaller exhibits which you may overlook during a first visit.
If you're following this itinerary, opt for a light lunch like a meze platter to share. You'll want to save room for dinner! Enjoy one of the options for lunch along the water or zip across to Zamalek, the island in the Nile that separates the west and east banks, for a selection of lunch options. We enjoyed Abou el-Sid for local fare in a warm environment.
Here's one tip and takeaway from our time in Egypt in general: don't overpack your schedule. It's tempting to jam everything into a day but newsflash: Egypt is HOT. Most of our days were around 100˚F+ which was absolutely doable but shockingly exhausting (I'd find that my body would feel a bit depleted after a day of just walking). You'll be surprised by how much water your body needs and how tiring it can be in the heat for long periods. Allow yourself a bit of time during the day to enjoy the view in a cool space or lounge for a bit. Your body will be much happier for it if you can carve out the time.
4PM – 9PM // Food Tour through Cairo with Bellies En-Route
Now you've had a primer on Ancient Egypt and a bit of downtime in the heat of the afternoon. Next stop: a glimpse into modern Egypt over a food tour through Cairo with Bellies En-Route. I've mentioned this in other posts, but I think it's worth repeating. It's tempting to get sucked into solely focusing on Ancient Egypt during a trip to the region. After all, for most of us that is the draw. That being said, it's worth getting a glimpse into modern Egypt as well, and trying to get a bit of insight into lives of Egyptians now. We've always found food tours (when done right) a great way to get a taste of the destination, both literally and figuratively. Understanding the food scene can be a great way to get some insight into a country's influences and environment. Beyond that, it's an awesome way to connect with local guides (often younger local guides in our experiences) who can share some genuine insight in an informal setting. Our food tour with Mia from Bellies En-Route was just that. We ate our way through Cairo, but also used our time to talk openly about life in Egypt, sharing our questions and hearing great insight from a local Cairene with a global and local perspective. The delicious food didn't hurt either!
Read more about our food tour through Cairo.
Day 2: Journey to the Pyramids at Giza, Saqqara and Dahshur
7AM – 3PM Tour Dahshur, Saqqara & Giza with a Private Guide
It's the highlight day! You're coming to Cairo so the Pyramids at Giza are undoubtedly on your list. If you only had a daylong layover in Cairo, this is what you'd go to see. The Pyramids at Giza are the most famous but if you have three days in Cairo, I think it's worth allocating a day to pyramid explorations beyond that; from Dahshur and Saqqara to Giza to see the evolution of pyramid development and to enjoy a few peaceful sites nearby that aren't overrun with tourists quite like the Pyramids at Giza. Even during this tourism slump in Egypt, you can expect tour buses full of people going to see the Wonder of the Ancient World; there's no way around it. Dahshur and Saqqara were quiet contrasts to that, and in my opinion, worth adding on for a full day.
Sunglasses are a must and I'd suggest bringing a hat so you can avoid being beaten by the sun during midday. Pack plenty of water or bring small bills so you can buy bottled water along the way. The day is hot and it's long and your body will be asking for water at every turn. Scott and I drank three to four liters each without even thinking about it and I still had a bit of a heat headache by the time we returned to our hotel.
Read about our day exploring Egyptian pyramids at Giza, Saqqara and Dahshur for more insight. 
When you return in the afternoon, you'll be ready for a little respite after a jam-packed day. Allow yourself a few hours to unwind before heading out for dinner.
6PM – 9PM Drinks & Dinner in Cairo
As you may imagine, the bar scene is a bit limited in Cairo. If you're looking for a pre-dinner drink, you'll want to head to one of the upscale hotels along the corniche for a sip with a view. The Nile Ritz-Carlton has Bar'Oro which offers a swanky vibe for cocktails and mocktails along the Nile. Other properties nearby like the Intercontinental and Kempinski also boast beautiful spaces with a view. Try to enjoy a drink while the sunset is over the river – it's a beauty!
For great dining options, try some of the offerings at the InterContinental (we loved Birdcage, their Thai offering, and a friend loved Lebanese-inspired Sabaya). If you're looking to head out into Cairo for dinner, check out Felfela or head to Zamalek where there's a host of lovely dining options on the water (we loved Sequoia for Middle Eastern fare).
Day 3: Explore Coptic Cairo, Islamic Cairo + Khan el-Khalili Souq
9AM – 12PM // Coptic Cairo
In two days, you've seen some of the must-sees in Cairo from pyramids and the museum to food tours and the upmarket island of Zamalek. Not a bad start! For the third day, you'll have time to delve a bit deeper to check out Coptic Cairo and Islamic Cairo, two distinct parts of the capital city that offer unique feels and histories. For Christians, Coptic Cairo will strike a chord as the place where the Holy Family escaped and lived for months during Jesus' infancy. There are a number of lovely churches and a museum that houses Coptic artifacts and artwork. I would allocate about three hours for Coptic Cairo, possibly more if you wanted to spend more time in the museum.
12:30PM – 4PM // Islamic Cairo + Khan el-Khalili Market
Islamic Cairo is home to a range of mosques (you'll see them dotting the skyline as you drive from Coptic Cairo), madrasas, tombs and souqs. Lots of guidebooks mention this, but the area isn't necessarily more Islamic than the rest of Cairo. The area earned its moniker being home to the largest number of Islamic monuments and sites in the area. The main thoroughfare, El Moez Street, has a range of shops intertwined with grand mosques so you can pop in to shop while you take in the grandeur of some of the facades. Continue down until you reach Khan el-Khalili Souq, one of my favorite experiences in Cairo. I'm a market person through and through: farmer's markets, art fairs, craft markets… I love them all, and Khan el-Khalili was no exception. Wander through for souvenirs or just take the time to meander the boundless shops for antiques and curiosities within the market walls. We spent about 5 hours at Khan el-Khalili and I honestly could have spent more! Give yourself at least three to four hours for Islamic Cairo between El Moez Street and Khan el-Khalili. One option is to start at Khan el-Khalili and then work your way down El Moez Street. If you do this, you can enjoy lunch in the market as the midpoint in your day. We've heard about many of the local gems but we dined at a lovely restaurant called Naguib Mafouz, named after a local Egyptian poet with the same name. Pricing is inexpensive by Western standards and we loved sharing the meze platter.
Read more about our day exploring Coptic Cairo and Islamic Cairo.
Check out three days in Cairo crammed into three minutes below. ??
For those that have been to Cairo, I'd be curious to hear your thoughts! Love it? Hate it? For those that haven't been – does Cairo interest you?