I don't think it's far-fetched to say that a trip to Egypt is on most travelers' bucket lists, and for many visitors a tour of Ancient Egypt will include the standard trifecta of cities – Cairo, Luxor and Aswan – along with a Nile River Cruise, not unlike the trip we formulated. Below I'm sharing our take on two weeks in Egypt with highlights from each city and some insight on what we liked (and didn't) from our itinerary.
Looking for some help planning for two weeks in Egypt? Reach out to Compass & Vine for trip planning guidance to bring this trip to life!
Day 1 – 4 〰️ Cairo // Modern Egypt + World Wonders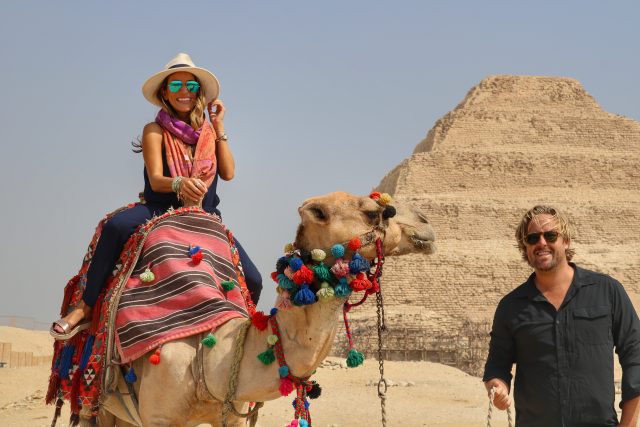 Cairo is the natural starting point for two weeks in Egypt because the international airport is a common point of entry and departure into the country. If you haven't fully started digging into to Egypt as a destination, Cairo may be top of mind for you anyway, as it's home to the famous Pyramids of Giza which sit just outside of the city limits. In general, Cairo is a city that you don't need a ton of time to explore but if you find yourself with time in Cairo there are some unique experiences that you can build in to enrich your time in Egypt. We had four days in Cairo, detailed below, though could have cut our time there by a day or so.
DAY 1: ARRIVAL INTO CAIRO, KHAN EL-KHALILI // We arrived in Cairo with time to explore and opted to kick-start our time in the city with a visit to Khan el-Khalili Market, a marketplace that feels like you've fallen straight into a scene from Aladdin. We spent hours there and I'd recommend allowing 3 – 4 hours to explore unhurried. As far as nighttime dining is concerned, many of the big hotels are along the corniche, Cairo's waterfront stretch on the Nile. We stayed at the Nile Ritz-Carlton (formerly the Nile Hilton) but the Intercontinental, Fairmont, Sofitel, and others are sit nearby as well, many of which offer some of the city's most famous dining options. If you want to venture further afield for dinner, you can head to Zamalek, the upmarket island in the middle of the Nile which offers some trendy dining options for tourists and Cairenes alike.
DAY 2: EGYPTIAN MUSEUM + FOOD TOUR // Kick off your time in Cairo with a foundation of Egyptian history. Most of us had a primer growing up but I found that visiting the museum prior to seeing sights in real life helped with gaining a deeper understanding of the historic sites we were taking in. Allot 3 – 4 hours for the Egyptian Museum. The Egyptian Museum is INCREDIBLE in terms of its content but is incredibly basic in terms of how it's constructed. Don't expect pomp and circumstance here, but go for the mind-blowing artifacts. In the evening, get a literal taste of Egypt on a food tour through Cairo with Bellies En-Route. Not only will you learn about Egyptian cuisine and its origins, but you'll gain some insight into modern-day Egypt and the country's evolution.
DAY 3: PYRAMID EXPLORATION // No trip to Egypt is complete without seeing the world-famous Pyramids of Giza. For many, the pyramids are an anchor in crafting a trip to Egypt in general so there's no doubt that this is a highlight day. We included the pyramids at  Dahshur and Saqqara as well to expand on the experience (something that I recommend doing). Read more about our experience seeing the Egyptian pyramids, plus our highlights from a day of exploring.
DAY 4: OFF-THE-BEATEN-PATH CAIRO // I mentioned this above, but I don't think we needed 3 full days/4 nights in Cairo. In hindsight, I would have preferred to take a day off the front and stick it on the back-end so we could have enjoyed more time in Aswan. That said, we maximized our time in Cairo by hiring a guide to explore Coptic Cairo and Islamic Cairo, two areas of the city we may not have seen otherwise. Coptic Cairo gives you some interesting insight into the Christian minority in Egypt. We departed for Luxor in the evening aboard Egypt Air.
Read more on our experience spending three days in Cairo.
Day 5 – 7 // Luxor  Diving into Ancient Egypt
Luxor is Egypt's true treasure. When people talk about Luxor as an open-air museum that's no exaggeration. The density of sites in the Luxor/Karnak area is mind-blowing. Unless you have a week or more to spend in Luxor you won't get to all the treasures this city holds though you'll have the opportunity to scratch the surface with awe-inspiring tombs and temples. We visited the Valley of the Kings, for example, but didn't get to the Valley of the Queens, Valley of the Nobles or Valley of the Artisans, lesser known but incredibly special collections of tombs. For those focused on delving into the splendor of Ancient Egypt, focus your time in Luxor over Cairo to really delve into riches of Egyptian antiquity.
DAY 5: LUXOR TEMPLE + LUXOR MUSEUM // We kicked off our time in Luxor at the Luxor Temple and Luxor Museum. We arrived late the night prior (around 2AM due to flight delays) so didn't get to the temple as early as we would have liked. If you can go early, do it. You'll enjoy the temple without others around and avoid the sizzling sun. Following our time at the temple (about 2 – 3 hours), we visited the Luxor Museum, an air-conditioned building showing some of the artifacts. If you want to really jam your day, you could also do Karnak Temple in the afternoon though it will be a fairly exhausting day with so much to take in and high desert temps. We chose to visit Karnak Temple on Day 7 (below) to break up the visits. Read about our experiences at the temples in Luxor.
DAY 6: VALLEY OF THE KINGS // This was my absolute favorite day, maybe of the entire trip. The Valley of the Kings is as amazing and awe-inspiring as the name would let on. We hired a private guide to take us through the temples (your ticket grants you access to 3) and there's really no words to describe the beauty of the tombs. Add to the fact that tourism is still down in Egypt so you'll have the ability to explore tombs with very few other tourists around. A guide will know which are particularly wow-worthy so take their lead. If you have extra days in Luxor, you could easily re-visit the Valley of the Kings to see other tombs during your stay (there are seven open at any given time). Read about our time exploring the Valley of the Kings along with some tips on add-ons like King Tut's Tomb and the Tomb of Seti I (not included in your ticket). We also visited the Temple of Hatshepsut and the Colossi of Memnon during our day exploring on the West Bank of Luxor.
DAY 7: KARNAK TEMPLE + POOL TIME RELAXATION // For our final full day in Luxor we opted to explore Karnak Temple and spend the afternoon relaxing (a rare treat when we travel). Karnak Temple is one of Egypt's most famous, and is a large complex of 22 tombs and temples over about 60 acres. Luxor Temple is gorgeous but Karnak Temple is next-level. Give yourself 3 – 4 hours to explore and again, go early, so you can enjoy a few rare photo ops being at the temple without crowds. If you chose to jam day 5 instead and do Luxor and Karnak Temples in the same day, you'd have Day 7 open, which means a visit to the Valley of the Queens or Valley of the Nobles (or both) may be on the short list.
Day 8 – 12 // Nile River Cruise
DAY 8 – 12: NILE CRUISE // If time permits, a Nile River cruise is a special way to add on to your Egyptian sightseeing. The Nile is Egypt's life blood and the Nile River that you experience further south (in Upper Egypt) is different from what you see in Cairo. There are a range of cruises that you can board, including budget-friendly feluccas for a shorter cruise. If, like us, you're interested in something a bit slower paced, check out Nour el Nil or the Steam Ship Sudan of Agatha Christie fame. Read about our experience aboard Nour el Nil for more inspiration and Nour el Nil itinerary see the to get an idea of the stops, day by day.
Abu Simbel + Aswan
DAY 13: ABU SIMBEL + ASWAN // Our final day in Egypt left us with a hard decision: stay in Aswan and explore the tranquil riverside city or head to the world-famous Abu Simbel Temples down towards the Sudanese border. We decided that in the end we'd regret not having made the journey to Abu Simbel. The journey takes about 3 1/2 hours and a driver is necessary (as is an early departure). We left Aswan around 6AM and arrived around 9:30AM to explore the temples. We made it back by the early afternoon which allowed us time to enjoy lunch in Aswan and an afternoon taking in the sunset over the Nile. Read about our day journeying to Abu Simbel.
DAY 14: DEPART ASWAN // If you're connecting through Cairo for an international departure, you'll likely leave Aswan around 5:45AM, which means a very early wakeup call. Egypt Air connects Aswan and Cairo easily and the airport in Aswan is small, which means you don't need to get there the full two hours ahead of time. Read about the brief glimpse of Aswan that left me wanting more.
---
Tips + Takeaways for Crafting an Itinerary for Two Weeks in Egypt
TRY TO ARRANGE FOR MORE TIME IN LUXOR AND LESS TIME IN CAIRO: This is preference, of course, but I'd say that when crafting an itinerary you're better off allocating more time to Luxor than Cairo. Given a week between those two cities, 3 days in Cairo and 4 in Luxor would be a good mix, and would allow for plenty of time to take in some of Cairo's highlights and provide extra time in Cairo for taking in the sights of Ancient Egypt.
GIVE YOURSELF A COUPLE OF DAYS IN ASWAN: If any town in Egypt could be described as tranquil (based on the ones we visited), Aswan would be the closest. To be honest, I was surprised at the beauty of Aswan. One of our guides from Bellies En-Route told us we'd find it beautiful and we did. Aswan deserves a full day unto itself to take in the market, enjoy the sunsets, and to visit Philae Temple. If time permits, there are also opportunities to visit the Nubian Museum and a nearby Nubian Village.
BUILD IN A NILE RIVER CRUISE: Budget shouldn't be a factor here because there are all sorts of Nile River cruises available, from budget-friendly feluccas like I mentioned above to luxury sailing options like Nour el Nil. There are also larger ships like the Oberoi vessel and river boats that feel like more traditional cruise ships. You can opt for a day, a couple of days, or a longer five-day experience to delve into a slower pace. One thing to bear in mind is that river cruises can have very specific start and end times. For example, with Nour el Nil, we had to depart on a Monday and disembark on a Saturday morning. That schedule in effect dictated the rest of the trip's layout with how much time we could allocate elsewhere.
ADD-ONS: If you have additional time that begs to include another Egyptian city or region, there were three that particularly piqued our interest: the seaside town of Alexandria, Sinai, and the White Desert. Sinai was axed because there have been far too many security warnings in that region for our liking (stay up to speed on this as things continue to change in the region). The White Desert provides a unique outdoors experience, camping and off-roading in the desert for a bedouin-style experience. Alexandria brings a seaside vibe for those wanting something on the Med (you can hire a driver to get you from Cairo to Alexandria if desired). Friends who visited Alexandria found it a to be a low light comparatively but it's worth digging in to see if it's a fit!
---
All in all, I found our two weeks in Egypt to be a great taste of the country. The river cruise was slightly slow-paced for us, but was a nice contrast to our typical fast-paced existence when traveling. If time is limited for you or there's something else you're trying to cram in, you could do a shorter river cruise (maybe a three-day version) to free up a couple of days to add on elsewhere. The overall highlight for me was Luxor, and I can't really put into words how spectacular the history is and how well preserved you'll find the tombs. In Cairo, my recommendation would be to temper your expectations for the Pyramids of Giza, and to add on Dashur and Saqqara which help provide some insight int the evolution of the pyramids, which I found a cool addition to a typical itinerary. Generally, go into each day ready for a surprise because Egypt is full of them.
What would be on your itinerary for two weeks in Egypt?