The road to Dahshur is thick with date palms, tall trees bursting with yellow fruit in neat bundles. It's a stark contrast to the desert landscape where the pyramids sit looming large overhead. We watched as the world passed by and we made our way to our first stop, the lesser-known pyramids from the 4th dynasty built by Pharaoh Snefru. To be fair, when most people daydream about a journey to Egypt, a mental snapshot of the Pyramids of Giza comes to mind, the three iconic Egyptian pyramids and the Sphinx sitting along the world-famous Giza Plateau. That's why we came, too, of course, because who doesn't want to visit the last standing wonder of the Ancient World? But the history of pyramids starts before that and so did our journey, off to a place we'd never heard of about an hour's drive south of Cairo. We worked with Real Egypt Tours to formulate our itinerary and our day of exploration. The conversation started simply as seeking a guide for the pyramids of Giza but quickly expanded to more than that; a hope to show us the real Egypt beyond typical tourist snapshots. The verdict? Dahshur and Saqqara are perfect add-ons to the Pyramids at Giza for those seeking an even greater foundation on Ancient Egypt.
Dahshur 〰️ The Bent Pyramid and the Red Pyramid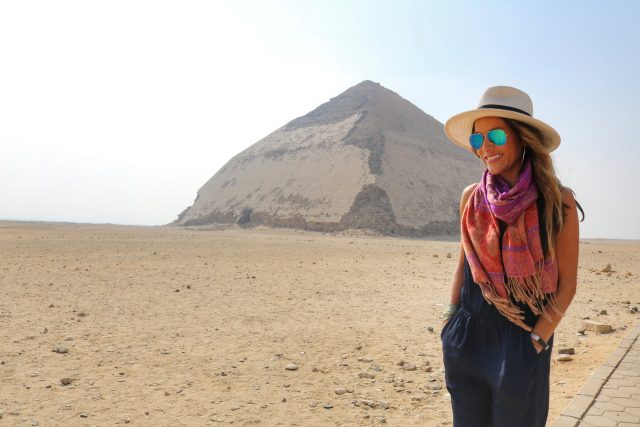 Chronically, Dahshur would be second in our series of pyramids, but when it comes to sightseeing we started here first as it's the site furthest from Downtown Cairo. There are two pyramids standing at Dahshur, both built by King Snefru. The first ever pyramid, the step pyramid at Saqqara (below), was built 4700 years ago, but it was under Snefru's reign that pyramids became less step-like and more of the smooth pyramidal construction we think of now (as with the Great Pyramid in Giza). The Bent Pyramid was a bit of a trial run in some ways. Architects quickly realized that the foundation they were laying was far too wide and then tapered it in to finish of the pyramid. When they discovered the angles that would work to make a more aesthetically pleasing version, they ran with it.
The Red Pyramid, sitting on the same plateau, is a more refined version; it's what was created after architects learned from their mistakes with the Bent Pyramid. If you didn't know where we were in these photos, you could easily think we were at the Great Pyramid of Giza since the dimensions are much more perfected. It's not nearly the size of the Great Pyramid in Giza (which belongs to Khufu, Snefru's son), but it's still standing so perfectly it's hard to imagine all of the history that its seen.
When we arrived at 8AM the ticket office was just opening, and we entered the desertscape as the first tourists to Dahshur. When Scott and I were there we were the only visitors in sight (with the exception of our tour guide) which made the moment pretty magical. To be honest, I sometimes find it hard to be truly present absorbing the moment. It's something I'm working on, but I often feel as though the moments can be so surreal that you can't fully appreciate what you've done, where you've been, or what you've seen until after you've departed. Having our guide helped a lot; we weren't just looking at pyramids, we were seeing them through their respective histories and gaining a much richer understanding of the evolution of pyramids for the pharaohs in Ancient Egypt.
The pyramids were designed as tombs so we had the opportunity to head down into the pyramid at Dahshur to see the inner workings of a pyramid. Now, if you follow me on Instagram, you'll have read about my momentary freak out already, but it's worth mentioning here for those planning their itinerary for Egypt and the Egyptian pyramids. The burial room sits deep within the earth which means once you reach the opening to the pyramid (about 40 – 50 feet up), you'll descend down into the tomb. The pyramid passages range in size but they're all narrow openings that will force you to duck to make it to the bottom. There are a few lights lining the way but it's mostly dark, a bit damp, and a long descent into the earth. For those that are claustrophobic, don't go. If you want to prove yourself you can conquer your fears, blah, blah, save it for something else. Seriously, I know it's cool to say you've been inside a pyramid but there's nothing inside. No inscriptions, no secret hieroglyphics, nothing. It's just stone walls and a few rooms to walk around. I zipped out of there as fast as I could, with sore glutes and hamstrings to show for it the next day (I don't know if the guy manning the exit has ever seen anyone shimmy up those stairs so quickly before). I don't consider myself that claustrophobic but I got really anxious descending into the pit with no one around and only a small opening leading to the outside world. Scott had to remind me that the pyramid had been standing for 4000+ years and probably wasn't going anywhere anytime soon.
When we visited the Bent Pyramid was the only one available to enter, though that may change seasonally.
Saqqara
Second in line for our tour but first in line as far as history goes, we made it to Saqqara, the world's first pyramid. If you're planning a trip to the Egyptian pyramids yourself, Saqqara has probably popped up on your radar, and it's with reason. Beyond being the original pyramid, the complex at Saqqara was the first stone building in the world. It's a bit crazy to comprehend, but it was under Imhotep's guidance that they took the plunge on attempting to build from stone. Saqqara was designed to mimic Memphis, the old Egyptian capital, but with stone design to withstand the test of time. Columns inside show a bit of their uncertainty with building; none of the columns are free-standing because they weren't sure at the time whether the columns could stand freely without falling. The pyramid was built during the third dynasty during the Old Kingdom and was the first pyramid constructed for a pharaoh's tomb. The tomb at Saqqara is an exception to the rule about tomb's being plain inside and it's worth the journey into the tomb (it's not nearly as deep as the entrance to Dahshur). Inside, you'll see a tomb covered with hieroglyphics. If it's your first brush with them, like it was ours, it'll be a pretty awe-inspiring moment.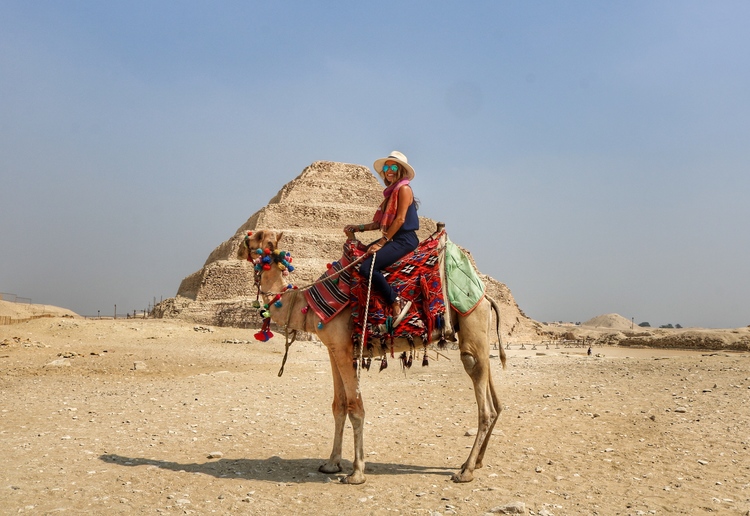 While at Saqqara our guide took us to Ptahhotep's tomb which is also available for tourists to enter. The tomb is an interesting one because it's not a pharaonic tomb. Ptahhotep was a high-ranking official so the tomb is an example of a wealthy burial site but also shows scenes of everyday life inside, while pharaohs' tombs lean towards scenes of the afterlife and the fantastic. I was in absolute awe inside of the tomb – the carvings are insanely detailed (we're talking petals on flowers, hair, detailed eyes, etc. all carved into these wall faces), and there are many places where the color is still visible with absolutely ZERO restoration having been done. When we were there, it was just Scott and I inside the tomb, taking our time to explore what interested in us with no one else in sight.
The other reason our guide loved this site? It's not finished. Architects and artists worked on tombs during people's lifetime and stopped work when they died. In this case, only portions of the art is completed which helps scholars understand the order in which things were done during burial.
The Great Pyramid of Giza
After a visit to Dahshur and Saqqara we were in for the grand finale: the Pyramids of Giza including Khufu's Great Pyramid. We visited in the late afternoon, and I questioned the order of our tour a bit. Educationally, I think it's nice to have the Dahshur/Saqqara lessons before seeing Giza, but in practice Giza gets insanely crowded as the day wears on so it's probably best to go first thing, if possible. It was jammed when we were there, and it wasn't just the tour buses that made it hard to take in the magnitude of what we were seeing. The harassment by locals trying to sell goods was at a high here. We had very few issues with that at the local markets in Cairo, but Giza being such a tourist site is primed for peddling. My advice would be to just be ready for that. It's also a bit jarring because the pyramids don't sit in a vast desert landscape anymore; they sit just outside of the city so if you're standing at the Great Pyramid and turn around, you'll see the bustling cityscape in front of you.
I mention all of that not to say that it's an unimpressive or lackluster experience but more because all of the commotion made it a bit hard to be fully present in the experience of seeing this world wonder. In truth, I appreciated the peacefulness of Dahshur and Saqqara more than seeing Giza but there was no way I was going to leave Egypt without seeing these constructions first hand!
Now, on to the pyramids because yes, they are impressive! We know the pyramids are big but until you're there in person seeing the size of the individual stones, it's hard to fully comprehend the work that went into building these. I'm sitting on a single stone in the photograph above. Khufu's pyramid – the Great Pyramid of global fame – is constructed of 2.3 million of them. Pause for a minute to take that in because it's a remarkable feat to comprehend. I asked our tour guide what made the pyramids at Giza so famous – why them? Why not the Red Pyramid at Dahshur which, too, is still standing? 'Is it just because these are better?', I asked. She responded simply, 'They're not just better. They're perfect.'  It's true, these buildings have withstood the test of time and it's a testament to the genius engineering and manpower behind them. The Great Pyramid was also the tallest manmade structure in the world for over 3800 years so to imagine its impact and impressiveness in millennia past is pretty incredible. You can snap photos up close at the Great Pyramid but the size of the structure makes it hard to capture in a single frame. There's a great viewing platform that will provide an awesome vantage point for all three royal pyramids: Khufu, Khafre and Menkaure.
The Great Sphinx
Last, but certainly not least, we continued on the Giza Plateau to our final stop: The Great Sphinx. To be totally honest, I was more wowed by seeing the Sphinx in person than the pyramids at Giza. The Sphinx is SO iconic and while there were many tourists there, too, it felt more peaceful than being at the pyramids. I felt like I got to have a bit of a moment of just taking it all in. The Sphinx is made of a single piece of limestone, which is remarkable when you consider the size. There are a few areas that are being restored but generally it's in its original condition.
Watch our video from our day exploring the Pyramids of Giza, Saqqara and Dahshur:
I shared this sentiment on my Instagram post after we completed our day, but suffice it to say that seeing all of this in person felt a bit surreal. I think it can be difficult on bucket list adventures like this to truly be in the moment and recognize the reality of it all. Sometimes I find that it's after the fact; after we've removed ourselves from it all and from the day that we're able to look back with some clarity and awe. That's part of the reason the photos capturing our moments in these places are so important to me. In some ways they're a reminder – or perhaps proof to myself! – that yes, we were in fact there. We've had mixed emotions with Wonders of the World – some have absolutely blown our minds and others have felt a bit lackluster (*cough cough* Christ the Redeemer). I'd say the Pyramids at Giza are somewhere in between when you get to see them firsthand. The true awe comes from recognizing how long they've stood and how much history they themselves have witnessed. It's also a huge testament to the genius of Ancient Egyptian engineering. If you're planning a trip to the Pyramids at Giza, I'd also definitely recommend adding on Saqqara (for sure) and Dahshur if time permits. They're a wonderful historic and peaceful add-on to a pretty magnificent day.
Have you been to Egypt? What were your thoughts on the pyramids?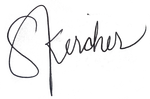 Like the travel style? Shop the outfit here: