Island Hopping in Croatia, Part I
During our time in the Dalmatian Islands, we had a week based on Hvar where we spent a few days exploring the island itself but also allocated time to venture out to neighboring islands by boat or ferry. For our first island hopping adventure, we opted to hop aboard the Jadrolinija, the public ferry that offers services from Dubrovnik to Split (and vice versa) with stops at various islands along the way. We took that same ferry when we first made our way to Hvar from Dubrovnik (about three hours) and boarded that same ferry again to set out for our first excursion: a day trip to Korčula from Hvar. 
We boarded the ferry at 9:00AM in Hvar for the short hour-long journey to Korčula. For those looking at island hopping expeditions in Croatia and prefer the idea (or cost) of a ferry to a private boat charter, the ferry service is reliable and totally comfortable (think coffee, breakfast options and outlets on board). You can book tickets for ferries in Croatia or nab ferry tickets around the world through a number of third-party sites if you prefer to book something in advance. Do know that ferries do often fill up so if you don't buy online in advance, prepare to get to the terminal early enough to purchase tickets and queue.
After an hour on the water, we pulled into Korčula with the stunning medieval old city looming over us and the Croatian flag waving in the wind. As I mentioned in some of my posts about Slovenia, everyone in the region had mentioned to us that it was the chilliest September on record. Our experience was true to that, and our arrival in Korčula was met with grey, drizzly skies as we exited the ferry.
No matter though. On the bright side you don't need sunshine when you're starting off the day with wine tasting. We had a driver coordinated for our morning for a three-hour tour of Korčula and wine tasting at some local vineyards (a great way to kick-start a day trip to Korčula to get a lay of the land). Our driver met us when we departed the ferry, and the five of us were off to explore and taste our way through Korčula.
Wine Tasting in Korčula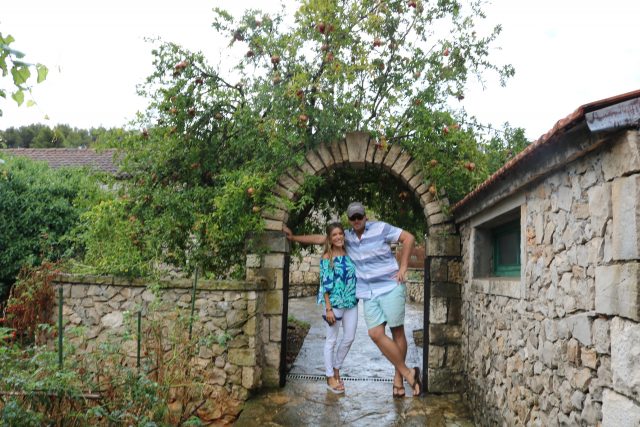 Within a 10 – 15 minute drive of the ferry terminal and Korčula's Old Town are the vineyards of Lumbarda, a village located on the eastern side of the island. I've shared a few times already about how Croatian wines continued to wow me over and over, not just with the actual wines – some of which have become my faves – but also because of the impressive conditions within which these wines are grown. During one of our tours, we saw people rappelling down steep cliff faces to pluck grapes from the vines (harvesting in Croatia is not for the faint of heart). Wine tasting on the Peljesac Peninsula brings you plavac mali and pošips, the hilltop towns in Istria bring teran and malvasia, and in Korčula… well, Korčula has its own varietal that's specific to only this little Dalmatian Island: a dry white wine called grk, and there's no where else in the world you'll find it.
My in-laws had been to Korčula before and had spoken highly of this elusive grk. For those that taste it and like it, be sure to get your hands on a few bottles to take home. The production is small, which means you won't get your hands on it outside of Croatia, and will probably have a hard time finding it outside of the borders of Korčula. Our first stop was Bire Winery, a wine estate with an associated pension for visitors looking for an overnight.
After a quick walk through the tasting room, we sat outside to taste Bire's three primary wines: their grk, their plavac mali and their rosé, all good though the unique grk was the highlight. Korčula's sandy and dry soil provide perfect conditions for grk grapes, a dry, acldic varietal that is the pièce de résistance for many wineries in the area.
After about an hour at Bire Winery, we continued onward with the intention of going on an olive oil tasting. Our driver assured us he had the perfect place, and drove us up to Zure Winery, a place just minutes away in the same village. The entrance alone is enough to make you want to linger. We walked in as the sun was pushing its way through and the low-lying fog was beginning to dissipate. In the background was stunning combo of sea + mountains, and in the fore was the green of the estate's organic farm.
Unintentionally, we were moving on to our second wine tasting of the day at 11AM, paired with a cheese and charcuterie plate. I opted to 'share' Scott's tasting (he always dies a little inside when I volunteer to 'share' his portions), which brought us the choice of four options for three tastings, one of which included a house made cherry brandy in addition to the island-famous grk. The family at Zure Winery produced the first ever sparkling wine made of grk grapes, but don't get your hopes too high if you're visiting – it's a rare, small production offering so it's not available during the tasting.
To finish our tour, we popped over to one of the nearby beaches to get a glimpse of Korčula's take on the beach scene. We had seen lots of rocky beaches in Croatia but there were rumblings that Korčula boasted a couple of secret sandy beaches.
Alright, let me start by saying that I'm not sure that this particular beach that we went to is supposed to be the crème de la crème by any means. It was sandy though far from being anything that resembles a white sandy beach. Here's my take on the beaches in Croatia from what we saw throughout our trip: Croatia has a lot of amazing things going for it – including some stunning Adriatic views and hot summer temps – but the beach scene would not be in my top 10 reasons for visiting Croatia. That being said, they do preserved old towns really, really well, and these old town visits should be on every traveler's list of reasons to explore Croatia.
Korčula Old Town
Korčula's Old Town may be one of the most domineering and impressive that we saw on the islands. The Old Town is set on a peninsula that juts out into the sea, offering incredible views from elevation and allowing it to be seen by boat when you're cruising through the channel. Upon entering the walled city, there's one primary artery that runs through with little veins in either direction where you can explore boutiques that dot the area.
The architecture was heavily influenced by the Venetians who once ruled Korčula. During the late 18th century, Korčula was more important than Hvar as far as strategic outposts, and you get a slight taste of that when you enter the Old Town with its impressive fortifications.
Piggybacking on that Venetian history, one of Korčula's biggest claims to fame is Marco Polo. The explorer that we often associate with Italy was more accurately Venetian – an important difference as we learned during our tour of Venice with Walks of Italy – and there's a strongly held belief that he was born on the island of Korčula. Truth be told, there's a bit of a debate on the subject but step foot onto Korčula and you'd believe in a second that he hailed from the Dalmatian Islands.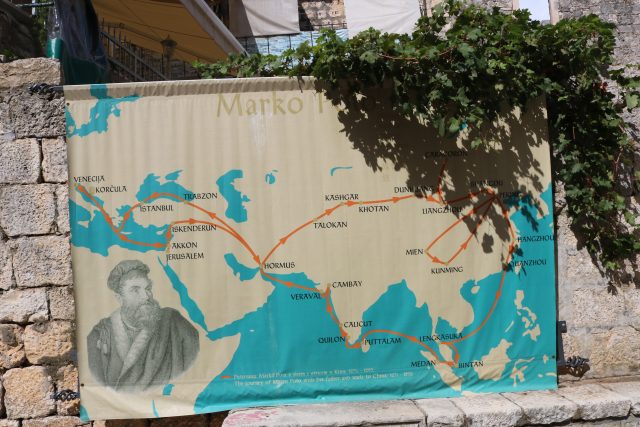 The island is a veritable shrine to its most famous offspring, with Marco Polo shops scattered throughout the Old Town, and a Marco Polo Museum for those that are particularly intrigued with the explorer. During a stroll through the Old Town, you'll also run into the Marco Polo Birth House and the Marco Polo Tower. If the history of Marco Polo is a bit of an afterthought for you, no worries. The Old Town is picturesque, with some cool shops tucked into alleyways. Explore the cobblestone streets and take it all in – it's a very pretty and easy-to-navigate area that you can explore in just a couple of hours.
Lunch in Korčula
The Old Town's position allows for a long curved road that runs the perimeter of the peninsula. There are a number of restaurants that dot the promenade and you'll have your choice of upward of a dozen places for dining with a view. We opted for a place serving up traditional Croatian fare and allowed ourselves an hour – maybe more – to just marinate and take in our surroundings. You may be wondering if a day trip to Korčula will allow you sufficient time to explore the island. The answer is a resounding yes, at least as far as day trip objectives are concerned. With 8 hours on the island, we found ourselves looking for things to do by the end of the day. All of that is to say, enjoy your lunch outside with the city walls around you. It's not wasted time by any means. It's all part of the experience.  
St. Mark's Cathedral and Bell Tower
By 2:00PM, we had finished lunch, we'd spent three hours touring the island and wine tasting with a driver, and had gotten a glimpse of Korčula's Old Town. With a few hours left, we continued exploring within the walls and made it our mission to head to St. Mark's Cathedral where we could climb to the top of the bell tower for jaw-dropping views from above.
If I give you one piece of inspiration for a day trip Korčula, it's this: CLIMB THE TOWER. The stairway is extremely narrow, just big enough for one person, and if you're a particularly big person it could get a touch claustrophobic. There's a system that helps people enter and exit without getting jammed in the middle of the stairwell, so go with it. Once you've made it to the top, give yourself time to take it in. We spent around twenty minutes at the top of the tower just mesmerized by the stunning views below (prettier than the views in Split but beautiful in equal measure with the bell tower at St. Euphemia in Rovinj). Now, if someone could just build a restaurant with this view, I'd be there all day!
We spent the rest of the afternoon wandering the streets with an ice cream cone in hand, taking in the shops and the sheer beauty of Korčula. We boarded the ferry back to Hvar at 6:00PM, and returned on the quick journey back to our home base. The ferry is absolutely the way to go in this instance – it's Point A to Point B nonstop and provides an affordable and quick way to get around. Keep in mind that the ferry arrival and departure points aren't necessarily the same so be aware of where you're meant to get back on the boat so you don't miss it on your departure!
For those that are looking to explore the Dalmatian Islands and get in a bit of island hoping in the region, a day trip to Korčula is perfect, especially if you're coming from Hvar. Knowing how much time we had, I would absolutely recommend the way that we did it: hire a driver for a few hours to explore further afield and get the lay of the land, and the spend 4 – 5 hours exploring the Old Town. Whether you're in search of history or stunning Adriatic views, Korčula's got you covered.
Anyone else done a day trip to Korčula? What would you recommend for first-time visitors?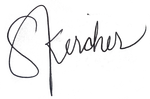 For anyone interested in spending more time getting to know Korcula, check out Korcula Larus for a villa accommodations around the island. ✧
Like the travel outfit? Shop the post: