Two Days Exploring Central Istria 
When I was living in London, Croatia was on my list of places to visit while I was a quick EasyJet flight away. At that time, Croatia was up-and-coming and still a bit under-the-radar. Sadly, I never made it. Flash forward eight years (gulp, how has it been eight years?!) and it feels like Croatia is there. Doesn't it feel like everyone knows someone who's been? As it turns out, there's only some truth in that, and there's a golden triangle that most visitors stick to for first time visits: Dubrovnik, Hvar + Split. Yes, we too did all of those places and loved them (I'll be sharing more about Hvar, neighboring islands, and Split soon) but we also wanted to explore the northern part of Croatia, which in some ways appealed to us even more than the Dalmatian Coast. We added on five days to explore the Istrian Peninsula, from the coastal cities of Rovinj and Porec to Istria's hilltop towns located further inland.
Each town during our time in Istria was totally different. Rovinj brought a coastal scene and many more American tourists. Our taxi driver accurately described it as a romantic city, and it definitely fits that description (here are 5 photos to take in Rovinj if you're headed that way). It's arguably the most well-known town within Istria, and the tourism matches. Porec was a secret gem for us, a town not unlike Rovinj in terms of size and overall feel, but with far fewer American tourists and more European tourists. Then there were the so-called hilltop towns, some of Istria's hidden gems, picturesque little enclaves set atop hills in Central Istria, the heart of truffle country. There are a number of them, with the largest and most visited being Motovun and Grožnjan. Smaller towns include Buzet, Momjan, Livade and Oprtalj. For those in search of the cuisine of Istria – we're talking truffle-laden dishes, locally produced red and white wines, and fresh meats, cheeses and house made pastas, the hilltop towns are the pinnacle for a farm-to-table culinary experience in the area.
Motovun
We based ourselves in Motovun, at Villa Borgo, a bed and breakfast set within the confines of the old town that brought us the perfect boutique feel with that unspoiled warm atmosphere that complements a small town. We arrived just before an exquisitely vibrant sunset over the valley below. In that moment, I didn't even want to think about leaving.  If I have one comment and takeaway from our two days in Motovun, it's this: the people are some of the friendliest, most welcoming, and most engaging we met on our journey. Generally speaking we found Croatians to be incredibly friendly and talkative (they talk about Irish having the gift of gab, but I'm not sure they ever compared the Irish to Croatians on that one). In Motovun, this was magnified. From the moment we pulled into the city we were welcomed warmly, given directions to Villa Borgo and even given an escort to lead us up to the town. Be warned: driving there isn't for the faint of heart. You'll be driving through the old town, which feels like it should be pedestrianized. It's not. Car traffic is extremely limited but if you're staying at a hotel within the boundaries of the old town, you'll be granted access.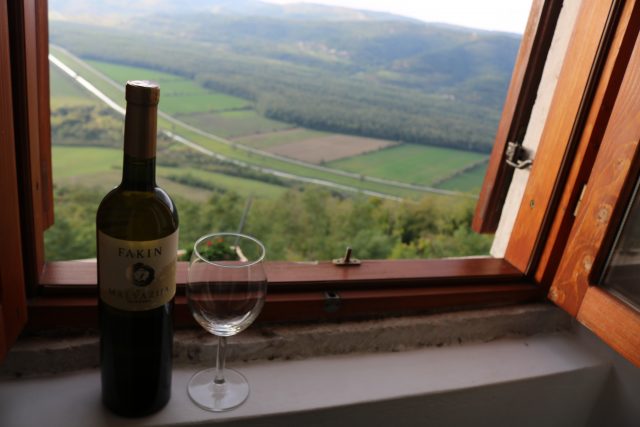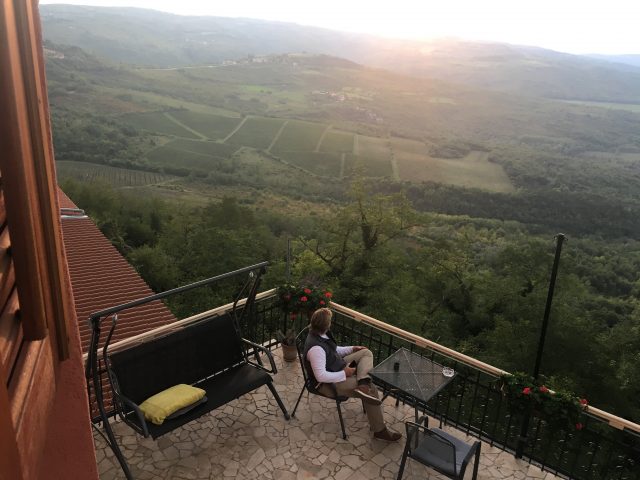 Our check-in experience at Villa Borgo shared that same warmth: engaging and helpful. With a window looking out over the expansive countryside below, we felt like we'd arrived in peaceful slice of the world, something we desperately needed at this point in our trip after weeks of dealing with work related to Hurricane Irma back home.
Now, if you dropped me in central Istria and asked me to guess where I was, I'd guess Italy, and it'd be hard to convince me otherwise. There's a reason for that, and history buffs will remember that Istria and other parts of Croatia were once under Venetian rule, lending a heady Italian feel to the region. Motovun is a great example of Venetian colonial architecture and for those traveling to or from Istria from Venice, you'll notice some similarities in style. Plus there's the landscape – just pure terrain – with the cypress trees reaching to the sky, seas of vineyards, stone buildings with the perfect amount of distress, and central squares marked by picturesque churches, that add to the atmosphere. There are two lingua francas in Istria – Croatian and Italian – and you'll hear both spoken throughout the region. Even road signage is first in Croatian, but marked in Italian beneath. Motovun, for example, is Montona in Italian.
Motovun is the king of the hilltop towns, with a few accommodations, a handful of restaurants, and a quaint old town. Don't get me wrong, it's not a sprawling metropolis by any means (I believe the recent census showed the population hovering around 500 people), but for visitors in search of serenity and authenticity, Motovun provides just that.
The old town of Motovun is essentially one main thoroughfare, a long cobblestone street that's lined with shops and a few restaurants. You'll be greeted by a fruit stand-cum-'winery' at the base of the old town (stop in for a taste – Bencic Edo makes his own wine and his Terranino was a highlight for us) and will reach the 'end' of the old town within a 15 – 20 minute walk up the hill. Villa Borgo sits at the top of the old town, offering gorgeous views from their terrace. A number of nearby restaurants have tables outside sharing the same view, and it makes for a spectacular place to watch the sunset over the valley below. In town, there's a fortification at the top of the hill. A climb around the wall will offer some gorgeous views of the surrounding town.
For shopping, the biggest draws include all things rooted in the resplendent truffle – or tartufi, as they're locally known. A number of stores are dedicated to the coveted item and if you're a truffle lover you'll find a great value on items sold within Istria. Dining is limited, with Konoba Mondo (of Bourdain fame) being the largest draw. Pricing generally is reasonable within the region but Konoba Mondo is definitely a step up price wise. A few others taverns are serving up good quality food at an exceptional value, think €2 -3 for a glass of wine, and mains for €10 – 15.
Grožnjan
If Motovun is the king of the hilltop towns, Grožnjan is the queen. It's equally beguiling and even prettier in some ways. We spent a rainy morning in Groznjan which limited our ability to really delve in, but even with a half day there, you'll gain a palpable sense for the arts scene that's vibrant within this small city. It's roughly the same size as Motovun though set up quite differently, and accommodations you'll find will be more Airbnb/apartment rental types.
When it comes to artwork and jewelry, Grožnjan seems to have a better foothold in that marketplace. Visitors will find a number of art galleries with one-of-a-kind buys, plus the ever-present truffle shops. The town has major charm: cobblestoned streets, brightly colored doors, and perfect wrought-iron balconies dripping with fresh blooms. As I mentioned, we went on a rainy day which was not ideal for exploring. If you're visiting on a nice day, you can spend a half day wandering the town and enjoying lunch or a drink with a gorgeous view of the valley below. In summer months, keep an eye out for festivals that take place in the quaint town.
What to Do for Two Nights in Istria's Hilltop Towns
If you're heading to Istria, a couple of nights in Istria's hilltop towns is worth it if time permits and you're interested in a less trafficked part of the peninsula. If your itinerary allows you the flexibility, experiencing the coastal scene along side central Istria provides an interesting opportunity to encounter two different faces of the same region. Remember, these hilltop towns are just that (towns, not cities), but know that there's enough to keep you engaged for a few nights in the area. Generally speaking Croatia is a good value, but we found Istria in particular to really deliver. For foodies looking to get their fill of truffle dishes, you'll find that your kuna goes very far here. Rent a car (we rented ours through Sixt Croatia, which was very reasonable) and splurge for the GPS so you can get around Istria seamlessly. Having the flexibility to go at your own pace is what makes the experience beautiful… and public transportation isn't a very reliable option in this region.
I'd suggest using Motovun as a home base for a couple of nights like we did. We found Villa Borgo to be an excellent location for us and a great little peaceful escape at the end of the day, with terrace views that would make anyone just a bit envious. From Motovun, we could easily zip to Grožnjan, Buzet and other towns in less than 30 minutes, plus there's enough dining to keep you going for the few nights that you're there. Let me also say that when we began researching I wondered whether we should stay in a town smaller than Motovun… you know, to experience a more 'off-the-beaten-path version' of central Istria. Newsflash: IT'S ALL OFF-THE-BEATEN-PATH. Even in Motovun, which probably houses the most overnight tourists, there are really only two hotels within the old town so it's not exactly overrun. Considering you'll want options for evenings, a 'larger' town likely makes more sense. With two full days in Istria's hilltop towns, here area few things to put on your agenda:
1Take time to explore Motovun and Grožnjan on foot – you can spend a half day exploring each, popping into shops and enjoying coffee, lunch or a drink with a view. If time permits, hit a few smaller towns along the way, too! One of the beauties of having your own car is that you can craft and alter your itinerary as you go. Check out Frank About Croatia's blog for insight into smaller towns, too.
2Experience truffle hunting. We went truffle hunting with Karlic Tartufi during our time in Istria and it was one of the highlights of our entire trip (more on that to come)! The family is incredibly hospitable and knowledgable, and you'll instantly feel like you're part of something special. You'll learn about truffle hunting as an industry (and how it's shaped the region economically), plus you'll get to go out on a hunt and enjoy a truffle and wine-filled lunch. Allot a half day for the experience.
3Go wine tasting! Croatia has a few top wine regions and Istria is among them. (If you're thinking about going somewhere near Dubrovnik, try wine tasting in the Peljesac Peninsula). Istria's famous varietals are Teran, their red, and Malvasia, their white. Motovun has a number of wineries nearby where you can taste – if you can set them up in advance you'll likely have better luck, but we were able to drop in impromptu at a couple of places. Bigger wineries in the area include Benvenuti Wines and Fakin Winery.
4Plan on truffle dinners. First off, it's unrealistic to plan on driving to another town for dinner – driving is a challenge with the old town streets so plan on dinners wherever you're based. In Motovun there's Konoba Mondo, which is its most famous and spendy establishment, but nearly all the restaurants in town offer truffle options, and they'll prove to be an excellent value compared with what you'd find at home or even in Italy. In Motovun, also try Pod Voltom, which has a charming casual tavern space if their more fine dining space is booked (or if you're just in the mood for something more casual). If you're there during the September – December period, you'll find white truffle menus around town in honor of their most prized agricultural product!
We found Croatia lovely from top to bottom, and each region brings its own vibe and draw depending on your priorities and travel style. For those in search of a part of Croatia that feels a bit more untouched but still provides the tourism infrastructure that makes a stay feel comfortable, the hilltop towns of Istria are a great addition to a Croatian itinerary!
Have you been to Istria's Hilltop Towns? Any highlights from your experiences?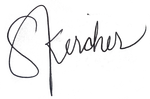 A big thank you to the team at Villa Borgo for helping us craft our stay in Motovun. As always, all thoughts are genuine and all photos are my own.