Sippin' to Sailing in the Dalmatian Islands
During our month in Europe, Croatia was our anchor point. We were there celebrating my in-laws' 40th wedding anniversary together, with time spent in Dubrovnik, Hvar, and Split before we all went our separate ways. Croatia has held a special place in their hearts since their first visit a few years back, and was a destination that had been high on my list since my time living in London. I've already shared a number of posts on our time in Slovenia, Austria, and parts of Northern Croatia, but want to back track to our time together exploring the islands and Split.
As far as the Dalmatian islands go, Hvar gets its fair share of love as the gem in the region. We based ourselves in Hvar for a week, with day trips to neighboring islands of Korcula, Brač and Vis. While each has its own feel – and surely each will have their own cheerleaders, too – Hvar has the most going on as far as the islands are concerned. There's plenty of great shopping, many good restaurants, stunning harbor views, and a hearty dose of nightlife. For us, it was the perfect home base for a week, and we loved exploring Hvar beyond just Hvar Town. That being said, the island is also a common destination for a day trip from Split, and if that's the only time you're able to carve out and dedicate to Hvar, then by all means, do it! Something is better than nothing! Knowing our highlights from our time on the island, here are 10 things to do in Hvar for your visit to the acclaimed island:
Visit the Fortress, Tvrđava Španjola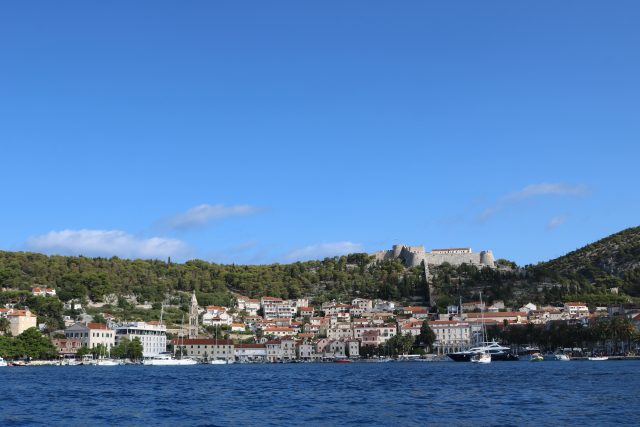 1The domineering fortress, also referred to as Tvrđava Španjola, can be seen as you pull into Hvar Town. Don't let the elevation intimidate you – it's worth the stairs and the climb to make it up to the top for stunning views of the harbor and Pakleni islands below (and to be honest, it's a breeze). To get there, you'll work your way through the town's maze of streets and stairs and follow the signs to the fortica. You'll want to head up when it's clear enough to enjoy the vista, but an early morning walk will help you avoid the peak daytime sunshine. We saw people in hiking gear and athletic wear, but I was perfectly fine wearing a dress and sandals (all the better to move from morning hike to daytime drinks).
Allow yourself to stop along the way and take in the views below. My favorite vistas were from about halfway up the hill, where the classic red-roofed architecture was easily visible below. In total, allot about twenty minutes to reach the top of the fortress, a little less to head down, and about a half hour at the top to explore and take it in.
The present day fortress that you'll see was built  beginning in the late 13th century (when Hvar was under the rule of the Venetian empire), taking advantage of the elevation as a strategic military outpost. Now, it's a place for visitors to admire the beauty of this Adriatic destination. You'll get to explore the prison inside, plus visit a small museum and gift shop based there, but the views are really the showstopper. There's a cafe at the top for a drink before you make your way down
Shop Your Way through Hvar's Harbourfront + Stunning Streets
2Meandering the pedestrianized streets of Hvar is more than half the draw for this destination. The main promenade is a beauty, with restaurants dotting the main stretch, before it gives way to St. Stephen's Square, Hvar's main square with its namesake church at the head. Restaurants and shops line the square, and continue on around the waterfront and up into the staircases that meander through the alleyways. There are also a range of vendors with stands on the street side doling out jewelry, gifts and most prominently lavender, which is grown locally on Hvar. Explore at leisure and take in the utter beauty of the facades here. For jewelry lovers, don't miss Tanja Curin's shop just steps off of the main square. Her jewelry will set you back a bit, but you'll score some unique pieces.
Nosh on Traditional Croatian Fare
3I will tell you one thing: Croatian fare gets a bad rap. I can't tell you how many blurbs I read with people either discounting local cuisine as an afterthought or downright bashing it. I'm not sure if I was in a different country, but I adored the cuisine in Croatia. The food bears a resemblance to what you'd see across the Mediterranean with more locally sourced octopus and squid thrown into the mix. There's incredible house made pastas (fuzi is a traditional Croatian incarnation), wonderful produce grown locally, a diet rich in seafood, excellent local wines, served up with either the world's best potatoes, fresh bouncy bread, or a creamy black risotto.
When you're looking for a place to dine, you'll often see konobas as an option (e.g. in Hvar, there's Konoba Menego, Konoba Maestro, etc.). The English translation would be 'tavern', so these places bear a slightly more traditional air serving up cuisine that reflects the region. Stroll along the waterfront in Hvar for places to dine that range from charming to glitzy.
One thing to bear in mind: credit cards are often not accepted, even at restaurants. It seems bizarre in 2017, but Croatia is largely a cash-based economy. Yes, even at restaurants, and yes, even in tourist zones. In fact, we had to pay for our place in Split in cash, and that's for accommodations! When you're planning for cash, figure out what you need and then add on at least 20% to be safe.
Enjoy the Beach Bar Scene
4If beaching it is more your thing, head to Hula-Hula Hvar, where your lunch and drinks can morph into an afternoon of lounging. You can walk there (give yourself about 15 minutes to walk from the main harbor) or you can catch a water taxi near the promenade. As far as Hula-Hula goes, be prepared: day beds are nice, service is okay, but drinks are terrible. Just bad. But it's a scene and it's one of the daytime hotspots on Hvar so may still register on your radar. Also, as I mentioned above, there's the whole bit about a cash-based culture. Hula-Hula is cash only, though they will take euro and US dollars as readily as kuna. We weren't prepared for that going in, and even with a bill over $200 one day (assuming we would pay by credit card as there were no signs saying cash only), we had to scrounge up $200+ in cash.
Island Hop
5I know this is supposed to be about things to do in Hvar, but island hopping here can take a few forms, and some of it involves visiting the tiny islands that dot the waters surrounding Hvar. We did a few boat trips during our time on Hvar (more on that to come!), and while we bounced around to the neighboring islands of Brač, Korcula and Vis, we also visited the Pakleni Islands nearby.
Carpe Diem's famous off-island nightclub is situated on one of the Pakleni islands, as are some of Hvar's premier restaurants, including Langanini Restaurant (our most memorable lunch spot) and Zori, a fine-dining establishment that receives major praise. How do you get there? Well, that's where the island hopping comes into play! You can either charter a boat and go off on your own adventure (this is actually relatively affordable with a group if you have a lot of water-based sightseeing you're looking to do) or you can hop aboard one of the water taxis in Hvar's main harbour. They can share rates for a roundtrip fare.
Explore the Island by Car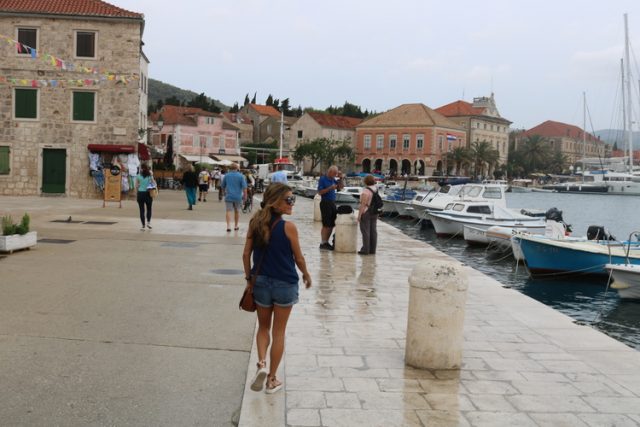 6Hvar Town is the hub of activity for many visitors, but other towns like Stari Grad, Vrboska, and Jelsa are worth seeing, too. If you want flexibility to explore on your own, rent a car and head out for a day of adventure. We spent one day exploring the island this way and loved the beautiful facades and harbor of Stari Grad, plus had a great lunch in Vrboska and an experience wine tasting in Jelsa (see below). There are also beaches around the island that may pique your interest. Rental cars are available just outside of the pedestrianized town limits (behind St. Stephen's Square, just off of that perpendicular road). The roads are a breeze with little traffic and one main artery that will take you across the island.
Go Wine Tasting
7I know, I know, you don't think of wine when you think of Croatia, and you probably think of it even less on the islands. Well, Croatia is out to prove you wrong! First, the country broadly produces some great wines that'll challenge your perceptions about the region's viniculture. Our day wine tasting on the Peljesac Peninsula near Dubrovnik wowed me big time (true story: my favorite wine in the world now is a Croatian wine). Then when we bounced out to the islands we were able to taste interesting varietals that are able to grow in island conditions.
Tomic Winery in Jelsa was one of our main stops for wine tasting in Hvar, and it brought with it a stunning tasting room that's modeled off of elements of Diocletian's Palace in Split. We tasted a range of wines plus a brandy produced by Tomic over the course of an hour or so. We didn't book our tasting in advance. If you're going to Hvar and wine tasting is a primary goal for you, make an appointment so you can get the most out of your experience.
Enjoy a Drink with a View
8A top 10 list is never complete without a drink with a view, and we found it: The Top Bar at the Adriana Hotel in Hvar. The views from the top floor over the harbor are stunning, and watching the sun descend over the island is a must.
I mean, how gorgeous is that view of the harbour? ☝?
Soak Up Some Beach Vibes
9To be honest, we didn't do any beach days in Hvar during our time there. The only day we really lounged in our suits was on Brač during our day trip there. That being said, we came from the Caribbean so beach time wasn't necessarily our focus in Hvar. For many people, taking in some sun is central to an entire Dalmatian island getaway! For beach scenes, expect rocky and pebbly beaches, not pristine and powdery Caribbean sand. Since I can't speak on this from personal experience, check out Total Croatia News' top 5 beaches in Hvar for some inspo.
You'll notice signs for nudist beaches around Croatia, too. If that's more your speed, there are plenty of them – just follow the signs and try to keep your birthday suit for nudist beaches only.
Enjoy the Night Life Scene
10Last, but certainly not least, there's Hvar's world-famous nightlife scene. You'll see many club reps roaming the streets at night, trying to woo you into their club for the evening. If you only have one night and can only choose one place for an evening out, the island's iconic Carpe Diem takes the cake. If you arrive early (before 1AM, that is), you'll visit Carpe Diem at the harbor front in Hvar. There's in an area inside and a large open air area outside where you can grab a drink or post up with bottle service.
If you're really wanting the full Carpe Diem experience, stay alert for long enough to catch the club's boat, which takes you to Carpe Diem's tiny island counterpart. Our family of five made the journey out to the island and were there until the wee hours of the morning (we were affectionately referred to as 'The American Family' all night by folks who were fascinated with our family escapades). A 10-minute journey escorts you to the little slice of land, with DJs, a number of bars, bottle service, and a sea of people dancing the night away. It's ranked amongst the top nightclubs in the world, so if you're in Hvar and want a dose of the island's famous nightlife, add it to your list! ?
For those that have been, what are your favorite things to do in Hvar? What would you add to this list?!