Plus tips and takeaways for first time visitors to Egypt
I describe our journey to Egypt like this: it has been on my wish list since I was old enough to dream. I truly mean that, too. As far back as I can remember, the first trip that I truly daydreamed about was Egypt. Well, let me qualify that: I dreamed of Ancient Egypt really because I was too young to discern the difference between the Egypt of modern times and the Egypt of old. To be fair, those two Egypts – the modern and the ancient – are intertwined, and much of the tourism that the country sees is focused on the Egypt of antiquity. Ancient Egypt lives within its modern landscape though, which means a visit to the Pyramids of Giza doesn't happen in a silo. To visit Giza you'll inevitably spend time in Cairo, a region of 22 million inhabitants, with relentless traffic and the ever-present sound of horns honking. We braced ourselves and tried to temper our expectations a bit. We prepared for a bit of harassment in the local markets and major sites, for dirty city streets, and generally for the Cairo we had heard and read about from many who've visited. What we've experienced is a mix: a bit of chaos, yes, but also a population who has generally extended a warm welcome, sharing their gratitude for our visit and encouraging us to tell our friends that yes, Egypt is safe. Below, I'm sharing a few thoughts, first impressions, tips and takeaways as a first timer visiting Egypt:
Safety
Alright, first and foremost, let's talk safety since that's the common question I keep getting from people. Do you feel safe? Is it safe as an American? Well, first off, no one can tell by looking at me whether I'm American, Spanish, Australian, etc. so the question of whether it's 'safe for Americans' is an interesting one. When you're wandering around the markets or visiting major sites, though, people will ask where you're from out of their general curiosity… there's a moment that you'll likely wonder the best way to answer this question. We did a food tour through Cairo with Bellies En-Route (more on that in a forthcoming post) and when we shared with our guide this common question, she commented, 'Oh, Egyptians love Americans.' I know that most Americans who haven't visited are saying, really? Well, I'd say if our experience here is representative of the general experience for a Westerner visiting Egypt then yes, we feel very safe. We haven't just feel safe, we've felt welcomed. Many people have genuinely thanked us for visiting. Tourism is an important part of the Egyptian economy and it has been down in a major way since the revolution in 2011.
We purchased spices at Khan el-Khalili market (which we grossly overpaid for, but I digress) and the shopkeeper thanked us for coming and walked us out saying, "Please tell your friends about Egypt and let them know it's safe."  Now, I say all that and will add that saying 'Egypt is safe' is a broad generalization. That's like saying the United States is safe.  You need to drill down further to know the nuances of where you're going and the safety in specific regions. While Cairo, Luxor and Aswan are safe, for example, Sharm el-Sheikh is advised against by the US and UK for all but essential travel. Things change quickly so do your research to make sure you're comfortable with the areas you'll be visiting.
English + Arabic – Language Skills in Egypt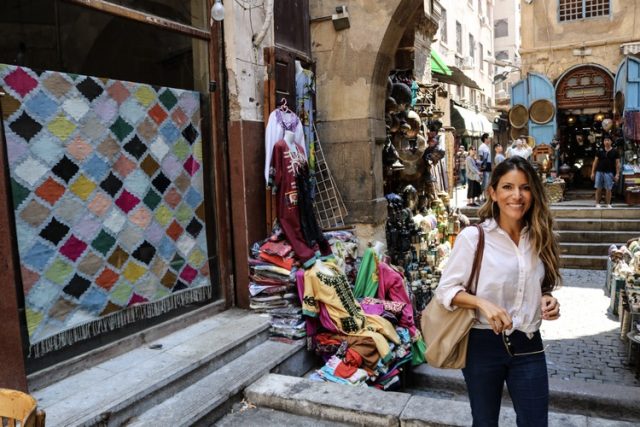 After a half day in Egypt at Khan el-Khalili market, Scott and I both left utterly amazed at the level of English spoken. Shopkeepers and Cairenes aren't just speaking English, they're truly understanding English – colloquialisms, jokes, all of it. Many speak English as though it's their native tongue. It turns out that English is the most common second language in Egypt and it's often not considered a 'second' language as such; it's spoken alongside of Arabic for most people, and two separate guides confessed to us that the younger generation prefers speaking English in some instances (even when talking amongst each other). All that to say, don't fret if your Arabic is rough. Know some basics – 'shukran' and 'as-salamu alaykum' for starters – because it's always kind to attempt the language and not expect people to speak English, but do know that at least in major cities you'll be able to get around easily with English.
Hassles, Harassment and Haggling
I was gearing up for major haggling and mild harassment at the market and at major tourist sites. In part, that's proven true but in some ways it's been far less harassing than I had imagined. The worst we've experienced so far was at the Pyramids of Giza, the top tourist attraction in the Greater Cairo Area. You'll have people trying to sell you everything under the sun… and people who seem helpful? They're looking for 'baksheesh' (a tip) more than they're looking to lend you a helping hand. We had one guy offer to take a picture for us and then proceeded to take MANY hokey photos of us under his direction. He held onto my camera until Scott wrestled out some cash for a tip. When we gave him a tip (for taking an unsolicited photo) he commented on how small the tip was… UGH. It's things like those very instances that irk me, and to be honest, I was ready to leave the Great Pyramid almost as quick as we got there because there were so many people who just wouldn't leave us in peace.
I'll contrast that with Khan el-Khalili market, which is predominantly a local market, where people invited us in to see their wares (of course) but really never pressured us in to purchasing anything. The rule goes that you should never pay full price at the market and that people are quoting you a price nearly double what you should actually pay in practice. Now, that idea is a very loose one. We had a few cool pieces that vendors would barely budge on (one guy maxed out at giving us 10% off if we paid by cash vs. credit), and there were some instances where the prices were so inexpensive that I felt bad even trying to go deeper. My feeling is this: know what you're willing to pay for the item you're looking at. Negotiate a bit, yes, since it's part of the fun and part of what's expected, but also realize that a difference of 100 EGP is about $5. For us, how far does $5 really go in affecting our quality of life? That same $5 could make someone's day in Egypt. Don't let yourself get ripped off, but just keep in mind that tourism dollars make many people's lives go round.
Where to Stay
We hadn't put much stock in Cairo once we started planning our trip. Cairo was more of a mandatory add-on for us when visiting Egypt; a pre-cursor to Luxor, Aswan, and our Nile River cruise. We ended up planning our time in Cairo in such a way that has allowed us to really delve deep into the layers of the city and get a feel for modern Egypt and Ancient Egypt through our tours and experiences. When it came to choosing where to stay, location was key for us and we knew we wanted to be near the Nile. If you're only coming for the pyramids – just a quick in and out – then perhaps staying at a hotel in Giza makes sense. If you're planning on visiting other historic sites around Cairo (the Egyptian Museum, Coptic Cairo, etc.) then you're better off staying in Downtown Cairo and making a day trip to the famous pyramids. Traffic can be nasty in Cairo so the less time you can spend getting from Point A to Point B, the better. If you look at a map of Cairo, you'll see that many luxury hotels like the Ritz-Carlton, InterContinental, Four Seasons, etc. line the Corniche el Nil. For those planning on touring from a home base, the location is great since you'll be walking distance from the Museum of Egyptian Antiquities, plus you're a quick ride from Zamalek for upmarket dining with Nile River views.
How to Get Around
You'll find public transportation available in Cairo but as a visitor Uber (?? $5 off of your first ride with our link) is as easy and affordable as it gets. You'll have the convenience and luxury of being picked up at your doorstep and dropped off at your location, plus you'll be rolling solo so there's no inconvenient stops to worry about. In Egypt you'll see the option of a scooter for the more adventurous of the bunch, or opt for the Select for a clean standard vehicle. We've been amazed at how affordable the rides are. Our 10 minute ride from our hotel to Khan el-Khalili was $1.03. Even during surge pricing the most we've paid is around $4 for a ride. The only challenge is that many of the makes and models may be varieties you're not familiar with. Add to that the fact that license plates are in Arabic so they can be hard to make out if you're not familiar with the script. Besides that, it's a breeze and takes the whole haggling about prices element out of the equation. If Uber isn't your thing, taxis are readily available in much of the city but you'll want to lay out pricing from the get-go so you don't have any discrepancies when you reach your final destination.
What to Wear
This is a big one for ladies! I'll probably end up doing a bigger post on this at the end of the trip, highlighting Cairo vs. Luxor and Aswan, tourist sites vs. temples, etc. In general, Cairo brings a large range of attire and you'll even see Muslim women here in everything from Western clothing (unveiled) to burqas. Egypt is a Muslim country so you'll want to bear that in mind when you're packing. I for one am always very conscious of this since the conservative quality of dress is based on religious ideals. Thus far I've worn pants every day and have brought maxi dresses as well. I've either covered my arms or had sleeveless tops that I've covered with a scarf or kimono for an extra layer. Here's the deal: I've already seen many visitors in shorts (like, short shorts), mini dresses, low-cut tops, or tank + short combos walking around… if you're not going into a place of worship, you'll probably be allowed in with no issue but it's really a bigger question about respecting local customs and culture. Our guide gave us the thumbs up on wearing shorts so it does seem like there's a looser standard for visitors, but I'm still not ready to take the plunge. Luxor and Aswan are said to be a bit more liberal on this front since they're both major tourist cities that have become more accustomed to Western dress. At the end of the day, I'd say pack lightweight clothing that will allow you to be comfortable in high temps and if you're leaning towards shorts, dresses, or skirts go for longer hemlines. If you're going to go with sleeveless tops (I have many with me), bring a layer to cover your shoulders if need be. There are many cities in the world where you can sport avant-garde fashions and show off your favorite little pieces but Cairo really isn't one of them.
Private Guides
We're NOT tour people at all (our trip to the Middle East in 2014 taught us that much), but I do love having a private guide when we travel. With any major sites you visit, there's so much history and depth that you simply can't glean without a guide, and in Egypt that's especially true. We're talking about 50 centuries of history here, 30 dynasties, three Kingdoms, modern history, development of world-changing architecture and engineering and so much more. A guide book helps, yes, but nothing beats having a powerhouse of knowledge with you. I'm a question-asker so I love having someone around to help sort out my thoughts and questions. We decided that Giza would best be experienced with a guide but quickly ended up mapping out more guided days to create a richer experience. In Cairo, we've toured predominantly with Real Egypt Tours, a company that helped coordinate airport transfers, our full day tour of the Pyramids of Giza, Saqqara and Dahshur and a half day Egyptian Museum tour. I'll tell you honestly: our visits to the major sites wouldn't have been close to as informative and powerful without a guide.
Money, Where to Exchange Cash + Tipping
The last thing I'll touch on here is money. In Egypt, you'll want Egyptian pounds for baksheesh, and it's best to get a number of small notes to give people along the way. For major tours, like the ones we did with our private guides in Cairo, you'll pay in the currency you're quoted. For us, that often meant US dollars; for others, that will mean euros. Tips can be in USD, EUR or EGP though keep in mind that the small tips you give out to bathroom attendants, porters, etc. are best in local currency so they don't have to deal with exchanging money.
You'll have an opportunity to get EGP at an ATM at the airport but a bank is your best bet for a good exchange rate. We got enough cash out to get us through with some small tips at the get-go but were able to visit the Bank of Egypt on site at the Ritz-Carlton to exchange our USD for EGP. The exchange rate was great – pretty much the day's rate with no commission. They can help you by breaking this down into small bills as well.
Now, tipping. Tipping is a hugely personal thing but as I mentioned above, tourism is down in a major way in Egypt so many people rely hugely on tips. There's no minimum wage so there are some working people who are earning very little and relying almost entirely on a tipping culture. For meals you'll sometimes see a 12% service charge built-in (we've found this at most hotels here), but if you've had good service you can tack a bit extra on for good measure. We've made a habit of leaning towards the 15 – 20% side of things for services rendered and meals consumed. So, food and services you'll expect to tip on… but where else do you need the baksheesh? Well, pretty much any tourist site.
Keep your 5s and 10s handy and readily available to dole out. It's the equivalent of 25 or 50 cents, but it's still a reasonable tip for minor helpful gestures. We tipped the guy at Dahshur for taking a photo of us (10 EGP). The guys at Giza who hijacked our camera and then shamed us for tipping them too little? Well, we tipped them too and then were shamed into tipping them a bit more (about 20 EGP each). We tipped a guy 20 EGP for letting us hop on his camel for a picture. For many of these things there's no 'charge' so it's purely tipping based. We've been tipping our housekeepers 50 EGP daily to say thank you, and have given bathroom attendants 5 – 10 each on the way out. You'll be reaching into your wallet often so we've found it useful to have small bills easily accessible so we're not digging through serious cash to give people a tip.
---
Alright guys, that's a recap of some first impressions from Cairo and for anyone planning a visit soon, I hope some of those details and thoughts are helpful! We've visited the Pyramids at Giza, explored Khan el-Khalili and done a food tour through Downtown Cairo and I'm still taking in the fact that we're in Egypt. More posts and details on those visits coming up soon!
Who else has been? What were your first impressions visiting Egypt?