Our experience in Israel was the first time that we opted for a group travel experience vs. a totally independent journey. I typically prefer to craft my own itinerary, prioritize my musts and work on my own schedule. After all, sometimes the most magical moments are unplanned. Being that we were heading to Israel, the West Bank, and Jordan where the history is so rich, the culture is so different, and the logistics can be a bit complicated, we opted to experience a fair bit of Israel through tours.
For those that are in the same boat, thinking group travel or day tours may be the better route to go, here are some thoughts and takeaways from two distinct experiences during our time in the Middle East.
Abraham Tours: The Tour for Non-Tour People
I can't speak highly enough about our experiences with Abraham Tours. If you're not a 'tour person', this is the right choice for you if you want a fun, educational experience and are wary about traveling independently in the region. These were half-day and day tours, which meant we woke up early, had breakfast on our own, headed out, and made it back in the afternoon or evening to explore Jerusalem solo. We weren't tied to a group for the week which meant we could blend independent travel and group tours to build out the ultimate Israel experience. One of the tours was just six or seven people, small enough so that we got to know each other over the course of the day. Even our two-day Jordan tour was only 15 or so people, all of whom we got to know on a first name basis. We interacted with each of our guides and got to hear their stories which made the experiences much more rich. The majority of the travelers we met on these tours were very well-traveled; adventurers looking to experience the culture of the area and see the human face of a place. The tours were much more real, raw and educational than I expected, plus having the logistics handled made it much easier for us to move across borders and checkpoints.
If you can't afford to hire a private tour guide, this is the way to go. The groups are small enough so you can ask questions and get some great insight, and the tours are very unique, allowing you to see parts of Israel and the West Bank that may seem intimidating to travel to independently. Major thumbs up to these guys – fabulous experience.
The All-Inclusive Tour
We spent the last 10 or so days with Inspiration Tours, essentially an all-inclusive tour operation that provides big buses, a tour guide and all of your meals and hotels in a package. I'm pretty anti-all-inclusive even on the resort front so it was no surprise that this type of tour didn't do anything for me. Yes, it was great having a tour guide who was knowledgeable, but having every single moment planned out and dining in a hotel is not my idea of a cultural experience. This is a great option for people who feel safer traveling in larger groups and prefer not to explore solo. We saw some people who were thriving in this environment – they never went out into Jerusalem or into other cities on their own and would dare not eat local food. For anyone that has traveled independently in far-flung locales, this experience will likely make you feel claustrophobic. Scott and I opted out of the last two days because we couldn't handle another 50 passenger bus or hearing blatant pro-Israeli propaganda (at least I couldn't). I understood that our guide was Israeli and naturally would be biased based on his experiences, but I entered the tour expecting a religious focus, not a birthright trip. For our guide to refer to Palestinians in bulk as 'terrorists' was so upsetting and unsettling that I had to bite my tongue daily. We passed a UNHCR site where our guide explained to us that we should be careful about sending money to Palestinians because they would be using it to buy weapons, not to help the poor. Like, what?
All in all, we were happy with the places that we saw (the Sea of Galilee, Mount of Beatitudes, and the Dead Sea just to name a few), but we experienced it in an entirely different way than we would have typically. There were many sites that we spent just a few moments in, enough to take a picture and leave, not my ideal way to experience anything. Then there were places that had little to offer except for major souvenir shops where we spent entirely too long (two hours in one case). Honestly, my biggest issue was this: with massive, pre-planned group tours, everything has a way of just melding together. I couldn't even tell you all of the places that we visited or what we saw because we weren't even given a proper itinerary listing points of interest. We snapped away and took in the views, but by the end of the week, it was mostly one big mashup of snapshots. I hate being overly critical (really, I do), and while I loved the people we were with and the sites that we saw, I would be generous in giving this a 2-star rating on a 5-star scale.
The Private Guide
I can't comment on a private guide from personal experience, but my in-laws opted to go this route during their time in Jordan, and they're not the only ones that find this way of traveling appealing. Many of the group guides we met worked as private tour guides as well (much more lucrative), working with couples, families, or small groups of friends to form itineraries and add their local knowledge to sightseeing in the Middle East. If you're okay with spending a bit more, you can find a guide in Israel, the West Bank or Jordan that can help you get around without having to deal with compromising on what you've prioritized.
The Takeaway – What would I have done differently?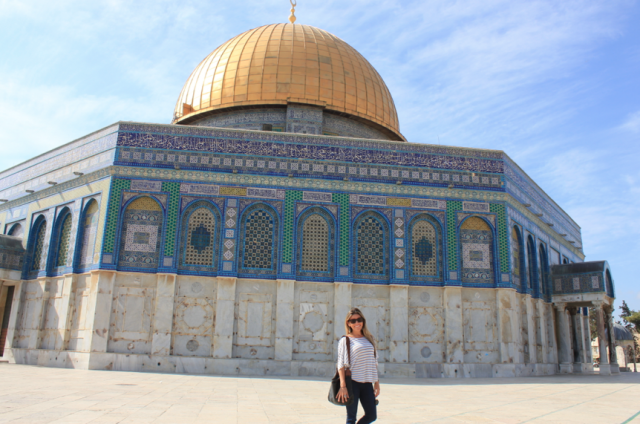 Being able to look back on this trip with a clearer mind, I can honestly say that having a guide (even just for a few experiences), especially as a first timer, is great. Armed with the knowledge we have now (knowing what the different tours were like and what the places were like), I would honestly do our first week in the Middle East in exactly the same way, using Abraham Tours for day trips around the region and then having the evenings to ourselves to explore independently. Carve out at least a few days to yourself to explore solo, too. There's a lot to be said about the pure joy that you get from just meandering around the markets in the Old City, chatting with locals and doing things at your own pace. In all honesty, I don't think I would have gone off-roading in the Judean Desert, chatted with Palestinians and Jews in Hebron, or visited Jericho and Bethlehem on my own. There were some amazing, mind-blowing experiences that we would have never had if we had chosen to go solo.
Ideally, I think more time in Jordan is necessary and would have been better if we had more time in our schedules, but having had a taste just gives us more reason to want to go back and really delve deeper.
If we were to go back to Israel, I'd feel comfortable enough with our knowledge of the land to explore independently (we'd probably rent a car and explore that way). For a country that's the size of the state of New Jersey, getting around and exploring the different regions is a totally doable task with enough time.  If I were to go back to Jordan, I'd feel comfortable enough to fly into Amman and explore on our own, but I'd prefer to have a local guide (like our lovely Jordanian guide, Rania) tour with us for a richer experience and assistance with the language. If I were to visit the West Bank again, I'd probably feel okay with going on our own – safety was never a concern for us – but would also prefer to tour with a local guide who could help provide more knowledge.
So, is a guide for you? One of my biggest takeaways was this: even as 'non-tour' people, we sometimes need to take a step back and realize that groups are okay, and in the right conditions — when done properly! — they can actually add a lot to your travel experience. We have a tendency to roll our eyes at tour groups but this trip was a good lesson for us: Not all tours are created equal. Do your research and find one that fits your style and one that will allow you to enjoy your journey in the Middle East without stressing about logistics.
What I wouldn't do? Plain and simple: If we were to go back, I would have opted not to go on the big group tour. I would have instead based myself in Northern Israel somewhere and used Abraham Tours or a similar operator to mix some day tours with my own planned itinerary (think wine tasting in the Golan Heights and doing the Jesus Trail in Nazareth).  There are some people who love traveling with tour groups (safety, plus not 'worrying' about crafting an itinerary), but for anyone that enjoys some independence, planning, and cultural immersion, this is pretty much the antithesis of what you want. Again, I loved most of the people we traveled with, but I will never book a tour again. Ever.
Have you visited Israel? Did you go with a group or do any tours while you were in the region?
xo,