There's often a Split vs. Dubrovnik debate. Most people you talk with will have a favorite, and Split takes the gold just as often as Dubrovnik in many visitors' minds. As much as both Croatian hot spots wear their histories proudly and offer a mesmerizing mix of local vibes mixed with tourist draws, the cities are markedly different in many ways. Dubrovnik felt a bit fairytale-like to me with its next-level buildings and facades, ever-present ice cream stands, and polished cobblestone streets. In some ways, I had to remind myself that Dubrovnik was real; that is, not some Disneyland take on the medieval world. Split is a city that's anchored along the waterfront, a promenade lined with dazzling lunch spots where visitors can easily spend hours lazing and people watching. There's a labyrinth of streets set deeper inside but the real draw is Diocletian's Palace, a sprawling ancient palace that now covers about half the town of Split. Split is beautiful, and it feels like a lived in city in many ways. Both cities welcome cruise ships so if you're visiting on a day where ships are in port, expect it to feel crowded. On the day we visited Split we were shocked by the sheer number of people who descended upon the city as day trippers. We were shoulder-to-shoulder exploring parts of Diocletian's palace, and it felt a bit claustrophobic at times. If you're there in the shoulder season on a day when there aren't cruise ships in port, it's a kind of magical thing wandering through some of the best preserved Roman ruins in the Adriatic. Below, I'm sharing our take on how we spent two days in Split, from night-time music in the square to taking in the daytime vistas over the harbour.
Daytime in Split
If you're visiting during Croatia's main season (anytime between May until September or October), you'll have days of sunshine ahead of you to take in the beauty that the city offers. With two days in Split, it's worth evaluating what kind of traveler you are, who you're traveling with, and if you'd rather sightsee your way through the region or move slowly and marinate in the atmosphere. If you're deciding to take two full days to spend in Split, you'll have plenty of time for long lunches, pretty views and leisurely walks.
Wander the Streets of Split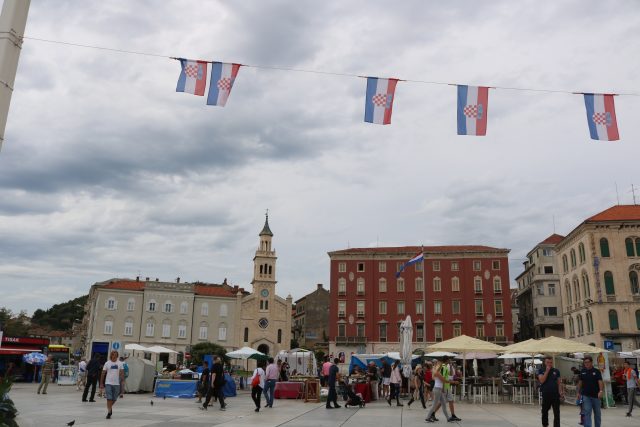 Wandering and letting yourself get just a bit lost is part of city exploration, and I've learned to embrace that time vs. thinking of it as being wasted. After all, you're there to see the city, right? No need to rush taking in the simple beauty of ancient facades, stumbling into a quaint shop tucked into a back alley, or enjoying a melting cone of ice cream during a blistering summer day. There are plenty of sights and markets that aren't in any guide book so let yourself discover them independently.
Cathedral and Bell Tower of St. Domnius
You can't be in a Croatian city without taking in some bell tower views (at least I can't)! For those that aren't afraid of heights, head to St. Domnius' bell tower, which rises up, up, up into the heavens where you'll score stunning views of the harbour and city below. My husband isn't a fan of heights (dare I say that in print for the world to see?) but braved many a bell tower during our trip. Split's was out of the question about half way to the top. For those that get a bit phobic just be prepared to take it slowly. If possible, try to go when fewer crowds are causing congestion in the small stairwell that works its way to the peak.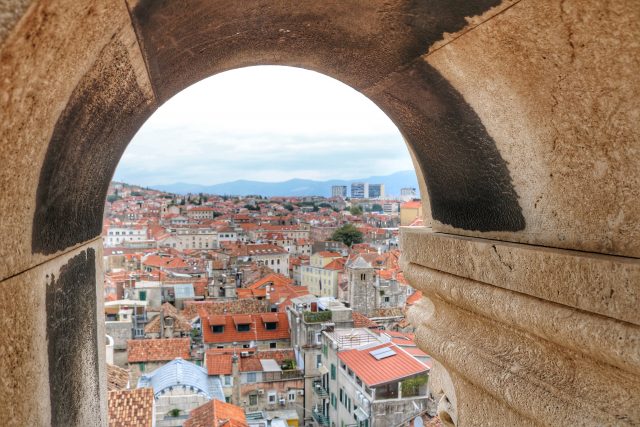 Explore Diocletian's Palace
If you're not a total history buff you may be a bit confused about Diocletian's Palace. Even if you are a history buff, you may be confused. The term 'palace' would make you think it's one entity; one building that you wander located somewhere in the city. That's not really the case though. Diocletian's Palace is a sprawling ancient palace that dates back to the 4th century and encompasses a sizable portion of Split. If you enter from the waterfront side, there's a basement/cellar area that can be explored for a dose of history (you'll pay an entry fee there and are able to wander the underground maze that historically mimicked the layout above ground). Then there's a covered market place which flows into an outdoor square where St. Domnius' Cathedral sits along with streets that lead to shops and a main square. By day the square is alive with visitors taking in the history at the heart of Diocletian's Palace. By night, it turns into a peaceful world where visitors listen to live music over a cup of gelato.
Statue of Gregory of Nin
Set just outside of the old city walls is the statue of Gregory of Nin, always listed as one of the must-see and do things in Split. A bishop of Nin from the 9th century (the statue only dates back to the late 1920s), he was historically significant to the Croatian people by bringing their language into Christian services, which was said to have help spread Christianity in Croatia. Rubbing the statue's toe is said to bring good luck (we skipped this) so many tourists make their way to the nearly 30′ statue to get their dose of fortune. We ran into the statue by happenstance, which was perfectly fine with us. It's worth a look but there's really no need to make it a focal point.
Find those Iconic Split Views
Walk along the promenade down to where you'll see yachts along the waterfront. On a nice day, it's a pleasant stroll, but the real treasure is behind you. As you pull away from the center of the old town, you'll score stunning views of Split's cityscape from a distance, with the church tower rising to the sky and the red-roofed buildings lining the water. You don't have to go to far to take it all in, but it's worth the walk for this city view!
Waterfront Lunches + Drinks with a View
One of Split's most captivating qualities is its waterfront location with restaurants and bars that line the promenade. For lunch with a view or people watching, it can't be beat. We enjoyed a long leisurely lunch on our first day in Split before heading to the heart of Diocletian's Palace to explore. For afternoon cocktails, head to the People's Square – you'll see the old clock that anchors the scene –  in the Old Town for a cocktail at your choice of restaurants.
Nighttime in Split
Split has a cool nighttime vibe, and the core of that is in the main square in Diocletian's Palace where live music is played on warm summer evenings. After dinner, give yourself a bit of time to sit and take it all in (grab a gelato from nearby Pumparela for the full experience). It's a captivating scene with the ancient architecture surrounding the 'stage' and visitors perched on steps taking in the scene.
Speaking of dining, there are some great spots in Split, and certainly plenty of options for a couple of wonderful nights. We spent one night dining at Bokeria Kitchen and Wine Bar and one dinner at Galerija. Bokeria was planned per a friend's recommendation; Galerija was rather impromptu on a rainy night in Split. Both were exceptional in their own ways: Galerija has a charming outdoor vibe while Bokeria is a bit more of swanky indoor space that serves wine + aperol and campari-based cocktails. If you need a bit more inspo, check out the Culture Trip's round-up of 10 places to eat in Split.
You know earlier how I mentioned that you can spend the two days slowly exploring Split? That's what the above details; breaking out those activities over the course of two days in Split to enjoy history at a leisurely pace. If you're up for non-stop exploring though, you can cram the above into a day (it'll be an on-the-go day, but a single day nonetheless). For your second day consider a day trip to Trogir, a thirty-minute drive from Split, or a trip to Šibenik, near Krka Waterfalls, about an hour from Split. Alternatively, if you're time's a bit limited and you want to head further afield, consider visiting the Blue Cave from Split for one of Croatia's most popular day trips. If you can swing it, the islands deserve a bit of time on their own to properly explore (see how we spent one week in Hvar), separate from the time you dedicate to exploring Split.
My personal take is that if time permits, enjoying the beauty and atmosphere of this Croatian city is part of the draw. If you can spread your sightseeing over a couple of days, do it. Many of the people that we've met who have been particularly drawn to Split over Dubrovnik have done just that; luxuriating in a multi-day trip to fully take in all that the city has to offer.
For those that have been, how would you spend two days in Split? Any activities or day trips that you'd recommend to others visiting the area?